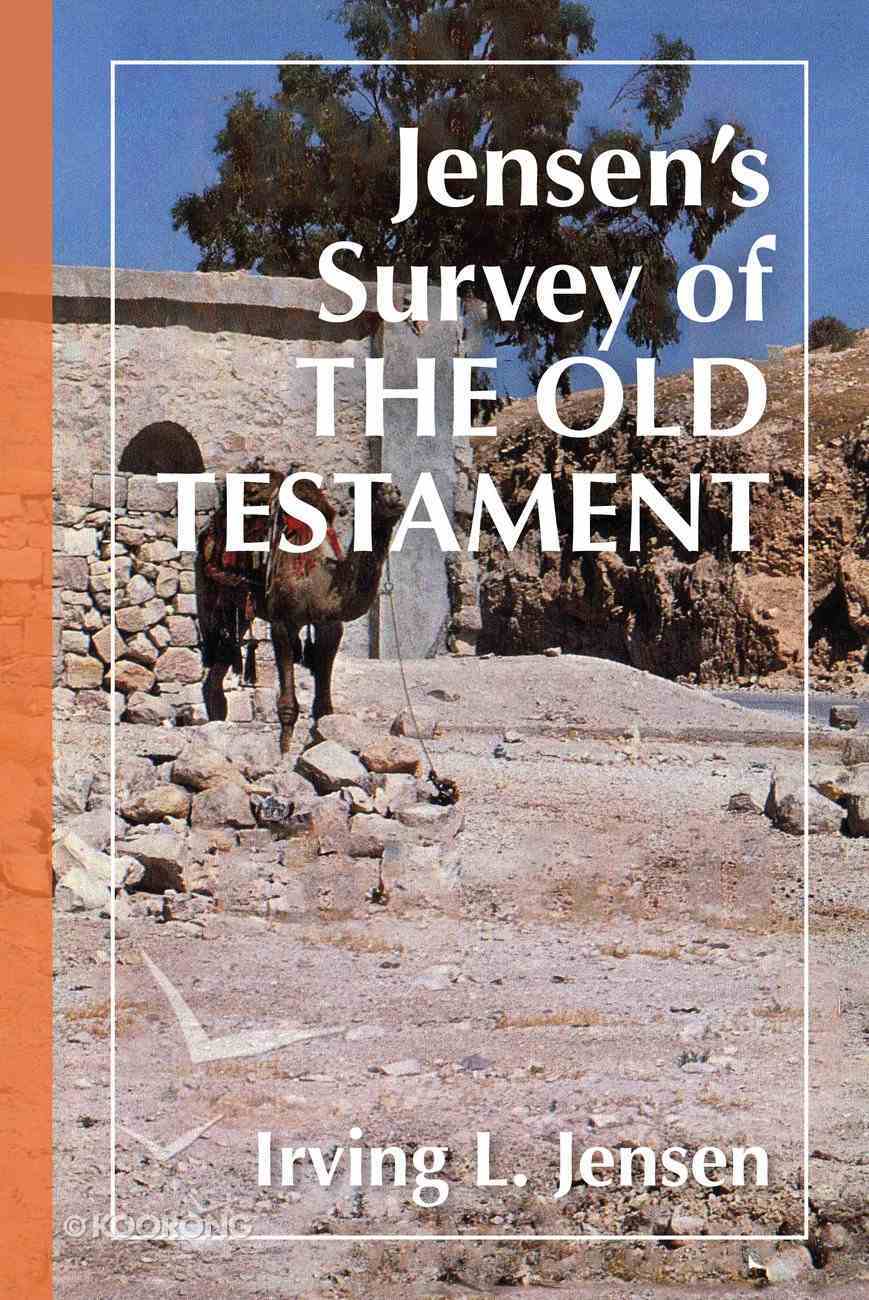 Jensen's Survey of the Old Testament
---
Expected to ship tomorrow from Australia.
---
Free Shipping
for orders over $99.
28 Chapters
-Publisher

A useful survey of the Old Testament that will aid in understanding difficult passages. This one volume contains all of Irving Jensen's Bible self-study guides to the Old Testament.

-Publisher
IRVING L. JENSEN (B.A., Wagner College; S.T.B., Biblical Seminary; Th.D., Northwestern Theological Seminary), was professor and chairman of the department of Bible at Bryan College, Dayton, Tennessee, and the author of numerous books, including the entire Bible Self-Study Series; Jensen's Survey of the Old Testament; Jensen's Survey of the New Testament; Jensen's Bible Study Charts; Acts: An Inductive Study; Independent Bible Study; and How to Profit from Bible Reading.
<div><p>charts<br>maps<br>foreword<br>preface</p><p>introduction To The Old Testament<br>survey Methods Of Study</p><p>1. Introduction To The Old Testament</p><p>2. The Survey Method Of Study</p><p>part 1<br>orgins Of Human Race And The Early Centuries Of Isreal's Life</p><p>3. Genesis: The Book Of Beginninngs</p><p>4. Exodus: Book Of Redemption</p><p>5. Leviticus: "ye Shall Be Holy"</p><p>6. Numbers: Journey To God's Rest Land</p><p>7. Deuteronomy: Book Of Remembrance</p><p>part 2<br>history Of Israel In And Out Of The Land Of Canaan</p><p>8. Joshua: Book Of Conquest</p><p>9. Judges: Apostasies</p><p>10. Ruth: Kinsman-redeemer Gives Rest</p><p>11. 1 And 2 Samuel: The First Two Kings Of Isreal</p><p>12. 1 And 2 Kings: From Glory To Captivity</p><p>13. 1 And 2 Chronicles: Judah Durning The Years Of Monarchy</p><p>14. Ezra, Nehemiah, And Esther: Return Of The Jewish Remnant From Exile</p><p>part 3<br>reflections And Worship<br>durning The Monarchial Years</p><p>15. Job: Knowing God Better Through Adversity</p><p>16. Psalms: "bless The Lord, Oh My Soul"</p><p>17. Proverbs: Walking In The Fear Of The Lord</p><p>18. Ecclesiates: Vanity Under The Sun, But Hope Is In God</p><p>19. Song Of Solomon: Union And Communion</p><p>part 4<br>ministries Of The Prophets</p><p>20. Isaiah: The Glorious Throne Of Jehovah, The Holy One</p><p>21. Jeremiah: The Book Of Judgement</p><p>22. Lamentations: Mourning Over Affliction</p><p>23. Ezekiel: The Glory Of The Lord</p><p>24. Daniel: God Rules The World</p><p>25. The Twelve Minor Prophets</p><p>26. The Minor Prophets Of Israel (jonah, Joel, Micah, Nahum, Zephaniah, Habbakkuk)</p><p>27. The Minor Prophets Of Judah (haggai, Zechariah, Malachi)</p><p>appendix<br>bibliography<br>general Index</p></div>
Bestsellers in Biblical Studies