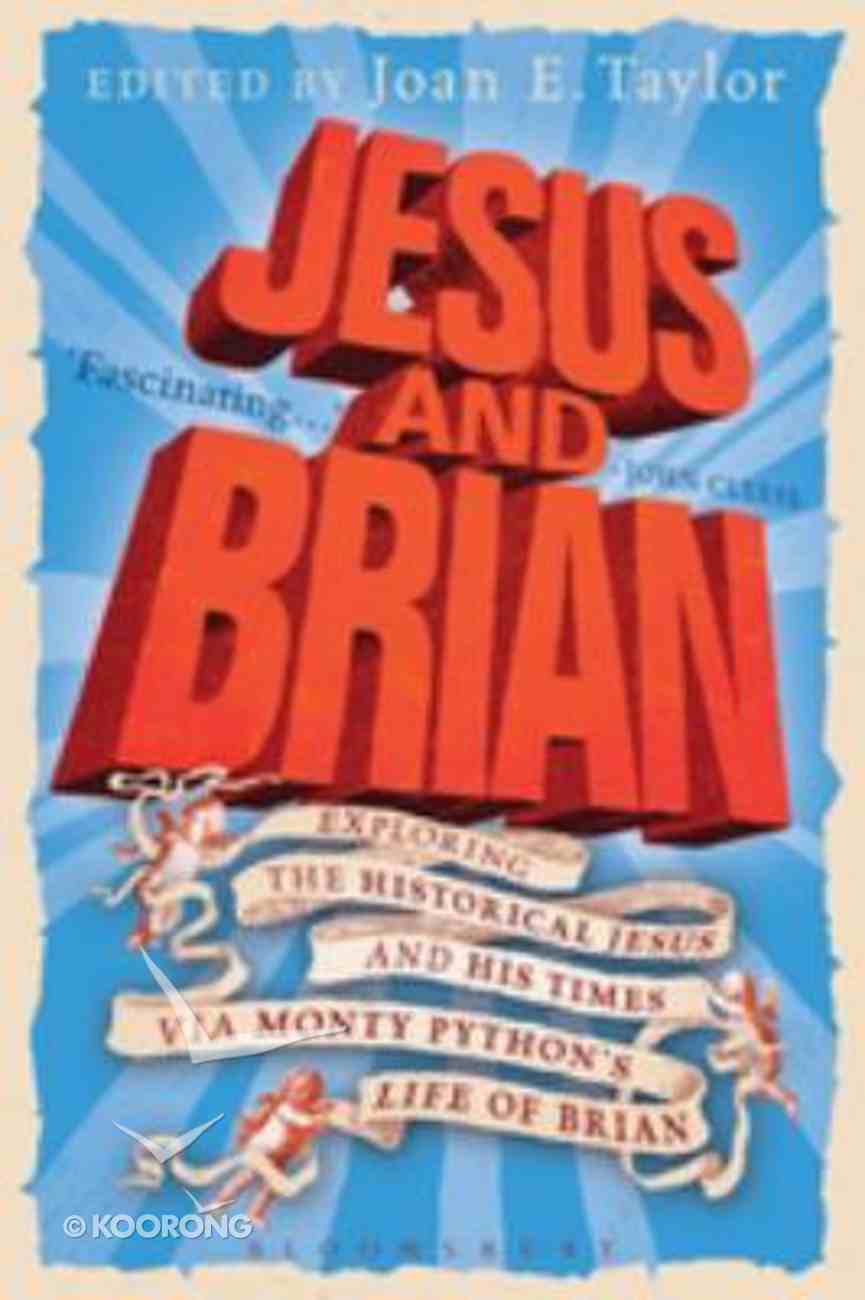 :Monty Python's Life of Brian film is known for its brilliant satirical humour. Less well known is that the film contains references to what was, at the time of its release, cutting edge biblical scholarship and Life of Jesus research....
Order now to secure your copy when our stock arrives.
0 Available.
---
Free Shipping
for orders over $99.
:Monty Python's Life of Brian film is known for its brilliant satirical humour. Less well known is that the film contains references to what was, at the time of its release, cutting edge biblical scholarship and Life of Jesus research. This research, founded on the acceptance of the Historical Jesus as a Jew who needs to be understood within the context of his time, is implicitly referenced through the setting of the Brian character within a tumultuous social and political background.This collection is a compilation of essays from foremost scholars of the historical Jesus and the first century Judaea, and includes contributions from George Brooke, Richard Burridge, Paula Fredriksen, Steve Mason, Adele Reinhartz, Bart Ehrman, Amy-Jill Levine, James Crossley, Philip Davies, Joan Taylor, Bill Telford, Helen Bond, Guy Steibel, David Tollerton, David Shepherd and Katie Turner. The collection opens up the Life of Brian to renewed investigation and, in so doing, uses the film to reflect on the historical Jesus and his times, revitalising the discussion of history and Life of Jesus research. The volume also features a Preface from Terry Jones, who not only directed the film, but also played Brian's mum.
-Publisher
Joan E. Taylor is Honorary Research Fellow in the Department of History at University College London and Honorary Fellow in the Department of Religious Studies and Philosophy at Waikato University, Hamilton, New Zealandý
:list Of Authors List Of Abbreviations List Of Illustrations Preface: Terry Jones Foreword: Paul Joyce Introduction: Jesus And Brian: The Conference And The Book<i>joan E. Taylor, King's College London, Uk </i>part One: The Film In Its Cinematic Context, Its Reception And Its Challenges1. Monty Python's Life Of Brian And The Jesus Film <i>william Telford, University Of Durham, Uk </i>2. The Church Of England's Life Of Python - Or What The Bishop Saw <i>richard Burridge, King's College London, Uk </i> 3. When Brian Met Moses: Life Of Brian (1979), Wholly Moses (1980) And The 'failure' Of Biblical Parody<i>david Shepherd, Trinity College Dublin, Ireland</i>4.'blasphemy!' On Free Speech Then And Now <i>david Tollerton, University Of Exeter, Uk</i>5.the Meaning Of Monty Python's Jesus <i>james Crossley, University Of Sheffield, Uk</i>6. The Gospel Of Brian <i>philip R. Davies, University Of Sheffield, Uk</i>part Two: History And Interpretation Via Monty Python's Life Of Brian7.the Historical Brian: Reception Exegesis In Practice<i>joan E. Taylor, Kings College London, Uk</i>8. Romani Ite Domum - Expressions Of Identity And Resistance In Judaea<i>guy D. Stiebel, Hebrew University Of Jerusalem, Israel </i>9. 'you'll Probably Get Away With Crucifixion': Laughing At The Cross In Brian And The Ancient World <i>helen Bond, University Of Edinburgh, Uk</i>10. Brian As A Teacher Of Righteousness <i>george Brooke, University Of Manchester, Uk</i>11. Brian And The Apocalyptic Jesus: Parody As A Historical Method <i>bart Ehrman, University Of North Carolina, Usa</i>12. 'are You A Virgin?': Biblical Exegesis And The Invention Of Tradition <i>paula Fredriksen, Boston University, Usa </i>13. Beards For Sale: The Uncut Version Of Brian, Gender And Sexuality<i>amy-jill Levine, Vanderbilt University, Usa </i>14. 'what Have The Romans Ever Done For Us?' Brian And Josephus On Anti-roman Sentiment<i>steve Mason, University Of Aberdeen, Uk</i> 15. Hook-nosed Heebies: Brian, Jesus And Jewish Identity<i>adele Reinhartz, University Of Ottawa, Canada </i>16. 'the Shoe Is The Sign!' Costuming 'brian' And Dressing The 1st Century<i>katie Turner, King's College London, Uk</i> Abstracts Of Chapters Bibliography Index
Bestsellers in Biblical Studies