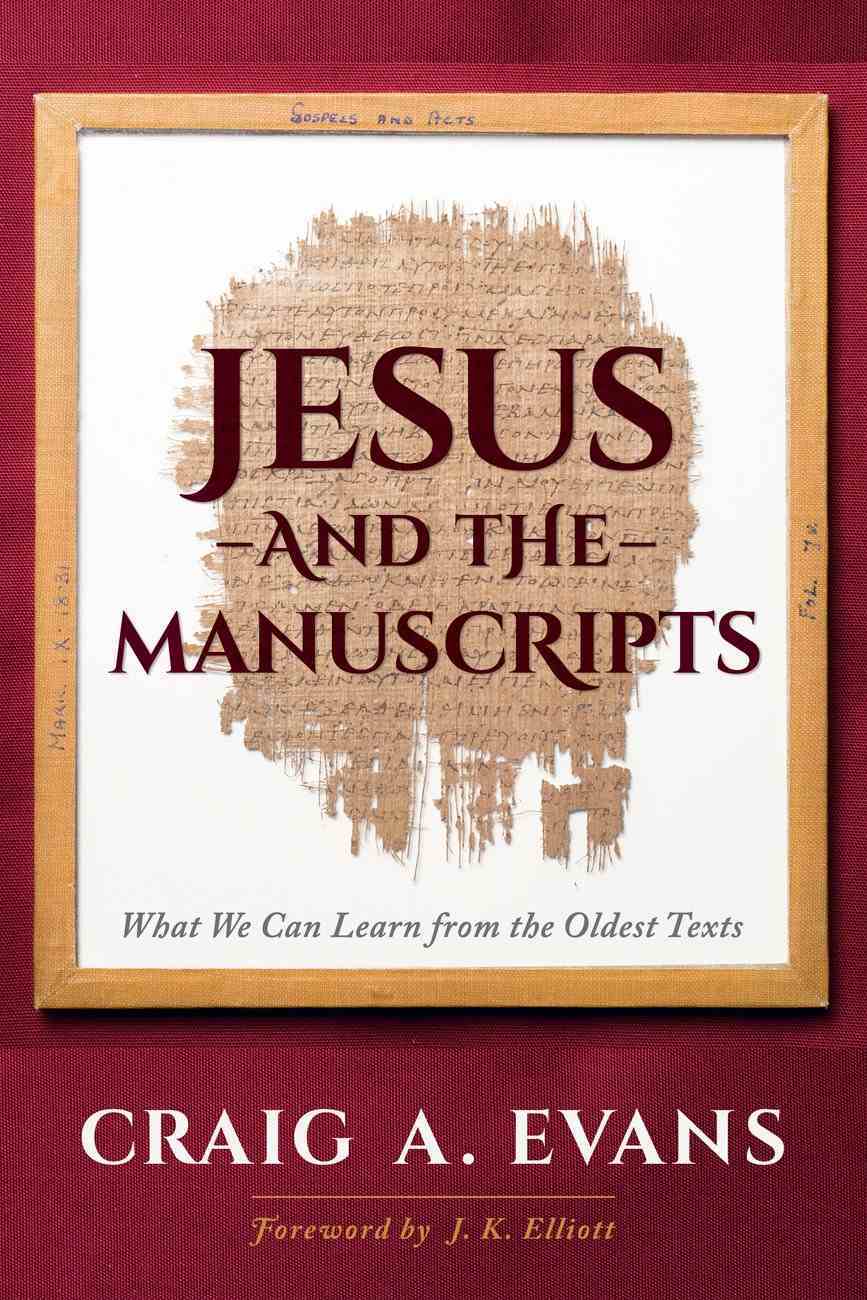 Jesus and the Manuscripts: What We Can Learn From the Oldest Texts
Jesus and the Manuscripts , by popular author and Bible scholar Craig A. Evans, introduces readers to the diversity and complexity of the ancient literature that records the words and deeds of Jesus. This diverse literature includes the familiar Gospels...
Instant download
---
Expected to ship on Monday from Australia.
---
Read using our free app on your tablet or mobile!
---
Free Shipping
for orders over $99.

Jesus and the Manuscripts, by popular author and Bible scholar Craig A. Evans, introduces readers to the diversity and complexity of the ancient literature that records the words and deeds of Jesus. This diverse literature includes the familiar Gospels of the New Testament, the much less familiar literature of the Rabbis and of the Qur??n, and the extracanonical narratives and brief snippets of material found in fragments and inscriptions. This book critically analyzes important texts and quotations in their original languages and engages the current scholarly discussion. Evans argues that the Gospel of Thomas is not early or independent of the New Testament Gospels but that it should be dated to the late second century. He also argues that Secret Mark, like the recently published Gospel of Jesus? Wife, is probably a modern forgery. Of special interest is the question of how long the autographs of New Testament writings remained in circulation. Evans argues that the evidence suggests that most of these autographs remained available for copying and study for more than one hundred years and thus stabilized the text.


-Publisher
Craig A. Evans (Ph.D., Claremont) is Payzant Distinguished Professor of New Testament and director of the graduate program at Acadia Divinity College in Wolfville, Nova Scotia. He has written extensively on the historical Jesus and the Jewish background of the New Testament era. His books include Jesus and His Contemporaries: Comparative Studies, Luke (New International Bible Commentary), Mark (Word Biblical Commentary), Jesus and the Ossuaries, Fabricating Jesus and Ancient Texts for New Testament Studies. His edited volumes include (with Bruce Chilton) Studying the Historical Jesus: Evaluations of the State of Current Research, Dictionary of New Testament Background, From Prophecy To Testament and (with John Collins) Christian Beginnings and the Dead Sea Scrolls.
He has recently served on the advisory board on The Gospel of Judas for National Geographic Society and has appeared frequently as an expert commentator on network television programs, such as Dateline, and in various documentaries on the BBC, the Discovery Channel and the History Channel. He most recent work is Matthew (New Cambridge Bible Commentary.)


<p><i>jesus And The Manuscripts</i>, By Popular Author And Bible Scholar Craig A. Evans, Introduces Readers To The Diversity And Complexity Of The Ancient Literature That Records The Words And Deeds Of Jesus. This Diverse Literature Includes The Familiar Gospels Of The New Testament, The Much Less Familiar Literature Of The Rabbis And Of The Qur??n, And The Extracanonical Narratives And Brief Snippets Of Material Found In Fragments And Inscriptions. This Book Critically Analyzes Important Texts And Quotations In Their Original Languages And Engages The Current Scholarly Discussion. Evans Argues That The Gospel Of Thomas Is Not Early Or Independent Of The New Testament Gospels But That It Should Be Dated To The Late Second Century. He Also Argues That <i>secret Mark</i>, Like The Recently Published <i>gospel Of Jesus? Wife</i>, Is Probably A Modern Forgery. Of Special Interest Is The Question Of How Long The Autographs Of New Testament Writings Remained In Circulation. Evans Argues That The Evidence Suggests That Most Of These Autographs Remained Available For Copying And Study For More Than One Hundred Years And Thus Stabilized The Text.</p>
Bestsellers in Biblical Studies