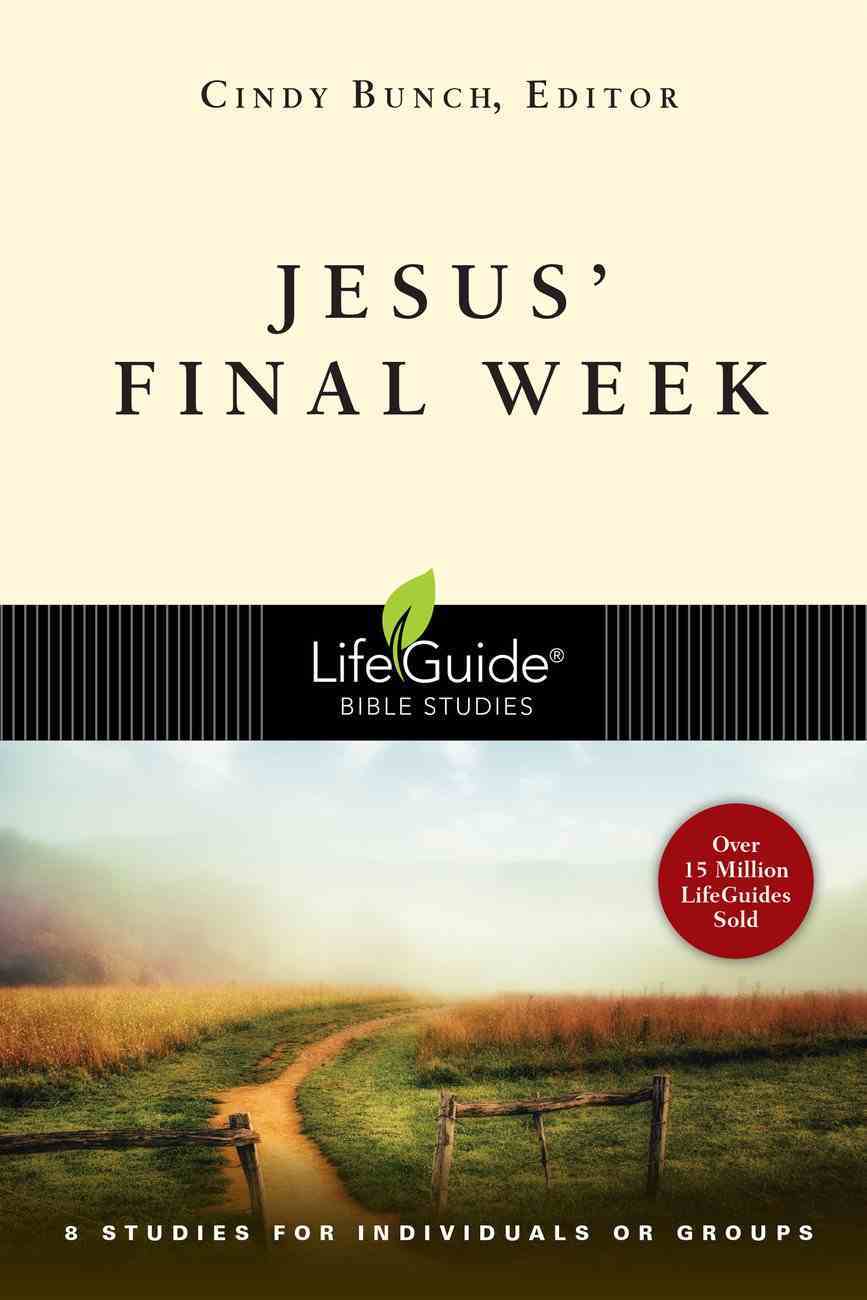 Jesus' Final Week (Lifeguide Bible Study Series)
The events that took place during Jesus' final week on earth-Palm Sunday, the Last Supper, the trial, Jesus' death and his resurrection-are foundational to your salvation and your Christian life. As these Bible studies allow you to focus more closely...
Instant download
---
Expected to ship on Monday from Australia.
---
Free Shipping
for orders over $99.
The events that took place during Jesus' final week on earth-Palm Sunday, the Last Supper, the trial, Jesus' death and his resurrection-are foundational to your salvation and your Christian life. As these Bible studies allow you to focus more closely on these amazing events, you'll gain new understanding about who Jesus is and how he loves you. This eight-session LifeGuide® Bible Stud features questions for starting group discussions and for meeting God in personal reflection. Leader's notes are included with information on study preparation, leading the study and small group components as well as helps for specific Bible passages covered in the study. Presented in a convenient workbook format and featuring the inductive Bible study approach, LifeGuides are thoroughly field-tested prior to publication; they're proven and popular guides for digging into Scripture on your own or with a small group. For over three decades LifeGuide Bible Studies have provided solid biblical content and raised thought-provoking questions-making for a one-of-a-kind Bible study experience for individuals and groups. This series has more than 130 titles on Old and New Testament books, character studies, and topical studies. PDF download with a single-user license; available from InterVarsity Press and other resellers.^2. Monday: Clearing The Temple^3. Tuesday: Teaching At The Mount Of Olives^4. Thursday: The Last Supper^5. Thursday: Betrayal And Arrest^6. Friday: Trial ^7. Friday: Crucifixion^8. Sunday: Resurrection^
-Publisher
The events that took place during Jesus' final week on earth-Palm Sunday, the Last Supper, the trial, Jesus' death and his resurrection-are foundational to your salvation and your Christian life. As these Bible studies allow you to focus more closely on these amazing events, you'll gain new understanding about who Jesus is and how he loves you. This eight-session LifeGuide® Bible Stud features questions for starting group discussions and for meeting God in personal reflection. Leader's notes are included with information on study preparation, leading the study and small group components as well as helps for specific Bible passages covered in the study. Presented in a convenient workbook format and featuring the inductive Bible study approach, LifeGuides are thoroughly field-tested prior to publication; they're proven and popular guides for digging into Scripture on your own or with a small group. For over three decades LifeGuide Bible Studies have provided solid biblical content and raised thought-provoking questions-making for a one-of-a-kind Bible study experience for individuals and groups. This series has more than 130 titles on Old and New Testament books, character studies, and topical studies. PDF download with a single-user license; available from InterVarsity Press and other resellers.^Beginning with the new guides Miracles and Pleasing God (released in February 1999), all new LifeGuides will be presented in the new format. In addition more existing volumes will be revised every year to ensure that all our LifeGuides continue to be effective Bible study resources for the twenty-first century.^The events which took place in Jesus' final week of life -- Palm Sunday, the Last Supper, the trial, Jesus' death and his resurrection -- are foundational to our Christian lives and to our salvation. Focusing on these events day by day brings new understanding to who Jesus is and how he loves us.
-Publisher
The events that took place during Jesus' final week on earth-Palm Sunday, the Last Supper, the trial, Jesus' death and his resurrection-are foundational to your salvation and your Christian life. As these Bible studies allow you to focus more closely on these amazing events, you'll gain new understanding about who Jesus is and how he loves you. This eight-session LifeGuide® Bible Stud features questions for starting group discussions and for meeting God in personal reflection. Leader's notes are included with information on study preparation, leading the study and small group components as well as helps for specific Bible passages covered in the study. Presented in a convenient workbook format and featuring the inductive Bible study approach, LifeGuides are thoroughly field-tested prior to publication; they're proven and popular guides for digging into Scripture on your own or with a small group. For over three decades LifeGuide Bible Studies have provided solid biblical content and raised thought-provoking questions-making for a one-of-a-kind Bible study experience for individuals and groups. This series has more than 130 titles on Old and New Testament books, character studies, and topical studies. PDF download with a single-user license; available from InterVarsity Press and other resellers.
-Publisher
PRODUCT DETAIL
Catalogue Code 

568076

Product Code 

9780830862825

ISBN 

083086282X

EAN 

9780830862825

Department Ministry
Category Studies
Sub-Category General
Publisher Intervarsity Press Usa
Publication Date 

Oct 2011

Sales Rank 

22574

Size 

1.66 MB (PDF)
As a senior editor with InterVarsity Press, Cindy Bunch acquAs a senior editor with InterVarsity Press, Cindy Bunch acquires and develops Bible studies, small group books and a widires and develops Bible studies, small group books and a wide variety of general-interest books. She has been leading sme variety of general-interest books. She has been leading small groups for the past twenty years and has written numerouall groups for the past twenty years and has written numerous Bible study guides, including several in IVP's LifeGuide Bs Bible study guides, including several in IVP's LifeGuide BC
The Events That Took Place During Jesus' Final Week On Earth-palm Sunday, The Last Supper, The Trial, Jesus' Death And His Resurrection-are Foundational To Your Salvation And Your Christian Life. As These Bible Studies Allow You To Focus More Closely On These Amazing Events, You'll Gain New Understanding About Who Jesus Is And How He Loves You. This Eight-session Lifeguide<sup>&reg;</sup> Bible Stud Features Questions For Starting Group Discussions And For Meeting God In Personal Reflection. Leader's Notes Are Included With Information On Study Preparation, Leading The Study And Small Group Components As Well As Helps For Specific Bible Passages Covered In The Study. Presented In A Convenient Workbook Format And Featuring The Inductive Bible Study Approach, Lifeguides Are Thoroughly Field-tested Prior To Publication; They're Proven And Popular Guides For Digging Into Scripture On Your Own Or With A Small Group. For Over Three Decades Lifeguide Bible Studies Have Provided Solid Biblical Content And Raised Thought-provoking Questions-making For A One-of-a-kind Bible Study Experience For Individuals And Groups. This Series Has More Than 130 Titles On Old And New Testament Books, Character Studies, And Topical Studies. <strong>pdf Download With A Single-user License; Available From Intervarsity Press And Other Resellers.</strong>
1. Sunday: Triumphal Entry - <em>matthew 21:1-11</em>
2. Monday: Clearing The Temple - <em>mark 11:12-19</em>
3. Tuesday: Teaching At The Mount Of Olives - <em>matthew 24:1-31</em>
4. Thursday: The Last Supper - <em>matthew 26:17-30</em>
5. Thursday: Betrayal &amp; Arrest - <em>mark 14:43-72</em>
6. Friday: Trial - <em>john 18:28--19:16</em>
7. Friday: Crucifixion - <em>matthew 27</em>
8. Sunday: Resurrection - <em>luke 24:1-43</em>
Leader's Notes