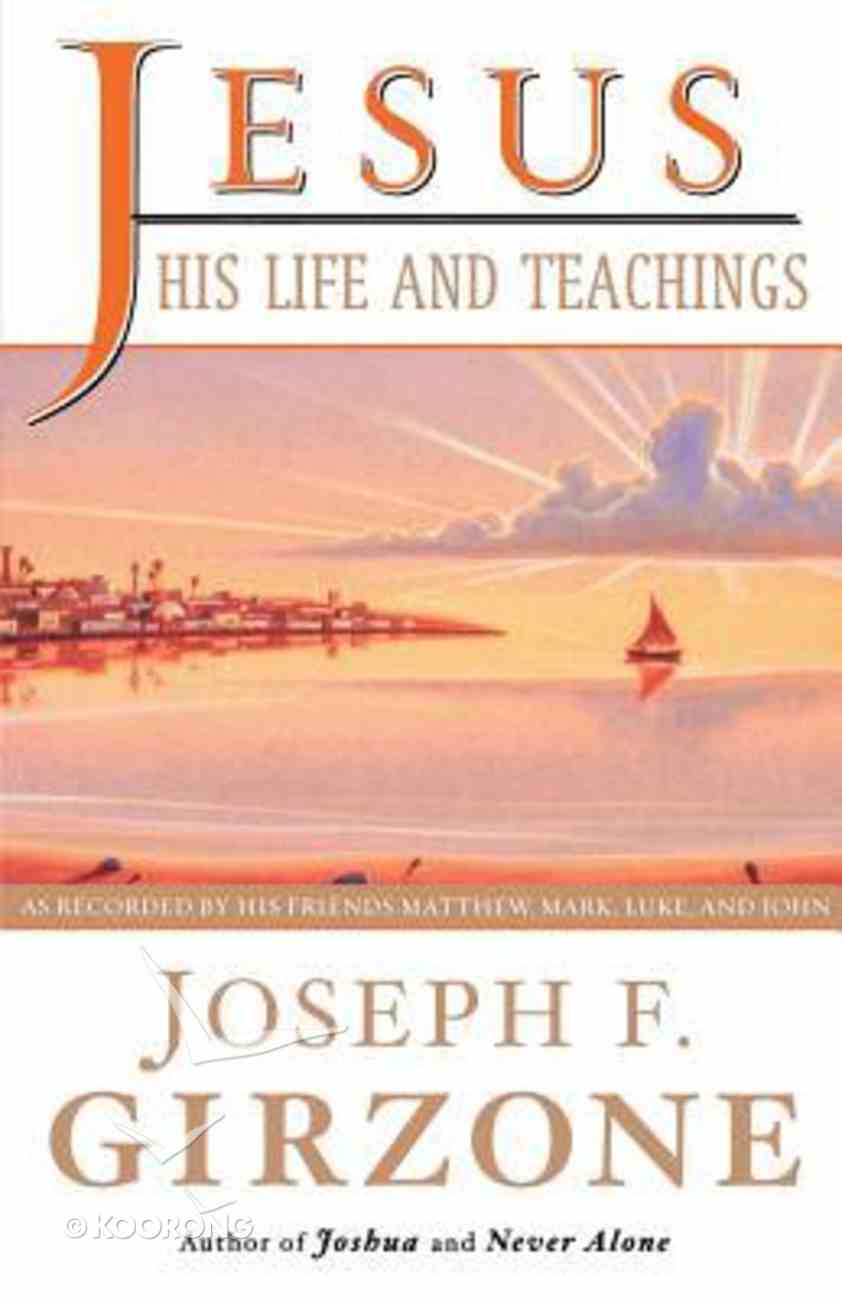 Jesus: His Life and Teachings
Joseph Girzone, the author who so powerfully captured the spirit of Jesus in his Joshua novels and in his bestselling A Portrait of Jesus , now brings his work to culmination with a beautiful retelling of the life and work...
Out of Stock
Available to Order
---
Expected to ship in 4 to 5 weeks from Australia.
---
Free Shipping
for orders over $99.
Joseph Girzone, the author who so powerfully captured the spirit of Jesus in his Joshua novels and in his bestselling A Portrait of Jesus, now brings his work to culmination with a beautiful retelling of the life and work of Jesus based on the accounts in the Gospels of Matthew, Mark, Luke, and John.

Girzone captures the greatest story ever told in language that will open the hearts of readers from all backgrounds. From the birth of the Messiah to the wedding at Cana, the Sermon on the Mount, the Passion, and the triumphant Resurrection, each episode and lesson from the life of Jesus is rendered with wisdom and freshness.


Elegantly designed, this trade paperback original will find an enthusiastic audience with the millions of Girzone readers. -->
-Publisher
PRODUCT DETAIL
Catalogue Code 

167142

Product Code 

0385495137

EAN 

9780385495134

Pages 

192

Department Academic
Category Biblical Studies
Sub-Category Christ
Publisher Image
Publication Date 

Apr 2000

Sales Rank 

29371

Dimensions 

215 x 139 x 7

mm

Weight 

0.235

kg
Joseph Girzone retired from the active priesthood in 1981 and embarked on a second career as a writer and speaker. In 1995 he established the Joshua Foundation, an organization dedicated to making Jesus better known throughout the world. His bestselling books include Joshua; A Portrait of Jesus; Never Alone and most recently The Wisdom of His Compassion:Meditations on the Words and Actions of Jesus and Jesus. He lives in Altamont, New York.
This is the story of Jesus, the Anointed of God. He was also called the Son of David, an official title reserved by his people for the savior they were expecting. Jesus' lineage is traced to the father of the Hebrew people, whose name was Abraham. Some of these ancestors were good people; some were not very admirable.

This is how his life began. His mother, Mary, a virgin, was engaged to a man named Joseph, an honorable man and a skilled woodworker by trade. The couple lived in Nazareth, a town in Galilee, the northern part of Palestine, in our time the State of Israel. During their engagement but before they married, an angel appeared one day to Mary and shocked her with a strange greeting. "Hail, highly favored of God, the Lord is with you."

The young girl was frightened by the appearance of the stranger and his unusual greeting. Seeing she was confused, the angel said to her, "Do not be afraid, Mary, you have found favor with God. Behold, you will conceive and bear a son, and you shall name him Jesus. He will be great and will be called Son of the Most High, and the Lord will give him the throne of David, his father. He will rule over the house of David forever. His kingdom will last forever."

Still confused, Mary said to the angel, "How can this be since I have had no relations with a man?"

The angel replied, "The Holy Spirit will come upon you and the power of the Most High will overshadow you. The child to be born will be holy, the Son of God. To put your mind at rest, I will tell you a secret. Your cousin Elizabeth has also conceived a son in her old age, and she who was thought to be forever childless is already in her sixth month, for nothing is impossible with God."

Feeling assured, Mary said to the angel, "I am the handmaiden of the Lord. Let it be done to me according to your word." Then the angel departed.

Elizabeth and her husband, Zachary, lived in a small village named Ain-Karem barely five miles from the capital city, Jerusalem. Zachary, being of the tribe of Levi, was by birth a priest. Elizabeth was a descendant of Aaron, the first high priest, as well as the brother of Moses. The couple, widely respected for their holiness, was quite advanced in age and had long given up hope of having a child. One day, while Zachary was taking his turn offering incense in the temple in Jerusalem, an angel of the Lord appeared to him, standing at the right hand of the altar of incense. The old man became frightened and did not understand what was happening.

"Do not be afraid, Zachary," the angel said to reassure him. "Your prayer has been answered. Your wife, Elizabeth, will bear you a son, and you shall name him John. He will be the cause of much joy and will be great in the sight of the Lord. He will drink neither wine nor strong drink and will be filled with the Holy Spirit even from his mother's womb. He will turn the hearts of many in Israel to the Lord their God. He will go before him in the spirit of Elijah the prophet and cause many to ponder their lives and change their ways, to prepare a people for the Lord."

Zachary questioned the angel, "How shall I know this, for I am an old man, and my wife is advanced in years?"

The angel replied, "I am Gabriel, who stands before God. I was sent to speak to you, to announce to you the good news. But, because you have not believed my words, you will be speechless, unable to speak until all these things take place."

In the meantime, the people waiting outside were concerned because Zachary had taken so long to perform his service. When he finally appeared and they saw that he was unable to speak, they realized that he had seen a vision. He kept gesturing but could not speak. When he finished his temple duties some days later, he went back to his home.

As the angel had promised, Elizabeth did conceive. She went into seclusion for five months, thanking God for his mercy toward her. "The Lord has finally blessed me and taken away my disgrace before others."

Not long after the angel Gabriel had appeared to Mary, she left home to visit her cousin Elizabeth. It was a trip of close to one hundred miles from Nazareth to Ain-Karem. When she arrived there and entered the house, she greeted Elizabeth. When Elizabeth heard Mary's greeting, the infant leapt in her womb, and Elizabeth, filled with the Holy Spirit, burst into a song of praise. "Blessed are you among women, and truly blessed is the child in your womb. How is it that the mother of my Lord should come to visit me? For as soon as your greeting reached my ears, the child in my womb leapt for joy. Blessed are you for believing that what was prophesied to you would be fulfilled."

Then Mary burst into poetic song. "My soul proclaims the greatness of the Lord, and my spirit rejoices in God my savior. He has looked upon the lowliness of his handmaid. From now on, all ages will call me blessed, for he who is mighty has done great things for me, and holy is his name. From generation to generation is his mercy to those who revere him. He has shown his great strength, scattering the wicked in their pride. He has dethroned the mighty and exalted the lowly. The rich he has dispossessed. He has strengthened his servant Israel, ever mindful of his past mercy, as he had promised to our father Abraham and to his descendants forever."

Mary stayed with her cousin for three months, then returned to her own home.

Shortly afterward, Elizabeth gave birth to her son. All her friends and family came to visit her and pay their respects. Eight days later, as was the custom, the family gathered for the baby's circumcision. Everyone expected he would be named after his father, Zachary. Elizabeth told them, however, his name would be John. "Why? There is no one by that name in the family," the family protested. Beckoning for Zachary's attention, they asked him what name he wanted to give the baby. On a writing tablet he wrote, "His name is John." Everyone was shocked. At that moment, Zachary's voice returned and he began to speak, thanking God for all the wonderful things that had happened.

The guests stood in awe of what they were witnessing and could not wait to tell all their neighbors. They knew God had destined this child for something special, so they kept all that happened in their hearts to see what would later become of the child.
Bestsellers in Biblical Studies