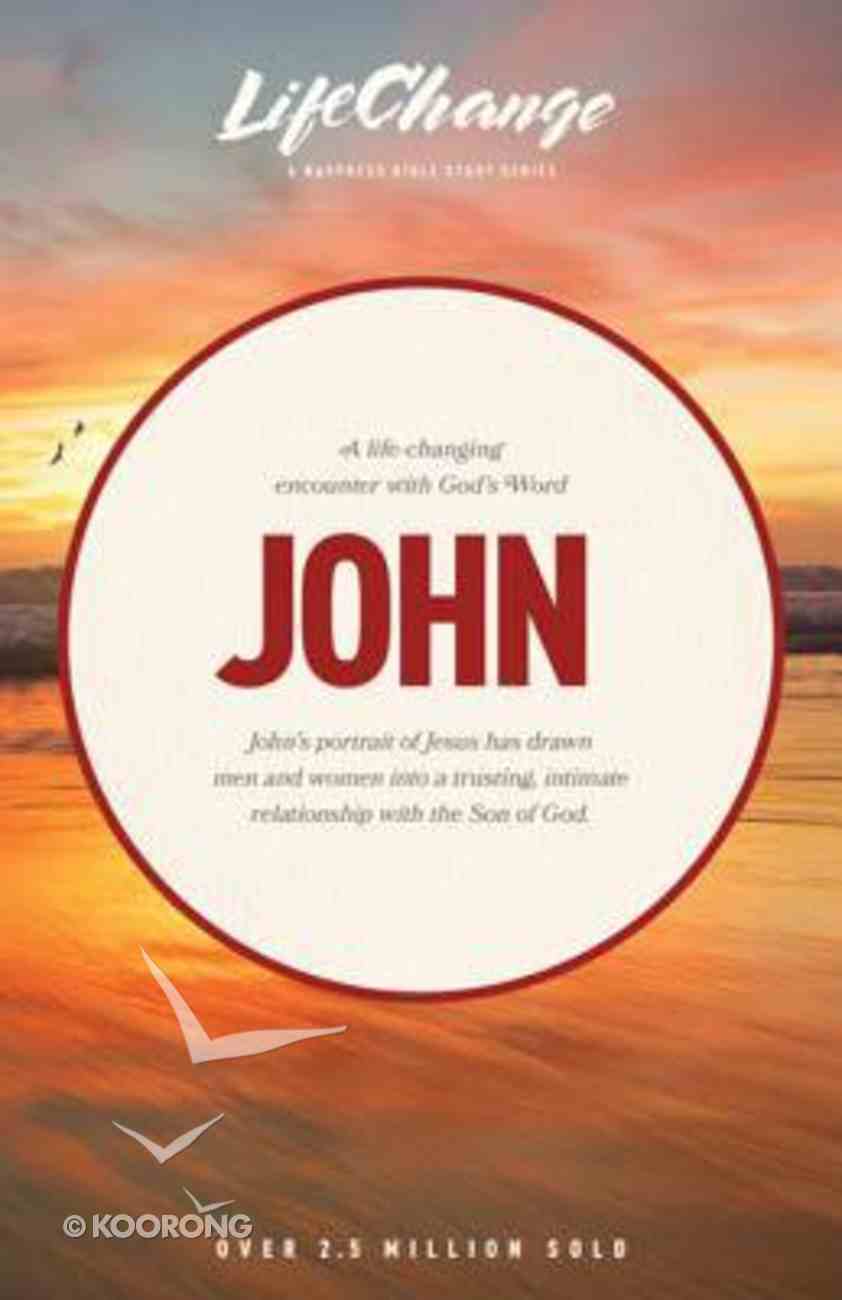 John (Lifechange Study Series)
Begin Deciding for Yourself Who was Jesus-a wise teacher? A prophet? A fake? During Jesus' lifetime, no one understood His mission, but by narrating a few carefully chosen episodes in Jesus' life, the Apostle John unfolds the truth. Throughout the...
Instant download
---
Expected to ship tomorrow from Australia.
---
Read using our free app on your tablet or mobile!
---
Free Shipping
for orders over $99.
Begin Deciding for Yourself
Who was Jesus-a wise teacher? A prophet? A fake? During Jesus' lifetime, no one understood His mission, but by narrating a few carefully chosen episodes in Jesus' life, the Apostle John unfolds the truth. Throughout the centuries, John's portrait of Jesus has drawn men and women into a trusting, intimate relationship with the Son of God. As you study John, you can begin deciding for yourself who Jesus is.

LifeChange
LifeChange Bible studies will help you grow in Christlikeness through a life-changing encounter with God's Word. Filled with a wealth of ideas for going deeper so you can return to this study again and again.

Features Cover the entire book of John in 22 lessons Equip yourself to lead a Bible study Imagine the Bible's historical world Study word origins and definitions Explore thoughtful questions on key themes Go deeper with optional projects Add your notes with extra space and wide margins Find the flexibility to fit the time you have ^2. The Word (1:1-18)^3. Testimony (1:6-8,19-51)^4. The Ministry Begins (2:1-25)^5. Born of the Spirit (3:1-36)^6. Living Water (4:1-54)^7. Opposition Begins (5:1-47)^8. The Bread of Life (6:1-71)^9. Who Is Jesus? (7:1-52)^10. The Light of the World (8:12-9:41)^11. Sin and Judgment (7:53-9:41)^12. The Good Shepherd (10:1-42)^13. Lazarus Raised (11:1-57)^14. The Hour Comes (12:1-50)^15. Love and Betrayal (13:1-38)^16. Parting Words: 1 (14:1-16:33)^17. Parting Words: 2 (14:1-16:33)^18. The Lord's Prayer (17:1-26)^19. Condemned (18:1-19:16)^20. Crucified (19:17-42)^21. Resurrection (20:1-31)^22. Epilogue (21:1-25 and Review)^
-Publisher
Begin Deciding for Yourself
Who was Jesus-a wise teacher? A prophet? A fake? During Jesus' lifetime, no one understood His mission, but by narrating a few carefully chosen episodes in Jesus' life, the Apostle John unfolds the truth. Throughout the centuries, John's portrait of Jesus has drawn men and women into a trusting, intimate relationship with the Son of God. As you study John, you can begin deciding for yourself who Jesus is.

LifeChange
LifeChange Bible studies will help you grow in Christlikeness through a life-changing encounter with God's Word. Filled with a wealth of ideas for going deeper so you can return to this study again and again.

Features Cover the entire book of John in 22 lessons Equip yourself to lead a Bible study Imagine the Bible's historical world Study word origins and definitions Explore thoughtful questions on key themes Go deeper with optional projects Add your notes with extra space and wide margins Find the flexibility to fit the time you have
-Publisher