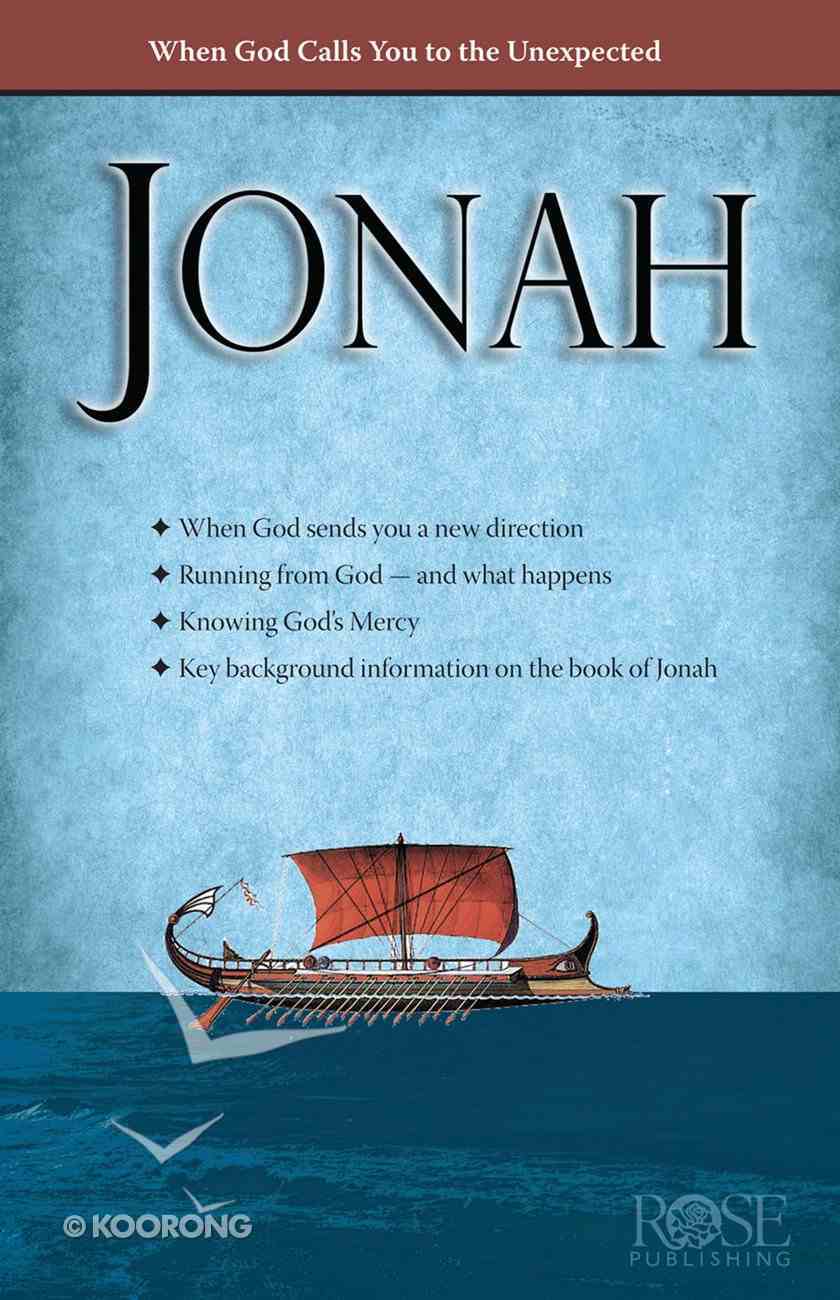 Jonah (Rose Guide Series)
The Book of Jonah: A Bible Study on Hearing God's Call The story of Jonah in the Bible is more than a chidren's story about a great whale or fish. It's a story of being obedient to God,...
Instant download
---
Expected to ship within 7 hours from Australia.
---
Read using our free app on your tablet or mobile!
---
Free Shipping
for orders over $99.

The Book of Jonah: A Bible Study on Hearing God's Call


The story of Jonah in the Bible is more than a chidren's story about a great whale or fish. It's a story of being obedient to God, even when we don't want to.


How do you respond to unexpected change? To plans interrupted, perspectives challenged, and routines ruined? Do you hide from it, distracting yourself by staying busy? Do you resist it, questioning the new direction? Although change remains an unavoidable part of life, we naturally crave to maintain the stability of the familiar. Discover how to stay afloat despite life's changes and interruptions in this excellent Jonah Bible Study. (See the Bible Study Questions below.)

Themes in the Book of Jonah God Called Jonah to Nineveh, to the Land of Israel's Enemies The call of God required Jonah to make 3 major changes Change his life's direction. Change his location. Change his perspective on who deserves God's grace. How did Jonah respond? He hid, attempting to run from God. So, God swallowed him up in his mercy and reminded him of his grace. Find out how Jonah's story represents more than a fishing tale, explore the scope of God's unrelenting mercy, and discover how God can transform lifes in unanticipated ways in Jonah.

Dive into the meaning and relevance of this beloved Bible story with this full color, 14-pannel pamphlet which highlights one disobedient prophet and one all-loving God. Enjoy hundreds of fascinating facts and scriptural insights at your fingertips, including information on the cultural, historical, and symbolic background of the Book of Jonah.

God doesn't promise us smooth sailing, but when we let him navigate our life choices he will never let us sink.

This Jonah Bible Study Provides Key Insights and Tools Summary of the Book of Jonah Historical background of the Book of Jonah The symbolism of Nineveh, Tarshish, and the "leaf and worm" parable Cultural background of the Assyrian Empire Map of the Assyrian Empire A chart explaining "the sign of Jonah" in various Gospels A chart comparing the sailors' prayers with Jonah's plea within the whale Reflective questions throughout each section to make the content personal 9 Biblical Themes from the Book of Jonah Disobedience God's compassion and mercy Repentance Deliverance God's calling and will Grace Self-centeredness God's sovereignty God's impartiality Jonah Bible Study Questions for Discussion or Journaling Read page 2. Focus your attention on the "Assyria" insight box. What type of people were the Assyrians? Pick two actions performed by the Assyrians that were particularly appalling. Does knowing this information justify Jonah's initial hesitation and disobedience? Why or why not? How might Christians overcome the tendency to treat God's commandments as suggestions when circumstances are especially disheartening?

God unexpectedly called Jonah to preach against Nineveh, a task Jonah fled from. Isaiah 55:8 states that "God's ways are not our ways." Why do you think God calls Christians to undergo tasks out of their comfort zones? What does this reveal about God's character and Christians' relationship to him?
Read page 3. Jonah fled to "Tarshish," attempting to distance himself from God by heading toward "the end of the world." However, hiding from God does not always involve physically moving. These days how can a person try to distance themself from God? Why is it important to identify these distractions as a way of hiding from God's calling? What are some underlying excuses and/or fears that may cause Christians to hide from God? What are some ways to combat these fears scripturally?
Read page 3. Pick one of the other explanations for the meaning of Tarshish. Besides representing "distance," what does the explanation you chose reveal about Jonah's actions?
Review the chart on page 5. This chart highlights multiple comparisons between the sailors' and Jonah's responses; pick three to focus your attention on. How does connecting Jonah's actions with the sailor's response reinforce the story's overall message about God's unrelenting compassion and lack of partiality?
Read page 4. Some people feel they must be perfectly sanctified and demonstrate immediate obedience before being used as an instrument of God. How does the life of Jonah contradict this idea? Why do you think God calls imperfect people to fulfill his perfect plans? Who benefits from this arrangement?
Read page 6-10. God showed mercy to wicked Nineveh, a city Jonah viewed as unworthy of God's grace. Jonah judged the Ninevites despite the fact he himself willing disobeyed God. Why is it important to remember God's character as a compassionate and merciful God, who is not a "respecter of persons" (Acts 10:34)? How can forgetting God's mercy led to self-righteousness or ungodly possessiveness? Brainstorm ways on how to daily remember God's mercy and compassion.
Read page 8, 12, and 13. On each of these pages various explanations are given to explain Jonah's angry reaction to God's mercy toward Nineveh. Pick one of the explanations that stuck out to you. According to the explanation you picked, what does Jonah prioritize above God? What are some things (emotions, prejudices, people, activities, priorities,etc) that Christians can unintentionally place before God's will? Does this affect their relationship with God and their ability to witness? Explain.
Read page 12. What lesson is God trying to teach Jonah through the worm and leaf parable? In the third paragraph on page 12, the pamphlet mentions other parables similar to the one mentioned in the book of Jonah. Pick one of these other parables to focus on and look at its corresponding scripture verse. How does the parable communicate a similar message? How is it different? Why do you think God uses parables to help communicate his message? Review the chart "The Sign of Jonah in the Gospels" on page 14. Referring to the chart, identify two ways how the story of Jonah relates to Jesus. Why is it important to connect the Old Testament with the New Testament? What might Christians miss if they view the Old Testament and New Testament as two unlinked sections? How can you use Jonah?
Individual study Discipleship Small Group Christian School Homeschoolers New Believers' class Support Groups Church library Men's Bible studies Women's Bible studies Why Buy?
Easy to read. Explains the Bible visually. Attractive. Full-color, includes graphics, charts, and a map of the Assyrian Empire. Easy to understand. Uses concise and simple language. Highlights key scripture verses in color. Fast. This glossy attractive booklet can take less than 30 minutes to read. Durable. It's glossy coating helps it last. Convenient. This pamphlet's small size makes it easy to carry inside of your Bible, folder, or binder. Engaging. Includes fascinating facts that revitalize individual and group Bible studies. Lightweight. Easier to mail than a book, enabling you to uplift and equip friends, family members, and missionaries anywhere in the world. Jonah Goes Well With-
Priscilla Shirer's Jonah: Navigating a Life Interrupted (Lifeway®)
Note: Lifeway® is a registered trademark of a ministry organization having no affiliation with Rose Publishing.

5 Healthy Ways to Respond To Unexpected Changes
Jonah shows how not to respond to life's changes: hiding from God. Here are some healthy ways of adjusting to life's interruptions. Meditate on God's character. Pray for God's sustaining power. Offer an obedient attitude. Accept God's sovereignty over all circumstances. Admit the continual need for God's mercy.
-Publisher
Bestsellers in Tracts/booklets