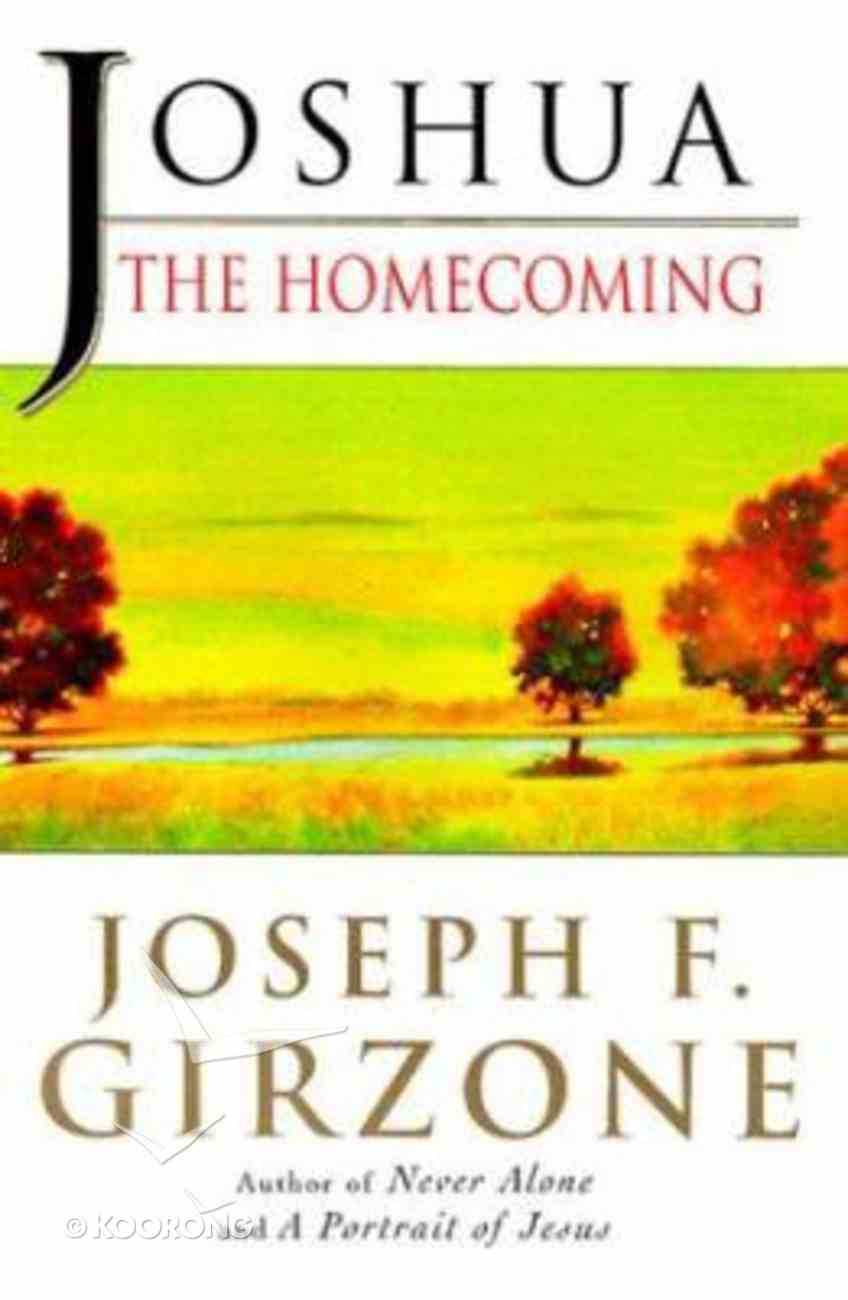 Joseph Girzone wrote his parable in 1983 and published it himself with neither accompanying fanfare nor expectation of the extraordinary effect it would have on people around the world. With only word-of-mouth for advertising, and by virtue of its siniple...
Out of Stock
Available to Order
---
Expected to ship in 4 to 5 weeks from Australia.
---
Free Shipping
for orders over $99.
Joseph Girzone wrote his parable in 1983 and published it himself with neither accompanying fanfare nor expectation of the extraordinary effect it would have on people around the world. With only word-of-mouth for advertising, and by virtue of its siniple message of love, "Joshua" became an international force of spiritual strength. after its modest beginnings, "Joshua" and its sequels have millions of readers around the world and continue to bring hope and peace to all who seek nourishment. When Joshua moves to a small cabin on the edge of town, the local people are at first mystified, then confused by his presence. A quiet and simple man, Joshua appears to seek nothing for himself. He supports himself solely by carpentry and woodworking, and he charges very little for his services. Yet his work is exquisite. Even more exquisite, and even more mysterious, is the extraordinary effect he has on everyone he meets. All who come in contact with him can't help but be transformed by his inc
-Publisher
PRODUCT DETAIL
Catalogue Code 

142165

Product Code 

0385495099

EAN 

9780385495097

Pages 

272

Department General Books
Category Fiction
Sub-Category General
Publisher Doubleday
Publication Date 

Oct 1999

Sales Rank 

29217

Dimensions 

216 x 147 x 22

mm

Weight 

0.425

kg
Joseph Girzone retired from the active priesthood in 1981 and embarked on a second career as a writer and speaker. In 1995 he established the Joshua Foundation, an organization dedicated to making Jesus better known throughout the world. His bestselling books include Joshua; A Portrait of Jesus; Never Alone and most recently The Wisdom of His Compassion:Meditations on the Words and Actions of Jesus and Jesus. He lives in Altamont, New York.
There are stories throughout history about mysterious appearances of the Divine Presence in people's lives. Some are mythical, and others are quite well documented, as is the case with Moses, the prophets, and many of the saints. While some people might feel God's comings and goings should be restricted as prescribed in Revelation, it seems God nonetheless still has His own mind and feels free to move about His creation as He chooses. As to the reasons for such supernatural happenings, only God can provide the answer. I like to think that as human events flow farther and farther away from the initial shock of the Resurrection, people find reasons for belief increasingly harder to accept than did people of the past. God seems to understand the difficulty of finding faith in a faithless age, and, as in the story of the Prodigal Son, condescends to our human weakness to help our unbelief. That may be the reason why Joshua, in this present story, returns for another visit, to bring comfort and hope to a people frightened about dire prophecies of imminent disaster.

It was a bitterly cold winter night. A lone stranger walked down a street in the City of Brotherly Love, not far from the old Reading Railroad Station, recently converted into the Reading Market. People were rushing--many were on their way to celebrate with friends, others to evening services, some were even last-minute shoppers, for it is Christmas Eve. The stranger was not properly dressed for such a cold night, wearing nothing more than a woolen shirt, ordinary pants, and sandals. But surprisingly enough, this man seemed unconcerned about his exposure to the elements as he stopped at the corner, looked in different directions, and began to cross the street. Seemingly out of nowhere a speeding car squealed around the corner, barely missing the stranger but managing to soak him with icy slush.

Furious at the close call, the driver yelled out the window, "Watch where you're walking, you lazy bum." Unperturbed, the stranger continued on his way as if he heard nothing, joining the people who were headed toward a church a few blocks away. No one paid much attention to the stranger, but those who did commented to their companions on how meagerly clad he was for such a freezing cold night. One lady suggested her husband give him his overcoat as he had two more at home.

"Honey, you've got to be kidding! If he wants to dress that way, that's his problem. There's no reason why he can't work like everyone else. Why should I be expected to dress him? I've never in my life ever seen a truly poor person. People like him are just too lazy to work."

The wife said nothing more and the couple hurried toward the joyful sound of Christmas hymns. Taking no notice of this exchange, the stranger himself continued toward the church. At the steps of the church, a young boy selling calendars watched with sadness as he approached.

"'Hey, mister, you look cold. Don't you have anything better than that to wear?'"

"That's all I have, Thomas. But I don't mind."

"But you have to mind. It's a cold night. You're going to freeze, especially from that guy splashing you with slush. There he goes into the church with his family. He's not a very nice man. I know him. Here, mister, take my coat. I have a sweater underneath, so I can keep warm," the boy said as he took off his coat. It had a hole in the elbow of one sleeve. The coat was old, probably handed down in the family from one child to the next.

"By the way, mister, what's your name?"

"Joshua."

"Joshua, that's a nice name. But how did you know my name?" the boy asked, as he offered his coat to Joshua. When Joshua did not respond immediately, the boy, in his excitement to help the stranger, forgot that he never got an answer to his question.

Joshua accepted the gift so generously offered and tried to put it on. It was clearly too small, but as he put his arm in the sleeve, it expanded to a perfect fit. As the tiny coat grew to Joshua's size, Joshua watched the boy's growing amazement and smiled. Then, taking off the coat, he gave it back to the boy. It was no longer a worn-out rag, but a beautiful new coat. The coat the boy gave Joshua, Joshua was still wearing.

"Gee, mister, how did you do that?"

Joshua smiled. "Our Father in heaven always takes good care of us, Thomas. I also noticed that people were not buying your calendars. Your Heavenly Father knows your parents need the money to buy clothes for your family for Christmas, so He blessed you. You will find what He gave you in the right hand pocket. The calendars he would like you to give to poor people when you see them tomorrow."

The boy reached into his pocket, and to his surprise, found it full of money.

The parish priest on his way to Mass watched this touching scene unfold from a distance. The boy he had known since birth. He belonged to a poor family that lived in the parish, good people struggling hard to survive. The priest had often helped them, and had allowed the boy to sell his calendars outside the church each year to earn a little money for Christmas. The priest was touched when he saw the boy offer Joshua his coat, but was awestruck at what followed. He wanted to walk over and become involved, but, out of respect for the privacy of what he was witnessing, thought it best that he wait. After Joshua gave the boy back his coat, he turned and looked over at the priest and, in a kind gesture of recognition, smiled at him. The priest then knew. He smiled and entered the church, rubbing the tears from his eyes. He turned as if he wanted to go back and talk to the stranger, but thought differently, then continued up the aisle of the church. To intrude on such an intimate encounter would be rude. It was the boy's special moment. The stranger's smile was blessing enough.

In the meantime, when the boy realized how much money there was in the pocket, he was overjoyed.

"Thank you, mister. Thank you so much. Now, I can buy my mother and father and my sisters presents for Christmas. The man at the store told me he was closing late and would wait for me, like he did last year."

"Now, go home, son, and get some sleep."

"No, no. I can't do that. I want to go in and thank Jesus. It's his birthday, you know." The boy ran up the stairs of the church and went inside. Joshua followed slowly behind, and stood there for a few moments, looking across the crowded rows of people singing the age-old songs of Jesus' birth. Their love and good will were genuine, but their understanding, like that of the people of old, was, oh, so wanting. He still loved them, and smiled at this little flock of singing sheep. He turned, walked out into the street, and continued in the direction of the Reading Market.