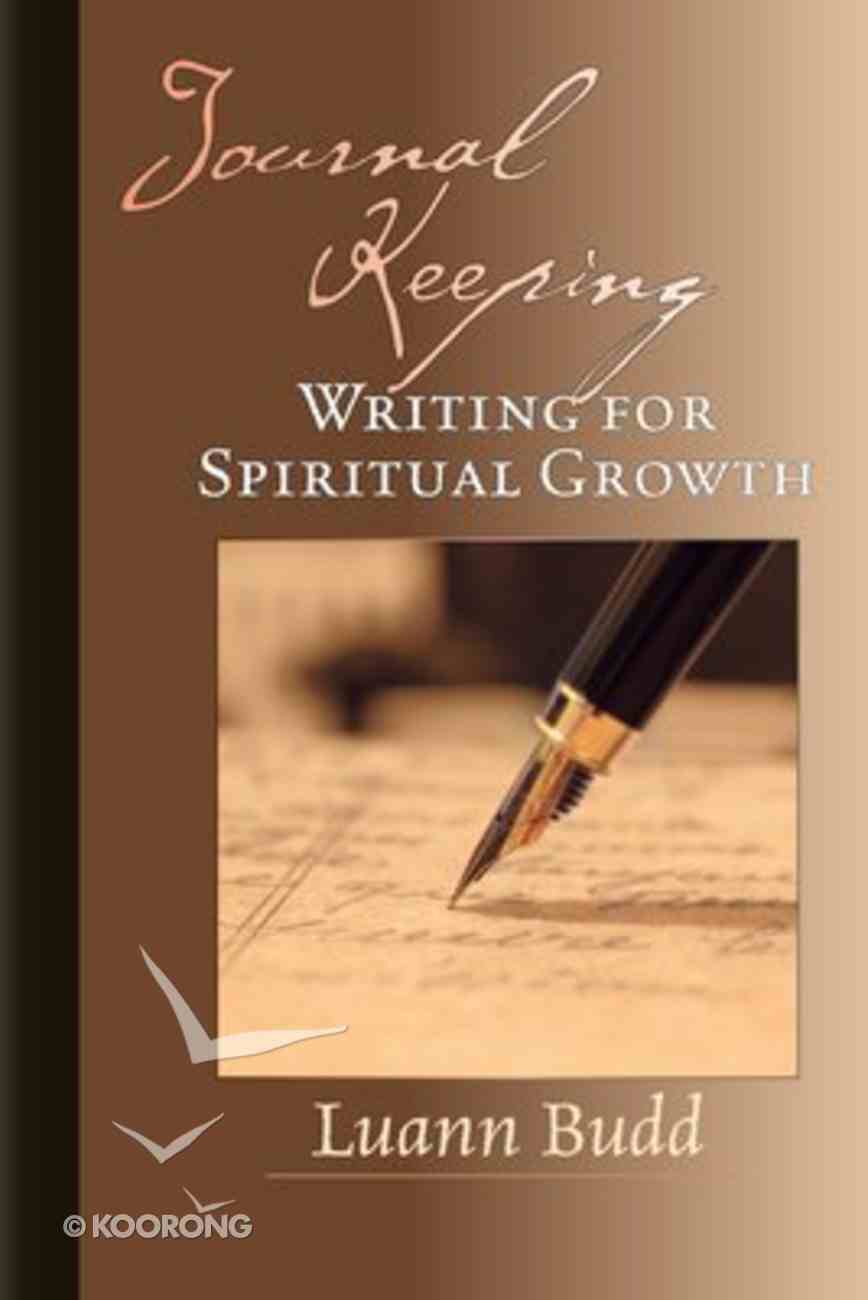 Would you like to journal, but you're not sure how to start?Do you love to journal, but need some fresh ideas?Here's a book to help you discover (or recover) the power of writing as a spiritual discipline. In these pages...
Out of Stock
Available to Order
---
Expected to ship in 4 to 5 weeks from Australia.
---
Free Shipping
for orders over $99.
Would you like to journal, but you're not sure how to start?Do you love to journal, but need some fresh ideas?Here's a book to help you discover (or recover) the power of writing as a spiritual discipline. In these pages you'll find intriguing and encouraging insights on topics like "ordinary things," "discovery journaling," "drawing from another's well" and "dialogue journaling with Scriptures."In each brief chapter, Luann Budd draws on her own life and writing. She shows how to put each of her ideas into practice. And she provides additional inspiration and examples from significant men and women throughout history who have journaled.Read this book to discover the transforming power of journal keeping!
-Publisher
Luann Budd has taught writing at San Jose State University. Luann Budd has taught writing at San Jose State University. She is the Chair of the Board of the Network of Evangelical She is the Chair of the Board of the Network of Evangelical Women in Ministry (www.NEWIM.com) and is a frequent retreat Women in Ministry (www.NEWIM.com) and is a frequent retreat speaker for organizations like NEWIM and The Springs Retreatspeaker for organizations like NEWIM and The Springs Retreat. She is the author of Reflective Writing (now out of print). She is the author of Reflective Writing (now out of print)C
Acknowledgments
Introduction
<strong>part 1: Exploring The Possibilities</strong>
1. Why? An Invitation To Write
2. Getting Organized: Considering The Possibilities
3. Steppingstones: Principles To Follow
4. J Strokes: Staying The Course
5. Return: Revisit Your Journal
6. Pearls And Snakeskins: Our Preparations
7. Honesty: Our Commitment
8. Intimacy: Our Goal
<strong>part 2: Uncovering The Process</strong>
9. A Best Friend: Discovering Our True Feelings
10. Three Lights: Discovering The Voice Of God
11. Fingerprints: Discovering The Lord In Nature
12. Eyes Wide Open: Discovering God In The Usual
13. Go West! Discovering New Insight
14. Toward Reconciliation: Discovering The Grace To Forgive
15. Treasuring And Celebrating: Discovering The Value Of Remembering
16. Seasoned With Salt: Discovering How To Make The Most Of Each Opportunity
17. A Taste Of Honey: Enjoying The Lord
18. In Our Own Voice: Enjoying The Scriptures
19. Brushstrokes: Enjoying A Story
20. Experience The Beauty: Enjoying Poetry
21. Beyond Words: Enjoying Artistic Touches
22. Insight: Writing To Learn From An Author
23. Integration: Writing To Think And Synthesize
24. Approach: Writing To Invite The Word Of God In
25. Reflection: Writing To Walk Into The Scriptures
26. Dialogue Journaling: Writing To Respond To God's Word
<strong>part 3: Venturing Out</strong>
27. Attic Gold: The Art Of Letter Writing
28. A Gathering Place: Keeping A Writer's Notebook
29. Spiritual Hypothermia: When We Can't
30. On A Ledge: Risk Develops Faith
Appendix 1: Fifty Journaling Possibilities
Appendix 2: Bible Studies
Appendix 3: Books Of Interest
Notes
Index
Bestsellers in Spiritual Growth