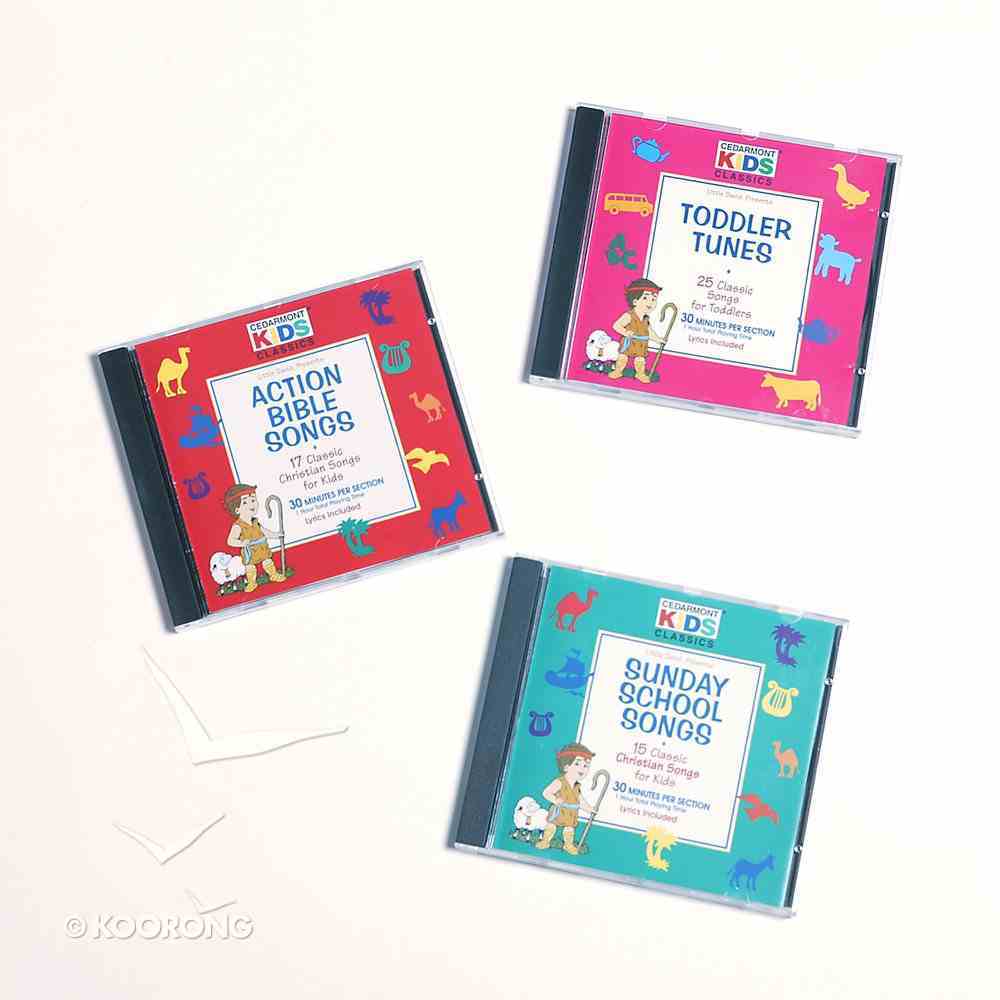 Kids Classics Pack #01 (Kids Classics Series)
Featuring three popular Kids' Classics albums, TODDLER TUNES, ACTION BIBLE SONGS and SUNDAY SCHOOL SONGS, this value pack will give your children hours of listening fun as they learn about the Bible through songs and actions. Save over $4.
---
Free Shipping
for orders over $99.
Onward Christian Soldiers
Rise And Shine
Zaccheus Was A Wee Little Man
Father Abraham
Im In The Lords Army
Swing Low Sweet Chariot
His Banner Over Me Is Love
Jesus Bids Us Shine
O Be Careful Little Eyes
Happy All The Time
Jesus Loves The Little Children
Isnt He Wonderful
One Door And Only One
Behold Behold
If Youre Happy And You Know It
This Little Light Of Mine
Climb Climb Up Sunshine Mountain
I Am A C
Standin In The Need If Prayer Not My Mother
Hes Got The Whole World
Alive Alive
Whisper A Prayer
Jacobs Ladder
Ole Time Religion
Go Tell It On The Mountain
Ive Got Peace Like A River
Michael Row The Boat Ashore
O How I Love Jesus
Down In My Heart
Let The Sunshine In
Do Lord
Wheels On The Bus
Alphabet Song
Polly Put The Kettle On
God Made Me
Eensy Weensy Spider
Deep And Wide
More We Get Together
Six Little Ducks
Mulberry Bush
Baa Baa Black Sheep
Roll Over
Old Macdonald
Father We Thank Thee
Are You Sleeping
Jack And Jill
O Where O Where Has My Little Dog Gone
O Dear What Can The Matter Be
Get On Board Little Children
Pop Goes The Weasel
This Old Man
London Bridge
Mary Had A Little Lamb
Muffin Man
Row Row Row Your Boat
Be Kind To Your Web Footed Friends
Times have changed, but some things are still the same: kids love to sing, play and have fun! Even in today's world, kids are still kids, sharing the same special joys of childhood that parents remember from 20 (or more) years ago.

Cedarmont believes that music is one of those special joys. And in music, the best songs never go out of style. Remember all those songs you learned as a child? Chances are those songs can be found on CDs and DVDs from Cedarmont Kids.

Kids learn by seeing and doing. Cedarmont have kept that in mind with theirproducts. On Cedarmont DVDs, they'll see real kids doing things they all like to do. Also, most of their CDs and DVDs include lyrics and split-tracks so that kids can sing along. Many of their CDs include coloring and activity pages that you can print on your computer!

Most of all, kids love the music. Whether it's the fun, traditional sound of the Cedarmont Classics series or the upbeat Gospel and Worship titles, your kids will enjoy singing along with the Cedarmont Kids. And, if you have a new addition at your house, you'll enjoy sharing the instrumental sounds of the Cedarmont Baby series.
Bestsellers in Childrens Music