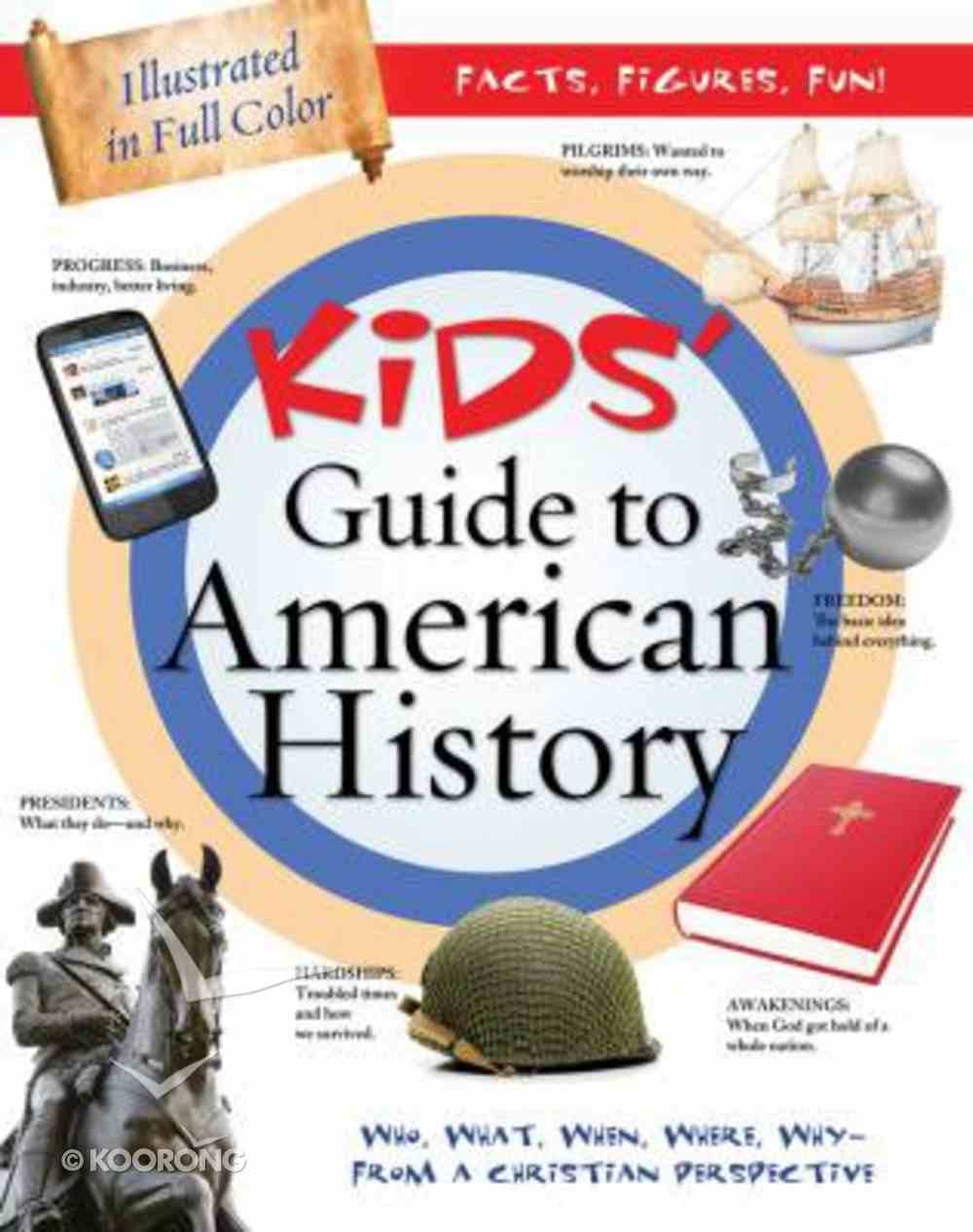 Kids' Guide to American History
Here's a history book kids will actually want to read! This fully illustrated book for 8–12-year-olds features an easy-to-understand recap of American history, all from a Christian perspective. Describing the who, what, when, where, and why of the American...
---
Free Shipping
for orders over $99.


Here's a history book kids will actually want to read! This fully illustrated book for 8–12-year-olds features an easy-to-understand recap of American history, all from a Christian perspective. Describing the who, what, when, where, and why of the American experience, it covers eight major periods from pre-colonial times to the 21st century.



-Publisher
<div> <p Style="margin: 0in 0in 0pt" Class=msonormal>before You Get Started</p> <p Style="text-indent: -0.25in; Margin: 0in 0in 0pt 0.5in; Mso-list: L0 Level1 Lfo1" Class=msolistparagraph>1.&#160;&#160;&#160;&#160;&#160; Pre-colonial Times (columbus In 1492 Through 1620 Plymouth)</p> <p Style="text-indent: -0.25in; Margin: 0in 0in 0pt 0.5in; Mso-list: L0 Level1 Lfo1" Class=msolistparagraph>2.&#160;&#160;&#160;&#160;&#160; The Colonial Era (the Pilgrims Through Stirrings Of Revolution, Approximately 1764</p> <p Style="margin: 0in 0in 0pt 0.5in" Class=msolistparagraph>65&#8217;s Sugar, Stamp, And Quartering Acts)</p> <p Style="text-indent: -0.25in; Margin: 0in 0in 0pt 0.5in; Mso-list: L0 Level1 Lfo1" Class=msolistparagraph>3.&#160;&#160;&#160;&#160;&#160; The Birth Of The United States (revolutionary Times Through Washington&#8217;s Presidency, 1797)</p> <p Style="text-indent: -0.25in; Margin: 0in 0in 0pt 0.5in; Mso-list: L0 Level1 Lfo1" Class=msolistparagraph>4.&#160;&#160;&#160;&#160;&#160; National Growth And Challenges (the Louisiana Purchase, Indian Wars, And The War Of 1812, Through The Compromise Of 1850)</p> <p Style="text-indent: -0.25in; Margin: 0in 0in 0pt 0.5in; Mso-list: L0 Level1 Lfo1" Class=msolistparagraph>5.&#160;&#160;&#160;&#160;&#160; Slavery And Civil War (the 1850&#8217;s Through Reconstruction)</p> <p Style="text-indent: -0.25in; Margin: 0in 0in 0pt 0.5in; Mso-list: L0 Level1 Lfo1" Class=msolistparagraph>6.&#160;&#160;&#160;&#160;&#160; Industrialization, Economic Growth, And Immigration (the Late 1800s Through World War I)</p> <p Style="text-indent: -0.25in; Margin: 0in 0in 0pt 0.5in; Mso-list: L0 Level1 Lfo1" Class=msolistparagraph>7.&#160;&#160;&#160;&#160;&#160; America As World Power (wwii Through The End Of Cold War)</p> <p Style="text-indent: -0.25in; Margin: 0in 0in 0pt 0.5in; Mso-list: L0 Level1 Lfo1" Class=msolistparagraph>8.&#160;&#160;&#160;&#160;&#160; The 21st Century</p></div>
Bestsellers in Confident Readers (Age 8-12)