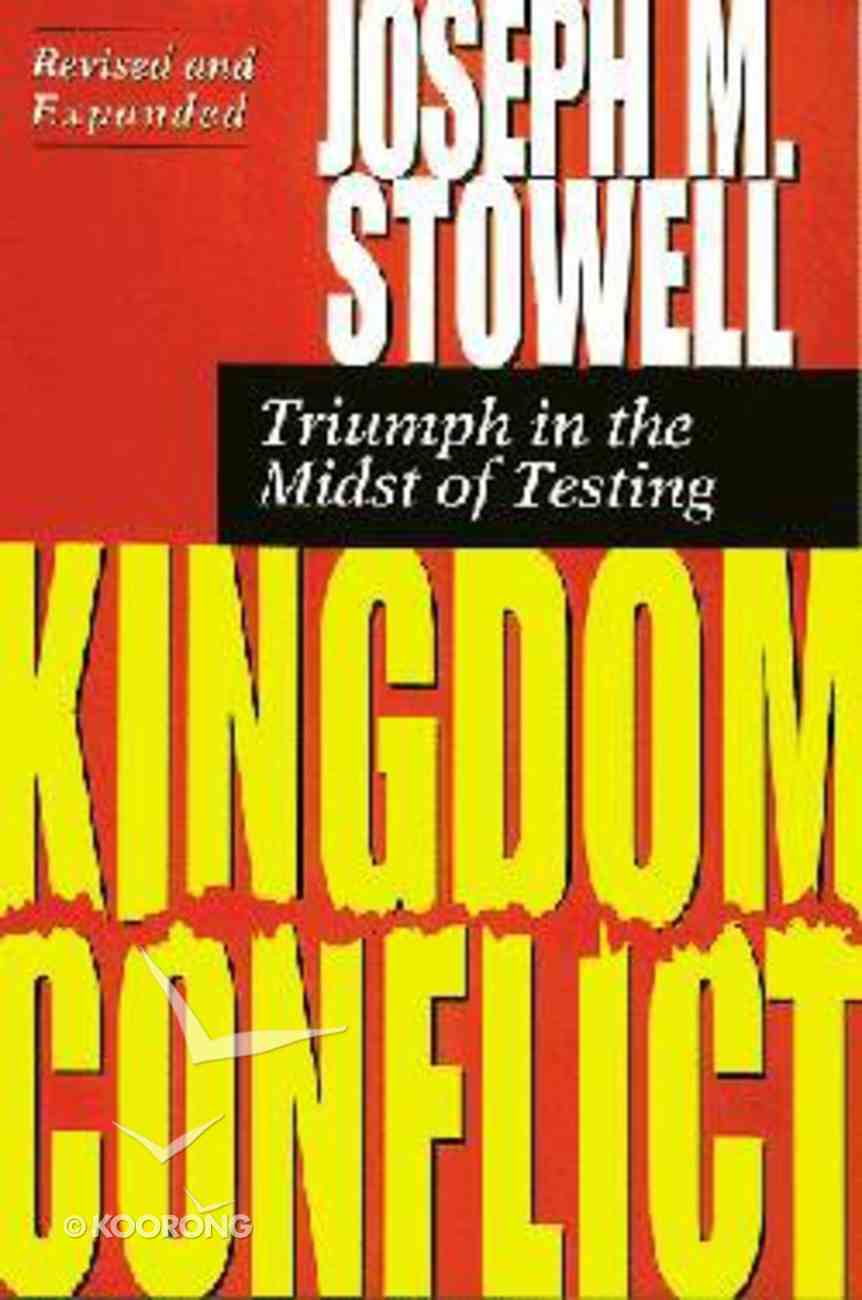 Kingdom Conflict: Following Orders Fight Our Enemy
Fierce temptations. Personal failures. Spiritual dryness. These are the signs of spiritual warfare. Through a revealing combination of illustration, exposition, commentary and practical application, the president of Moody Bible Institute presents powerful strategies for winning our own "kingdom conflicts."Kingdom Conflict...
---
Free Shipping
for orders over $99.
Fierce temptations. Personal failures. Spiritual dryness. These are the signs of spiritual warfare. Through a revealing combination of illustration, exposition, commentary and practical application, the president of Moody Bible Institute presents powerful strategies for winning our own "kingdom conflicts."Kingdom Conflict treats Genesis as a field laboratory for lessons in spiritual warfare. This most ancient of books holds the keys to the most modern of problems. Through a revealing combination of illustration, exposition, commentary and practical application, Joseph Stowell presents powerful strategies for winning your kingdom conflicts.Real-world spiritual skills include:Getting the big pictureRedefining successFacing the fear of failureDealing with discouragementThis real-world glimpse of the struggle between the kingdom of god and the kingdom of Satan will strengthen your faith and chart the course to personal victory.
-Publisher

Spiritual warfare. It's been around since Lucifer was expelled from heaven, and he's playing us like pawns in his devious game. We experience excruciating temptations, personal failures, and spiritual dryness.But there is a way to fight his constant advances. And what better place to look for answers than at the beginning - the book of Genesis. Surprising as it may seem, this age-old book holds the keys to today's problems.Kingdom Conflict offers a real-world glimpse of the struggle between the kingdom of God and the kingdom of Satan. Through a revealing combination of illustration, exposition, commentary, and practical application, Joseph Stowell presents powerful strategies for winning your kingdom conflicts. Strengthen your faith and chart you course to personal victory by: Getting the big picture Redefining success Facing the fear of failure Dealing with discouragementYou're aware of the problem. You've been living with it for a long time. Now get a handle on the solution.

-Publisher
Joe Stowell serves as the 11th President of Cornerstone University in Grand Rapids, Michigan. Comprised of approximately 2500 undergraduate and graduate students, Cornerstone is a Christ - centered university with a passion for global influence through the transforming power of the gospel. The University is committed to creating an environment where students thrive both spiritually and intellectually as they prepare themselves to influence our world as followers of Jesus.
An internationally recognized conference speaker, Joe has also written numerous books including The Trouble with Jesus; Simply Jesus and You; The Upside of Down; and Eternity. Joe also serves with RBC Ministries, partnering in media productions, writing, and outreach to pastors. His Strength for the Journey web ministry, www.getmorestrength.org, features daily devotionals, weekly messages and commentary, downloadable Bible study curriculum, and an audio library of his most requested messages.


Joe serves on the Board of the Billy Graham Evangelistic Association and Wheaton College, and has a distinguished career in higher education and church leadership. From 1987–2005, he served as the president of Moody Bible Institute, and as teaching pastor at the 10,000–member Harvest Bible Chapel in suburban Chicago


Bestsellers in Christian Living