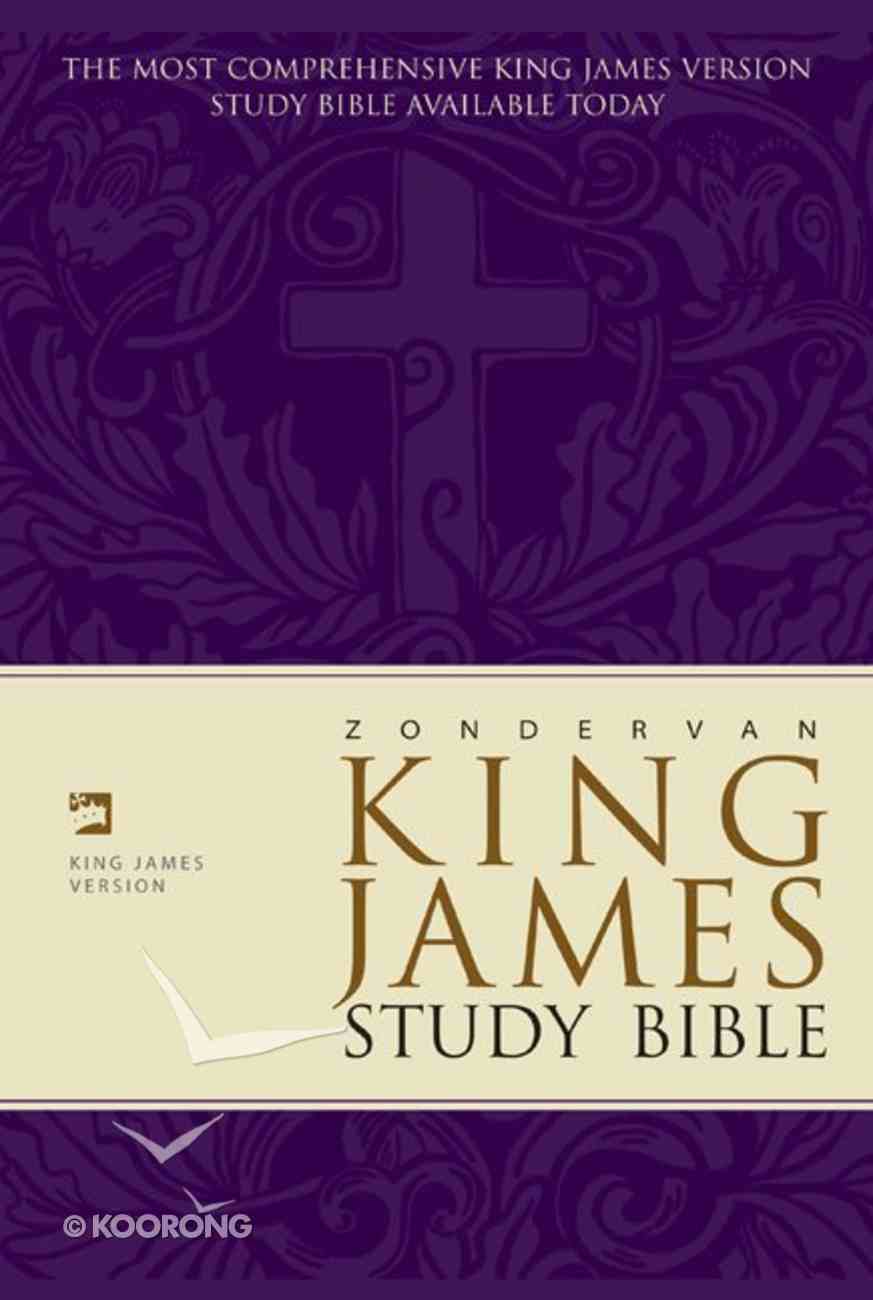 KJV Study (Red Letter Edition)
Description There's one reason to purchase the Zondervan KJV Study Bible: to understand God's Word and God's heart as well as you possibly can. With over 20,000 notes and an abundance of study tools reflecting the forefront of conservative scholarship,...
---
Free Shipping
for orders over $99.
Font Size
Features
Concordance
Double Column
Footnotes/commentary
Illustrated
Maps & Charts
Red Lettering
Ribbon Marker
Description
There's one reason to purchase the Zondervan KJV Study Bible: to understand God's Word and God's heart as well as you possibly can. With over 20,000 notes and an abundance of study tools reflecting the forefront of conservative scholarship, this Bible is a veritable resource library designed to help you grasp the Scriptures like never before. It's packed with theological, archaeological, historical, geographical, cultural, and linguistic information. Simply put, it's the ultimate King James study Bible.

Compare the Zondervan KJV Study Bible with any other KJV Bible and you'll quickly see why nothing else even comes close. We've done our utmost to give you a Bible that only increases in its usefulness as you grow in Christ. Read it daily, study it deeply, mark it up, make it your prayer guidebook, search it for wisdom, guidance, and encouragement, and treasure it like a close friend. You'll value it more and more as the years go by.

-Publisher
PRODUCT DETAIL
Catalogue Code 

162328

Product Code 

0310918936

EAN 

9780310918936

UPC 

025986918934

Pages 

2080

Department Bibles
Category King James Version
Sub-Category Study
Publisher Zondervan
Publication Date 

Mar 2002

Sales Rank 

28992

Dimensions 

241 x 168 x 44

mm

Weight 

1.388

kg

Font Size 

8

pt
Genesis INTRODUCTION The first phrase in the Hebrew text of 1:1 is bereshith ('in [the] beginning'), which is also the He-brew title of the book (books in ancient times customarily were named after their first word or two). The English title, Genesis, is Greek in origin and comes from the word geneseos, which appears in the Greek translation (Septuagint) of 2:4; 5:1. Depending on its context, the word can mean 'birth,' 'genealogy,' or 'history of origin.' In both its Hebrew and Greek forms, then, the title of Genesis appropriately describes its contents, since it is primarily a book of beginnings. Background Chs. 1---38 reflect a great deal of what we know from other sources about ancient Mesopotamian life and culture. Creation, genealogies, destructive floods, geography and mapmaking, construction techniques, migrations of peoples, sale and purchase of land, legal customs and procedures, sheep-herding and cattle-raising---all these subjects and many others were matters of vital concern to the peoples of Mesopotamia during this time. They were also of interest to the individuals, families and tribes of whom we read in the first 38 chapters of Genesis. The author appears to locate Eden, man's first home, in or near Mesopotamia; the tower of Babel was built there; Abram was born there; Isaac took a wife from there; and Jacob lived there for 20 years. Although these patriarchs settled in Ca-naan, their original homeland was Mesopotamia. The closest ancient literary parallels to Gen 1---38 also come from Mesopotamia. Enuma elish, the story of the god Marduk's rise to supremacy in the Babylonian pantheon, is similar in some respects (though thoroughly mythical and polytheistic) to the Gen 1 creation account. Some of the features of certain king lists from Sumer bear striking resemblance to the genealogy in Gen 5. The 11th tablet of the Gilgamesh epic is quite similar in outline to the flood narrative in Gen 6---8. Several of the major events of Gen 1---8 are narrated in the same order as similar events in the Atrahasis epic. In fact, the latter features the same basic motif of creation-rebellion-flood as the Biblical account. Clay tablets found recently at the ancient (c. 2500--2300 B.C.) site of Ebla (modern Tell Mardikh) in northern Syr-ia may also contain some intriguing parallels (see chart, p.). Two other important sets of documents demonstrate the reflection of Mesopotamia in the first 38 chapters of Genesis. From the Mari letters (see chart, p. ***), dating from the patriarchal period, we learn that the names of the patriarchs (including especially Abram, Jacob and Job) were typical of that time. The letters also clearly illustrate the freedom of travel that was possible between various parts of the Amorite world in which the patriarchs lived. The Nuzi tablets (see chart, p. ***), though a few centuries later than the patriarchal period, shed light on patriarchal customs, which tended to survive virtually intact for many centuries. The inheritance right of an adopted household member or slave (see 15:1--4), the obligation of a barren wife to furnish her husband with sons through a servant girl (see 16:2--4), strictures against expelling such a servant girl and her son (see 21:10--11), the authority of oral statements in ancient Near Eastern law, such as the deathbed bequest (see 27:1--4,22--23,33)---these and other legal customs, social contracts and provisions are graphically il-lustrated in Mesopotamian documents. As Gen 1---38 is Mesopotamian in character and background, so chs. 39---50 reflect Egyptian influence--- though in not quite so direct a way. Examples of such influence are: Egyptian grape cultivation (40:9--11), the riverside scene (ch. 41), Egypt as Canaan's breadbasket (ch. 42), Canaan as the source of numerous products for Egyptian consumption (ch. 43), Egyptian religious and social customs (the end of chs. 43; 46), Egyptian administrative procedures (ch. 47), Egyptian funerary practices (ch. 50) and several Egyptian words and names used throughout these chapters. The closest specific literary parallel from Egypt is the Tale of Two Brothers, which bears some resemblance to the story of Joseph and Potiphar's wife (ch. 39). Egyptian autobiographical narratives (such as the Story is in turn composed of three narrative cycles (Abraham-Isaac, 11:27---25:11; Isaac-Jacob, 25:19--- 35:29; 37:1; Jacob-Joseph, 37:2---50:26), interspersed by the genealogies of Ishmael (25:12--18) and Esau (ch. 36). The narrative frequently concentrates on the life of a later son in preference to the firstborn: Seth over Cain, Isaac over Ishmael, Jacob over Esau, Judah and Joseph over their brothers, and Ephraim over Manasseh. Such emphasis on divinely chosen men and their families is perhaps the most obvious literary and theological characteristic of the book of Genesis as a whole. It strikingly underscores the fact that the people of God are not the product of natural human developments, but are the result of God's sovereign and gracious intrusion in human history. He brings out of the fallen human race a new humanity consecrated to Himself, called and destined to be the people of His kingdom and the channel of His blessing to the whole earth. Numbers with symbolic significance figure prominently in Genesis. The number ten, in addition to being the number of sections into which Genesis is divided, is also the number of names appear-ing in the genealogies of chs. 5 and 11 (see note on 5:5). The number seven also occurs frequently. The Hebrew text of 1:1 consists of exactly seven words and that of 1:2 of exactly 14 (twice seven). There are seven days of creation, seven names in the genealogy of ch. 4 (see note on 4:17--18; see also 4:15,24; 5:31), various sevens in the flood story, 70 descendants of Noah's sons (ch. 10), a sevenfold promise to Abram (12:2--3), seven years of abundance and then seven of famine in Egypt (ch. 41), and 70 descendants of Jacob (ch. 46). Other significant numbers, such as 12 and 40, are used with similar frequency.
Bestsellers in King James Version