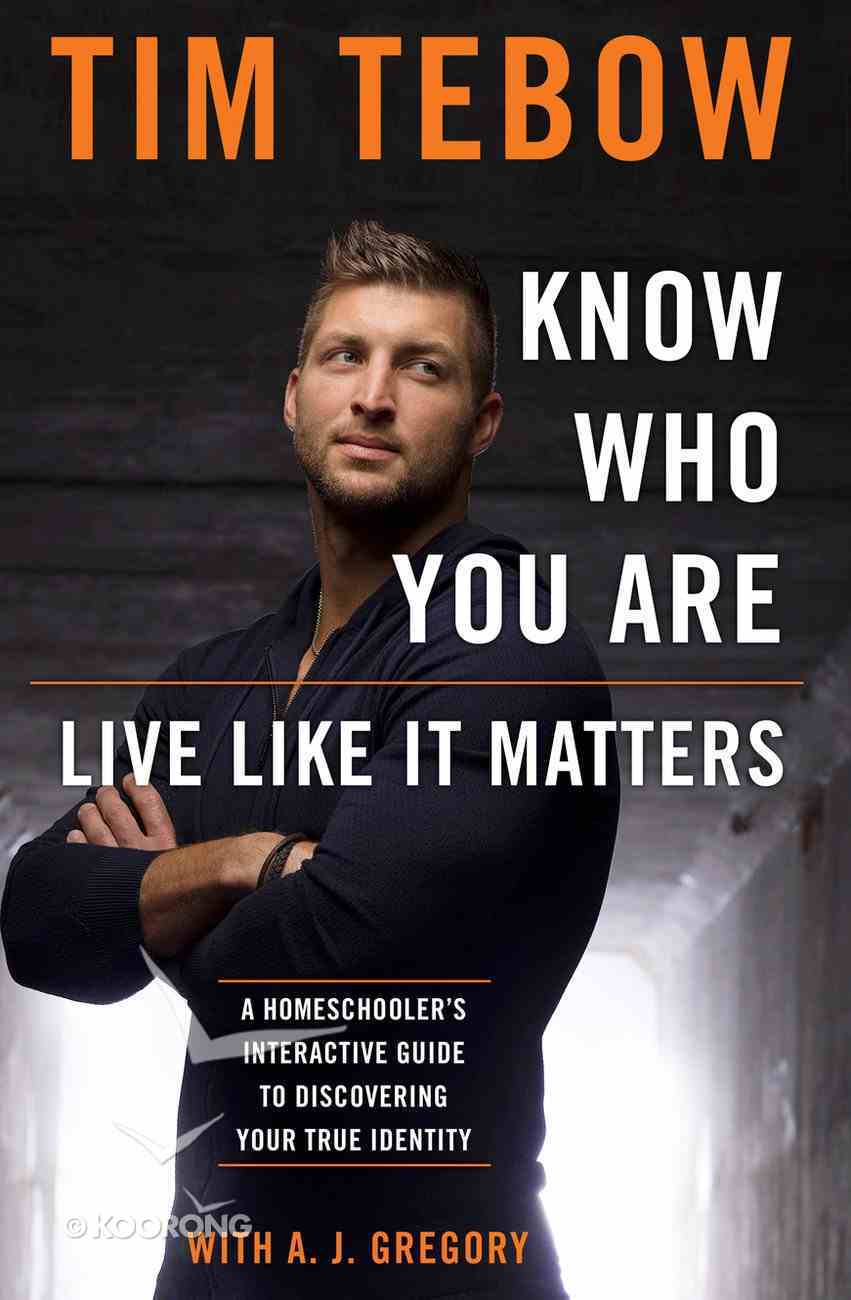 Know Who You Are. Live Like It Matters.
:The World Does Not Define You! Nobody said your life would be easy! And the older you get, the more difficult it seems to become. Deep down you may know your value as a person isn't defined by wearing...
---
Expected to ship within 10 hours from Australia.
---
Free Shipping
for orders over $99.
:The World Does Not Define You!
Nobody said your life would be easy! And the older you get, the more difficult it seems to become. Deep down you may know your value as a person isn't defined by wearing cool brand clothes, scoring points for a sports team, or even by having a huge number of social media followers. And you're right! Your identity resides in something-in fact, someone-much greater than anything this world can offer:

The only identity worth having…is found in Jesus Christ!
American sports icon, Tim Tebow, knows firsthand what it feels like to face pressure head-on. In Know Who You Are. Live Like It Matters, he shares the wisdom he's learned--not from what the world says, but from what God says in His Word.

In this book Tim will guide you through 36 weeks of lessons, each based on a key Scripture, to discover who you are--by learning more about whose you are! You will also have the opportunity to write down your thoughts, feelings, and ideas on topics such as:
* Building godly character
* Maintaining great relationships
* Standing out from the crowd
* Doing things that matter in the big picture

Get ready to live bigger than ever before…with your faith and identity secured in a God who loves you beyond measure!
-Publisher
PRODUCT DETAIL
Catalogue Code 

472514

Product Code 

9780735289949

ISBN 

0735289948

EAN 

9780735289949

Pages 

208

Department General Books
Category Spiritual Growth
Sub-Category General
Publisher Waterbrook Press
Publication Date 

May 2017

Sales Rank 

53615

Dimensions 

208 x 139 x 15

mm

Weight 

0.181

kg
Tim Tebow is one of the most accomplished players in college football history. A two-time winner of the NCAA National Football Championship with the University of Florida, Tebow is also the first-ever sophomore to win the Heisman Trophy. He is the founder of the Tim Tebow Foundation, which was started to bring faith, hope, and love to those needing a brighter day in their darkest hour. In April, 2010, Tim was selected in the first round of the NFL draft b the Denver Broncos. He lives in Colorado. You can learn more about him online at www.tim tebow.com
:A NOTE FROM TIM

You and I have something in common. We may share similar traits I don't know about, but here's what I do know: I was homeschooled, just like you! I can't tell you how much I appreciate my parents for making a personal investment in my education. One of the things I loved about being homeschooled was being able to focus on the things I was passionate about and how much time it left for things I loved, like sports and exercise.

Here's something you may not know: my mom and dad decided to homeschool my two brothers, my two sisters, and me before people even knew what homeschooling meant. At the time, some people thought they were nuts. Some wondered if homeschooling was evenlegal! But despite the challenges they faced, it was worth it. Mom and Dad's careful and thoughtful instruction helped educate my siblings and me. Each one of us was even blessed to receive a college scholarship!

I know being homeschooled may not be the easiest thing in the world, so I wanted to write a book just for you. I'd like to encourage you in your studies by offering some lessons I've learned in my personal journey, lessons I want you to be a part of. I want this book to be about you: digging deep to find out who you are and what that means in real life.

You may or may not know this already, but writing is powerful. In fact, an esteemed professor of psychology at the University of Texas at Austin studied the impact of journaling. Through a handfulof studies, this expert found that expressive writing in a personal and meaningful way positively impacts health, well-being, and self-development. It can put us in a better mood. It can help us process tough situations. It can challenge us to make good changes. It can pave the way for a more impactful future.

Knowing how journaling can be a great tool for self-reflection, I decided to write Know Who You Are. Live Like It Matters. just for homeschool students. You may think you don't like writing or that it doesn't come easy for you. That's okay! As we travel together through the course of this book, writing will become easier. And you may even discover it's one of your passions!

Here's what you'll find in the following pages. Each week for the next thirty-six weeks, I offer a verse from the Bible and a lesson that helps illustrate that verse. Each teaching ends with a section titled "In Your Own Words." This is your opportunity to reflect on what you've learned. You can connect what I talk about with what's going on in your life. Use my questions as prompts to fuel your thoughts.

This Guide Is Set Up in Four Partswith Nine Lessons Each

Part 1: Who Are You? (You'll learn about the source of your identity, Jesus Christ.)
Part 2: Don't Sweat It; God's Got It (You'll uncover guidance when the going in life gets tough.)
Part 3: Others Matter (Relationships are important. You'll understand why.)
Part 4: Live Bigger (You'll learn why and how to live ina way that impacts eternity.)

Here Are Some Helpful Tipsto Know as You Get Started

Don't think too hard before you write. Just start writing and see what comes.
This journal will not be subject to grading. There are no wrong or right answers.
Be sure to record your thoughts in complete sentences.
Write from the heart. I recommend you take a minute to pray before you begin writing.
Make it a goal to write in all or at least most of the space available. If you need more room, awesome! Ask your parents for a notebook or journal to record additional thoughts you may have.


Just for Parents

I am so grateful you have decided to use this guide as part of your children's lesson plans. As a homeschooled student, I know the effort, time, and work involved in choosing to educate your family. My parents were true pioneers in the homeschool movement. They took responsibility for educating their children before the general public even knew it was an option. I'm so grateful they were willing and committed to answering the call. And from the bottom of my heart, thank you for doing the same for your children!

The primary purpose of this book is to encourage students to reflect and put in writing thoughts, feelings, ideas, opinions, and experiences. While you may consider making some cursory adjustments to their entries (that is, if they make consistent spelling/grammar errors) or encouraging them to write more (if they need a push to hammer out more than one or two sentences), don't judge their ideas or their writing.

Finally, journal entries should be completed within thirty minutes. And it's best to set aside a specific day and time of the week for each lesson. Consistency is key!

I pray for God to honor your efforts, to give you strength when you're tired, grace when you need it, and wisdom throughout the process. I pray this journal inspires your children to dig deep with God and helps them find their purpose.

Part 1

Who Are You?

The world does not define you: Not the clothes you wear. Not the kind of music you listen to. Not the mistakes you've made. Not the trophies you've won. You are not defined by what others think of you, good or bad, or how many people follow or like you on Instagram or Snapchat or Facebook.

You are not defined by the talents you have or don't have.

There is only one thing, one person, who defines your identity. His name is Jesus Christ.

When you stop trying to follow the crowd, look a certain way, or do things just like everyone else, you can finally live in the unique design with which you were created. Because you are unique. You have value. And you matter!

When you let God rule your heart and your life, you can begin to live at your best. Isn't that what we all want? To be what God created us to be? To live out the dreams He planted in our hearts even before we were born?

The only way you can begin to do this is to know whose you are.

When you are secure in your identity, it will change you. It will give you purpose. It will help you handle tough times. It helps shape your future. It helps you see that you are not here by chance. And nothing can take that away!

Week 1

WHO ARE YOU?

KEY VERSE
For God so loved the world, that He gave His only begotten Son, that whoever believes in Him shall not perish, but have eternal life. John 3:16

A few weeks before I started working on this book, I celebrated my spiritual birthday. Actually, I had so many things going on that I forgot. My mom reminded me. She even made me a cake! It's fun to celebrate birthdays with parties and presents, but you know what's even more important? Celebrating the day you were born into God's family. The day you asked Jesus into your heart.

Church was a huge part of my life growing up. At home, my parents taught me the importance of faith in Jesus and studied Scripture with me. In fact, one of the first Bible verses I memorized was John 3:16: "For God so loved the world, that He gave His only begotten Son, that whoever believes in Him shall not perish, but have eternal life."

This verse is the foundation of what it means to be a Christian. Maybe you've heard or read this verse hundreds of times. Maybe, like me, it's one of the first verses you memorized. Before you understand who you are, you have to know whose you are.

Let me break down this verse for you: 
For God so loved the world. The world is not just every single one of the billions of people on this planet, but you! God so loved_________________________ (write in your name here).

That He gave His only begotten Son. God loves you so much that He was willing to give up His own child for you.

That whoever believes in Him shall not perish, but have eternal life. You can live with God forever. All you have to do to be saved is to believe in Jesus (see Romans 10:9). This is what He wants for you. He loves you so much that He wants you to be a part of eternal life with Him!

I love these words because they're simple, clear, and packed with meaning.

I remember waking up one morning when I was six years old. Living on a forty-four-acre farm, my two brothers, two sisters, and I had a long chore list. There was always something to do. Mow lawns. Chase cows into the field. Lift hay bales. Chop wood. Weed the garden. That morning, before I set out to do my chores and while Dad was running the tractor, I told my mom I wanted to ask Jesus into my heart. It was the most important day of my life. In fact, my parents were so thrilled, we celebrated by eating dinner that night at one of the largest McDonald's in the world. (Though even at six, I should have known better than to chow down a Big Mac.) The next day, the festivities continued at Epcot. 

So who are you? The dictionary defines identity as "who someone is, the name of a person, the qualities, beliefs, etc., that make a particular person or group different from others." I like to say that identity comes not necessarily from who we are but from whose we are.

If you believe in Jesus, you are a son or daughter of God. You are the object of His love. He has a plan and a purpose for your life (see Jeremiah 29:11). And He will never, ever leave or forsake you (see Hebrews 13:5).


IN YOUR OWN WORDS

1. Finish this thought: I am . . . (a child of God, loved, made with a purpose, and so on).



2. Describe your spiritual birthday. Where were you when you asked Jesus into your heart? Who was with you?



3. If you have never asked Jesus into your heart, I want to encourage you to do it right now with your mom or your dad. You can use your own words or read mine below: Dear Jesus, I know I am a sinner and need a Savior. Thank You that You died for me and rose again. I open the door of my heart and ask You to come in. Thank You for coming into my heart and forgiving my sins. Thank You that God is my Father and I am His child. Thank You that I have a home in heaven and that I will come and live with You someday. In Your name, amen.



SOMETHING TO THINK ABOUT

Jesus didn't save you because you're awesome: He saved you because He's awesome.
Bestsellers in Spiritual Growth