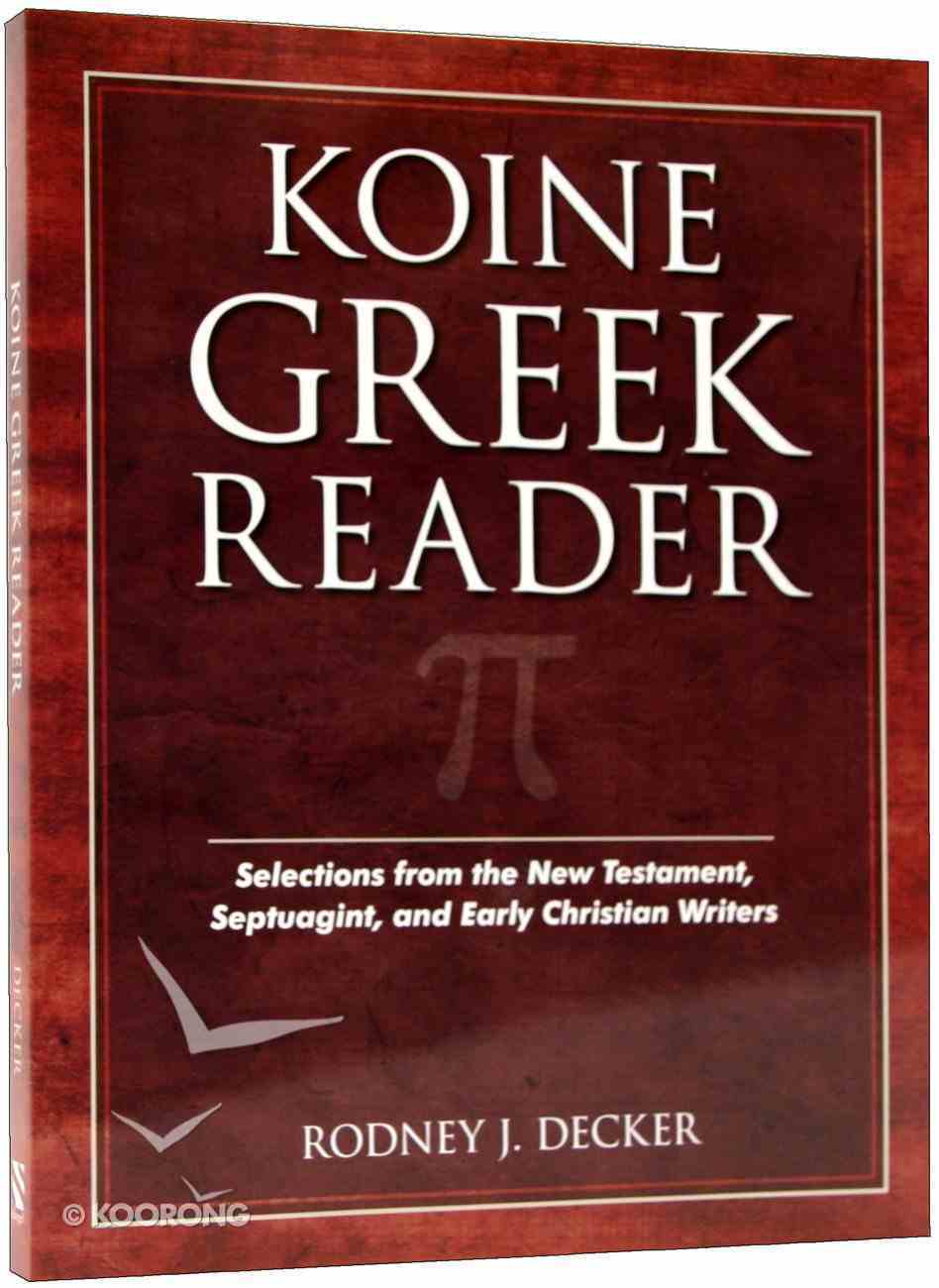 Koine Greek Reader goes where other readers do not by providing graded readings from the New Testament, Septuagint, Apostolic Fathers, and early creeds. Its many features include four helpful vocabulary lists, numerous references to other resources, assorted translation helps, a...
---
Expected to ship tomorrow from Australia.
---
Free Shipping
for orders over $99.
Koine Greek Reader goes where other readers do not by providing graded readings from the New Testament, Septuagint, Apostolic Fathers, and early creeds. Its many features include four helpful vocabulary lists, numerous references to other resources, assorted translation helps, a review of basic grammar and syntax, and an introduction to BDAG. Professors looking for a new textbook will find that Koine Greek Reader integrates the full range of materials needed by intermediate students.Praise for Koine Greek ReaderaAbsolutely the best volume of its kind available today. It incorporates a wealth of valuable information for classroom use or for self-study . . . [and] has been carefully prepared and organized, tested and refined in the classroom over a number of years, and handsomely produced by the publisher. I recommend it enthusiastically!a aBUIST M. FANNING III Department Chair and Professor of New Testament Dallas Theological SeminaryaThis tool supplements traditional grammars and provides hands-on exposure to a variety of Koine texts. Particularly helpful are the readings from the Septuagint, the Apostolic Fathers, and the early creeds. . . . An excellent resource for intermediate and advanced college and seminary students.a aMARK L. STRAUSS Professor of New Testament, Bethel Seminary, San DiegoaIntermediate students of New Testament Greek will be well served by this fine selection of readings. . . . Anyone willing to go through this material carefully and in sequence will notice a marked increase in proficiency.a aMOISES SILVA Former Professor of New Testament, Westminster Theological Seminary and Gordon-Conwell Theological SeminaryaThe Koine Greek Reader is by far the best resource currently available for learning Koine Greek inductively at the intermediate level. I look forward to using it in my own teaching and expect that it will be used widely both as a classroom text and for independent study for years to come.a aMARTIN M. CULY Associate Professor of New Testament and Greek, Briercrest College and SeminaryaIt is hard to find something to criticize in this wonderful resource. The best recommendation that I can give is that I will be adopting it for my classes as soon as it becomes available!a aWILLIAM VARNER Professor of Greek, The Masters CollegeaRodney Deckeras Koine Greek Reader is a godsend to serious students and would-be scholars of New Testament Koine Greek who prefer a traditional pedagogical approach. . . . The breadth of resources made available in this reader leads the student directly into the maze and, rather than showing the way through it, develops the essential skills needed to find oneas own way through it.a aCARL W. CONRAD Associate Professor Emeritus Washington University, St. Louis Cochair, B-Greek Internet discussion listaRodney Deckeras Koine Greek Reader is a welcome addition to the growing number of resources available for intermediate level Greek courses. I have used the Koine Greek Reader in a second-year Greek class, and on the basis of my studentsa enthusiastic response to it and their progress in their study of Greek, I enthusiastically recommend it.a


-Publisher
Providing graded readings in Koine Greek from the New Testament, Septuagint, Apostolic Fathers, and early creeds, this unique text integrates the full range of materials needed by intermediate Greek students. Its many features include four helpful vocabulary lists, numerous references to other resources, assorted translation helps, a review of basic grammar and syntax, and an introduction to "BDAG"--the standard Greek lexicon.
-Publisher