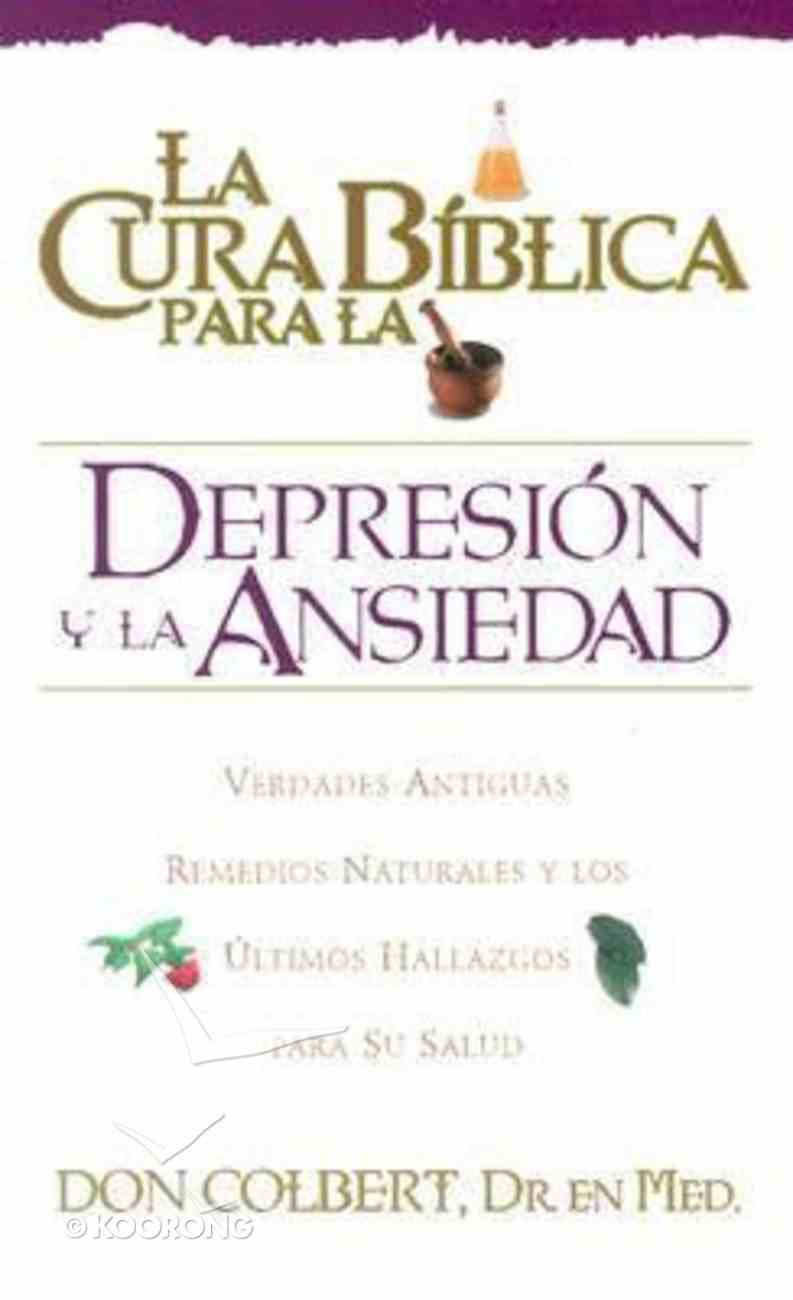 La Cura Biblica: Depresion Y Ansiedad (Bible Cure: Depression & Anxiety) (Bible Cure Series)
---
Free Shipping
for orders over $99.
80 Pages
-Publisher
Dr. Colbert addresses the problems of depression and anxiety as he highlights recent medical principles that can help to eliminate anxiety and depression and restore wellbeing and sound health. Readers learn to recognize the symptoms and take the necessary steps to avoid these diseases as they live in wholeness--body, spirit and mind.
-Publisher

El Dr. Don Colbert comparte de forma práctica y fácil de emplear sus múltiples conocimientos médicos para tratar enfermedades como: acidez e indigestión, artritis, cáncer, enfermedades del corazón, diabetes y depresión y ansiedad. La base de estos libros son enseñanzas bíblicas y los últimos hallazgos científicos.Descubra los alimentos que debe evitar para terminar con la acidez e indigestión. Vea la sorprendente conexión entre ingerir agua y la prevención de la artritis. Se enterará de los antioxidantes disponibles contra el cáncer. Aprenda cómo puede corregir las arterias tupidas que causan las enfermedades del corazón. Infórmese sobre los suplementos naturales que ayudan a combatir la diabetes. Emplee una estrategia alimenticia compuesta de vitaminas, minerales y suplementos esenciales para combatir la depresión y ansiedad. Los diferentes títulos son: La cura bíblica para... Acidez y la indigestión Artritis Cáncer Enfermedades del corazón Diabetes Depresión y ansiedad

-Publisher
Don Colbert, M.D., is one of America's foremost authorities on the integration of natural and conventional health care. He is a board-certified family practitioner and is the author of such book as What Would Jesus Eat? Toxic Relief, Walking in Divine Health, and theBible Cure Booklet Series. A best-selling author, and a dynamic public speaker, his tremendously popular books exceed four million copies in print. He brings a 21st century approach to a timeless message of healthy lifestyle habits. Dr Colbert hosts an American national talk show, 'Your Health Matters', with his wife Mary and contributes columns both to Joyce Meyer's partner's magazine and Charisma magazine. He regularly speaks at national seminars. He makes his home in central Florida.- Publisher.
Bestsellers in Global Language