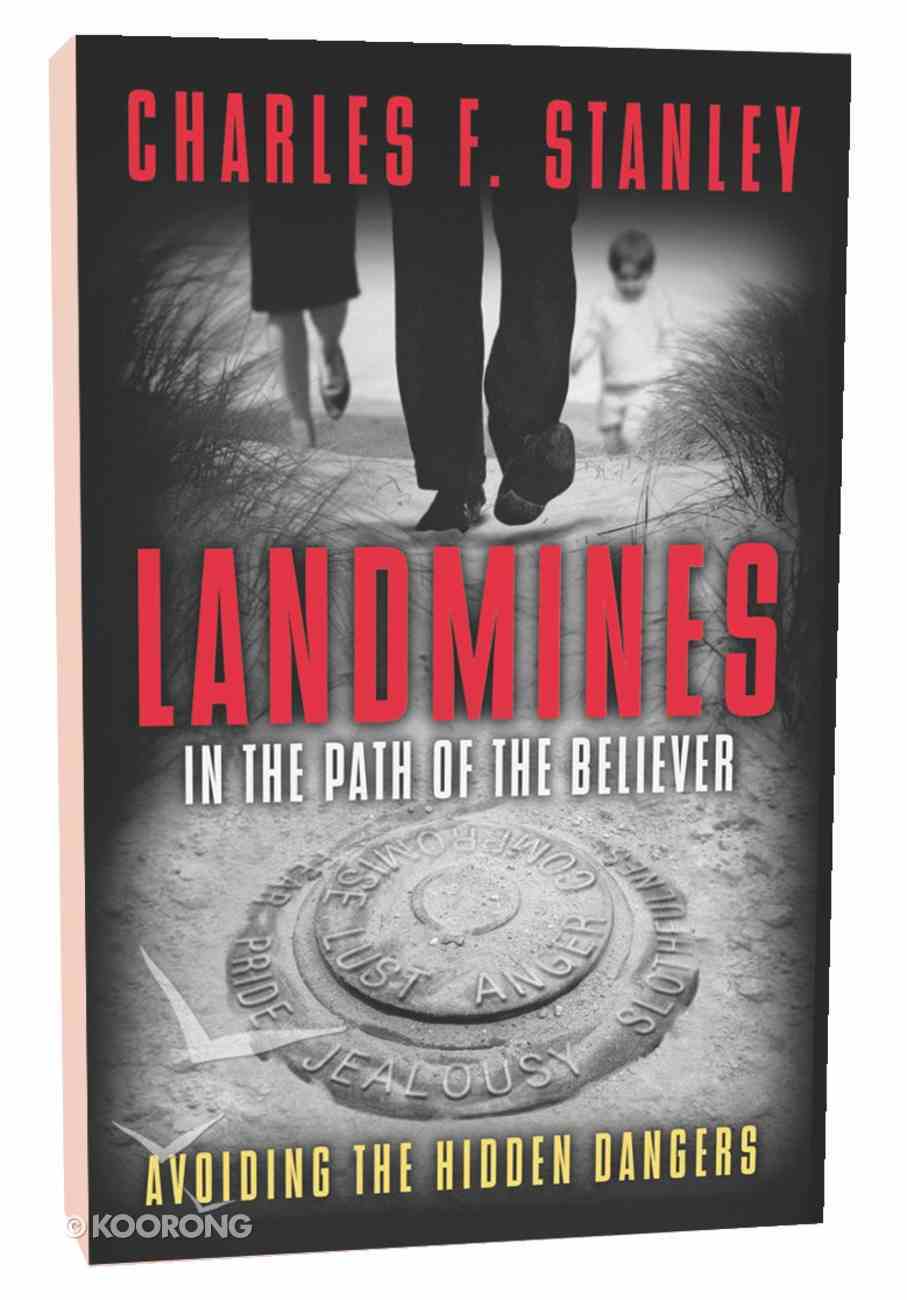 Landmines in the Path of the Believer
Dr Charles Stanley identifies nine destructive temptations and gives Christians the hope and skills they need to live an abundant and obedient life. When you are in the heat of spiritual battle, it does not take long to realize...
Out of Stock
Available to Order
---
Expected to ship in 5 to 6 weeks from Australia.
---
Free Shipping
for orders over $99.
Dr Charles Stanley identifies nine destructive temptations and gives Christians the hope and skills they need to live an abundant and obedient life.

When you are in the heat of spiritual battle, it does not take long to realize that Satan will do anything to prevent you from becoming the person God has planned. However, he does not always employ an all-out frontal assault. Sometimes the danger comes in subtle schemes - landmines hidden along our paths. These landmines, once detonated, can paralyze us spiritually and stop us from living an abundant and obedient life. In Landmines in the Path of the Believer, beloved pastor Dr Charles Stanley shows readers how to identify, avoid, or defuse landmines of Pride, Jealousy and Envy, Insecurity, Compromise, Unforgiveness, Sexual Sin, Laziness, Disappointment, and Fear. "Avoiding serious trouble is not difficult," says Dr. Stanley, "especially if you follow the route God has given you to travel. God knows the way through every minefield."


-Publisher

Satan doesn't usually hit us with an all-out frontal attack. It's the subtle landmines that do the most damage. They're hidden just below life's surface, and at the slightest misstep-BOOM! Suddenly you find yourself flown right off the path, feeling separated from God and His blessings, humiliated, estranged from the love and respect of friends and family.


Dr. Charles Stanley addresses nine main landmines that every Christian needs to be able to identify:

Pride Jealousy and Envy Insecurity Compromise Unforgiveness Disappointment Fear Immorality Laziness

Life may be a minefield, but that doesn't mean you have to live in fear. Dr. Stanley spells out the biblical principles for avoiding and defusing each of these landmines. In the midst of spiritual warfare, this book is a call to live in the strong peace of God.




-Publisher
Dr. Charles F. Stanley is founder and president of In Touch Ministries, which is broadcast on both television and radio around the world in eighty languages. He has also been the senior pastor of the 15,000-member First Baptist Church in Atlanta, Georgia, for more than thirty years. Dr. Stanley received his bachelor of arts degree from the University of Richmond, his bachelor of divinity degree from Southwestern Theological Seminary, and his master's and doctor's degrees from Luther Rice Seminary. He has twice been elected president of the Southern Baptist Convention and is the author of many books, including God Is in Control, Seeking His Face, Walking Wisely, When the Enemy Strikes, Success God's Way, and How to Listen to God.- Publisher.

Introduction


Over the years, men and women have died so that we could have the freedom we enjoy today. Most of us have known someone who has served our country in the armed forces. I've often listened as men have talked about their experiences and wondered what it felt like for them to face severe enemy threat.


It doesn't take long to realize that when you are in the heat of the battle, the enemy will do anything to bring you down in defeat. This is especially true on physical battlefields, but also on the spiritual front lines where Satan lurks--seeking to destroy us so we will not serve God or do His will.


If you have accepted Jesus Christ as your Savior, then you need to know that the enemy will stop at nothing to prevent you from knowing God and living for Jesus Christ. He does this by creating a major conflict across the landscape of your life. Extreme as it may seem, Satan is convinced that if he can accomplish his wretched goals, you will become discouraged and fearful, and you will want to give up. A disarmed, discouraged believer who has fallen into the dust of defeat, suffocated by guilt and shame, is no threat to him. Be aware: he does not hesitate to use extreme tactics of warfare--ones that are specifically designed to separate you from God and His blessings, as well as the love and respect of friends and family.


THE TRUTH CONCERNING LANDMINES


Many people mistakenly think that Satan uses obvious means to draw us off course. However, his most devastating weapons of warfare are barely visible. They lay hidden below the surface of our spiritual landscape. Yet when we move in their direction, they explode beneath us, inflicting deep heartache, sorrow, and brokenness. Sometimes the injury seems beyond repair, but it never is when God is involved.


Over the past few years, we have learned about the powerful brute force of one of the most devastating weapons of warfare--a landmine. A short time ago, many of us never would have thought to list this device as one of the most destructive on a battlefield, but it is. When a veteran speaks of going to war, our minds immediately fill with images of agile aircraft flying at top speed, combat troops outfitted with the latest technology for battle, and tanks--not the kind that once rolled noisily over the landscape of foreign countries, but fastmoving fortresses built to penetrate enemy lines and conquer advancing adversaries.


It is hard to imagine a single piece of metal, which may be no larger than two feet by two feet, having the ability to destroy such military might, but this is exactly what a landmine does. It annihilates whatever is nearby, and the slightest pressure can detonate it.


By the time a landmine is uncovered, it is usually too late to get out of the way.When I think about this, I am reminded why this weapon of warfare is so effective. Its stealthy appearance is sinister and deadly. Just as there are physical landmines placed along pathways and roadsides and out in open fields, Satan strategically places landmines in the path of every believer. There is no such thing as a clear, straight path without landmines. Each day, we face the threat of stepping on a spiritual landmine and suffering the sorrow and devastation this brings.


When we step on one of the enemy's landmines, the explosion that follows usually has an adverse effect on our relationships with God and with others, as well as our personal testimony. It also alters the way we operate in life.We miss out on the joy of experiencing God's richest blessings. We need to make a clear distinction between the landmines on a real battlefield and the ones that Satan plants along our way. They explode beneath us as a result of our fallen world. Others are landmines that the enemy strategically places with an express desire to inflict deep harm on us as believers. If we are not sensitive to the Lord's warning, we can get off course and confront destruction.


YOU DON'T HAVE TO BE A CASUALTY


I have watched people deal with the landmines of life, and their experience ends in one of two ways: either there is spiritual victory and the person grows closer to the Lord, or he is tripped up by Satan's deception and begins a downward spiral that leads to feelings of regret, sorrow, anger, frustration, and--if left unchecked--depression. But you do not have to fall victim to Satan's ploys. Although physical landmines may be hard to spot, God will give you the ability to uncover and disarm the spiritual landmines the enemy has laid across your path. You may feel as though you are standing in a minefield and you do not know which way to turn. I want to assure you that God knows. He has a plan for your rescue. No matter how great the temptation, you can take back any spiritual ground you have given to the enemy and reclaim your rightful position as a child of God.


Peter admonished us to "be of sober spirit, be on the alert. Your adversary, the devil, prowls around like a roaring lion, seeking someone to devour" (1 Peter 5:8). The apostle Paul reminded us that "it was for freedom that Christ set us free; therefore keep standing firm and do not be subject again to a yoke of slavery" (Gal. 5:1). By that he meant being bound by anything that would prevent us from being all that God has planned for us to be. He went on to say, "You were called to freedom . . . do not turn your freedom into an opportunity for the flesh, but through love serve one another" (v. 13).


How do you detect the deadly landmines Satan sets along your roadways, out in open fields where you like to walk, and in hidden locations that you may seldom think of frequenting? My prayer is that as you read this book, God will show you how to uncover and then protect yourself from the enemy's destructive weapons, such as pride, jealousy, feelings of insecurity, sexual sin, disappointment, unforgiveness, compromise, and more. Throughout this study, you also will be given key principles that can help you discover how to live a victorious Christian life without compromising what you know God has given you to do.


Jesus told His disciples, "If you continue in My word, then you are truly disciples of Mine; and you will know the truth, and the truth will make you free" (John 8:31-32). The one thing that exposes, unearths, and disarms any landmine left in the path of a believer is truth--God's truth. When we can practice the principles written in His Word, we experience true freedom from sin, shame, and guilt. This is my prayer for you and all who read this book--that you will learn how to live free of sin's entanglement and reach your full potential as a child of God.


Bestsellers in Christian Living