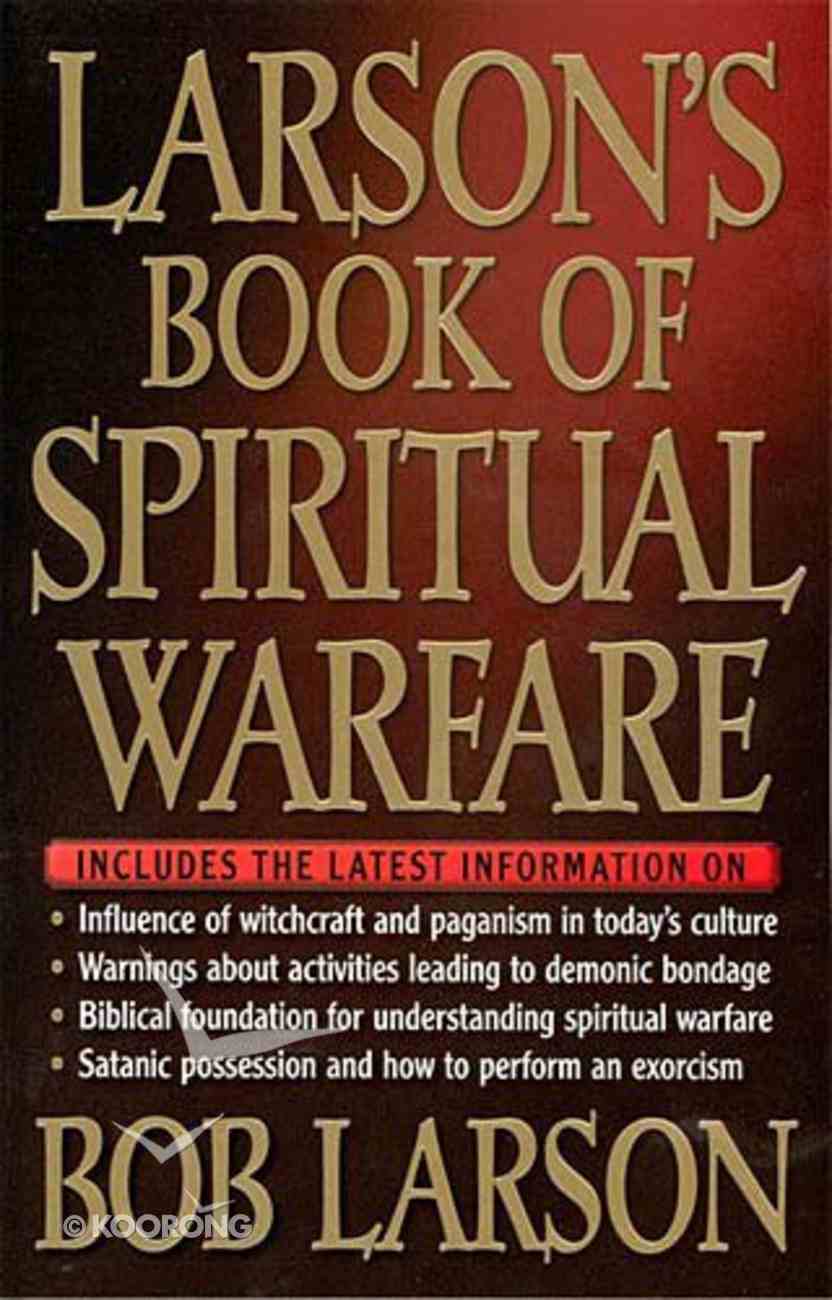 Larson's Book of Spiritual Warfare
In this comprehensive guide to today's spiritual warfare, Larson discusses the occult and Satanism in society, the biblical basis of spiritual warfare, and what people should know about demons and exorcism.
---
Expected to ship tomorrow from Australia.
---
Free Shipping
for orders over $99.
In this comprehensive guide to today's spiritual warfare, Larson discusses the occult and Satanism in society, the biblical basis of spiritual warfare, and what people should know about demons and exorcism.
-Publisher
Bob Larson offers a comprehensive guide to today's spiritual warfare. This handbook discusses the occult & Satanism in society, the biblical basis of spiritual warfare, & what people should know about demons & exorcism. Bob Larson author of the bestseller Larson's New Book of Cults, has made guest appearances on national television. He's been involved with exposing cults & exorcising demons for over eighteen years. A popular author, speaker, & radio personality, he has a unique view of the spiritual warfare that permeates today's society. Larson's Book of Spiritual Warfare takes a comprehensive look at the biblical basis for spiritual warfare & covers topics like: the influence of witchcraft & paganism in today's culture, warnings about activities leading to demonic bondage, Satanic possession & how to perform exorcism & occult practices & spiritualism as the new religion of society. Larson's Book of Spiritual Warfare is a comprehensive guide that offers inside information on how the devil operates so readers can combat him effectively when the need arises.
-Publisher
Larson's Book of Spiritual Warfare is a window into a world many Christians have no idea exists. An expert on the occult, cults and supernatural phenomena, Bob Larson provides a comprehensive guide to the motivating factors of much of the deviant behavior occuring in society today.
-Publisher
Neil Hayes is a sports columnist for the "Contra Costa Times" newspapers, a 195,000-circulation chain of daily newspapers based in Walnut Creek, California. He is a frequent guest on Bay Area radio stations, and his column is distributed nationally by Knight-Ridder wire services. He has twice been honored by the Associated Press Sports Editors for his enterprise reporting and has won numerous writing awards from the Pro Football Writer's Association of America. ýBob Larson, the award-winning photographer, has been allowed behind the scenes access to De La Salle's program for more than ten y

Bestsellers in Spirit-filled Living