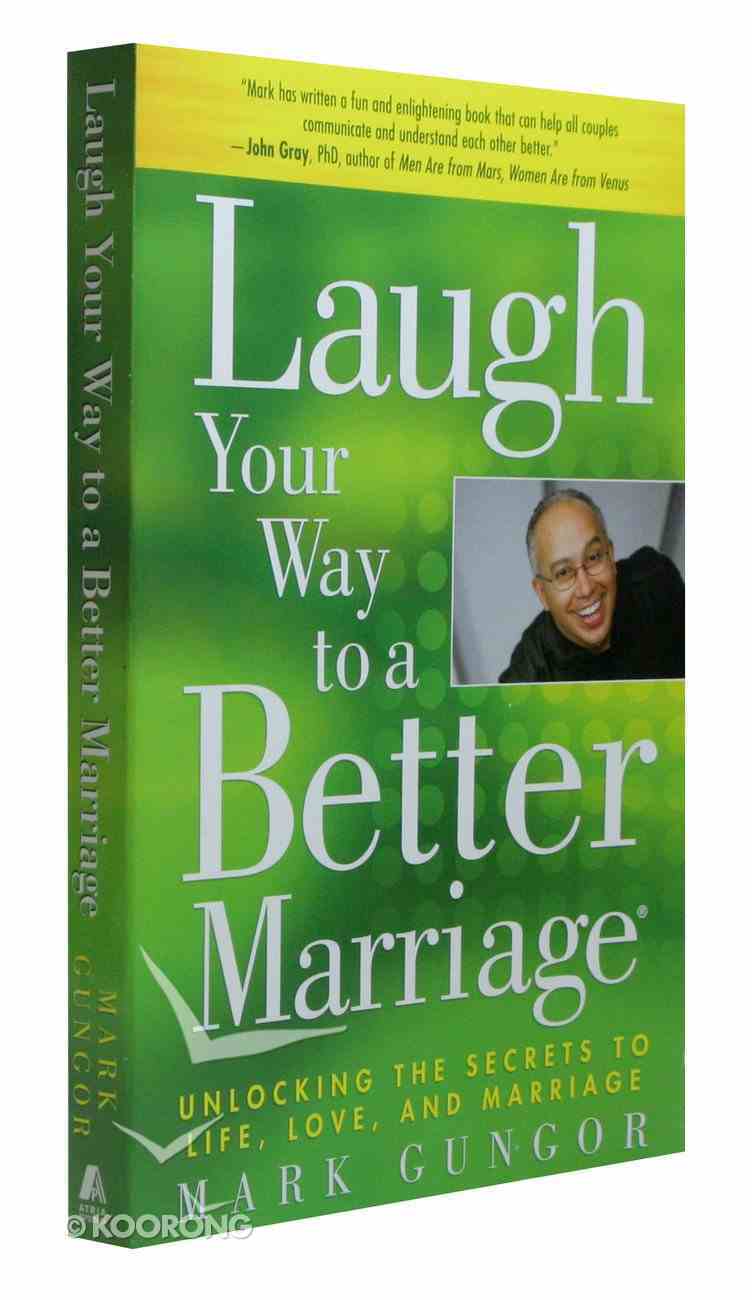 Laugh Your Way to a Better Marriage
1 The Perfect MateDeb and I had flown into Raleigh, North Carolina, to do one of ourLaugh Your Way to a Better Marriageseminars. Usually during my weekend events I speak for up to six hours or more, so if I...
Out of Stock
Available to Order
---
Free Shipping
for orders over $99.
1 The Perfect MateDeb and I had flown into Raleigh, North Carolina, to do one of ourLaugh Your Way to a Better Marriageseminars. Usually during my weekend events I speak for up to six hours or more, so if I am not careful I can overwork my voice. In preparation for an event, I try to limit my jabbering and generally turn down any requests to meet with people, do interviews, and so on. However, the Friday morning before the start of the Raleigh event, my good friend and host pastor, Steve Coronna, asked if I would join him and his wife Connie on the set of their TV program,Making Your Marriage Work. My reluctance to do three television programs on the day of a seminar was mitigated only by my friendship with Steve.The plan was to leave the hotel at 9:15 a.m. and drive to the studio to meet them. I am not exactly a morning kind of guy, and being true to form, I slept in as late as possible and began to shower and get dressed only at the last possible minute. After I shaved and combed what hair I have left, I went to get a fresh pair of underwear out of my suitcase. However, I could not find any. Since I am a typical man and unable to find something even if it's right under my nose, I did not panic, but simply called out to my wife, who was now in the bathroom."Hey, Debbie, where are my underwear?""They're right there in the front of your suitcase," she answered."No," I retorted. "I looked. There's nothing there."Exasperated, Debbie shot out from the bathroom to the suitcase to try and find what I had obviously missed. After a few moments, however, she started to giggle and said, "Well, I guess we didn't pack any."Didn't pack any?!I started to panic.No underwear?!My mind began to race: I have people to meet; television shows to tape! I don't have time to deal with, 'I guess we didn't pack any.'Perhaps yesterday's undies, I thought, switching from panic to resolution mode. A little gross, but it seemed like a plausible plan at the time. Then I realized my drawers were lying wet on the bathroom floor and there was no time to dry them out. I had to gonowif I was going to be on time.Only two options lay before me: a) go au naturel with no restraints --freely, as it were; or b) do theunthinkable-- wear my wife's underwear. As I pondered the options, a pair of my wife's undies caught my eye. They were made of simple cotton, and, were it not for "Victoria's Secret" stamped all over the elastic band, they almost looked like a pair of men's skivvies.Dare I? I mused.Now, every man I have ever shared this story with has told me they would have chosen option "a," and never option "b," even under threat of death or bodily harm. For most men, wearing women's underwear isnotan option -- there arewaytoo many conflicting implications. But I just could not see spending my day underwearless. I can't handle that muchfreedomin my life. I would have found it extremely distracting.So, option "b" it was. I quickly slipped on my wife's undies, finished getting dressed, and headed out the door, giving what I had just done very little thought.About five miles down the road, it started to dawn on me that I was sitting in a pair of underwear that had "Victoria's Secret" imprinted over and over again on the waistband. I thought to myself,Good grief! What if I'm in an accident? I imagined myself lying on the side of the road while the medics tried to remove my pants to save my life. I saw myself fighting them off, screaming at the top of my lungs, "Let me die! Let me die!"Soon I was at my destination, and I tried to focus on taping the programs to be aired over the next three weeks. You can imagine the irony I felt as I looked into the camera and threw out a challenge for the men in the audience to be real men, not the all-too-familiar men who live in a virtual w
-Publisher
Based on Mark Gungor's wildly popular seminar, Laugh Your Way to a Better Marriage® builds on Gungor's success with tens of thousands of couples who credit him with enriching, and even saving, their marriages. By using his unique blend of humor and tell-it-like-it-is honesty, he helps couples get along and have fun doing it.
Through exploring a variety of subjects including the myth of a "soul mate," the different ways men and women think, the conflicting levels of libido, and the necessity to forgive, Gungor proves that the key to marital bliss is not romance or destiny -- it's work and skill. Couples need to work hard at maintaining their relationship and to have the skills to pull it off. The longer spouses wait to learn these skills, the greater their chance of wanting to bail, yet Gungor makes it easy for couples to bring their relationship to the next level.


-Publisher
Mark Gungor is a pastor, motivational speaker, author, musician, and the CEO of Laugh Your Way America. He and his wife, Debbie, have two grown children and three grandchildren. He lives in Green Bay, Wisconsin, where he is the Senior Pastor of Celebration Church. Visit his website at www.laughyourway.com.



Bestsellers in Relationships