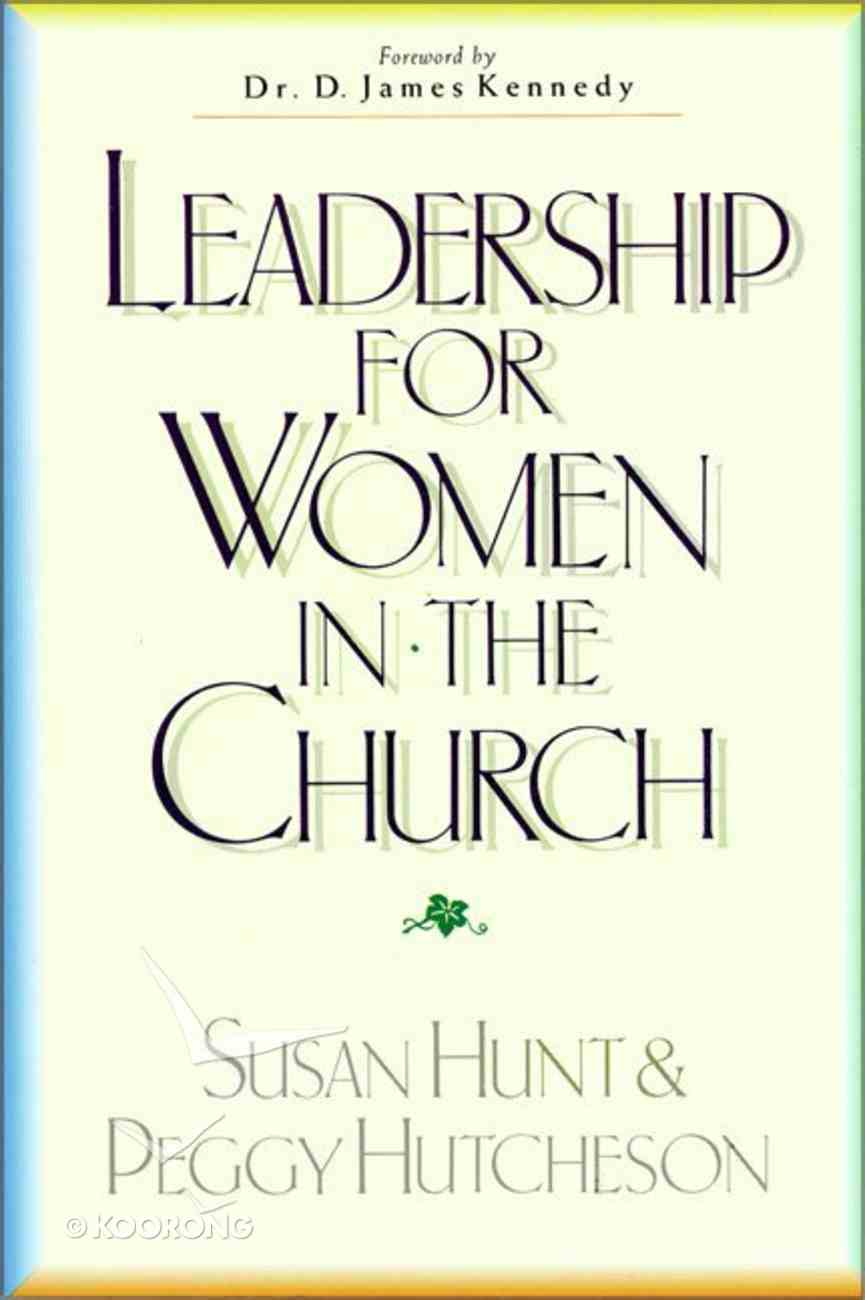 Leadership For Women in the Church
Women have a variety of roles to serve in the body of Christ, and this book offers a compelling message, not only encouraging them to use their leadership skills in church ministries but how to develop those skills.
Out of Stock
Available to Order
---
Expected to ship in 5 to 6 weeks from Australia.
---
Free Shipping
for orders over $99.
Women have a variety of roles to serve in the body of Christ, and this book offers a compelling message, not only encouraging them to use their leadership skills in church ministries but how to develop those skills.
-Publisher
This book is about how Christian women can identify and focus their leadership skills on tasks that need to be undertaken in the church. It is about how Christian men can recognize and use the leadership talents of the women in the church. Finally, it is about how local churches, those with denominational affiliation and those without, can integrate the full range of women's abilities with the tremendous needs in the kingdom of God.
-Publisher
PRODUCT DETAIL
Catalogue Code 

24681

Product Code 

0310540216

EAN 

9780310540212

UPC 

025986540210

Pages 

144

Department Academic
Category Leadership
Sub-Category Church Leadership
Publisher Zondervan
Publication Date 

Oct 1991

Dimensions 

203 x 134 x 10

mm

Weight 

0.136

kg
Hunt is an active mother and grandmother, a pastor's wife, and the Women in the Church Consultant for the Presbyterian Church in America. She has a degree in Christian education from Columbia Theological Seminary.
Peggy G. Hutcheson is a partner in Atlanta Resource Associates. She holds a Ph.D. from Georgia State University and has published numerous articles on human resources training.
Contents
Foreword
Introduction
Acknowledgments
Part One
The Challenges Of Leadership
Chapter One
The Issues
Chapter Two
The Biblical Ideal
Chapter Three
The Qualities
Chapter Four
The Arena
Part Two
The Elements Of Leadership
Chapter Five
Focus
Chapter Six
Wisdom
Chapter Seven
Confidence
Chapter Eight
Unity
Conclusion
Part One The Challenges of Leadership Chapter One The Issues Glorify the LORD with me; let us exalt his name together (Psalm 34:3). GOAL: To present the complex questions about roles and the related issue facing women and men in evangelical churches. 'I have to admit that I leave meetings like this feeling frustrated and not really appreciated. I feel put down by a group of men who seem to be patting me on the head and saying, 'We'll take over now.'' Christy was cautiously revealing her annoyance, and I had to admit that I could understand her feelings. She had worked so long to raise the consciousness of members of her church to a particular need. At first, no one seemed to share her burden. Then the issue became a 'hot item' and suddenly everyone was concerned. The male leadership of the church became involved and organized a meeting to decide how to meet the need. Christy was given a few minutes on the agenda, but the men were clearly the 'movers and shakers.' If you asked Christy, she would tell you that she usually has no problems with the traditional biblical interpretation of male headship. But somehow, at times like this when the idea of headship is put into practice, traditional views of headship just do not 'fit' for her. The elders of the church were the only ones in the position to make decisions; yet if you had added up their collective knowledge on this issue, it would not even have begun to approach Christy's expertise. 'This issue is a big one to me,' Christy lamented, 'My heart is in it, and I've been gathering information and working on it for more than a year! They asked me to give them some background on the issue. They also suggested that, since I was concerned about making sure things went smoothly for the meeting, I take charge of the nursery and fellowship time. Then what do they do? The meeting ended with three elders being appointed to do more study.' As we listen to Christy, some important questions come to mind... *Can the traditional evangelical church offer women challenging, significant opportunities to serve? *Is there a place in the local evangelical church for women who have gifts, training, and experience as executives, planners, implementers, etc.? *If so, is it possible to maintain biblical male headship in the church and employ the nontraditional leadership abilities of women? *Is the church an appropriate place for women to develop and exercise leadership skills? *How does the church use the gifts of stay-at-home moms, empty nesters, and great-grandmothers and encourage these women to develop new skills? *How can women in various seasons and circumstances of life experience oneness as they grow and serve Christ together in the church? *What responsibility does the church have to deal creatively with these issues? The Christian woman today is confronted with many perplexing issues. One of these is the question of her role in the church. Determining how she functions in her local church poses both problems and possibilities for the woman who believes that the Bible is the infallible, authoritative Word of God and who holds to the male-headship role in the church. Too often because of confusion over the role of women in the local church, it is problems rather than possibilities that surface. Consequently, the female population remains an important untapped resource in most churches. Many evangelical leaders agree that one of the most important challenges the church faces in the 1990s is to recognize women's gifts and free the women to exercise them. We would add that evangelical women face the challenge to speak boldly and clearly on the role of Christian women in the home and church. We hear that this is the decade of women, but we must not allow the world's voices to set the agenda for the church. We must unashamedly articulate and model the biblical position of male headship on this crucial issue. In order to seize this exciting opportunity, men and women must extend their theological position on the issue to the practice of that position. The position has been stated and restated! Now let's do some creative thinking about putting our beliefs into practice. Men and women who have attached themselves to evangelical churches that do not ordain women to the position of pastor or elder seem to face a confusing dilemma. There is a tension for those who hold the position that the Bible teaches that women are not to be ordained to positions of authority, but who also hold that all believers are to discover and exercise their gifts for the good of the church. Can women obey both of these truths? If so, how do Christian women identify and focus their leadership abilities on tasks and opportunities within the church? How do Christian men in leadership positions recognize the gifts of women and integrate the full range of abilities that today's women have with the tremendous needs in the kingdom of God? We believe that this tension can be resolved and these questions answered without capitulating to those who insist that equal ministry opportunities for women demand ordination for women. The issue is more complicated in today's evangelical church because of the increasing variety of skills that women possess. Christian women whose gifts are being developed in the business world, who function as managers and professionals directing the activities of others in their work lives, wonder how they can achieve this same level of contribution in their church lives. In many churches, the only opportunities for women to be involved in ministry are in the domestic areas. It is not that these women are unwilling to keep the nursery and plan fellowship suppers, nor do they view these tasks as insignificant. However, because of lack of experience in these areas, they feel insecure and inadequate. They long for opportunities to serve in situations where they can utilize their abilities and experiences to make contributions within their congregations. Yet they do not know what is appropriate. They do not want to appear pushy so they do nothing--and that leads to a stifled, frustrated feeling.
Bestsellers in Leadership