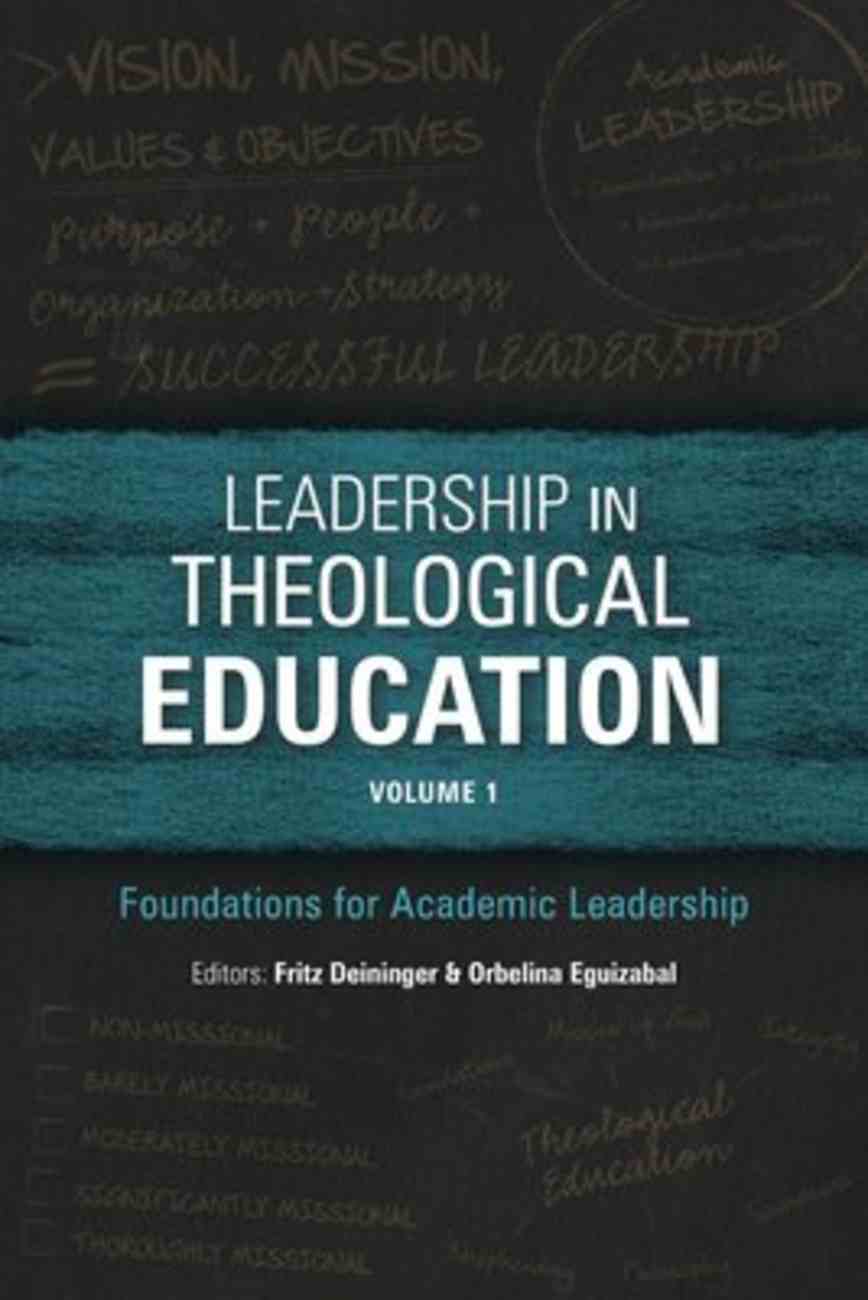 Leadership in Theological Education : Foundations For Academic Leadership (Volume 1) (Icete Series)
The ICETE Programme for Academic Leadership (IPAL) was officially established in 2010 and arose out of the need to provide training to theological institutions in different regions of the world. IPAL provides a three-year cycle of four-day seminars for the...
Out of Stock
Available to Order
---
Expected to ship in 6 to 7 weeks from Australia.
---
Free Shipping
for orders over $99.
The ICETE Programme for Academic Leadership (IPAL) was officially established in 2010 and arose out of the need to provide training to theological institutions in different regions of the world. IPAL provides a three-year cycle of four-day seminars for the professional development of evangelical academic leaders to help institutions in their pursuit of quality and excellence.This publication is the first of three volumes intended to accompany and support the IPAL seminars as well as independently providing wider access to the principles required by academic leaders for institutional development.Each chapter shares and illustrates the contributors' expertise in and understanding of education, leadership and administration in the field of evangelical academic institutions. With an intentional awareness of a wide range of non-Western contexts this volume is a much-needed guide for senior administrators around the world.
-Publisher
<p>foreword</p><p>acknowledgments</p><p>introduction</p><p>part I &amp;ndash; Foundations For Theological Education</p><p>&amp;nbsp;&amp;nbsp; &amp;nbsp;1 Handmaiden To God&amp;rsquo;s Economy: Biblical Foundations Of Theological Education</p><p>&amp;nbsp;&amp;nbsp; &amp;nbsp;2 Developing An Operational Philosophy Of Theological Education: A Primer On Moving From Philosophy To Strategy</p><p>&amp;nbsp;&amp;nbsp; &amp;nbsp;3 Going To The Promised Land: Vision, Mission And Values And How They Shape Objectives In Theological Education</p><p>&amp;nbsp;&amp;nbsp; &amp;nbsp;4 Factors&amp;nbsp; At Contribute To Excellence In Theological Education</p><p>part Ii &amp;ndash; Academic Leadership: Characteristics And Responsibilities</p><p>&amp;nbsp;&amp;nbsp; &amp;nbsp;5 President And Dean As Partners In Theological Education</p><p>fritz Deininger</p><p>&amp;nbsp;&amp;nbsp; &amp;nbsp;6 The Academic Deanship As Ministry: A Challenging</p><p>leadership Position</p><p>part Iii &amp;ndash; Academic Leadership: Administrative Practices</p><p>&amp;nbsp;&amp;nbsp; &amp;nbsp;7 Strategic Planning In Theological Education</p><p>manfred Waldemar Kohl</p><p>&amp;nbsp;&amp;nbsp; &amp;nbsp;8 Accreditation: Importance And Benefits For The Institution</p><p>bernhard Ott</p><p>&amp;nbsp;&amp;nbsp; &amp;nbsp;9 The Academic Dean And Institutional Assessment: What, Why,</p><p>and How</p><p>part Iv &amp;ndash; Academic Leadership: Leadership Practices</p><p>&amp;nbsp;&amp;nbsp; &amp;nbsp;10 Academic Leaders As Change Agents</p><p>&amp;nbsp;&amp;nbsp; &amp;nbsp;11 Academic Leadership In Conflict And Crisis: When Working Together Is Not Working</p><p>&amp;nbsp;&amp;nbsp; &amp;nbsp;12 Practical Reflections From Academic Leadership</p><p>bibliography</p><p>the Contributors</p>