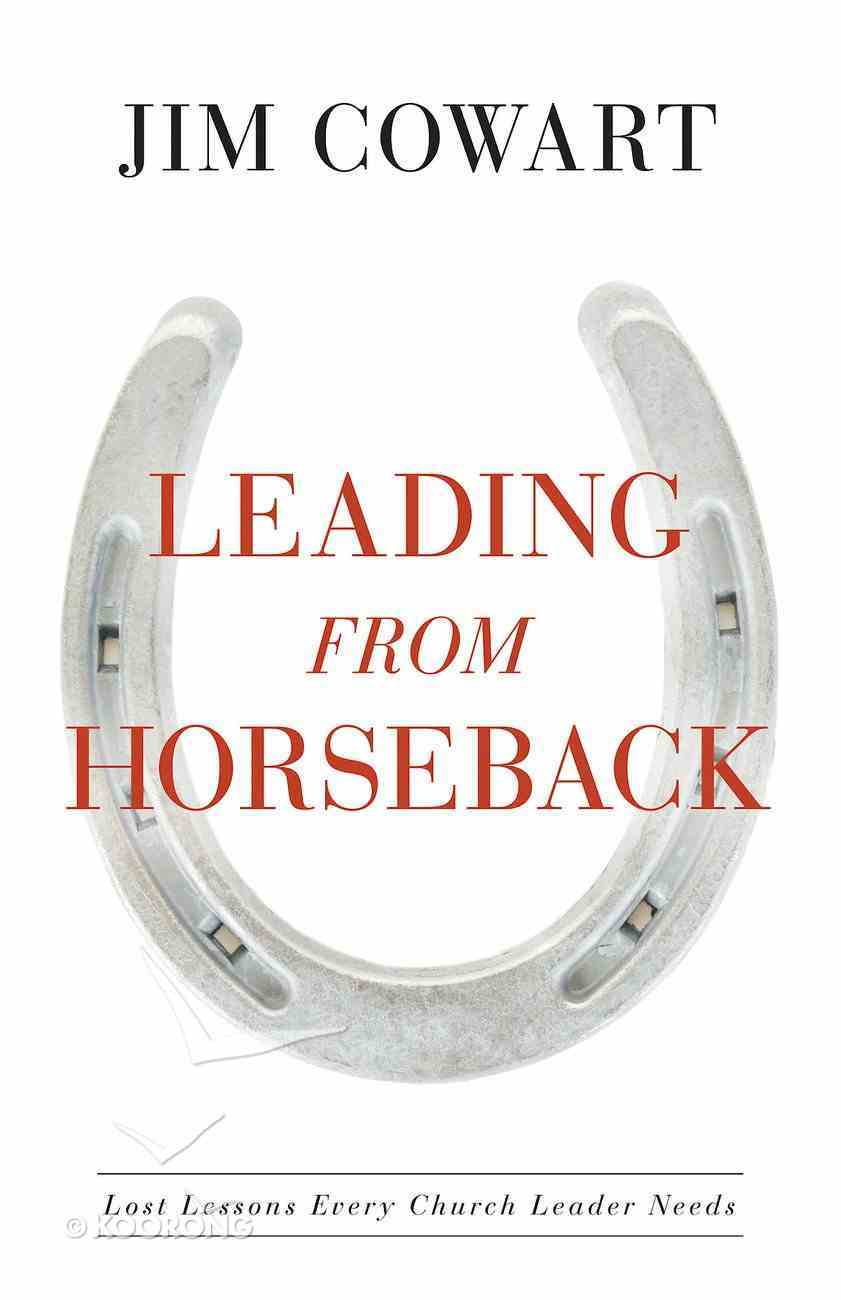 Leading From Horseback: Lost Lessons Every Church Leader Needs
Horses are accustomed to leaders. They want a leader. They expect a leader. From the first bridle to a horse's last day in the barn, horse-lovers know that life with a horse is a complicated, challenging, beautiful, and sometimes bewildering...
Instant download
---
Read using our free app on your tablet or mobile!
---
Free Shipping
for orders over $99.
Horses are accustomed to leaders. They want a leader. They expect a leader. From the first bridle to a horse's last day in the barn, horse-lovers know that life with a horse is a complicated, challenging, beautiful, and sometimes bewildering experience. It takes Patience, Partnership, Communication, Trust, and Preparation-among other qualities-to train and enjoy life with a horse. Those same qualities are essential in good leaders.

Jim Cowart, a pastor and horseman, shares leadership lessons he's learned in the stables of Georgia, working with horses and professional trainers. Cowart also shares distinct insights from Australia's legendary horseman Clinton Anderson.

Written in Cowart's easygoing style, and full of humor, this book brings a light and engaging touch to a serious subject, and is packed with practical advice and instruction.

Jim Cowart is the founding pastor of Harvest Church, a United Methodist congregation in Warner Robins, GA, near Macon. Harvest Church, launched in 2001, has an average attendance of nearly 3,000 each weekend. The church grows primarily through professions of faith from new Christians. Jim is the author or coauthor of Start This Stop That, Grab-Gather and Grow, Living the Five, Grounded in Prayer, and Grounded in Creed. Jim serves as a trainer and coach, helping pastors launch and maintain healthy church environments. For more information go to harvestchurch4u.org.

Serenity Al Janat, who answers to the name, Seri, is a Straight Egyptian Arabian mare from the Dahmah Shahwan Strain. She can trace her lineage back to King Solomon's stables in Israel, but now lives in Middle Georgia with her best buddy Jim Arch Cowart.



-Publisher
00165377Abingdon Press3144114.0Normal0falsefalsefalseEN-USJAX-NONE /* Style Definitions */table.MsoNormalTable{mso-style-name: "Table Normal";mso-tstyle-rowband-size:0;mso-tstyle-colband-size:0;mso-style-noshow: yes;mso-style-priority:99;mso-style-parent: "";mso-padding-alt:0in 5.4pt 0in 5.4pt;mso-para-margin:0in;mso-para-margin-bottom: .0001pt;text-align: center;mso-pagination: widow-orphan;font-size:11.0pt;font-family: Calibri;mso-ascii-font-family: Calibri;mso-ascii-theme-font: minor-latin;mso-hansi-font-family: Calibri;mso-hansi-theme-font: minor-latin;} Jim Cowart is the founding pastor oA
Bestsellers in Leadership