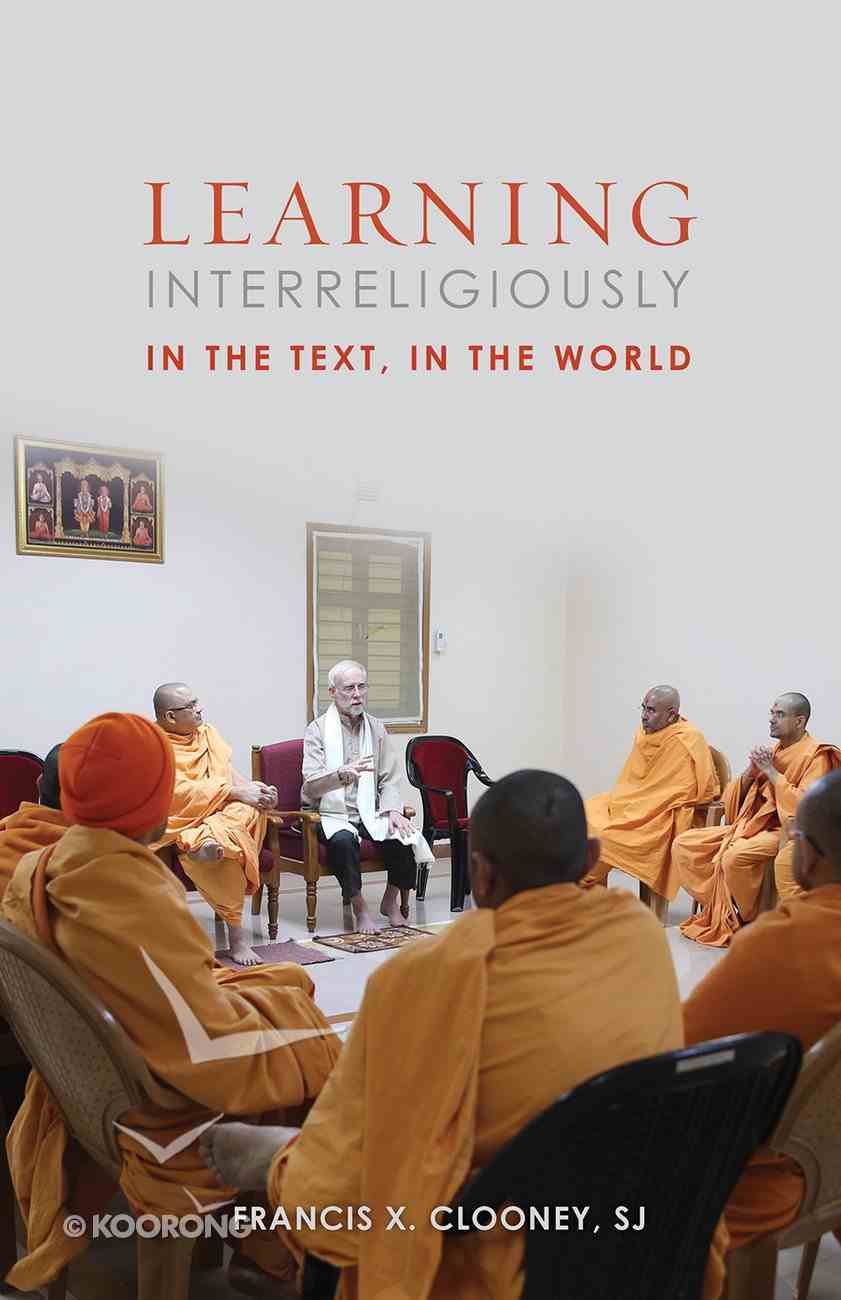 Learning Interreligiously: In the Text, in the World
Learning Interreligiously offers a series of about one hundred short pieces, written online between 2008 and 2016. They are meant for a wide range of readers interested in interreligious dialogue, interreligious learning, and the realities of Hindu-Christian encounter today, and...
Out of Stock
Available to Order
---
Expected to ship in 4 to 5 weeks from Australia.
---
Free Shipping
for orders over $99.
Learning Interreligiously offers a series of about one hundred short pieces, written online between 2008 and 2016. They are meant for a wide range of readers interested in interreligious dialogue, interreligious learning, and the realities of Hindu-Christian encounter today, and are rich in insights drawn from teaching, travels in America and India, and the author's research on sacred texts. The author, a Catholic priest who has spent more than forty years learning from Hinduism and observing religion as a plus and minus in today's world, has much to share with readers. Some pieces were prompted by items in the news, some go deeper into traditions and probe the rich Scriptures and practices going back millennia, some seek simply to provoke fresh thinking, and others invite spiritual reflection. The book is divided into several parts so that readers can focus on individual events that made the news or on longer term and more concerted study. Familiar texts such as the Yoga Sutras, the Bhagavad Gita, the Qur'an, and key passages from the New Testament will be considered for their spiritual possibilities. Readers will find much here to learn from and respond to as they too consider religion in today's world.
-Publisher
Francis X. Clooney, S.J. (Ph.D., University of Chicago) is Parkman Professor of Divinity and Professor of Comparative Theology at Harvard Divinity School, a Roman Catholic priest and a member of the Society of Jesus, he joined the Divinity School in 2005.


Professor Clooney is the author of numerous articles and books, including most recently Beyond Compare: St. Francis and Sri Vedanta Desika on Loving Surrender to God (Georgetown University Press, 2008); The Truth, the Way, the Life: Christian Commentary on the Three Holy Mantras of the Srivaisnava Hindus (Peeters Publishing, 2008) and Comparative Theology: Deep Learning Across Religious Borders (Wiley-Blackwell, forthcoming).


His current projects include an exercise in dramatic theology, the reading of Bernard of Clairvaux's sermons on the Song of Songs along with Nampillai's commentary on Satakopan's Tiruvaymoli, a study of 18th and 19th Jesuit Indology


Part Oneinterreligious Reading (arranged According To The Christian Liturgical Year)krishna In Advent Ikrishna In Advent Iikrishna In Advent Iiiswami Yogananda's Wisdom On The Birth Of Christ Baby Krishna, Infant Christ At Christmas Singing The Baby Jesus In South India Yoga And Lent Iyoga And Lent Ii: Sede Vacante Yoga And Lent Iii: Empty Wisdom Yoga And Lent Iv: To See As Wisdom Sees Yoga And Lent V: Ten Lenten Commandments Yoga And Lent Vi: Sit, Breath, Let Go Yoga And Lent Vii: The Contemplative Gaze Yoga And Lent Viii: The Samadhi Of Jesus The Gita In Lent I The Gita In Lent Iithe Gita In Lent Iii: You Are The Temple The Gita In Lent Iv: Waking Up, Slowly The Gita In Lent V: Learning To Do Nothing The Gita In Lent Vi: The Worst In Us, In Holy Week The Gita In Lent Vii: The Many Meanings Of Sacrificestopping On Holy Thursday: How A Hindu Sacred Text Helps A Hindu View Of Holy Thursday: Yogananda I A Hindu View Of Good Friday: Yogananda Iia Hindu View Of Easter: Yogananda Iiifrom Darkness To Light: A Hindu Mantra During The Easter Vigil The Gita At Easter: Our Rising Up Prana, Yoga, Spirit, Pentecostat Pentecost The Spirit Blows, Interreligiously In Ordinary Time: The Sermon On The Mount: A Hindu Reading Isalt And Light: Swami On The Sermon Iijesus The Avatar: Swami On The Sermon Iii Nonviolence For Some: Swami On The Sermon Iv On Being Perfect: Swami On The Sermon, Vdo Not Be Anxious: Swami On The Sermon Vi Jesus, Spiritual Master: Swami On The Sermon Viia Hindu Response To "swami On The Sermon"another Hindu Response To "swami On The Sermon" Additional Experiments In Interreligious Readinghow I Preach, After Hindu Learning: The Example Of The Gospel Of The 10 Lepers `the Study Qur'an' And The Battle Against Ignorance Studying The Qur'an As A Catholicviolence In The Qur'an Maryam, Mother Of Jesus, In The Qur'an Jesus In The Qur'an: Pious, Obedient, Favored Servant Of God Reading The Book Of Mormon I Reading Mormon Ii: When Jesus Came To America Reading Mormon Iii: The Sermon On The Mount Reimagined Reading Mormon Iv: Prophecies And Ecstasies Reading Mormon V: To The Future Part Twoin Dialogue (arranged Chronologically)so What, If Barack Hussein Obama Were A Muslim? The Hindus - Are Here!contra Interreligious Ignorancekarl Barth, Thomas Merton: 40 Years Later The Loud Silencing Of Roger Haight, Sjthe Death Of A Swami, And His Bliss A Hare Krishna Swami Tells All Pope Benedict's Most Generous Interreligious Vision A Hindu-christian Conversation Beginsa Hindu-christian Conversation Ii: A Hindu View Of Dialogue A Hindu-christian Conversation Iii: A Christian Reply A Hindu-christian Conversation Iv: Some Final Exchanges Archbishop Nichols At The Hindu Temple: Idol-worship? Obama, Gandhi, Jesus: Realism And Nonviolence From Rome, In Tibet: Interreligious Learning The Pope And Other Religions - Once Again... Could Matteo Ricci Have Done It Today? Meeting The Divine Mother: Amritanandamayi And Me A Hindu America? Raimon Panikkar, Rest In Peace Dominus Iesus 10 Years Later I Dominus Iesus 10 Years Later Ii Dominus Iesus 10 Years Later Iii Gandhi At 141 The Pope, The Jews - And The Pagans Easter And Our (inter)religious Imaginations Death Of A God-man: Sai Baba Dies At 85 Fr. Amorth's Yoga And The Devil To Convert A Hindu... Buddhist Christian Prayer/smargaret Farley On The Kama Sutra The Interreligious Mary Of Colm Toibin Slow Learning Indeed: My 40 Years Of Learning Hinduism 9/11 - 1893: A Day Of Interreligious Hope Is Allah Not Our God? Finding God In Uluru Bks Iyengar: Rest In Peace High Holy Days, Twice Over: When Jewish And Hindu Feasts Coincide. The Pope And The Hugging Guru Caste And Christianity: Old, New, Old Insights Compassion And Dialogue Shall Embrace Jews And Christians Together: On The Deep, Too-brief Wisdom Of Joseph Redfield Palmisano, S.j.should Christians Fast This Ramadan?hindus And Catholics Together In Washington, D.c.we Can't All Be Mother Teresathe Clash Of Religions Is Overstated: The Coming Of Interfaith Awareness Is Irreversiblewhat Catholics Can Learn From A Hindu Saint On His 1,000th Birth Anniversary
Bestsellers in World Religions