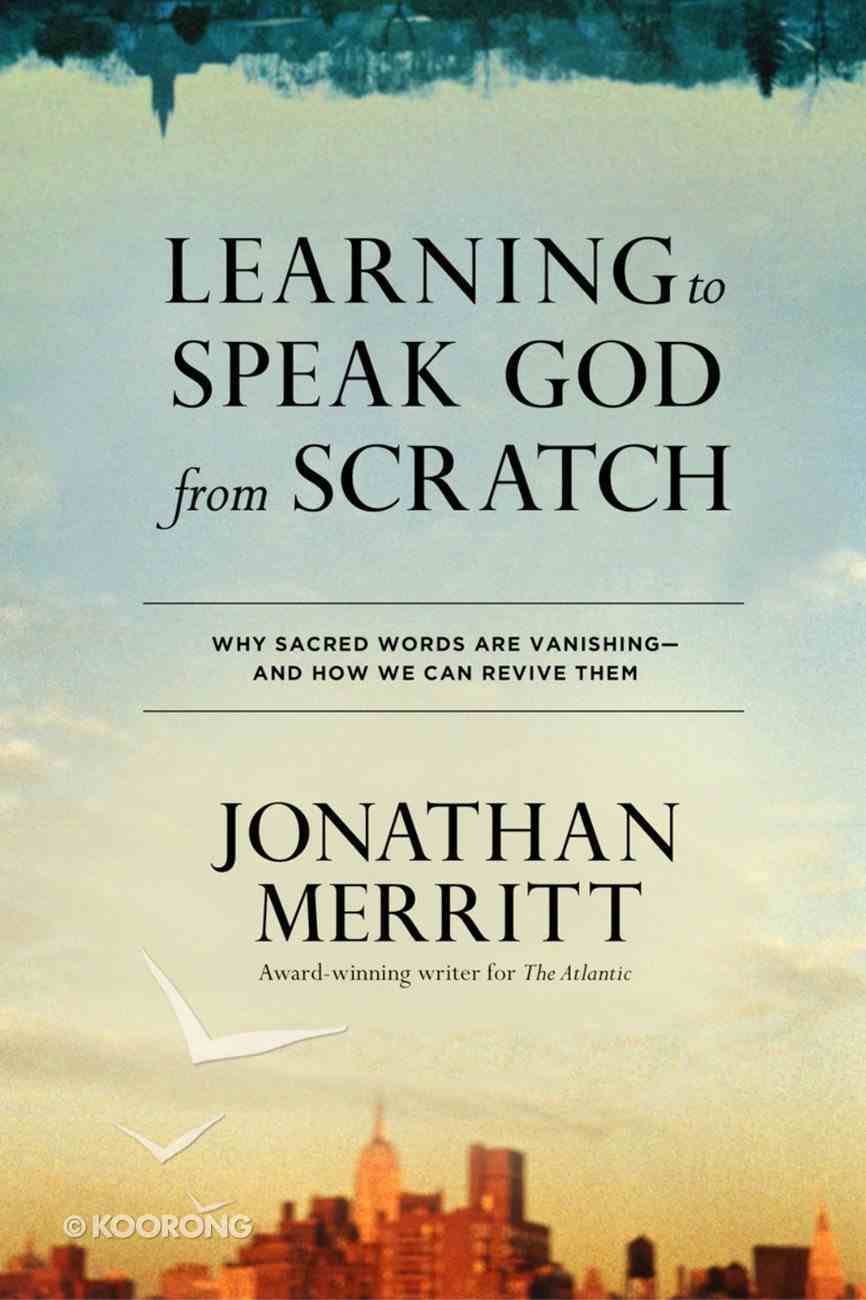 Learning to Speak God From Scratch: Why Sacred Words Are Vanishing--And How We Can Revive Them
:When religion writer Jonathan Merritt moves from the Bible Belt to New York City, he runs into an unexpected language barrier. Whenever conversations turned to faith, his words became stilted. Words, both ancient and modern, that Jonathan had utilized for...
Out of Stock
Available to Order
---
Expected to ship in 4 to 5 weeks from Australia.
---
Free Shipping
for orders over $99.
:When religion writer Jonathan Merritt moves from the Bible Belt to New York City, he runs into an unexpected language barrier. Whenever conversations turned to faith, his words became stilted. Words, both ancient and modern, that Jonathan had utilized for decades to describe matters of the soul no longer translated to those he encountered.
As America rapidly transitions culturally, modern believers struggle to talk about faith and their relationships with God in ways where understanding of terms like grace or gospel can no longer be assumed. Some words have become so negative they are nearly conversation-enders. The desire to help bridge this communication gap sends Jonathan on a quest to excavate anew some of the most meaningful words in a believer's dictionary.
In this groundbreaking work, one of America's most prolific religion writers breathes new life into ancient expressions through a combination of cultural commentary, vulnerable personal narratives and surprising Biblical insights.
-Publisher
PRODUCT DETAIL
Catalogue Code 

486988

Product Code 

9781601429308

ISBN 

1601429304

EAN 

9781601429308

Pages 

256

Department General Books
Category Biography
Sub-Category Missions
Publisher Waterbrook Press
Publication Date 

Mar 2018

Sales Rank 

82323

Dimensions 

202 x 129 x 17

mm

Weight 

0.209

kg
Jonathan Merritt is a faith and culture writer whose work appears regularly in national publications such asUSA Today, theAtlanta Journal-Constitution, andRelevantmagazine. As a powerful Christian voice, he has appeared onABC World News,NPR,and PBS'sReligion and Ethics Newsweekly.Merritt holds a master of divinity degree from Southeastern Baptist Theological Seminary in Wake Forest, NC, and currently lives outside Atlanta, GA. You can find out more about Jonathan at www.jonathanmerritt.com.
:
Chapter 1.

A life coach once told me that adults searching for meaning should pursue their childhood dreams. Which seems reasonable enough if you fantasized as a kid about becoming a tax attorney or insurance adjuster as a kid. The principle doesn't work as well for people like me, who dreamed about becoming a cowboy.


My mother reminisces about the way I played pretend in the living room, wearing nothing except pajama bottoms, a mini Stetson hat, and black boots with silver spurs. I'd force my cowboy boots onto the wrong feet, which made the whole scenario a little more precious and a lot more absurd. On more than one occasion, I sauntered around the house, knock-kneed, waving a plastic six-shooter and asking where I could find a good watering hole.


"When I grow up," I told my mother, "I'm movin' to El Paso."


I had never been to El Paso. Heck, I'd never even seen pictures. In my version of El Paso, the townsfolk rode horses and never left home without pistols strapped to their hips. Only one lawman lived there, and he could usually be found outside the jailhouse smoking a hand-rolled cigarette. I assumed most residents wrangled cattle during the day, lay under a blanket of stars at night, and after a hard week's work, gathered at the saloon for a frothy mug of sarsaparilla and a hand of Texas Hold 'Em.


When I was old enough to move to the city of my choosing, however, El Paso didn't even make the Top 10. My cowboy dream had long faded. When I decided at the age of thirty-one to join the 8.5 million city slickers who call New York City home, I wondered if that wrangler spirit had led me there.


You won't find horses in the Big Apple unless they're dragging carriages around Central Park. The only cows we have are served medium rare and will cost you a second mortgage. The city's strict gun laws mean you're unlikely to see a pistol unless it's resting in a police officer's holster, and the closest thing you'll find to a tumbleweed is a windswept potato chip bag.


And yet, New York City has a certain frontier-like quality. Countless people arrive each year—in moving vans, like modern covered wagons—with hopes of forging a new life, conquering the iron wilderness, and if they're lucky, maybe even striking gold. The scent of opportunity is everywhere—I've caught whiffs on street corners and nearly choked on it on Wall Street.


America's biggest metropolis is diverse enough that citizens can curate their own version. The New York of the Upper East Side is not at all like the New York of Astoria, Queens. So different are the two neighborhoods that it's almost laughable for them to claim the same city of residence.


I settled into the Brooklyn neighborhood of Williamsburg, which is less like Seinfeld and more like Blue Bloods. The buildings are smattered with graffiti and bursting with third-wave coffee shops. Hipsters and Latinos mingle with a remnant population of Hasidic Jews who have decided to stay put even as the neighborhood gentrifies. (I spy more menorahs during Hanukkah than twinkling trees at Christmas.)


On the waterfront, Brooklyn residents lounge with loved ones on benches beside the East River and watch the summer sun sink into the skyline. The final rays of dusk wash Manhattan's skyscrapers with sheets of light on clear nights. During the autumn months, McCarren Park fills with guitarists and flag football teams and a weekend farmer's market where you can purchase apple cider and tupelo honey and rhubarb jelly.


Living here is just as lovely as it sounds.


The delights of New York did not blindside me, of course. But I never anticipated, upon arriving, that I'd run into a crippling language barrier. Sure, I could order a late-night kebab from a halal street cart or relay an address to a taxicab driver. I spoke English as well as I always had.


My problem was that I could no longer "speak God."


Prior to moving to New York, I resided in a suburban neighborhood in the heart of the Bible Belt. Almost all my friends were Christian, and most of us attended the same type of church. I worked as a minister to a congregation outside of Atlanta, and before that, I was a full-time seminary student. The community in which I was immersed was so thoroughly Christian, I sometimes forgot that other people practiced different religions or none at all.


In this world, there was a kind of cultural Christian lingo that many speak and almost everyone else understands. If someone sneezed, a stranger might say, "God bless you." The sneezer would not stop to think, What do you mean by "God"? Or by "bless"? If someone mentioned that he had been "saved," "born again," or "attended a Bible-believing church," no follow-up question was needed. On meeting a new acquaintance, Southerners will usually ask where they attend church rather than if.


I used religious language with ease in the South, rarely pausing to think about the meaning of my words. I grew up surrounded by these syllables of faith, used daily in my home and community. But I was not in Georgia anymore. I penned columns about the intersection of "faith and culture" from my Southern Christian enclave, but as it turns out, pontificating about a post-Christian society is far easier than living in one.


In New York, religious fluency is not assumed. The majority of residents don't attend church on any given Sunday, and only about three percent of the population is evangelical Protestant like I was raised. I soon discovered people who had never heard the sacred words I'd long taken for granted—and others who used them with wildly different meanings.


I realized this linguistic chasm en route to visit a church in Manhattan on my first Sunday in New York. Waiting on a subway platform, a woman standing next to me asked where I was headed. I explained that I was going to a "worship service." She asked for clarification, having never heard that phrase. I clarified that I was new to the city and was going to visit a church. She perked up and said she practiced the Baha'i faith. She held up her crystal amulet necklace and explained that it protected her from evil spirits. If I was spiritually curious, the woman said, she'd read my chakra and access the invisible energy fields around my body.


As we talked about our respective religious practices, it became clear that neither of us understood what the other was saying. I glanced down the dark tunnel in hopes of spotting a train, but rescue wasn't in sight.


She peppered me with questions about God and the Bible and the afterlife. I fumbled for answers, but what came out didn't make much sense. When I used terms I considered common—"grace" or "gospel" or "salvation"—my conversation partner stopped me mid-thought to ask for a definition, please. I sputtered, stammered, and stuttered, trying to rephrase those words in ordinary vernacular, but I couldn't seem to articulate their meanings. It was like trying to define the word color or the. Though I had used the terms often, I'd never stopped to consider their meanings.


The train finally slid into the station. I thanked the lady for conversing, though I felt anything but grateful, and bolted down the platform to find a separate train car.


Not all New Yorkers are like this woman, I came to realize. Others presented a different set of obstacles. Many are familiar with sacred terms but have experienced them as a source of pain or judgment or coercion. In such cases, I often felt embarrassed to speak the vocabulary of faith.


When a new friend in my co-working space asked me whether I was like the hypocritical Christians he saw on television shamelessly stumping for politicians, I was drenched in shame. But I could understand his contempt.


The way certain groups of people use sacred words gives the rest of us the holy heebie-jeebies. Holy phrases become tools of manipulation in the hands of angry religious leaders. They are fashioned into clubs by combative evangelists. And when shouted from the mouth of a street preacher outside a football stadium, Scripture becomes downright annoying.


About a month after I moved to New York City, my new barber asked me what I did for a living.


"Wow, I've never met a religion writer," he said. "I'm still pissed off about my childhood. I was raised in the country. My parents were Southern Baptists—the hard-core fundamentalist kind. You know anything about those kinds of people?"


He had no idea that I was raised the son of an evangelical minister, a former president of the Southern Baptist Convention, and I wasn't about to disclose it.


"I mean, what do you think about all that sin and hell and judgment stuff?" he pressed.


"That's a good question."


Then I used the ultimate conversation distraction for a New Yorker: "You a Yankees or a Mets fan?"


I soon caught onto the pattern emerging in my conversations. Exchanges flowed freely when I stuck to benign topics like the dreaded winter weather or the maddening sound of jackhammers on the street. But the conversation stalled the moment the subject turned spiritual.


To avoid having to define every sacred term, I swept them into a pile and out the door. Not wanting to be associated with those in society who spoke God fluently but irresponsibly, I started avoiding spiritual conversations altogether.


I am not alone. I've been meeting people from all over, with similar histories of belief, who feel they too have been struck mute in a strange land. Terms like sin and hell have become so negative they lodge in our throats. Others, like belief and salvation have been uttered so often we don't know what they mean anymore. Definitions and connotations of words like mercy and love can no longer be assumed.


An acquaintance of mine, Kyle, is a high school pastor in the Midwest. He tells me that he struggles to motivate his students to talk about God outside of church. The issue for them, Kyle says, isn't a lack of courage. They aren't afraid of being rejected or ostracized by nonreligious friends. Rather, they lack confidence in the words they've been given. They aren't totally sure what the words mean or whether they believe they are as true as they once thought. And many in this generation have seen the hypocrisy of words not backed up by authentic actions, which causes them to pause.


Kyle's students may feel a pang of guilt for keeping quiet about sacred matters, but as it turns out, their elders are just as mute, if not more so.


Partnering with the Barna Group, a prominent social research firm focused on religion in America, I commissioned a national survey of more than 1,000 people to shine some light on this matter. The survey revealed that millions of Americans—more than half of them, actually—are not speaking God often.


More than one-fifth of respondents admit they have not had a spiritual conversation at all in the last year. Six-in-ten say they only had a spiritual conversation on rare occasions—either "once or twice" (29 percent) or "several times" (29 percent) in the last year. An additional 14 percent are more spiritually vocal—claiming to have had a spiritual conversation between ten and fifty times in the last year.


Here's the shocker: Despite widespread religiosity, a paltry 7 percent of Americans say they talk about spiritual matters on about a once-per-week basis (more than fifty times in the past year). That means that for most of us, our conversations almost never address the spirituality we claim as important.


That's not the only significant revelation. Political conservatives are about twice as likely as liberals to have had more than fifty conversations (10 percent versus 5 percent). More conservatives claim religious faith than do liberals, and this faith bubbles up in their conversations more often. However, liberals are still more apt to have spiritual conversations than those who claim "somewhere in between" as a political ideology—this moderate group is twice as likely as either liberals or conservatives to say they "never" have those conversations (29 percent compared to 14 percent and 16 percent, respectively). Moderates, it would seem, are more likely to keep conversations neutral, avoiding hot topics like religion and politics.


When it comes to practicing Christians who attend church regularly, I expected the frequency of spiritual conversations to skyrocket. But I was wrong, wrong, wrong. Only 13 percent of practicing Christians had a spiritual conversation more than fifty times last year, which again, would be about once per week. That means only about one in eight self-identifying Christians speak God with regular frequency.


All this may sound depressing to religious leaders and spiritual seekers, but here is the surprising silver lining: Younger generations are having more spiritual conversations than older generations. In fact, Millennials are having more conversations about religion or spirituality than any other generation.


The older you are, the less likely it is that you will have a spiritual conversation. Thirty-five percent of Elders say they "never" had a conversation with someone in the last year, compared to a steadily decreasing percentage from Boomers (29 percent) to Gen Xers (20 percent) to Millennials (10 percent). This trend holds true on the other end of the spectrum: Millennials are the most likely to have had between 10 and 50 conversations in the last year (18 percent compared to 11 percent of Boomers).


This renewed interest in spiritual matters among young people creates an opportunity to revive sacred speech.


Reviewing this data roused the wrangler spirit in me once more. I decided to discover why people had lost confidence in the vocabulary of faith and what, if anything, could be done to revive it. What I uncovered proved to be shocking, awakening, and transformative.


Perhaps sometimes you struggle to speak God like I did. You don't need to move to New York City, or any other urban context, to feel this tension. The world is changing from top to bottom and east to west. Our lives are now saturated with people who differ from us in race, religion, age, education, and cultural mores.


In neighborhoods across America, people don't read from the same script or work with a common spiritual vocabulary. So you may feel the pinch whether you're living in a Rocky Mountain mining town or a Great Plains farm community, in a bungalow overlooking the ocean or an HOA-friendly house in the suburbs. It doesn't matter whether you've been fluent in the vocabulary of faith since you were old enough to eat solid food or have never learned your religious ABCs.


Millions of Americans now struggle to find sacred language that can adequately describe life's deeper truths. Perhaps you've run into this awkward language barrier in recent days.


Maybe you were spoon-fed religious words since infancy but now wonder, as you've matured, whether many of those terms need to mature too.


Maybe you once believed that accepting faith meant praying certain words but now you know better.


Maybe you formerly assumed that using particular words and avoiding others somehow increased your spiritual standing.


Maybe the rigid religious tradition that you come from has made you so anxious about speaking God with precision that you end up not speaking God at all.


Maybe your parents, pastors, or friends used religious words as weapons to oppress, repress, shame, or scold you.


Maybe you've been turned off by the sharp syllables of street preachers, the slick pitches of televangelists, or the trite words of pious politicians.


Maybe you feel guilty speaking God because deep down you believe God (probably) exists on even-numbered days.


Maybe you squirm when you hear people use words to convert others, without ever considering that perhaps they are the ones who need converting.


Maybe you still walk into church most weeks but object to what you hear while there.


Whatever the cause of your spiritual lockjaw, I'm grateful you haven't given up. That's powerful. Because despite our frustrations, we share a common ache and desire to experience the possibility of what can happen when we're courageous enough to use the vocabulary of faith.


Ours is an expedition to rediscover a love for consecrated terms and discover why speaking God matters now more than ever. To express our spiritual stirrings, to articulate our transcendent experiences, to share our truest selves with friends. In these pages, I hope you learn to speak about faith with greater confidence than ever before.


The world needs a revival of these sacred words.


And so do we.


Let's learn to speak God from scratch.