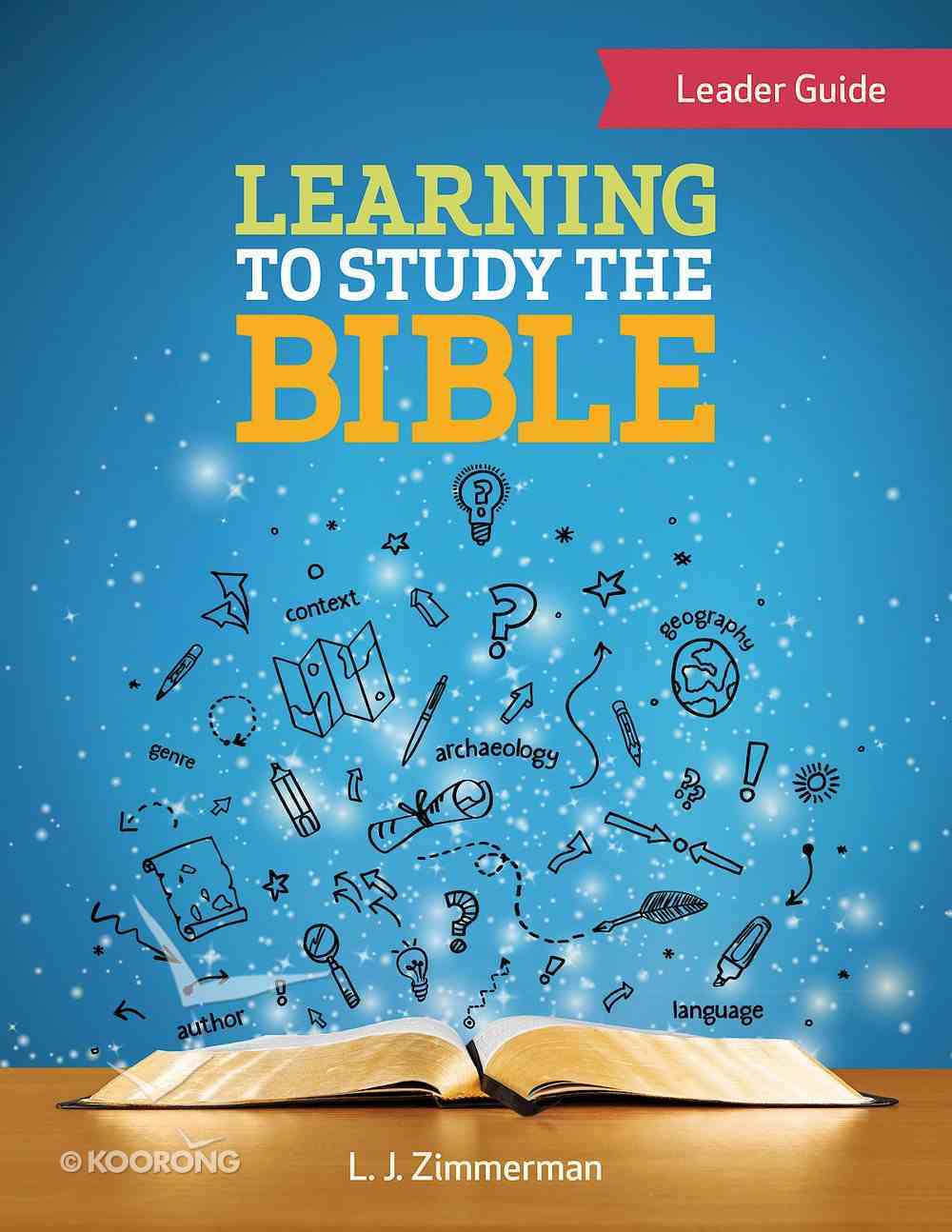 Learning to Study the Bible (Leader Guide)
Learning to Study the Bible guides your tween students through eight weeks of Bible discovery. They'll explore the wonders of biblical geography and archaeology. They'll compare and contrast biblical genres. They'll learn the history of biblical interpretation, and discover that...
Instant download
---
Expected to ship within 10 hours from Australia.
---
Read using our free app on your tablet or mobile!
---
Free Shipping
for orders over $99.

Learning to Study the Bible guides your tween students through eight weeks of Bible discovery. They'll explore the wonders of biblical geography and archaeology. They'll compare and contrast biblical genres. They'll learn the history of biblical interpretation, and discover that they are Bible interpreters too! Students will become familiar with Bible dictionaries, commentaries, concordances, maps, and more. Best of all, they'll practice sharing their Bible knowledge with others each week.


Session Outline and Learning Goals:


1. Who?
* Learn to identify the original author and audience
* Understand your own social location and biases
* Practice reading a text with the author and original audience in mind


2. What?
* Understand the significance of genre
* Practice identifying genre in biblical texts


3. When?
* Understand the significance of historical context
* Learn about the major social contexts of biblical texts
* Practice reading Scripture contextually


4. Where?
* Learn how to utilize biblical maps
* Understand the significance of geography and shifting national borders for biblical interpretation
* Practice interpreting a biblical text with a geographical lens


5. Why?
* Learn about the formation of the canon
* Understand the significance of a text's changing meaning over time
* Practice reading a text with multiple layers of meaning


6. How? Close reading
* Learn the value of reading texts slowly and carefully
* Understand how to use study bibles and commentaries
* Practice reading a short text carefully


7. How? Side-by-side reading
* Learn about the Revised Common Lectionary and its purpose
* Understand how to use a concordance to cross-reference texts
* Practice reading a text intra-canonically


8. How? Lectio Divina
* Learn about the ancient practice of Lectio Divina
* Understand the significance of a spiritual reading of Scripture
* Practice Lectio Divina individually and as a group


1. Who?
* Learn to identify the original author and audience
* Understand your own social location and biases
* Practice reading a text with the author and original audience in mind


2. What?
* Understand the significance of genre
* Practice identifying genre in biblical texts


3. When?
* Understand the significance of historical context
* Learn about the major social contexts of biblical texts
* Practice reading Scripture contextually


4. Where?
* Learn how to utilize biblical maps
* Understand the significance of geography and shifting national borders for biblical interpretation
* Practice interpreting a biblical text with a geographical lens


5. Why?
* Learn about the formation of the canon
* Understand the significance of a text's changing meaning over time
* Practice reading a text with multiple layers of meaning


6. How? Close reading
* Learn the value of reading texts slowly and carefully
* Understand how to use study bibles and commentaries
* Practice reading a short text carefully


7. How? Side-by-side reading
* Learn about the Revised Common Lectionary and its purpose
* Understand how to use a concordance to cross-reference texts
* Practice reading a text intra-canonically


8. How? Lectio Divina
* Learn about the ancient practice of Lectio Divina
* Understand the significance of a spiritual reading of Scripture
* Practice Lectio Divina individually and as a group


-Publisher
Bestsellers in Ministry Resources