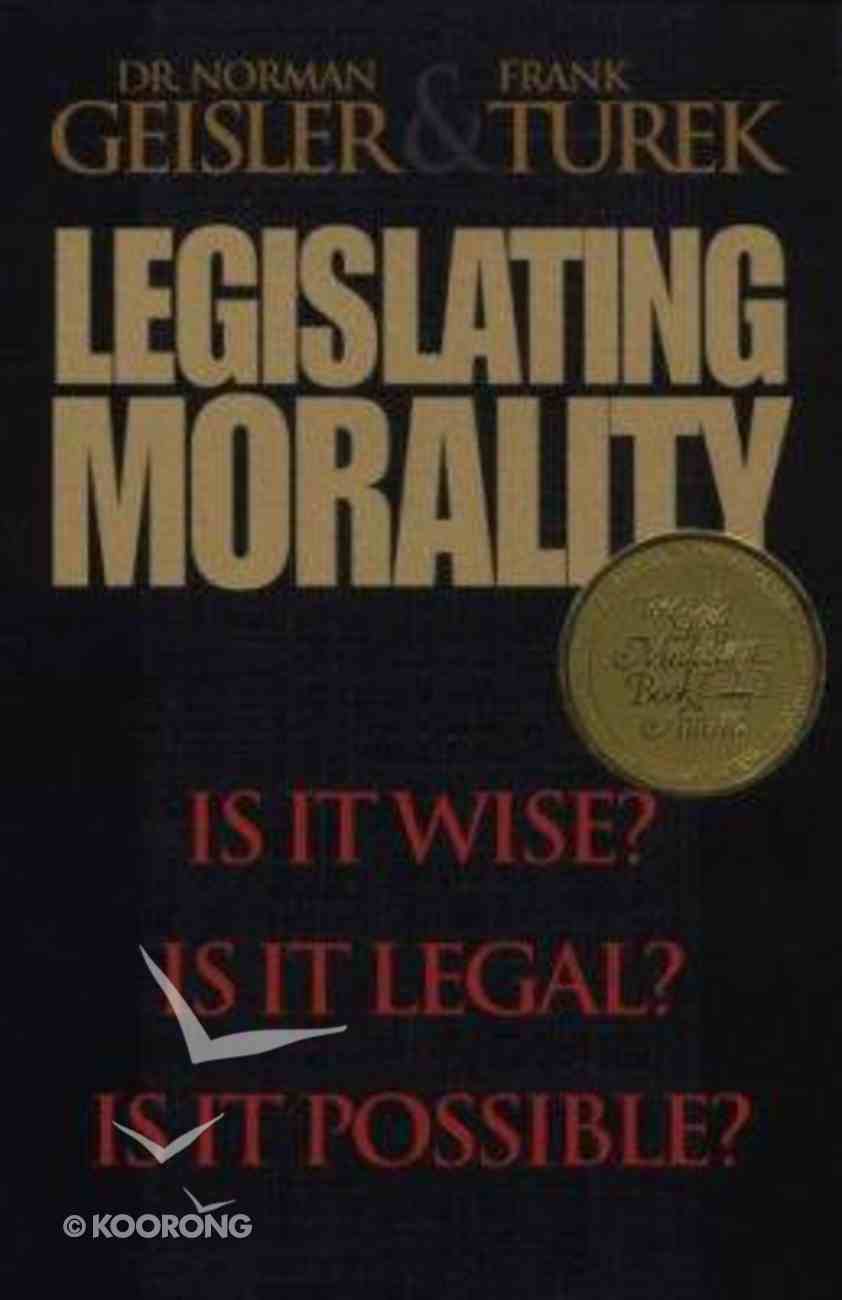 ---
Free Shipping
for orders over $99.
272 Pages
-Publisher
1999 GOLD MEDALLION WINNERAll Laws Legislate MoralityWhose Morality Should We Legislate?America's moral decline is no secret. An alarming number of moral and cultural problems have exploded in our country since 1960-a period when the standards of morality expressed in our laws and customs have been relaxed, abandoned, or judicially overruled.Conventional wisdom says laws cannot stem moral decline. Anyone who raises the prospect of legislation on the hot topics of our day-abortion, family issues, gay rights, euthanasia-encounters a host of objections:"As long as I don't hurt anyone the government should leave me alone." "No one should force their morals on anyone else." "You can't make people be good." "Legislating morality violates the separation of church and state."Legislating Morality advocates a moral base for America without sacrificing religious and cultural diversity, debunking the myth that "morality can't be legislated" and amply demonstrating how liberals, moderates, and conservatives alike exploit law to promote good and curtail evil. This book boldly challenges prevailing thinking - about right and wrong and about our nation's moral future.
-Publisher
Is it wise, is it legal, is it possible to legislate morality? Yes, say the authors in this landmark book on the church/state debate. Existing laws legislate morality already, but whose?
-Publisher
Frank Turek holds two Master's degrees and is pursuing a doctorate in apologetics at Southern Evangelical Seminary, where he serves as vice president. He has appeared on numerous television and radio programs including The O'Reilly Factor, Hannity and Colmes, and Politically Incorrect. His first book, Legislating Morality: Is It Wise? Is It Legal? Is It Possible? (coauthored with Norman Geisler) won the Evangelical Christian Publishers Association's Gold Medallion award as the best book in its category.
Dr. Norman Geisler (Ph.D., Loyola University) is author or co-author of over sixty-eight books and hundreds of articles including Christian Apologetics; Apologetics in the New Age; Answering Islam; When Skeptics Ask; When Critics Ask; The Baker Dictionary of Apologetics; Handbook of Systematic Theology (4 volumes), Chosen But Free and When Cultists Ask. He has taught at the university and graduate level for forty eight years and has spoken or debated in all fifty states and in twenty-five countries. He is the co-founder and long-time Dean of Southern Evangelical Seminary, in Charlotte, North Carolina.
Should We Legislate Morality? -- Is It Constitutional? -- Is It Enforceable? -- Is It Ethical? -- Whose Morality Is Being Legislated? -- We The People -- Roots Of The Power Shift -- We The Supreme Court -- Whose Morality Should We Legislate? -- Yours Or Mine? -- Ours! -- How Should We Legislate Morality On The Tough Issues? -- Homosexuality : Tolerating Ourselves To Death -- Abortion : Choosing Ourselves To Death -- Euthanasia : Exterminating Ourselves To Death -- Where Do We Go From Here? -- The Declaration Of Independence -- The Constitution -- Transcultural Examples Of The Common Moral Law.
Bestsellers in Christian Worldview