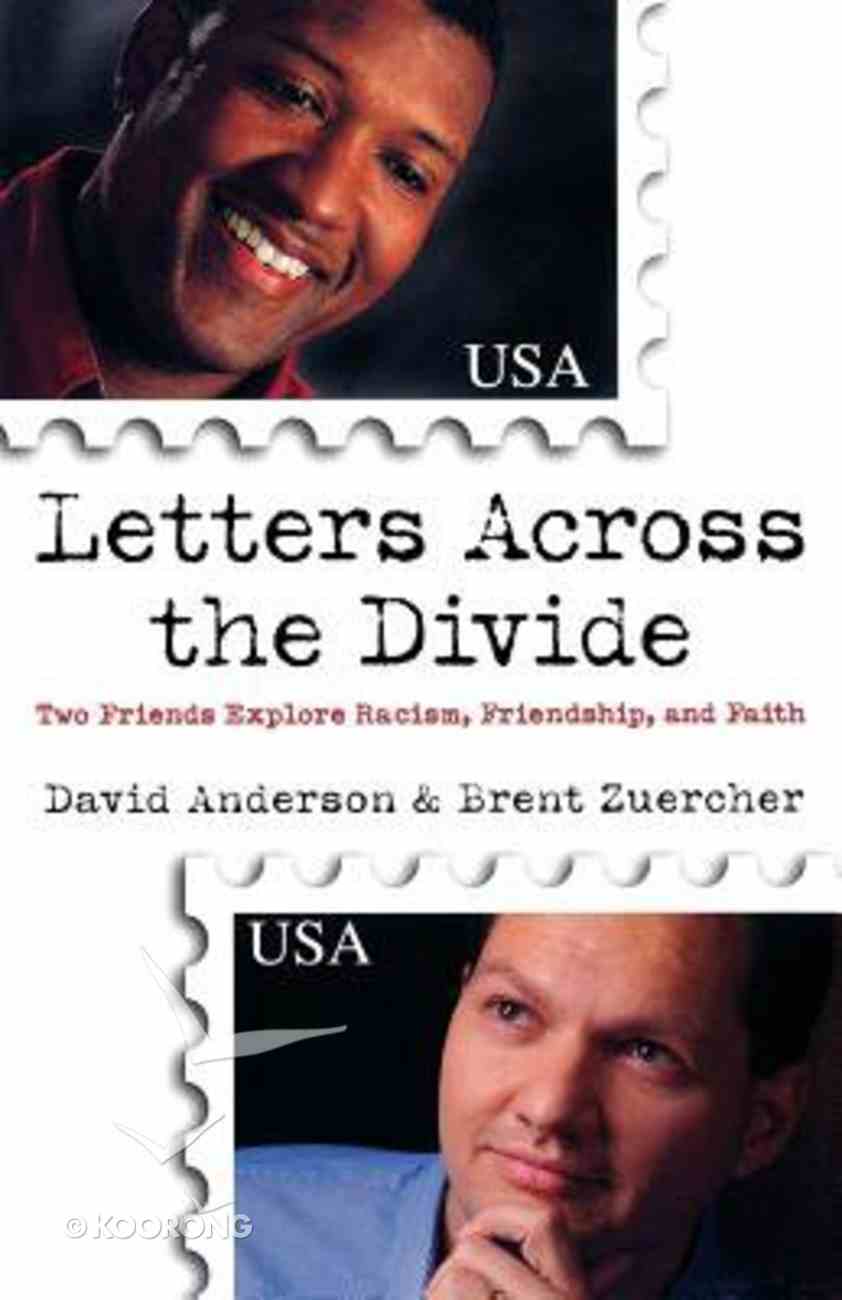 Letters Across the Divide
A black minister and a white businessman candidly discuss the obstacles, stereotypes, and sins that inhibit interracial reconciliation. Provocative and honest.
Out of Stock
Available to Order
---
Expected to ship in 5 to 6 weeks from Australia.
---
Free Shipping
for orders over $99.
A black minister and a white businessman candidly discuss the obstacles, stereotypes, and sins that inhibit interracial reconciliation. Provocative and honest.
-Publisher
15 Chapters
-Publisher
In this stirring book, two friends--a black minister and a white businessman--discuss candidly the hang-ups, stereotypes, and sins that inhibit interracial friendships. Some people may think that racism is no longer a problem in our society, but David Anderson and Brent Zuercher make an effective case for just the opposite: both black and white people still harbor wrong assumptions and resentments toward each other. Believing that the church is called to a deeply felt reconciliation between the races, Anderson and Zuercher strive to understand each other. They hash out their differences, giving voice to feelings most of us have had but would never express out loud. The result is a book that provokes thought, arouses emotion, and ultimately spurs actions, stressing that the most effective way of dealing with the many facets of racial reconciliation is through real and connected friendships.
-Publisher
"Letters Across the Divide is well written, easy to follow and covers the key issues with insight and emotion. I especially liked the way the author and design of the book encourages the reader to jump around from chapter to chapter based upon the priority interests of the reader. This is not a topic that can be authentically written about without relationship at its center. This book is first about a relationship, and racial reconciliation is thetopic that is cementing a deeper friendship. I cannot imagine a better book to start a lifelong journey into a difficult but vital aspect of our communal and individual spiritual growth. It encourages honest conversationrather than frustrated retreat. It gently convicts at the core rather than at a level of shallow political-correctness. It stirs the emotions and then creates a genuine will to change."--Brad Smith, president, Leadership Network"I've known, watched and experienced Dave Anderson's love for Christ applied to the touchy issues of reconciliation. If you want to be a part of the healing work of Christ, this book is a step in the right direction." --Dr. Joseph M. Stowell, president, Moody Bible Institute"Splendid. Convicting. Authentic. I believe this is one of the most important books on race to come along in a very long time--partly because it's so personal and conversational and practical--but mostly because it's deeper message isn't about race at all. It's about relationships and reconciliation and understanding. It's about learning how to celebrate the fullness of God's family in all its richness and diversity. We speak of being one family--God's family--yet Sunday mornings are indeed among the most segregated hours of the week. Despite our good intentions to embrace diversity, we have much to learn about "walking the talk" and "bridging the divide." This book will help!"--Rick Little, founder and president of the International YouthFoundation
-Publisher
David A. Anderson (D. Phil., Oxford) is the founder and senior pastor at Bridgeway Community Church, one of the nation's leading multicultural churches, located in Columbia, Maryland.
He serves as CEO of BridgeLeader Network (a consulting organization) and an instructor of cultural diversity at the University of Phoenix (Columbia Campus).


His books include Letters Across the Divide (Baker, 2001); Gracism: The Art of Inclusion (Intervarsity Press; 2010); Multicultural Ministry (Zondervan, 2004) and The Platinum Rule: Doing Good to Those Who Have Hurt You.


Anderson was the first African American to be student body president at Moody Bible Institute, and he is a Fellow in the Oxford Society of Scholars. Anderson is also the nationally syndicated radio talk show host of "Reconciliation Live."


Brent Zuercher is a CPA and received his undergraduate degree from Southwest Baptist University and his master??'s degree from DePaul University. He lives in the Chic
Prologue: A Note To The Reader From David<br>1. The Start Of A Conversation<br>2. What Is Racism?<br>3. Can We Ever Eliminate Racism And Attain Reconciliation?<br>4. Why Are Blacks So Angry?<br>5. Is Another Civil War Coming?<br>6. Why Is Everything A Racial Issue With Blacks?<br>7. Equality In What And For Whom?<br>8. Why Do I Have To Call You &quot;african-american&quot;?<br>9. What Is African American Culture?<br>10. Is Black English Okay?<br>11. How Do You React To Public Incidents Of Racism?<br>12. Where Am I On The Continuum Of Racial Reconciliation?<br>13. Who Should Apologize?<br>14. When Should We Forgive?<br>15. Reconciliation Begins<br>epilogue: A Note To The Reader From Brent<br>appendix A: Study Questions And Suggestions<br>appendix B: Articles Cited In Letters <br>suggested Reading
Bestsellers in Christian Worldview