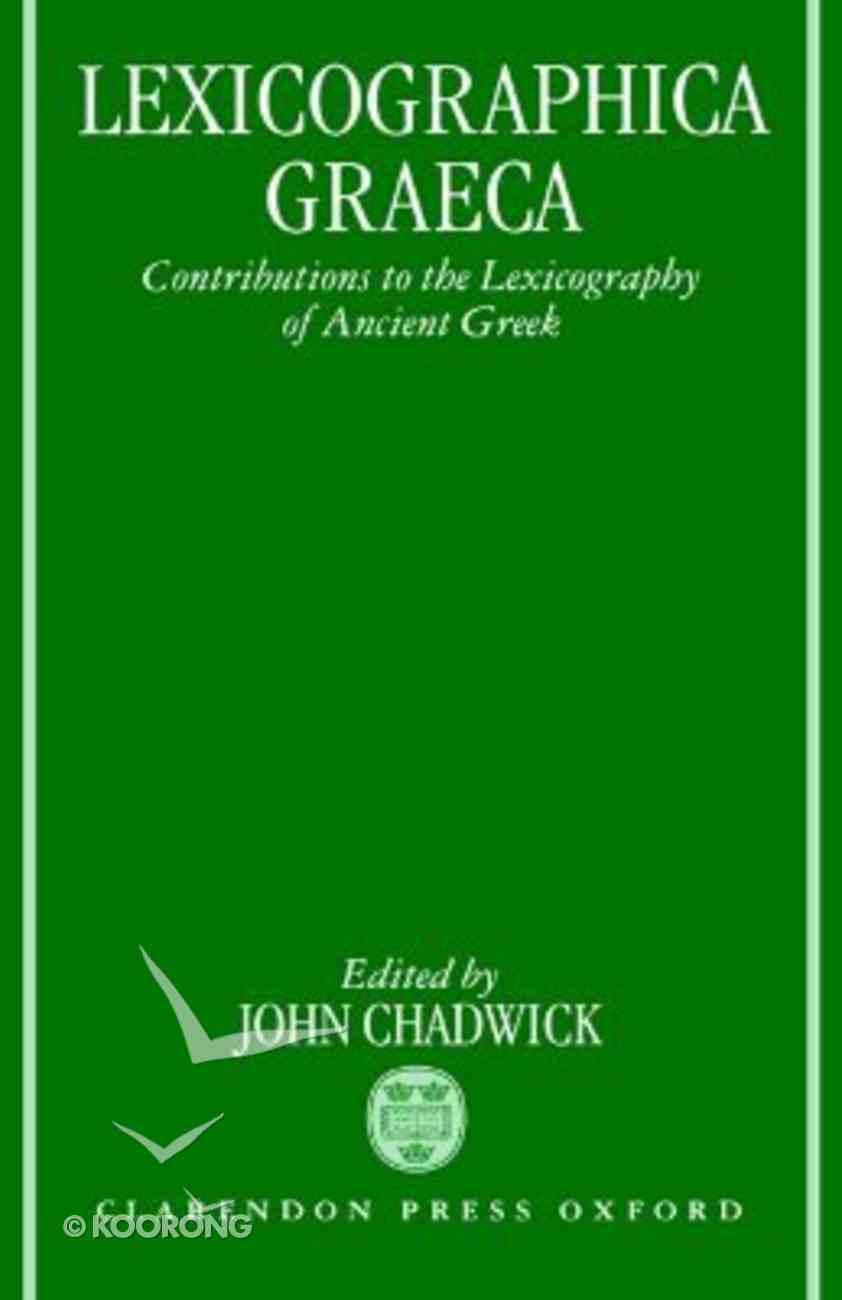 "G. Liddell and R. Scott's Greek-English Lexicon (revised and augmented by H. S. Jones in 1940) has been the essential tool of advanced Greek scholars for 150 years; in order to update it a new Supplement has been published (1996),...
Special Order
Payment is by credit card only. Orders for this item cannot be cancelled or returned.
---
Free Shipping
for orders over $99.
"G. Liddell and R. Scott's Greek-English Lexicon (revised and augmented by H. S. Jones in 1940) has been the essential tool of advanced Greek scholars for 150 years; in order to update it a new Supplement has been published (1996), replacing that of 1968. In this provocative reconsideration both of its lexicographical principles and of individual articles, John Chadwick examines the need for further revision and expansion of the volume through a reexamination of the classical Greek vocabulary. A series of notes are presented, making important and stimulating contributions to the study of classical Greek lexicography, and offering many new interpretations of passages from familiar authors based upon a lexicographic approach. Essential reading for all scholars of classical creek."--BOOK JACKET. Title Summary field provided by Blackwell North America, Inc. All Rights Reserved
-Publisher
Liddell and Scott's Greek-English Lexicon has been the essential tool of advanced Greek scholars for 150 years; in order to update it a new Supplement has been published (OUP 1996) replacing that of 1968. Reconsidering the Supplement's lexicographical principles and individual articles, ^Chadwick argues for further revision and expansion, and offers many new interpretations of familiar Greek literary passages based upon a lexicographic approach.
-Publisher
The volume, which abounds in lucid and progressive ideas, has been written with a parental concern for the younger generations and for the advancement of classical studies. The well written book with numerous interesting realia set out in the form of essays, it appears easy to read. However,its encyclopaedic contents attract one to return to it time and time again, and at every re-reading the reader will discover more and more new things and new insights. Every note is a discrete subject with its own specific problematics. At first glance dry, linguistic material, yet treated withgreat expertise and wide erudition, it fascinates the reader. This book is intended above all for classical philologists but the methodological principles set out in it regarding the compilation of a dictionary are universal and of interest to lexicographers from other branches of philology too.This volume deserves a place of honour in every library.
-Publisher