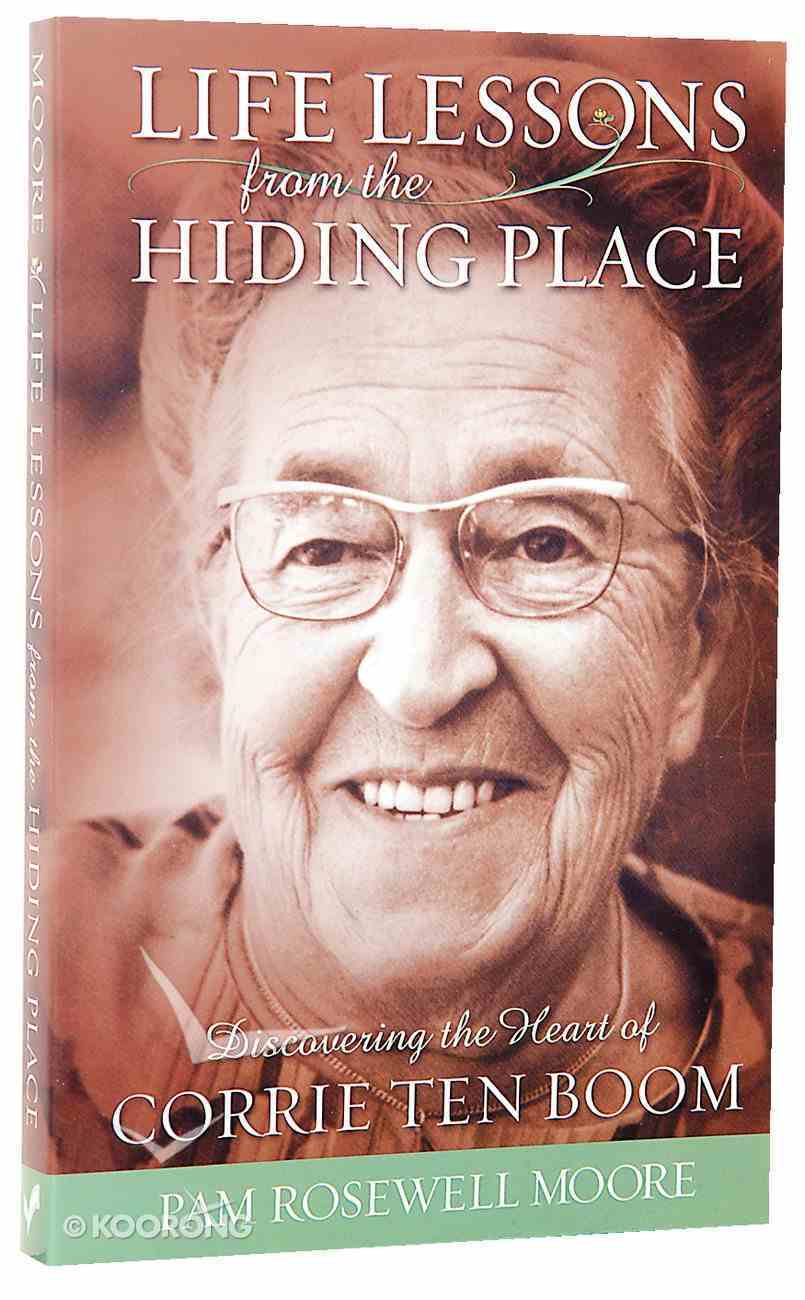 Life Lessons From the Hiding Place
Since THE HIDING PLACE was first published in 1971, this story of courage, faith and survival has inspired and strengthened millions. But what makes Corrie ten Boom's story so special? And why has it become one of the best-known Holocaust...
Out of Stock
Available to Order
---
Expected to ship in 5 to 6 weeks from Australia.
---
Free Shipping
for orders over $99.
Since THE HIDING PLACE was first published in 1971, this story of courage, faith and survival has inspired and strengthened millions. But what makes Corrie ten Boom's story so special? And why has it become one of the best-known Holocaust survivor stories in the world?

Pam Rosewell Moore invites you to get to know Corrie ten Boom better than ever before. As Corrie's constant companion for the last seven years of her life, Pam offers a penetrating glimpse into how Corrie's faith was formed and how she shared that faith with others before and after World War II.

In these pages you will find intriguing personal letters among the Ten Boom family members, stories of selfless service as the war ravaged Europe and Corrie's reflections of a life lived in submission to God. You will learn important lessons of trust, hope, obedience, service and forgiveness, and what it means to walk as a child of the light. As you discover the heart of a woman who gave herself wholly to Jesus, you will find the strength and encouragement to live your own life with Corrie's brand of faith and love.

-Publisher
Corrie ten Boom was a woman admired the world over for her courage, her forgiveness, and her memorable faith. From her unforgettable experience in a Nazi prison camp during World War II to her remarkable life as a speaker and evangelist, Corrie's steadfast trust in God is well documented. Countless Christians hold her as the example of faith they would like to have in their own lives. Pam Rosewell Moore, Corrie's constant companion for the last seven years of her life, shares never-before-published insights on this incredible servant of God, offering readers lessons on living a faithful life by exploring what made "Tante" (Aunt) Corrie into the wonderful example of faith that she was. More than a biography, this is an intimate inside look at a remarkable soul that helps readers to be more effective in their own Christian walks.
-Publisher
From her unforgettable experience in a Nazi prison camp during World Wall II to her remarkable life as a speaker and evangelist, Corrie ten Boom's steadfast trust in God is well documented in this biographical account.
-Publisher
Pamela Rosewell Moore, originally from England, is an experienced speaker and author. She worked seven years in the Netherlands with Brother Andrew, 'God's Smuggler, ' and was the assistant and traveling companion to Corrie ten Boom from 1976 - 1983. More recently, she was the director of intercessory prayer at Dallas Baptist University. She and her husband, Carey, live in the Dallas, Texas area. SPANISH BIO: Pamela Rosewell Moore ha trabajado para Brother Andrew 'God's Smuggler, ' en los Paises Bajos, y para el Southern California Billy Graham Crusade en Orange, California. Ella y su esposo C
Bestsellers in Christian Living