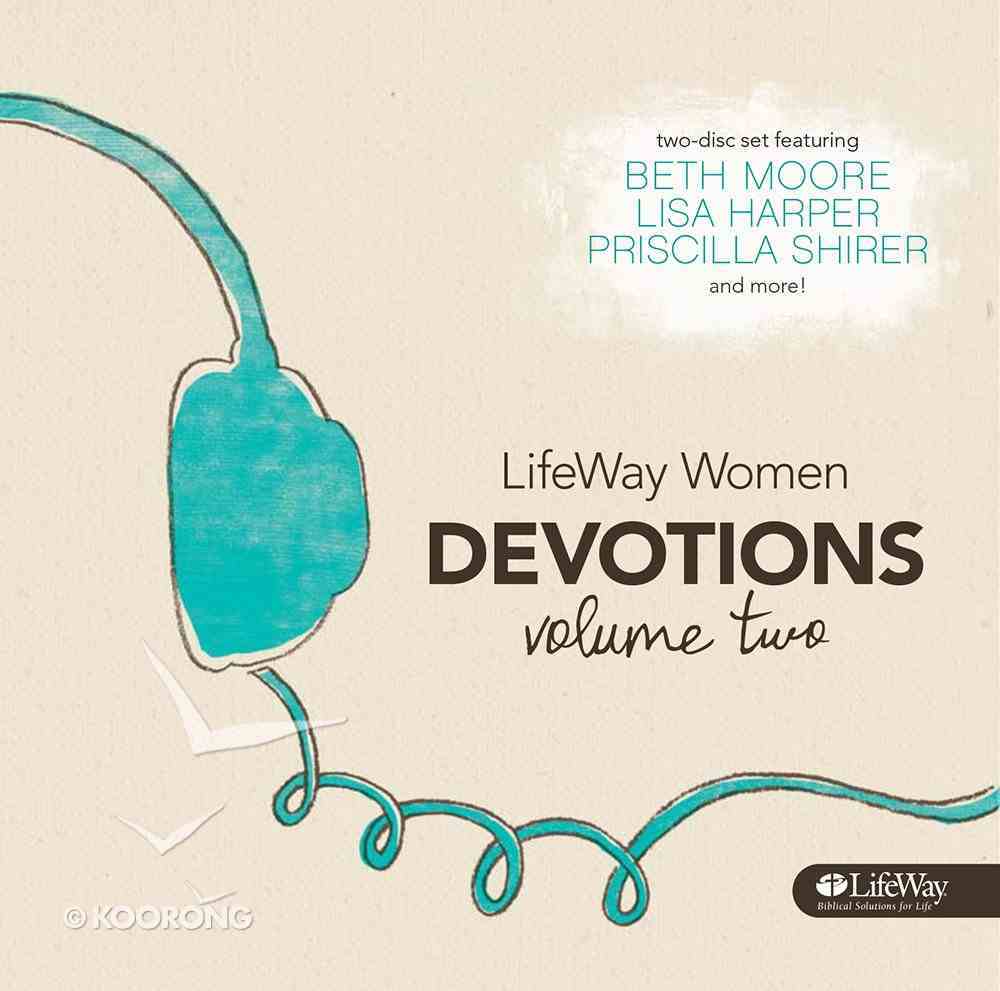 Lifeway Women Devotions Volume 2 - 12 Devotions (2 Cds)
This 2-disc LifeWay Women s Devotional Audio CD set includes 12 devotional segments from LifeWay Women authors original studies and teaching. Each drive-time devotion is approximately 10 minutes in length. Use this to grow closer to God when you drive...
---
Free Shipping
for orders over $99.

This 2-disc LifeWay Women s Devotional Audio CD set includes 12 devotional segments from LifeWay Women authors original studies and teaching. Each drive-time devotion is approximately 10 minutes in length. Use this to grow closer to God when you drive to and from work, to pick up the kids, or give as a gift This CD includes inspiring Scripture-based lessons that will offer you encouragement for your daily routine.


Disc 1


Track 1 From Rebekah Lyons // Freefall to Fly Meaning Follows Surrender (10:36) Track 2 From Vicki Courtney // Ever After Making Christ Your Primary Pursuit (08:56)


Track 3 From Beth Moore // Sacred Secrets Rooftops (12:43)Track 4 From Karen Kingsbury // The Family of Jesus Bible Study Elizabeth s Story (07:59)


Track 5 From Angela Thomas // Stronger Made Stronger to Live With Passion (09:55)Track 6 From Jennifer Rothschild // Missing Pieces God, Do You Err? (09:16)


Disc 2Track 1 From Kelly Minter // What Love Is Abiding (09:48)


Track 2 From Priscilla Shirer // Breathe The Freedom of Sabbath (11:35) Track 3 FromMary Jo Sharp // Why Do You Believe That? Knowing Your Beliefs (10:13)


Track 4 From Margaret Feinberg // Wonderstruck The Wonder of Prayer (08:13) Track 5 From Lisa Harper // Hebrews From Absolute Ruin to Glorious Restoration (07:13)Track 6 From Beth Moore // Children of the Day When the Lord Jesus is Revealed (09:11)


Features: 2 Discs12 Devotional Segments


Author: Various LifeWay Women Authors including Beth Moore, Priscilla Shirer, Karen Kingsbury, Lisa Harper, Angela Thomas, Vicki Courtney, Mary Jo Sharp, Margaret Feinberg, Jennifer Rothschild, Kelly Minter, Rebekah Lyons."


-Publisher
Priscilla Shirer is a wife and a mother first. But put a Bible in her hand and a message in her heart and you'll see why thousands flock to her conferences and dive into her Bible study series each year.

Priscilla Evans was born 31 December 1974 in Dallas, Texas, the daughter of Dr Tony Evans, senior pastor of the thriving 9,500-member Oak Cliff Bible Fellowship. A graduate of Dallas Theological Seminary, Priscilla holds a Master's degree in Biblical Studies and loves nothing more than to serve her sisters in Christ through the teaching of God's Word. She considers it a privilege to serve believers from every denomination and culture by helping them to know the truths of Scripture intellectually and by encouraging them to experience these truths practically by the power of the Holy Spirit.

Priscilla's ministry work began while she was still a college freshman. Her spots on Christian radio proved to be popular, and she was invited to lead the weekly Bible study at Zig Ziglar's corporation. In 1999, Priscilla married executive Jerry Shirer, and together they founded Going Beyond Ministries. In addition to Priscilla's participation in many church and para-church conferences across the globe each year, Going Beyond Ministries hosts AWAKEN - an outreach event in their hometown designed to encourage and mobilise women locally. This free gathering brings together thousands of women from different denominations and backgrounds several times a year for an opportunity to not only hear the Word but to live it out in practical ways.

The ministry also equips believers with Bible study resources by partnering with LifeWay Christian resources. Priscilla has authored many video-based studies on biblical characters and topics including Jonah, Gideon, the Exodus, discerning God's voice and the Armor of God.

Priscilla has published numerous books including Discerning the Voice of God, God is Able, the New York Times Bestseller The Resolution for Women, and Fervent: A Woman's Battle Plan for Serious, Specific and Strategic Prayer. In 2015, she made her debut as a screen actress, starring in the role of Elizabeth Jordan in the hit faith-based film War Room.

Between studying and writing, Priscilla spends most of her time cleaning up after (and trying to satisfy the appetites of) her and Jerry's three growing sons - Jackson, Jerry Jr., and Jude. They make their home in Dallas.
Karen Kingsbury is America's favorite inspirational novelist with over 5 million books in print. Her Life-Changing Fiction has produced multiple bestsellers including Even Now, One Tuesday Morning, Beyond Tuesday Morning, and the popular Redemption Series. An award-winning author and newly published songwriter, Karen has had several movies optioned for production and her Christmas novel, Gideon's Gift, is as a major motion picture.
Beth Moore was born Wanda Elizabeth Green in 1957, on an Army base in Green Bay, Wisconsin, the fourth of five children. She was raised in Arkadelphia, Arkansas, where her father - a retired army officer - managed the local cinema, and it was there that Beth's lifelong love for stories began. She loved to tell them, write them, and be told them. But the story that captured her heart more than any other was not told in a movie theatre. It was the story told in Sunday School, about Jesus, a Saviour who loved children and who thought she was special. A seed was planted in her young heart that would grow to a passionate love for Christ.

At the age of 18, Beth sensed God calling her to work for Him, although she couldn't yet imagine what that might involve. She graduated from Southwest Texas State University with a degree in political science, and would later receive an honorary doctorate in humanities from Howard Payne University. She married Keith Moore in 1978 and soon after the Lord added Amanda and Melissa to the family.

Beth's involvement with the Bible intensified when she took a doctrine class at her church. Her teacher was Buddy Walters, a former college football player who taught the Scriptures with tears streaming down his cheeks. She fervently prayed for such a passion for God's Word.

Beth founded Living Proof Ministries in 1994 with the purpose of teaching women how to love God's Word and put it at the centre of their lives. She has written numerous books - including Breaking Free, Believing God, The Patriarchs and James: Mercy Triumphs - that have been read by women of all ages, backgrounds, and denominations. Beth runs conferences for women across the United States annually, and has also taken her ministry to many different countries, including Ireland, England, Singapore, the Philippines, Puerto Rico, India, Angola, Kenya, and South Africa. Since 2004, Beth has conducted a radio ministry 'Living Proof with Beth Moore', and has a weekly spot on the television program LIFE Today. Ever the storyteller, Beth is known for enlivening her teaching with stories and poems written from the perspective of biblical characters. She communicates with great energy, humour, warmth, and grace.

For over a quarter of a century from the 1980s, Beth attended the First Baptist Church in Houston, Texas, transferring in 2011 to Bayou City Fellowship, where her son-in-law Curtis Jones is the founding pastor.

Beth and and her husband Keith enjoy travelling, hiking, drinking coffee on the back porch, eating Mexican food, making each other laugh, walking their dogs, and being grandparents. Both of their daughters, Amanda and Melissa, serve with Living Proof Ministries, and Amanda's husband, Curtis, serves on staff as an associate speaker/teacher.
Bestsellers in Audio Book