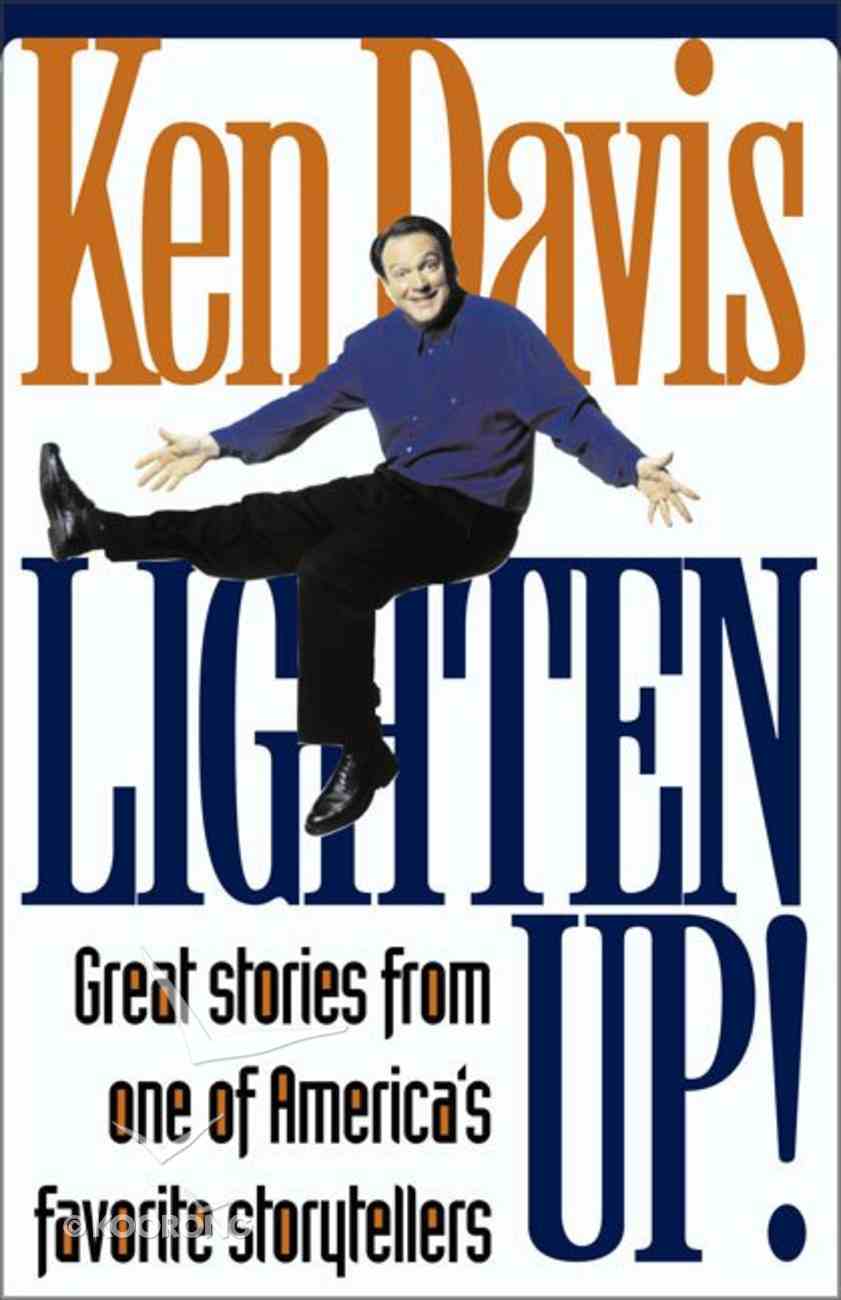 Speaker Ken Davis is a very funny guy - and also a very wise one. This collection of hilarious and touching stories underscores one simple, encouraging theme: God's Grace is for you. God doesn't just love you - He enjoys...
Out of Stock
Available to Order
---
Expected to ship in 5 to 6 weeks from Australia.
---
Free Shipping
for orders over $99.
Speaker Ken Davis is a very funny guy - and also a very wise one. This collection of hilarious and touching stories underscores one simple, encouraging theme: God's Grace is for you. God doesn't just love you - He enjoys you. No reason why you shouldn't too! 230 pages, from Zondervan
Ken Davis uses real-life stories and humor to encourage readers who feel overcome by the normal stresses of everyday life.
-Publisher
PRODUCT DETAIL
Catalogue Code 

143625

Product Code 

0310227577

EAN 

9780310227571

UPC 

025986227579

Pages 

240

Department General Books
Category Christian Living
Sub-Category General
Publisher Zondervan
Publication Date 

Jan 2000

Sales Rank 

28584

Dimensions 

210 x 137 x 17

mm

Weight 

0.362

kg
Best-selling author, frequent radio and television guest, and one of the country's most sought after inspirational and motivational speakers--Ken's mixture of side-splitting humour and inspiration delights and enriches audiences of all ages. His books have received national critical acclaim, including the "Book of the Year" award and the Gold Medallion Award. The video and audio tapes of his live appearances are in constant demand. His books include Sheep Tales, Lighten Up! Fire Up Your Life! Jumper Fables, How to Live with Your Parents Without Losing Your Mind! How to Live with Your Kids When You've Already Lost Your Mind! Secrets of Dynamic Communication and How to Speak to Youth...Ken has been the keynote speaker for hundreds of major corporate events. He is a featured speaker for Promise Keepers and a frequent guest on "Focus on the Family". Ken has made thousands of personal appearances around the world. As president of Dynamic Communications International, he teaches speaking skills to ministry professionals and corporate executives. Ken's daily radio show, Lighten Up!, is heard on over 1500 stations in the United States and around the world.
Contents
Part 1: Living Light
No Easy Steps Foreword
Turn Left At The Pink Flamingo
The Executioner's Song
Things That Go Bump In The Night
The Old Man In The Mirror
Showers Of Blessings, Coals Of Fire
Words That Change Lives
Sink Your Teeth Into This
Here Today, Gone Tomorrow
Making A Big 'to Do' Out Of Life
Absolutely Flabulous
Who's In Control?
Slow Down And Enjoy The Ride
It's All Downhill From Here
Another Night With The Frogs
Burned Bridges And Strawberry Underwear
Who Holds Tomorrow?
Out Of Habit
Ordinary People, Extraordinary Wisdom
'he's Baaaaaack!'
I'll Sing For You, Daddy
The Author Of Joy
A Shelter In The Time Of Storm
Empty Nest
Say What You Mean And Mean What You Say
Rest In Peace
My Hero
Signs Of The Times
Is Sex A Four-letter Word?
It's Easy!
Hit It Straight --- Finish Well
Alive And Screaming Clean
Don't Give Up
Part 2: Living Lite
Air Bags, Seat Belts, And Change
Opportunity Knocks . . . But Not Always At The Front Door
Love In A Vacuum
Going First Class
Wake Up And Live!
The Proof Is In The Tapioca Pudding
Bettin' Fifty Bucks On The Lord's Prayer
Take It, Stupid!
I Wanna Sing!
Best Friends
You Can't Get There By Standing Here
A Dozen Wilted Roses
And If I Die Before I Wake
Getting Taken For A Ride
The Brass Monkey Principle
Getting In Character
Get On Your Trike And Ride
The Three Greatest Words On The Face Of The Earth
A Story Worth Telling
No News Is Bad News
No Pain, No Gain
The Truth About Cats And Dogs
Who Am I?
God's Wife
What If The Dog Had Been Sitting There?
Rump Roast
'i've Lost My Father'
What Do You Say To God?
The Invisible Sweater
I See A Ducky And A Horsey
Falling In Love Again
Ralph And The Nine Nasties
The Right Place At The Right Time
How To Kill A Grizzly Bear
Show Me The Miracle!
Leave It There
No Easy Steps Foreword I set out to write a book just for you. It's filled with real stories about real people. As you read I'm sure you will recognize some places where details have been added or exaggerated to make the reading more fun, and occasionally names have been changed to protect the privacy of people involved. I want this book to provide genuine hope and encouragement for your life. I hope you'll spit coffee across the room as you laugh at the truth on these pages. I also hope you'll occasionally reach for a tissue to wipe a cleansing tear from your eyes. And it could be that every now and then, you'll spit coffee into the tissue as you laugh and cry simultaneously. So sit back, relax, and enjoy your reading. The lessons drawn from each story still hold the power to jolt your life. Most of all, I hope these stories will lighten your load and brighten your day. I spent much of my life trying unsuccessfully to live up to unrealistic expectations --- and pretending I'd already achieved them. The whole thing left me wading in guilt and totally confused. Was I the only one struggling with the process of becoming everything God created me to be? Everyone else seemed to have it all together. Even my friends maintained the perception of perfection. Then, every once in a while, someone would come clean. And their moments of honesty were never discouraging. They were never the pity-party, misery-loves-company, muck-wading experiences you might expect. Instead, they were a refreshing affirmation of some important truths. I was not an aberration of nature. Life was actually a process for other human beings as well as for me. It was also wonderful to realize that God is at work in the lives of imperfect people. Hope is the end result of seeing people be honest about their lives. If God cares about imperfect people, then he cares about me. What an encouragement to discover he has the power and he'll help me change --- one step at a time. This process of change can only begin as we let people into our lives --- as I'll be letting you into my life in the book you're holding. My friend Carol Maxwell tells about an encounter she had with an intoxicated friend. Carol was seeking to build solid relationships. She'd grown tired of superficial conversations and surface friendships. One night at a party, a bleary-eyed acquaintance ambled up, drink in hand, and inquired, 'How are you doing?' Then, without waiting for Carol's answer, the woman turned and waved at someone across the room. The insincerity was too much. Instead of responding in kind, Carol rebelled. She smiled and replied, in normal conversational cadence, 'Hey, diddle diddle. The cat and the fiddle. The cow jumped over the moon.' Her acquaintance noticed nothing irregular. She wasn't even listening. As Carol finished, the woman touched her arm gently and responded, 'How nice!' Then she set off for another corner, another face, another meaningless conversation. Mother Goose? Why not? Carol could have offered a full confession to murdering her husband and spooning him into the garbage disposal. She would have received the same reply --- 'How nice!' Yes, I know that people with dulled senses make easy targets; yet we're all victims of the same social disconnection. Why do we seem to lack the time or courage to connect meaningfully with those around us? Try this simple test. Hang out in the lobby of your church one Sunday. You're likely to meet someone like Bill Jones, who's struggling to keep his life together. As his marriage crumbles, he's drifting into an affair. Bill stands at one of those great crossroads in life. What he needs is someone to help him put his life in perspective --- to warn him of the treacherous cliff he's approaching. As people mill about in their Sunday best, Samuel Carter steps forward. Samuel has just been laid off and his daughter has been expelled from school for using drugs. 'How's it going, Bill?' Samuel asks, a broad smile and a firm handshake obscuring his insecurity and fear. 'Things are great,' Bill lies. 'How about for you?' 'Same old grind,' Samuel responds. He doesn't hint at the depth and pain of that grind. He simply puts in a moment or two of small talk punctuated by his best wishes. Then two men who desperately need each other go their separate ways, never connecting. I remember attending a horrible party. A broken heart makes any celebration intolerable, and I didn't want to be there. I was in a room full of strangers, and I was hurting as badly as I'd ever hurt in my life. I was relieved to see the face of a friend who I knew would have a sympathetic ear. He spotted me too and began to make his way toward me through the crowd. My life was a mess, and I desperately needed encouragement. I needed a foothold so I could begin to climb out of the terrible pit I was in. 'It's so good to see you,' I said, embracing my friend and clasping his hand firmly in mine. 'How are you?' 'If I were any better, I'd be twins,' he bubbled. My heart tipped up on end and began to sink like the Titanic. I was falling to pieces and my soul was in shreds. My spirit didn't have enough substance to be a shadow. How could I relate to someone so on top of things that he'd cloned himself into twins? I knew there'd be no healing that night. 'How 'bout you?' he inquired. 'Never been better,' I lied. Several days later I caught my friend alone. This time I dared to pour out my soul, and he was indeed a friend. He listened, he cried, and he prayed with me. He also told me the truth. His bubbly exterior at the party had been a trick done with smoke and mirrors. Behind the cheerful, not-a-care-in-the-world exterior, he too was struggling. The twins were gone; he became an only child again. In the midst of pretending, we'd almost missed each other.
Bestsellers in Christian Living