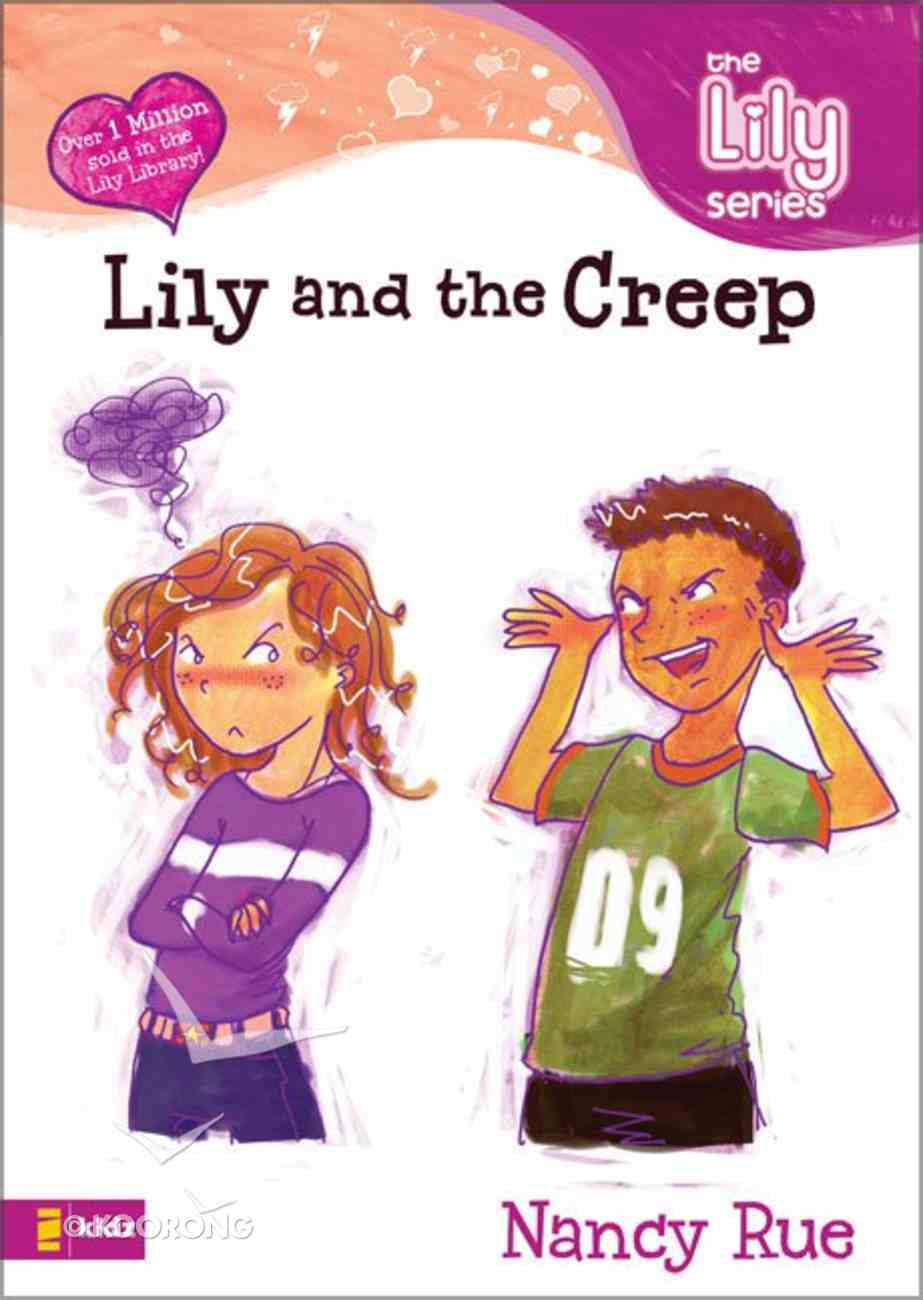 Lily & the Creep (#03 in Young Women Of Faith Series)
Lily and her friends are fed up with Shad's teasing, and decide to give him a taste of his own medicine. When Lily makes an unpleasant discovery, she learns what it means to be a child of God and how...
---
Free Shipping
for orders over $99.
Lily and her friends are fed up with Shad's teasing, and decide to give him a taste of his own medicine. When Lily makes an unpleasant discovery, she learns what it means to be a child of God and how to develop God's image in herself. Ages 9+.
-Publisher
Nancy Rue has written over 100 books for girls, is the editor of the Faithgirlz Bible, and is a popular speaker and radio guest with her expertise in tween and teen issues. She and husband Jim have raised a daughter of their own and now live in Tennessee
Hey, Robbins,' Leo Cooks hissed in Lily's ear. Don't answer, Lily Robbins told herself sternly. It's a trick. She concentrated on not touching his sweaty hand---even though Ms. Gooch had said 'join hands with your partner.' 'Ms. Gooch is lookin' at ya,' Leo whispered. His breath was hot, and it made Lily want to slap her hand over her ear, but she ignored him. 'She's givin' you the eyebrow,' Leo persisted. That was not a good thing. The teacher's eyebrow was usually the last warning sign before a name went on the board or something. Don't fall into this absurd little creep's trap, Lily thought. Leo wasn't actually little. He was even bigger than his buddy Shad Shifferdecker, who was at this very moment managing to step all over the feet of his partner---Lily's best friend, Reni Johnson. Even as Lily watched, he caught Reni on the side of her Nike with his left Timberland. She jabbed him in the ribs with her elbow. Don't let him know he's getting to you, Reni, Lily thought. Right. Just then Leo jabbed her in the side and hissed, 'You better take my hand. Ms. Gooch's got both eyebrows goin'!' Both eyebrows and the don't-start-with-me tone. 'Join hands, people,' she called out over the blaring of Italian music. Taking a breath full of dread, Lily slid her hand into Leo's. He squeezed it like he was wringing out a dishrag, and suddenly, Lily felt a jolt go up her arm. Before she could stop herself, she'd let out a yell. The music came to an abrupt halt, and Ms. Gooch planted her hands on her hips. Both black eyebrows were in full gear. 'All right, who's yelling?' she said. 'It was Lily,' Marcie McCleary said. Lily tucked a curl of red hair behind her ear and otherwise tried to look innocent. 'All right, you two,' Ms. Gooch said. 'What's going on?' Iwasn't doing anything! Lily wanted to protest. It was him! Still, Lily pressed her full lips together and kept quiet. She'd die before she'd be a tattletale like Marcie McCleary. 'So what's the story?' Ms. Gooch said. 'I don't know,' Leo said. 'You told us to join hands, so I grabbed hers and she started yelling.' 'Is there a problem, Lily?' 'Lily is a problem,' Shad Shifferdecker said. Daniel Tibbetts snorted. Ms. Gooch waved both of them off with an impatient hand. She didn't lose patience often, and the class got that uncomfortable kind of quiet like when they were waiting to see if somebody was going to get sent to the office. 'Lily,' she said again, 'is there a problem?' Lily rubbed her fingers into her palm where moments ago Leo had set off some kind of buzzer-shock thing. But she shook her head no. 'No,' she said. 'Everything's fine.' 'Do you always yell when everything's fine?' Ashley asked. Ashley's best friend, Chelsea Green, let out her shriek of a laugh, and Marcie joined in because she always joined in when Ashley and Chelsea laughed, whether she knew what they were laughing at or not. Lily noticed with relief that her friends continued to glare at Leo and Shad. 'We're about finished here anyway,' Ms. Gooch said. 'Let's go back to the room.' Leo left Lily's side with a flailing of long arms and legs. Lily did her most poised walk up to the tape recorder where Ms. Gooch was busily pushing buttons. 'Ms. Gooch?' Lily said. 'I'm really sorry.' Ms. Gooch frowned down at the tape deck. 'I'm sure you were provoked. You want to tell me what was going on?' 'It wasn't that big of a deal. I just overreacted.' Lily could see Ms. Gooch was trying to smother a smile. ''Overreacted'?' she said. 'Yes,' Lily replied. It was a term her mother used all the time when she was talking about the way Lily responded to her two brothers. 'So what were you 'overreacting' to?' Ms. Gooch said. 'I don't want to say. Could I change partners?' 'Nope. Sorry,' Ms. Gooch said. 'If I let you switch, I'll have everybody and her dog up here whining. I ought to just let you girls all dance with each other, but then I'd have to let the boys dance with each other, and we'd have even worse chaos.' She shook her head at Lily again. 'Just tough it out, Lily,' she said. 'If anybody can do it, you can.' At any other time, a compliment like that would have had Lily walking out of the multipurpose room with her spirit soaring. But right now, she didn't care how tough she was. She was sick of dealing with Leo and Daniel and, worst of all, Shad. He was the one who had put Leo up to it, that was plain. 'Whoa, she really must have yelled at you,' Zooey said as Lily pushed her way through the double doors and out into the courtyard where the Girlz were gathered. They were all there---the whole Girlz Only Club---Reni and Zooey and Kresha and Suzy. It made Lily feel better already to have them around her---Reni's black face set to get revenge and Zooey's round one flushed with concern, Suzy's tiny eyebrows all puckered up in worry, and Kresha's pale eyes peeking hopefully through her straggly bangs. 'Men,' Zooey said in disgust. 'They're the worst,' Reni said. 'I thought I had it bad having to dance with Shad, but you got it even worse. The whole time I was waiting for him to do something to me, and all the time it was Leo he had doing the dirty work. I shoulda known.' 'What do we do?' Zooey said. 'I have to dance with Daniel, which means I'm probably next, which means---' Zooey's voice was starting to wind up into a whine. 'Don' vorry about it,' Kresha said. Her eyes were crinkling behind her bangs, and she flung a skinny arm around Lily's neck. Kresha was the most touchy-feely of all of them. The Girlz had decided it must be because she was Croatian. They probably did a lot of hugging in Croatia or something. 'Lee-lee will think of something,' she said now. 'She alvez does.' 'Well, you better think of something fast,' Reni said, 'before I have to smack somebody.' 'Would you really hit one of them?' Zooey said, eyes round. 'No, I would not,' Reni said. 'But I'd sure like to.' 'Okay, so I'll think of something,' Lily said. 'Tomorrow.' 'Not today?' Kresha said. 'No---remember today we got to clean the clubhouse,' Reni said. 'Or my mama says she's gonna close us down.' 'It is getting kind of disgusting in there,' Lily said. They met every day after school in the playhouse-turned-clubhouse in Reni's backyard. Reni's mother decreed no more meetings until it was cleaned. Besides, Lily thought, it'll give me some time to think of something. It was always up to her to come up with solutions to their problems. She didn't mind that---in fact, she kind of liked it. It was time she started looking for a new direction for her life anyway, she decided. It was the never-ending quest ... trying to figure out who she was. The trouble was, this thing with the boys had been going on all year, and although she'd learned a lot since last fall, she still hadn't figured out how to keep Shad, Leo, and Daniel from constantly messing things up for the Girlz. Looking better, feeling better---those were cool things. But so far, they hadn't cracked the boy problem. 'Hey, Snobbins,' Shad Shifferdecker hissed as she passed him on the way to the street. She didn't answer. 'All right, but don't blame me if you walk all the way home with that big piece of toilet paper stuck to your shoe.' Lily looked down in spite of herself. There was nothing stuck to her shoe. 'Ha-ha---made ya look!' Shad said. The Girlz were right. She had to think of something before the boys got control of them completely.
Bestsellers in Confident Readers (Age 8-12)