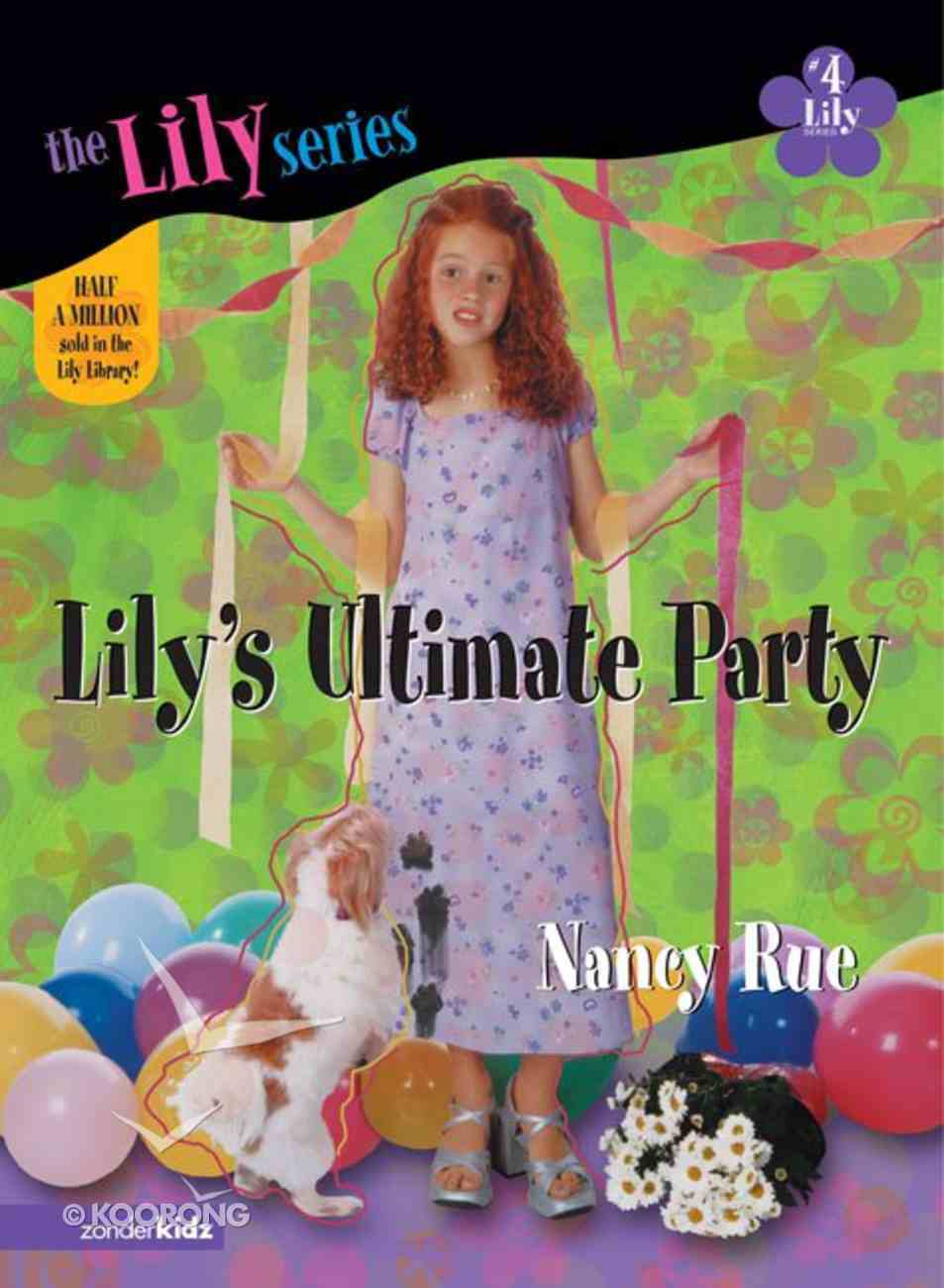 Lily's Ultimate Party (#04 in Young Women Of Faith Series)
Sixth grade is finally over and Lily 's planning the "ultimate" party in celebration of the occasion, as only Lily can. As usual, she insists on making this a project for the Girlz Only Club, and gets a less than...
---
Free Shipping
for orders over $99.
Sixth grade is finally over and Lily 's planning the "ultimate" party in celebration of the occasion, as only Lily can. As usual, she insists on making this a project for the Girlz Only Club, and gets a less than enthusiastic response. Lily will stop at nothing. She even starts her own business to pay for it, and meets Otto in the process. But it 's not long before Lily 's plans begin to unravel, and instead of the "ultimate" party, it 's turning into the ultimate disaster. Lily learns the importance of allowing others to be who God made them to be, rather than who she wants them to be. And, when Lily finally has her party, it turns out differently than anyone could have imagined!
After Lily's plans for the "ultimate" party fall apart, her grandmother shows Lily that having a party for the right reasons will help to make it a success.
-Publisher
Nancy Rue has written over 100 books for girls, is the editor of the Faithgirlz Bible, and is a popular speaker and radio guest with her expertise in tween and teen issues. She and husband Jim have raised a daughter of their own and now live in Tennessee
'Man, this is the lamest party on the planet.' Shad Shifferdecker's too-close-together eyes went right to Lily. She tossed her curly mane of red hair. 'Don't look at me,' she said. 'I didn't plan it.' Shad sauntered off toward the refreshment table to join his two buddies, Leo Cooks and Daniel Tibbetts, who were hovering suspiciously over the onion dip. For once Shad was right. Kids were standing around beneath the limp crepe-paper streamers looking more like they were at the bus stop than a sixth-grade graduation party. Lily looked around for her own friends. She didn't have far to look. Her best friend, Reni Johnson, was hurrying toward her from the door, holding a piece of paper high over her braid-covered head, her dark eyes sparkling. 'Hey, Lil!' She flapped the piece of paper. 'Look at this!' 'Look at what?' Shad said. Before Reni could give the paper another flap, Shad was on her, his two sidekicks with him. Leo snatched it from her fingers and passed it off to Daniel. Reni made a lunge for it, but they got her between them in a human cage while Shad grabbed the paper from Daniel. 'Shad, that is so rude!' That, of course, came from Marcie McCleary, who was immediately on the scene as usual. She was in the middle of everything but the teachers' lounge. 'You're always so rude,' she said again, and then jumped up to try to get the paper herself. Shad evaded her neatly and grinned like the Tasmanian Devil at the document in his hand. But the grin disappeared instantly, and he gave a disgusted hiss as he let it drop to the floor. Reni snatched it up before Marcie could dive for it. 'What'd it say, man?' Leo said, still straining to get a peek. 'Nothin',' Shad said. 'Dude, this party is lame!' 'Cake, anyone?' It was Ms. Gooch, sweeping into the multipurpose room carrying a sheet cake. Lily was sure it had something on it like, 'Congratulations Graduates,' in too-sweet frosting, right next to the Cedar Hills Elementary School logo of a demented-looking house cat that was supposed to look like a cougar. Most of the graduates charged the table, but Lily turned to Reni, who was still blowing Shad germs off of her piece of paper. 'What is that, Ren?' Lily said. 'Why wouldn't Shad read it?' ''Cause he probably couldn't,' Reni said, glaring in his direction. 'Yeah,' said a voice behind them. It was Zooey Hoffman, another member of their Girlz Only Club. 'He's the dumbest boy in the whole universe.' Her blue eyes got bigger in her round face. 'You know that part in the graduation when we were supposed to shake hands with everybody around us?' By now their friends Suzy Wheeler and Kresha Ragina had joined them. Zooey's eyes bulged bigger still, and the ponytail secured by a scrunchie on top of her head wiggled. 'Just before he stuck out his hand to me, he spit in it!' 'Gross!' they cried in unison. Suzy shuddered. 'Did you actually---touch it?' Zooey nodded solemnly and produced her hand for them to inspect. 'So what's on that paper?' Lily asked Reni. Reni broke back into a grin. 'I got recommended for orchestra at the middle school!' 'Vhat is 'orchestra'?' Kresha said. She was from Croatia. A lot of things in English got by her. 'You remember when we got to try all kinds of instruments in music?' Suzy explained patiently. 'All of us stunk at it,' Lily said. 'Except you, Reni.' Reni was looking taller than her usual elflike self. 'I get to be in orchestra! It's a really big deal at Middle. You get to wear a long dress and miss school to play at luncheons and stuff.' 'This is cool, Ren,' Lily said. 'It totally is. I'm so jazzed---' Reni stopped, and her eyes drooped a little. 'The only thing is---you won't be in it with me.' Lily shook her head. 'We'll still hang out all the time,' she said. 'You aren't gonna be playing the violin every minute.' 'I know,' Reni said. 'But we've always done everything together and well, are you sure you don't feel left out?' 'Nah,' Lily said. 'We already have one musician in our family. That's Art's thing.' 'Whew,' Reni said. 'I was afraid it was gonna be funky.' 'Nah,' Lily said. 'No way.' That was absolutely the truth. But as Lily followed Reni to the table for a piece of cougar cake, she did feel an old, familiar, nagging tug at her. It was more like words in her head than a feeling. They said, So, what is your thing, Lily? Mom and Joe are athletes. Dad's this smart person who writes. Art plays the saxophone like a mad dog. What are you known for? Lily absently took the paper plate with cake that Ms. Gooch handed her. She'd already tried modeling, medicine, and women's libbing, and although she'd learned something about all of them, they'd turned out not to be who she was. She stabbed at the tip of the cougar's frosted tail with the plastic fork. When am I gonna find out why I'm here? she thought. 'You don't have to kill it, Robbins,' someone said at her elbow. Lily didn't have to look up to know it was Ashley Adamson. Ashley had started calling everyone by last names, and so, of course, had most of the other girls in the class---Chelsea Green and Marcie---well, everybody but the Girlz Only Club. 'Why did you chop up your cake like that, Robbins?' Ashley said. Lily looked at the mess of crumb clumps on the Graduation Day paper plate and felt her face go blotchy in that way her brother Joe always said made her look like she had a disease. But to her surprise, Ashley leaned her head in a little closer and whispered, 'It does taste pretty nasty. This is, like, the worst party.' 'Yeah,' Lily said. Ashley jerked an eyebrow toward the ceiling. 'Stupid decorations. Disgusting food. Elevator music. Nothing to do.' 'All right, middle schoolers!' Ms. Gooch sang out just then. 'How about one last class activity?' The room filled with one big moan. 'This is gonna be dumb,' Ashley muttered. 'Why did I open my mouth? It was better when we were just standing around.' 'I hear ya,' Lily said. Suddenly, Ashley looked startled, as if she just realized she was having a conversation with a nonfriend. But as she scurried away calling 'McCleary? Green?' Lily wasn't disappointed. She was too busy meeting up with a new idea---an idea that could set her apart from every person in the room. She announced it to her mom in the kitchen the next morning while Mom was cleaning out the refrigerator. 'I want to have a party,' Lily said. 'As long as it isn't in the next twenty-four hours, fine,' Mom said. She opened a Tupperware container, sniffed at it, and crossed her brown doe eyes. 'It's going to take me that long to get to the back of this refrigerator.' 'I don't get why you're doing that now,' Lily's sixteen-year-old brother Art said as he strolled into the kitchen and began prowling in the food cabinet. 'I thought we were going to Mudda's this weekend.' 'We are,' Mom said. 'But I have exactly one week off before volleyball camp starts, and if I don't clean this out, we're going to be able to manufacture penicillin in here. What is this?' Art looked over her shoulder at the plastic container she was peering into. 'I think at one time it was lemon slices,' he said. 'Now it's maggot food.' 'Cool!' That came from nine-year-old Joe, who tossed his baseball glove on the table, missing Lily's arm by a hair's width. 'Let me see!' 'All lookers have to help,' Mom said.
Bestsellers in Confident Readers (Age 8-12)