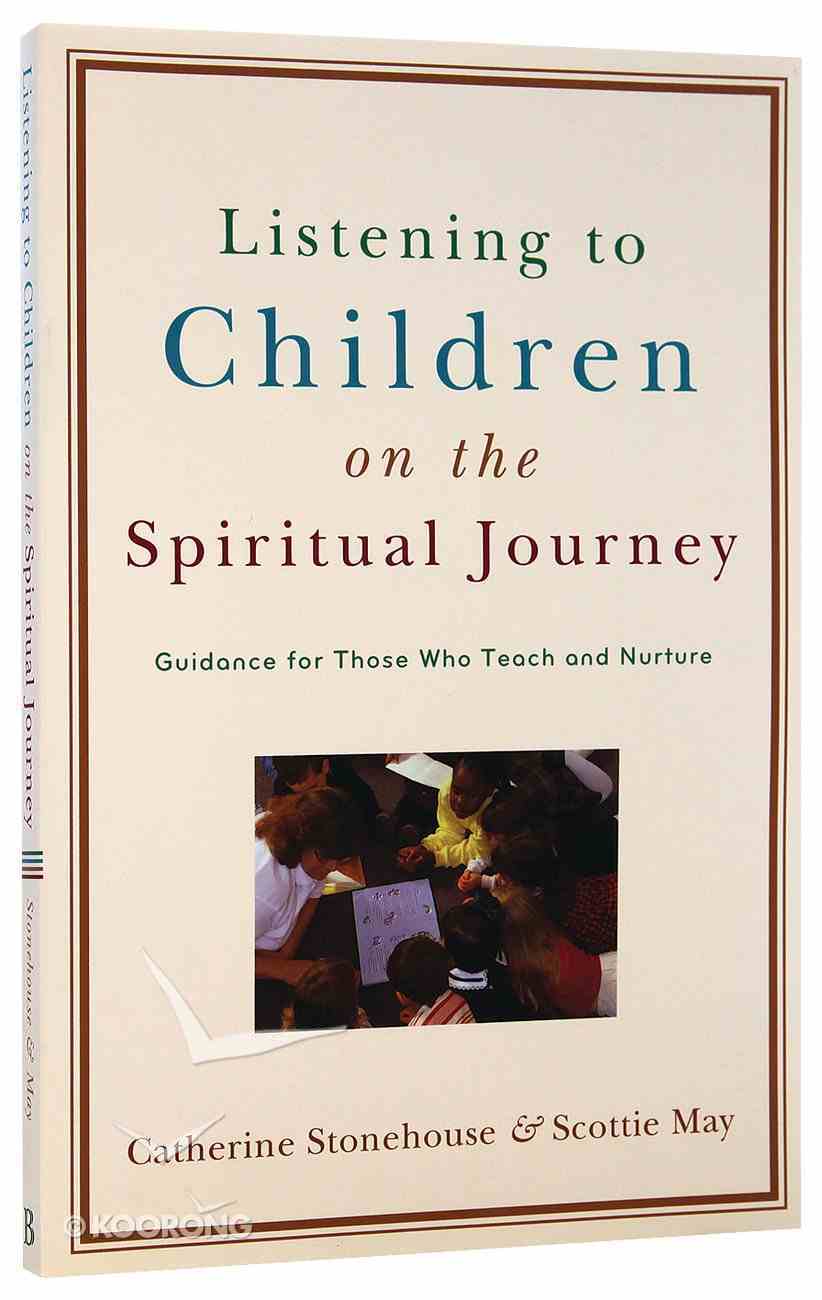 Listening to Children on the Spiritual Journey
"Stonehouse and May have given us a work that is enlightening, challenging, and encouraging all at the same time. It provides a long-needed look into the actual spiritual life experience of children and helps us consider how what we do...
Out of Stock
Available to Order
---
Expected to ship in 5 to 6 weeks from Australia.
---
Free Shipping
for orders over $99.
"Stonehouse and May have given us a work that is enlightening, challenging, and encouraging all at the same time. It provides a long-needed look into the actual spiritual life experience of children and helps us consider how what we do in our homes and families can better encourage a growing vital faith in Christ. The book is organized well and addresses several major areas we all care about as we work with our children (e.g., worship, Scripture, prayer, salvation, compassion). It is both moving and convicting to read, and if we will give attention to what the children say, it will cause us to change some of what we do in our ministries with children and with young parents."--Kevin E. Lawson, director, PhD and EdD programs in educational studies, Talbot School of Theology; editor, Christian Education Journal"This book is an important addition to recent literature and research on the spiritual formation of children. The fine work by these authors, long committed to the spiritual nurture of children, should lay to rest any doubts about the capacity of children to know, love, worship, and experience God in ways that put to shame many adults."--Ivy Beckwith, minister to children and families, Congregational Church of New Canaan, Connecticut; author, Formational Children's Ministry"Catherine Stonehouse and Scottie May have listened carefully to children, using interviews and interpreting their art, and they have listened to parents. Their conclusion is not a set of norms for what children should know or a theory of children's spirituality. Their conclusion is that setting the stage for children to wonder together about God, guided by a wise and skillful mentor in a carefully prepared environment, enables them to know God well and to express what they know by making room for the Holy Spirit to be their most important teacher. The primary implication of their conclusion for both children and adults is that we need to listen with better-tuned ears to hear what Jesus had to say about becoming like a child to enter the kingdom."--Jerome W. Berryman, senior fellow, Center for the Theology of Childhood, Denver, Colorado; founder, Godly Play"Listening to Children in the Spiritual Journey is an outstanding resource for those who lead ministries with children and families. Pastors who care about the spiritual development of the youngest in the flock will appreciate the implications not only for ministry with children but with all the people of God, even--perhaps especially--adults."--Diana Garland, dean, Baylor University School of Social Work
-Publisher
How do children experience and understand God? How can adults help children grow their life of faith? Throughout more than a decade of field research, children's spirituality experts Catherine Stonehouse and Scottie May listened to children talk about their relationships with God, observed children and their parents in learning and worship settings, and interviewed adults about their childhood faith experiences. This accessibly written book weaves together their findings to offer a glimpse of the spiritual responsiveness and potential of children. Through case studies, it provides insight into children's perceptions of God and how they process their faith. In addition, the book suggests how parents, teachers, and ministry leaders can more effectively relate to and work with children and pre-adolescents to nurture their faith, offering a helpful picture of adults and children on the spiritual journey together. The book also includes color illustrations created by some of the children the authors observed.
-Publisher
Catherine Stonehouse (Ph.D., Michigan State University) is Orlean Bullard Beeson Professor of Christian Education at Asbury Theological Seminary. She is the author of Patterns in Moral Development and has had extensive experience directing Christian education at both the local and denominational levels.
Scottie May is an experienced church educator, editor and developer of materials for childrenbs ministries, and a writer of curriculum and articles dealing with Christian Education issues. Currently she is Assistant Professor in the Department of Christian formation and Ministry at Wheaton College, Wheaton, Illinois. She has also taught courses for Trinity University, Deerfield, Illinois, Asbury Seminary, Wilmore, Kentucky, and North Park Seminary, Chicago. She has a PhD in education from Trinity Evangelical Divinity School.
Introduction<br>1. Why Listen To Children?<br>2. Knowing God In Childhood<br>3. Experiencing God In Everyday Life<br>4. Children Experiencing God At Church<br>5. The Formative Power Of God's Story<br>6. Let The Children Come: Loving, Knowing, And Following Jesus<br>7. Celebrating Compassion<br>8. The Church Partnering With Parents<br>appendix A: The Research Designs<br>appendix B: Resources And Ideas
Bestsellers in Children's Ministry