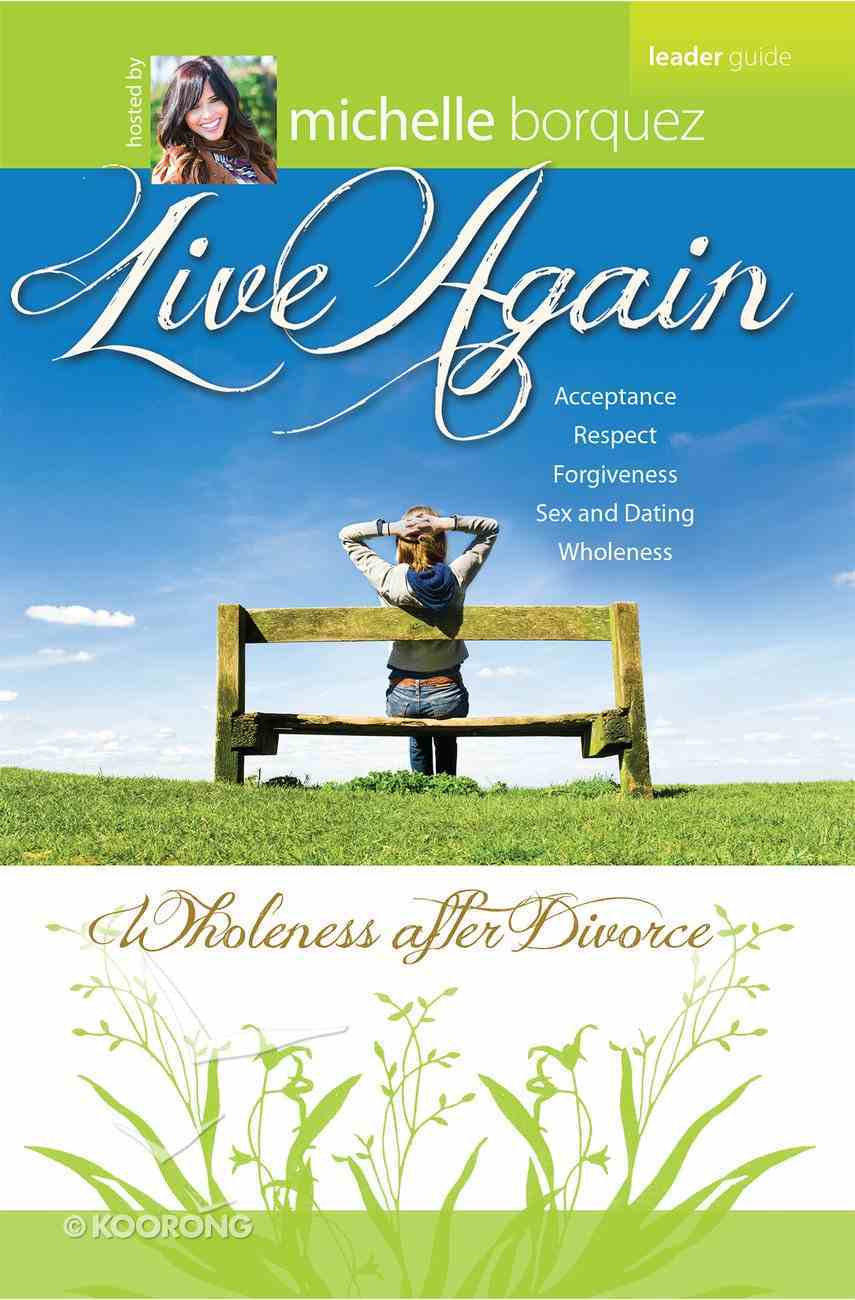 Live Again (Leader Guide)
This is the companion Live Again Leader Guide to the Live Again: Wholeness After Divorce 8-Session DVD series. This divorce recovery leader guide has everything a leader needs! From tips on how to start each session to riveting discussion questions,...
Instant download
---
Expected to ship within 13 hours from Australia.
---
Read using our free app on your tablet or mobile!
---
Free Shipping
for orders over $99.

This is the companion Live Again Leader Guide to the Live Again: Wholeness After Divorce 8-Session DVD series. This divorce recovery leader guide has everything a leader needs! From tips on how to start each session to riveting discussion questions, this leader guide makes leading an after divorce recovery group easier than ever. This guide covers all 8 sessions of Live Again, the only Christian divorce recovery program design for women.


Whether you are a veteran divorce recovery leader, or new to leading women's divorce recovery groups, this Live Again Leader Guide will walk you through the basics of how to run the group each session. But the best part is the Tips for Divorce Recovery Group leaders in the back of the Leader Guide.

8 Key Topics in Live Again
Help Women Find Recovery After Divorce
This 8-video Christian divorce recovery series covers topics such as loneliness, forgiveness, fear, picking up the pieces, relationships, and moving past the shame and guilt to healing and wholeness.

Topics in the Live Again: Wholeness After Divorce DVD - Home Edition Session 1 - Reality Check: Acceptance Session 2 - Forgiveness Session 3 - The Loneliness Giant Session 4 - The Real Enemy: Lies Women Believe Session 5 - Respect Yourself Session 6 - Sexless and Single: Sex and Dating Session 7 - Beyond the Shame and Guilt Session 8 - Discovering a Whole New You New! Find Hope and Healing After a Divorce
When a tragic divorce destroys a family, many women find theirhopes and dreams shattered. For many, this is thegreatest loss they have ever faced. It devastates them, and they desperately need emotional and spiritual help. They struggle with lonelinessand shame. Many of them need to face the pain and begin to forgivethemselves and others in order to move forward in life.


The good news is that a recent study showed that Christian faith madea big difference in divorcees? ability to put their life back togetherand successfully live with hope and purpose. In fact, Christiansrecovered nearly 3 times better than people having ?no religion.? Theywere able to live again because of their faith and trust in the Lord!


This 8-session Christian divorce recovery series covers topics such asloneliness, forgiveness, fear, picking up the pieces, dating, and movingpast the shame and guilt to healing and wholeness. The complete kitcomes with a DVD containing the eight 30-minute videos, a LeaderGuide, 5 Participant guides, and 5 Live Again Journals. Additional Participant Guides and Live Again Journals may be purchased separately.


"Live Again?is exactly what churches need to reach out to women who've been devastated by divorce. It's a Christ-centered women's recovery program that helps them heal and draw closer to the Lord." ?Pastor Roger Ball, First Baptist Church, Tempe, AZ
10 Reasons To Show the "Live Again: WholenessAfter Divorce" DVD series in Your Church
What will this series do for your church?


1. Help you reach out to the community. People who might nevervisit a church service will come for the healing the "Live Again" series offers.


2. Give hope. Reinforce that God has a good plan for the future. Manywomen believe they are disqualified from anything good. They needto be reminded that nothing can separate us from the love of Christ.Many Bible characters failed and lived to serve again.


3. Focus on Jesus. This Christ-centered journey leads women towholeness through a deeper relationship with Jesus.


4. Keep women from making the same mistakes again. It offers afellowship of women who want to follow Christ encourage others togrow spiritually and hold each other accountable.


5. Bring believers back. Divorce happens ? even among Christians ? and sometimes the shame of divorce causes a person to drift away from the church due to their own embarrassment. This DVD welcomesthem and helps them reconnect.


6. Help women forgive themselves. Women fear that they have failedat one of the most important relationship in life and now have a blackcloud over their head. They need to trust in God and his grace.


7. Build supportive friendships. Many women feel empty without aman in their life. This DVD-based group provides an opportunity forfellowship with caring, spiritually minded women.


8. Bring understanding. Sometimes the only person whounderstands is someone who has been there before. This series allowsmature Christian women to guide others into healing andhope.


9. Create transparency. This series is created uniquely for women-onlygroups so they can share freely about the problems they are facing.


10. BONUS You don't need to have all the answers. The experts andtestimonies are on the DVD. Just show the video and follow the clear,easy-to-understand leader and participant guides.

How is this DVD-based divorce recovery seriesdifferent from others? The "Live Again DVD" is for women only. In women-only groupsyou will avoid uncomfortable situations that often can occur in co-ed groups: over-sharing, flirting, predators, dating before healing, anddiscussing single sexuality in co-ed situations. Short sessions. The eight 30-minute DVD sessions give theopportunity for 30-45 minutes of discussion, sharing, and prayer. Other divorce recovery videos last an hour and don?t allow much time for sharing and prayer. Perfect for any Christian individual or group . For use by churches,counseling ministries, womens' healing ministries, or anyone wishingto reach out with God's healing love to divorced women. About the host, Michelle Borquez:
Michelle Borquez is the national spokesperson for Beth Moore's "Loving Well" television special and for GLO Bible. She has authored several books, the Freedom Series from Aspire Press, Live Laugh Love Again, and Overcoming the Seven Deadly Emotions. Her new books are Forever God Crazy, God Crazy Freedom, and the God Crazy Freedom Series are releasing in stores nationwide in conjunction with the national "God Crazy Freedom" speaking tour. Michelle has hosted and been a featured guest on hundreds of television and radio programs, including: NBC's Midday Connection, The 700 Club, Life Today with James and Betty Robinson, Postively Texas, and TBN.


Sessions are about an hour long:

30 minutes for the video 30-45 minutes for discussion, sharing, and prayer Topics for the ?Live Again: Wholeness After Divorce? DVD
Session 1 ? Acceptance Reality Check


Session 2 ? Forgiveness


Session 3 ? Loneliness


Session 4 ? Trust


Session 5 ? Respect


Session 6 ? Sex and Dating


Session 7 ? Beyond Shame and Guilt


Session 8 ? Discovering a Future of Wholeness



Each of the eight sessions has a 30-minute video (A testimony followed by an expert or licensed counselor for practical advice) and topics for discussion or journaling.

Experts and licensed counselors include: Dr. Tim Alan Gardner, Director of Life Skills Counseling Center, CEO & President of Marriage Ministries, Inc., Dallas, TX Dr. Catherine Hart Weber, Director at Hart Institute, Pasadena, CA Leslie Vernick, licensed counselor, author, speaker, Christ-Centered Counseling, Allentown, PA Dale Dunnewold, president Grace Ministries, Nashville, TN Paige Corley Henderson, co-founder, speaker, Fellowship of the Sword Ministries Georgia Shaffer, licensed counselor, author, certified life coach, professional speaker Sharon Kay Ball, licensed counselor in private practice See What Others Are Saying... ... About Live Again: Wholeness After Divorce...


?The Live Again DVD series facilitated by Michelle Borquez is like being allowed the gift of sitting within a caring community of authentic women who are powerfully sharing their dealing and healing with the dreaded ?D? word: ?Divorce.? Going beyond just sharing how they ended up there, Michelle directs the conversations, bringing the women to speak hopefully of how divorce will not define their stories and encouraging them genuinely to know they will live again!"
Rev. Rudy Sheptock
Senior Pastor of The Lighthouse Church of the C&MA Cape May County, NJ


"Live Again is an excellent resource for any woman dealing with the pain of divorce. As a leader of women's groups, I have used this resource over and over again, and I highly recommend it. The series format allows my groups to address a different topic each week, such as shame, guilt, trust, loneliness, forgiveness, respect, and dating. I especially like the interview format. Michelle interviews professional Christian therapists who are experts on the subject of divorce, but makes it feel like we are all sitting around her kitchen table together! It's intimate, and [provides] healing. It's packed full of hope and restoration. It's a MUST HAVE for every Christian Leaders library."
Terri Harper, Women's Small Group Leader, B.A. in Practical Ministry from the Wagner Bible Institute

...About Michelle Borquez...

"I have been blessed by the burning passion of the God Crazy message that has emanated in Michelle over the years. The vision God has placed within her heart is inspiring and transformational. She is a great woman of impact."
Dr. Catherine Hart Weber
Professor, Fuller Theological Seminary

"Michelle Borquez has been placed in all our lives to help us rejoice in our faith with the same spiritual gusto and love that pours from the God Crazy message. It is a journey that will change the way you think, feel, and believe."
Monica Crowley
Author, Radio Host, News Anchor and Talk Show Host on MSNBC and Frequent Commentator on NPR News Radio

"Michelle Borquez is a bundle of energy; a veritable wellspring of love, joy, and enthusiasm; and an incredible communicator of a message that can transform the world. Her passion for her work is only exceeded by her compassion for those who hurt. She truly brings life, hope, and healing to everyone she encounters."
Ken Abraham
New York Times bestselling author

"I was immediately drawn to the transparent style and heart in which Michelle communicates. Working in television for years I've met many leaders and personalities, and while Michelle is a great leader with many accomplishments, what I love most is her passion and real desire to see women healed and transformed.
Dyan Jae
Bella Women Network Director of Programming and formerly TBN Atlanta Director of Programming

"Michelle is a visionary, passionate woman who will help you to develop a positive plan of action as you hold on to unshakable faith."
Carol Kent
Speaker, Author of A New Kind of Normal and Between a Rock and a Grace Place and Miracle on Hope Hill

"This book was such a life changing experience for so many of us that we culminated this experience by hosting a ?God Crazy? retreat where we were extremely blessed to host the author Michelle Borquez as our speaker. There are no words that can capture what having Michelle personally minister to our women did. She is a woman that inspires both spiritually and in very practical ways. Each woman left that retreat with a renewed vision and personal plan for her life. We will never be the same."
Mary Merriweather
Pastor's wife and Director of Women's Ministries, Northeast Community Fellowship Foursquare Church, Portland, Ore.

"Bad things make most people bitter. But not for Michelle Borquez. Michelle is one of those unique individuals with awe-inspiring joy, exploding passion and rock solid confidence. Why? She knows how to trust and rest in the protective and liberating hands of God. She is a wise strategic planner. High Energy. With God, Michelle's has discovered great internal security and wisdom deep and wide like the Grand Canyon. Her life goals are divinely super charged and laser focus so be prepared when you learn from MIchelle you will learn many new life changing freedoms in Christ."
Pastor Roger Ball

"Michelle Borquez Thornton is a breath of God's fresh air in a Christian church culture that desperately needs to breathe something relevant and real. Michelle has a rare gift of being able to point us clearly to Heaven while still reaching us with a teaching that is easily applicable to life here on Earth."
Reverend Rudy Sheptock
Senior Pastor of The Lighthouse Church of the C&MA Cape May County, NJ

"Michelle has put together a wonderful study with practical and spiritual guidelines for moving through the pain and doubt we experience, especially as Christians, when we divorce. We Christians are taught that God hates divorce and we believe that it just isn't an option. When we reluctantly dissolve a marriage it leaves us broken and disappointed and unsure of how to look at relationships and even ourselves. God doesn't leave us in our mess and He is always ready to correct us, forgive us, teach us and build us up. There is always hope of starting again and learning from our mistakes and often we need others to point the way. I appreciate Michelle's openness about her own life so others can find freedom and wholeness as she has."
Lindy Boone Michaelis (daughter of Pat Boone), author of Heaven Hears

-Publisher
In 2005 Michelle Hosted and Co-Produced I-Life Television's SHINE with Michelle Borquez
Bestsellers in Ministry Resources