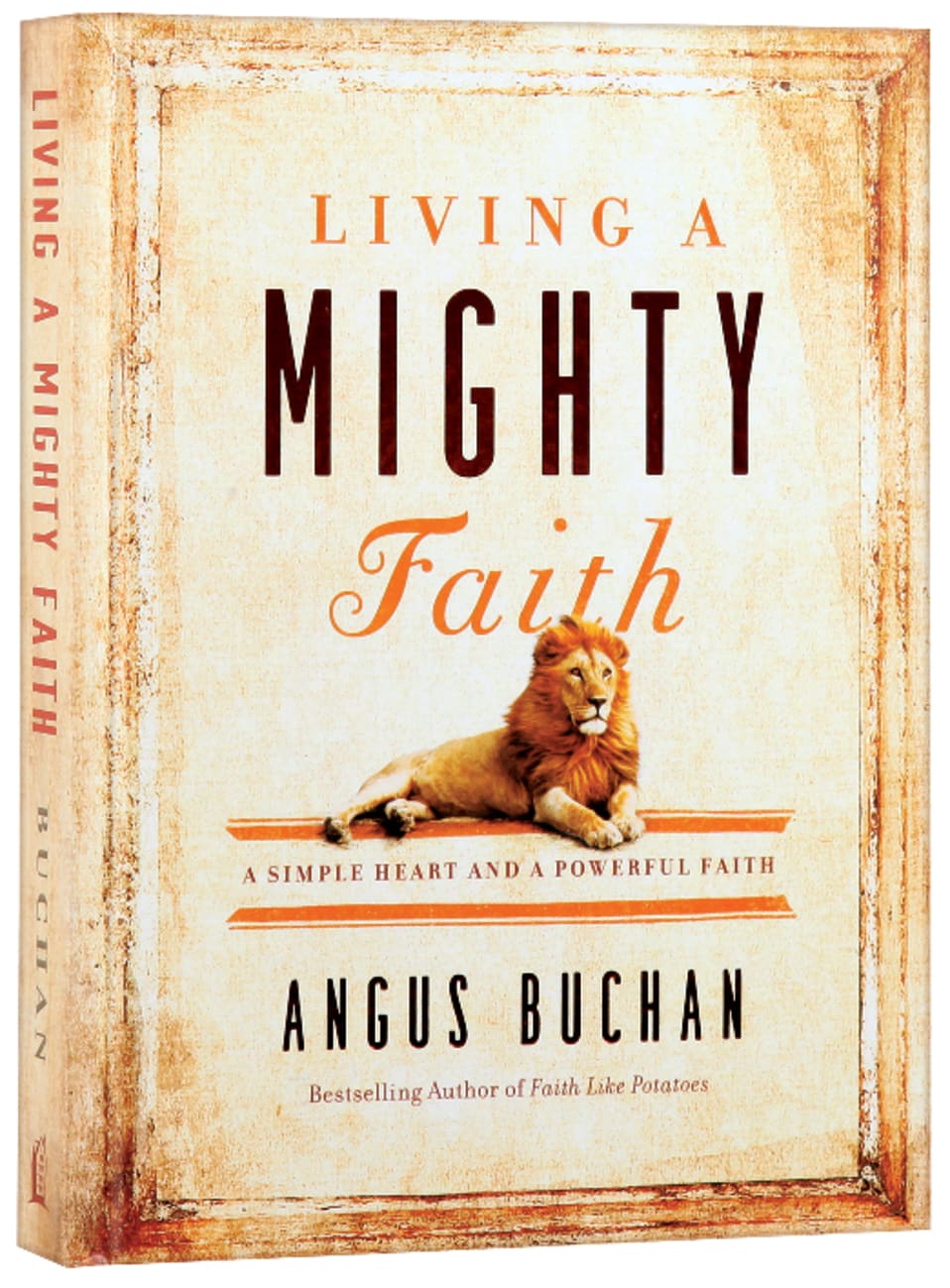 Living a Mighty Faith
$29.99
25% OFF
―
save $7.50
Potato farmer Angus Buchan is living proof of how God can change everything! This 365-day devotional by Angus will help you see what God does when you believe big and open your heart. Devotions focus on sharing your faith, serving
...
---
Available in other Formats
---
Expected to ship tomorrow from Australia.
---
Free Shipping
for orders over $99.

Potato farmer Angus Buchan is living proof of how God can change everything! This 365-day devotional by Angus will help you see what God does when you believe big and open your heart. Devotions focus on sharing your faith, serving others, and becoming more like Jesus each day.


Publisher Description


:A simple potato farmer with a mighty faith and a willing heart-God steps in and changes everything, just like He can do for you.


Internationally bestselling author and ministry leader Angus Buchan is the author of Faith Like Potatoes and the founder of Mighty Men Conferences, which have drawn more than 500,000 attendees to Buchan's Shalom Farm Ministry in South Africa, with additional Mighty Men Conferences drawing thousands more worldwide.


Although Buchan speaks to thousands all over the world, he and his wife, Jill, are simple potato farmers who know what it means to allow God to do more through them than they could ever imagine. They founded Beth-Hatlaim, a ministry that aims to provide a permanent home for children who have been abandoned or orphaned, with no known relatives. Buchan travels and leads crusades similar to the likes of Billy Graham.


This 365-day devotional will help you see what God can do in your life when you believe big and open your heart. Devotions focus on sharing your faith, serving others, and becoming a little more like Jesus each day.


In 1976, political upheaval in Zambia forced hard-driving Angus Buchan (born 1947, Rhodesia) to sell-up his farm for a pittance and relocate with his family to South Africa. Angus' funds were so low that he couldn't afford a farm with a house on it, but with typical determination he settled on a piece of land in KwaZulu Natal and set about raising crops and livestock.



In 1977, Angus startled those who knew him with his sudden conversion to Christianity, and in 1979 he and his wife Jill committed their lives fully to Christ during a service at Greytown Methodist Church.



In his best-selling autobiography, Faith Like Potatoes, published in 1998, Angus recounts how he learned to trust that God was at work building something substantial even if he couldn't see it, much in the way a potato grows underground, out of sight. In 2006 the book was made into a film, which went on to become a huge success in South Africa and worldwide.



In 1980, the Lord gave Angus and Jill a clear vision very simply and clearly through His Word:



The Great Commission - Mark 16:15

Caring for Orphans and Widows - James 1:27

Equipping Saints for the Work of Ministry - Matthew 28:20.

This was the inspiration for Shalom Ministries, which has grown from an evangelistic outreach in Angus' own community to an Africa-wide concern. Without any formal higher education or theological training, Angus followed God's call and conducted his first preaching campaign in 1990 in Ladysmith, KwaZulu Natal. In the years since, Angus' reputation has grown to the extent that he now fills stadiums across the African continent.



Since 1995, Shalom Ministries has administered a home for AIDS orphans and a farm-school in Angus' home district of Greytown. Also, between 2003 and 2010 Shalom ran seven annual 'Mighty Men' Conferences - outdoor worship camp-outs for men and boys that grew from 40 attendees at the start to over 200,000, and have proven to be highly influential. Angus' evangelistic and worship events have been recorded live, bringing his distinctive down-to-earth teaching style to a worldwide audience. He also presents a twice-weekly Christian television program 'Grassroots', filmed mostly on his farm.



Despite the demands of his ministry as a full-time evangelist, Angus remains a man who values quiet times with God and maintains a simple, no frills lifestyle on his farm, which is now run by his two sons Andrew and Fergus. Angus and his wife Jill also have three daughters Robyn, Jilly, and Lindi.