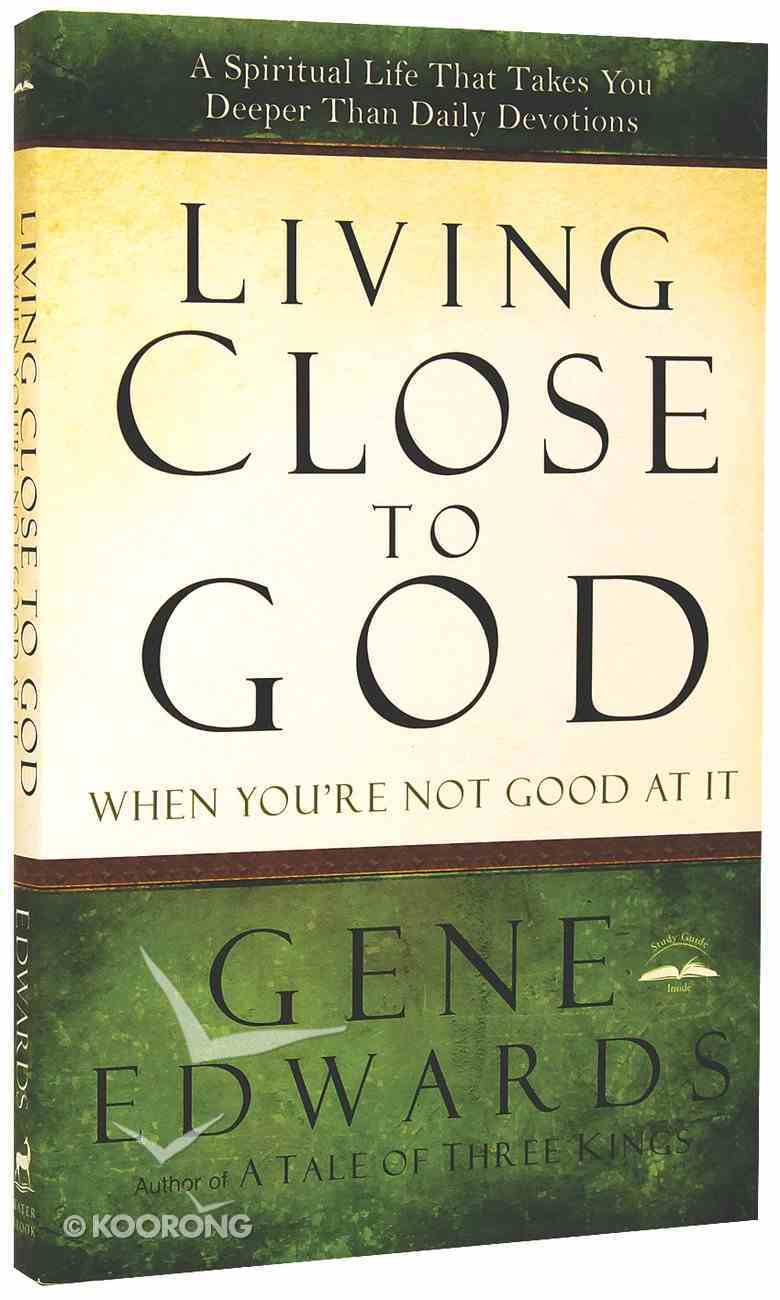 Living Close to God (When You'Re Not Good At It)
Have you tried harder to have a consistent time with the Lord--but failed? Does your mind wander during prayer, and do you run out of things to say? Do you question why it is so "hard" to fellowship...
---
Expected to ship on Monday from Australia.
---
Free Shipping
for orders over $99.
Have you tried harder to have a consistent time with the Lord--but failed?

Does your mind wander during prayer, and do you run out of things to say?

Do you question why it is so "hard" to fellowship with the Lord?

Gene Edwards faced these same questions and struggles. And he found a better way to walk with the Lord than merely trying harder to pray and read the Bible.

Stop feeling like a failure at daily devotions and start walking every day with the Lord who loves you.

In Living Close to God (When You're Not Good at It) you will discover that loving God means much more than doing your best to serve Him. You will find ways to start your day with Christ, beginning with your first conscious thought in the morning. You will learn how to fellowship with Him during even the most demanding days. And when you go to the Scriptures, you will talk with Him in a two-way conversation--just as His first followers did. Includes a small-group discussion guide.
-Publisher
PRODUCT DETAIL
Catalogue Code 

320117

Product Code 

9780307730190

ISBN 

0307730190

EAN 

9780307730190

Pages 

192

Department General Books
Category Spiritual Growth
Sub-Category General
Publisher Waterbrook Press
Publication Date 

Oct 2011

Sales Rank 

47384

Dimensions 

200 x 130 x 11

mm

Weight 

0.158

kg
Earl Eugene Gene Edwards (born July 18, 1932) is an American house church planter, a Christian author, and a former Southern Baptist pastor and evangelist. A graduate of Southwestern Baptist Theological Seminary, he was instrumental in pioneering the house church concept in the United States. He is the author of well-known books The Divine Romance, A Tale of Three Kings, Climb the Highest Mountain and The Day I was Crucified.
Spiritually Handicapped

      I consider myself to be spiritually handicapped.
      Christians who know the Lord well seem to have a natural spiritual bent. I am not so endowed. As to things spiritual, I have always thought of myself as being some kind of rare case because of my nonspiritual nature. If you happen to fall into this same "rare case," then join me in this journey in search of a spiritual life for Christians who are not naturally spiritually inclined.
      I did not grow up in a devout family. I was raised in the home of a laboring man—a "doer" by nature. So was his father before him: like father, like son. I am a natural doer.
      I broke horses, played football, and began working in the oil fields as a roughneck at age fourteen. Roughnecks are plain-spoken, practical, tough, down-to-earth men. That was my world. Being a doer was, and is, my nature.
      No, I am not a spiritual person. The only thing I had in my favor, spiritually, was a spectacular conversion to Christ. I was converted while in college. I graduated from college, was called to the ministry, and entered seminary all in the same week.
      What was instilled in me by my denomination was the imperative of winning others to Christ. That fit the doer in me perfectly. Evangelism was my consuming passion. Further, I was still an oilfield roughneck at heart. A public display of piety was beyond me. It still is. I also found that I was a most unlikely candidate for being a pastor. (My parishioners soon made the same discovery!) My sole interest was to turn the world upside down and win everyone on earth to the Lord Jesus Christ.
      Then came…

A Rise Too Soon

      No young believer should ever rise quickly in the ministry. I became a pastor at age twenty-one, a seminary graduate at twenty-two, and by age twenty-four, I had written a book on personal evangelism. That book became a bestseller, and not only was the book well received, but so was its author. In a skyrocketing ascent, I was soon conducting citywide campaigns sending Christians out to knock on every door in the city, in an effort to lead people to Christ. This much notoriety, this much leadership, this furious pace could have easily been a stew for disaster. 
      My zeal for Christ never faltered, but I gradually came face to face with the reality of emptiness. In the midst of a national, many-layered ministry, my spiritual desperation grew. I reached the point where I had to choose between two paths: either continue in my ministry or come to know Christ better. I could not do both.
      One day I wrote myself a note: "It is far more important to me that I come to know my Lord in living reality than it is to be in ministry without it." Finally, I sat with my family and shared my desperation. I then cancelled all my campaigns. I had become a pilgrim traveling in uncharted lands. But just where would I begin this pilgrimage? I began by searching for books that might help provide answers, something that would show me how to have some kind of a spiritual life. I could find no such helps. Nor did I find any Christian who could help this desperate beggar. As noted already, I was convinced that I was a special case.
      I know the evangelical world. (I have spoken in hundreds of churches and worked with thousands of ministers while conducting citywide campaigns.) In the evangelical world I knew I would find much being said about prayer. I knew a few men who spent an hour or more in prayer every day. Some of them evidenced some spiritual touch; in others, no such evidence was apparent. Few of them testified of a practical relationship with the Lord Jesus. As for me, I could not see myself praying for an hour every day.

Prayer, or Fellowship with the Lord?

      I knew by instinct there was a great distinction between praying and fellowship with the Lord. The difference is vast. (It is entirely possible to be fully devoted to prayer and never actually fellowship with the Lord.) As to the many books I read, virtually every one was centered on the subject of prayer. Sadly, those teachings did nothing to address my desperation to know the Lord better. Their advice led to the very thing I was trying to escape. (Remember, I am naturally a doer.)
      Some people reading this may think I lack some kind of special experience—one that would cure my spiritual longings. My response is this: I have had the Pentecostal experience, the Easter experience, the Christmas experience, the Passover experience, and the "exchanged life" experience. I have even had the Fourth of July experience and many other such experiences.
      Herein lies the problem. I was not looking for an experience; I was seeking a walk. Here was a Christian who had spent ten years in the ministry, yet who had become a desperate, hungry, rapacious seeker—seeking to know his Lord better. I was a beggar looking for bread. I also was beginning to wonder if I was such a rare case that I might never be able to have a meaningful walk with Christ.
      Was there hope for this woefully ill-equipped believer? Knowing Christ in living reality and in simplicity had become the first pursuit of my life. I was desperate, yet not even remotely qualified for such a spiritual quest.
      So it was, the search began.
Bestsellers in Spiritual Growth