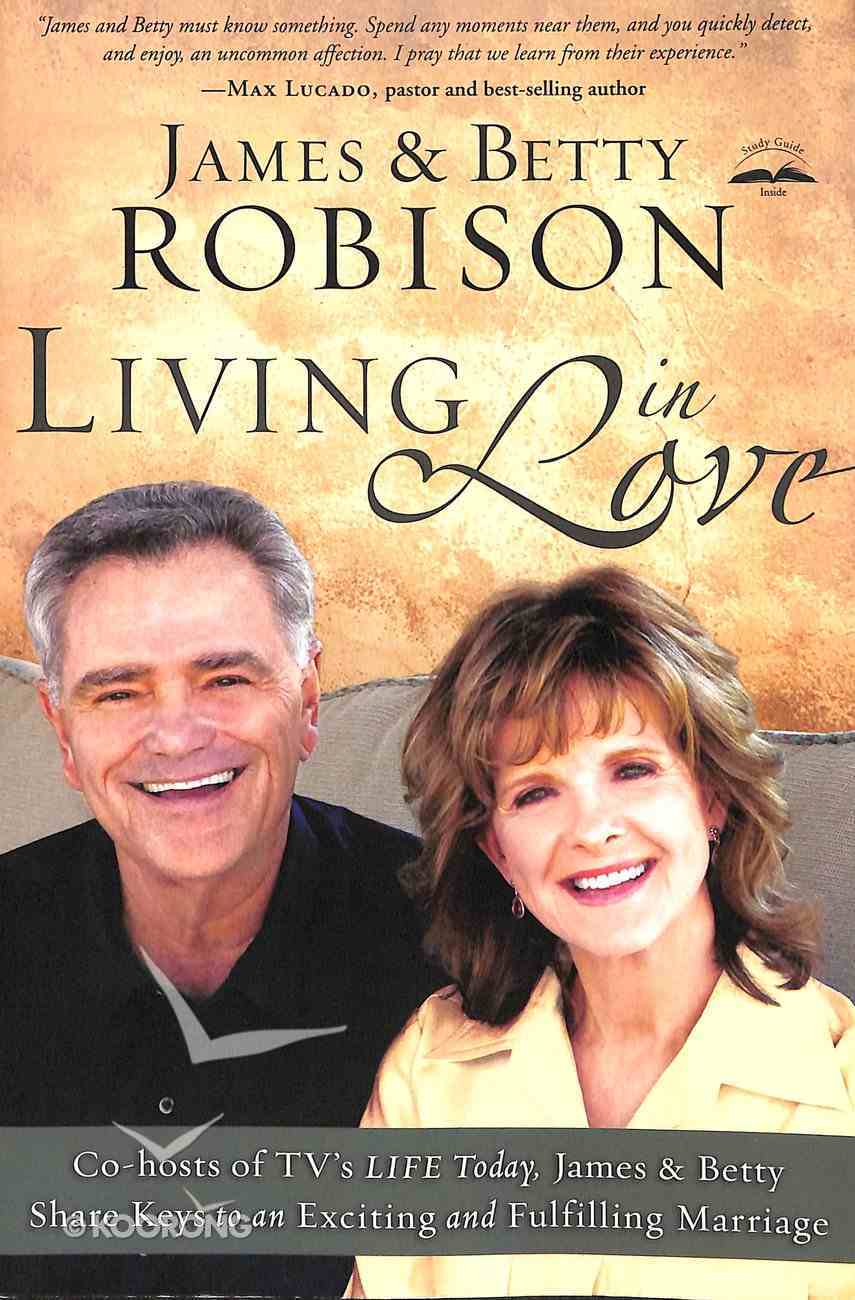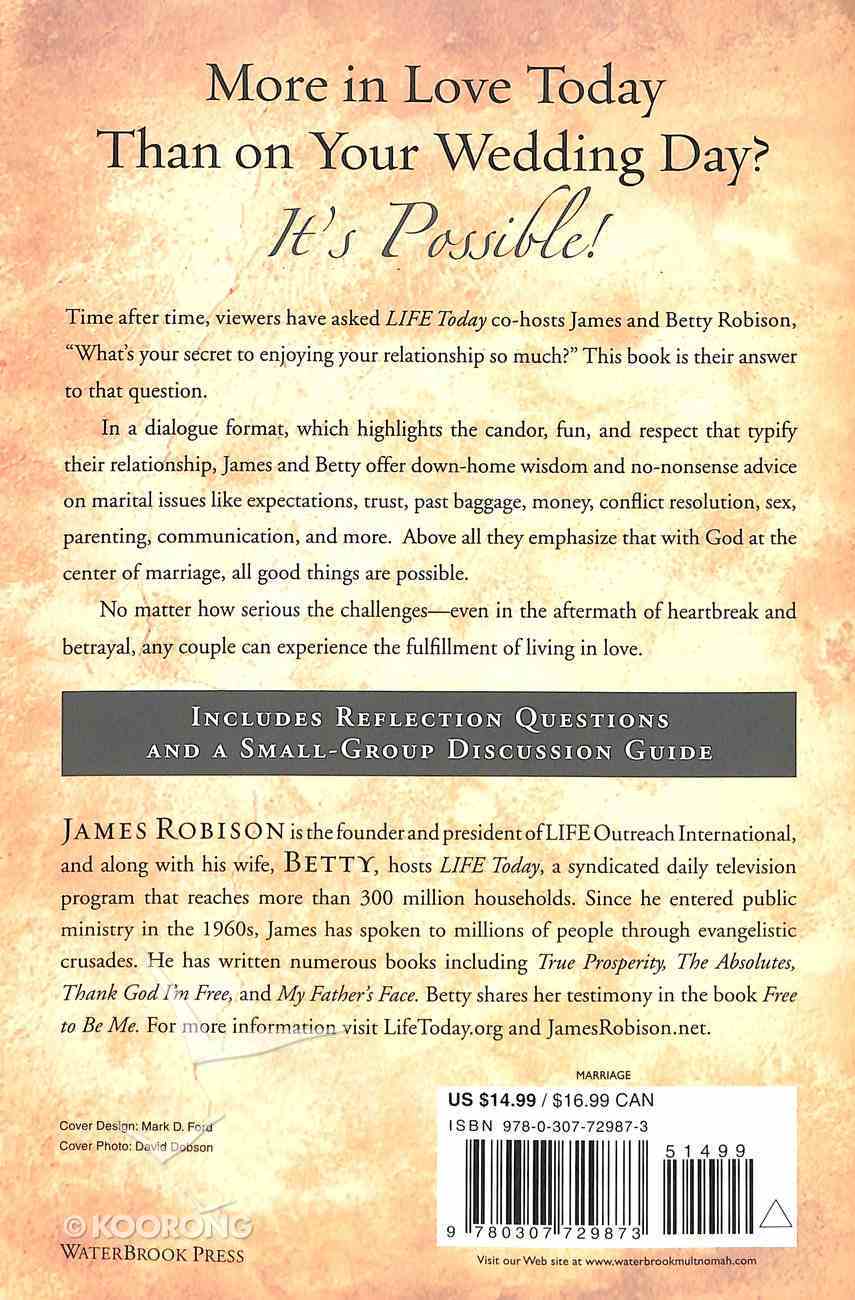 More in Love Today Than on Your Wedding Day? It's Possible!   Time after time, viewers have asked LIFE Today co-hosts, James and Betty Robison, "What's your secret to enjoying your relationship so much?"  This book is their answer to...
---
Free Shipping
for orders over $99.

More in Love Today Than on Your Wedding Day? It's Possible!
 
Time after time, viewers have asked LIFE Today co-hosts, James and Betty Robison, "What's your secret to enjoying your relationship so much?"  This book is their answer to that question. 
 
In a dialogue format, which highlights the candor, fun, and respect that typify their relationship, James and Betty offer down-home wisdom and no-nonsense advice on marital issues like expectations, trust, past baggage, money, conflict resolution, sex, parenting, communication, and more.  Above all they emphasize that with God at the center of marriage, all good things are possible. 
 
No matter how serious the challenges—even in the aftermath of heartbreak and betrayal, any couple can experience the fulfillment of living in love.
 
Includes reflection questions and a small group discussion guide.
 
"James and Betty must know something.  Spend any moments near them, and you quickly detect, and enjoy, an uncommon affection.  I pray that we learn from their experience."
--Max Lucado, pastor and best-selling author


-Publisher
James M. Robinson is the former director of the Institute for Antiquity and Christianity and professor emeritus at the Claremont Graduate School. He is the author of "Trajectories Through Early Christianity, A New Quest of the Historical Jesus, " and "The Secrets of Judas", and is widely known for his pioneering work on the Sayings of Gospel Q, the Nag Hammadi Codices and as the general editor of "The Nag Hammadi Library in English".
      When Betty and I married, like every couple, we had certain hopes, dreams, and expectations. I was looking for love and someone to share my life with who really cared aboutme. Betty was looking for love, security, a family, and a home. Even more critically, in some ways she was looking for her identity.
      I'm sure the same is true for you. When you decided to get married, you obviously felt it was worth dedicating your life to. You desired lifelong happiness, joy, and peace with your spouse, and you committed yourselves to each other with your actions, your emotions, and your words. And you both had certain expectations that your needs would be met by this other person with whom you were so deeply in love.
      I like to illustrate this point by telling of a journey Betty and I took with our son, Randy, one autumn to see the beauty of the aspens as they changed colors in the Rocky Mountains of Colorado. To get to a spot that offered a great view, we had to drive on a steep, narrow mountain road that twisted and turned as it climbed through the Rockies. The traffic was extremely heavy. Randy was at the wheel, and without warning the car began to vibrate. He fought to keep the car on the road as it tried to veer right, toward a concrete barrier. There was no shoulder to the roadway, just a retaining wall, so Randy stopped the car safely in the middle of our lane. We realized then that we'd had a blowout on our right front tire, and now we were stuck. Traffic was flowing steadily to our left, and to the right a long line of cars was merging onto the highway just ahead of us. But an immediate danger came from our being stopped in the middle of the road. What if someone hit us from behind?
      And then a miracle happened. Instead of an eighteen-wheeler bearing down on us with no chance of stopping, a police car pulled up behind us. The officer parked his car at an angle and turned on his flashing lights to alert drivers approaching from the rear that they had to go around us. The policeman stayed there the entire time we were stuck and protected us from harm.
      Here's my point: Maybe you have a great marriage, or maybe your marriage is suffering. Maybe you're single and praying that God will send the right person your way. Maybe you're engaged and wondering what you're getting into. Regardless of whether you are in or out of a relationship, you have some ideas of what a marriage should look like.
      When you get married, you expect it to be a wonderful journey. You expect to see the most beautiful things that life has to offer, like the stunning autumn leaves we were on our way to view in Colorado. But I can guarantee that somewhere along the way your relationship will stop running smoothly. Maybe you'll have a blowout or maybe just a slow leak. But eventually you'll have a flat tire on your marriage journey.
      The challenge to your relationship might come on a winding mountain road, on an eight-lane superhighway, or on the neighborhood streets of daily life. But no matter where or when it happens, an unexpected test always comes.
      Will you fall into worry about being hit by traffic and get so worked up that you can't do anything to fix the problem? That's just going to get you run over.
      Will you try to ignore the problem and keep going?
      Will you get mad and blame the car for not moving you forward? That would be pointless anger.
      Or will you trust the Protector, who's looking out for your marriage, and take the necessary action to get your relationship back on track?
      Only you can decide.
      When our tire blew out on that mountain road, we quickly realized that we had to get it fixed. And even though a policeman was protecting us, he couldn't fix the tire for us—we had to do it ourselves.
      Because of the circumstances on that mountain road, we had trouble getting the spare tire out, so we wound up having our car hauled to a tire store. The police officer followed us all the way there.
      As it turned out, it was a good thing we went to that tire store. When the manager looked at the other tires on our car, he noticed they were all worn and the sidewalls were weather cracked, conditions which were difficult to detect without putting the car on a lift. The tires could have blown out at any time. In order to stay safe and get our car back on the road to see those marvelous autumn leaves, we had to replace all the tires.
      Many people marry with high expectations about experiencing the various colors of life, but a blowout can endanger the entire journey.When you have a blowout in your marriage, you may need to go to a professional counselor to get the other tires in your relationship checked. Sometimes those tiny undetected cracks create hazardous driving conditions.
      Betty and I have always had a commitment to see things through, no matter what. You may be in a great relationship like that, or you may feel as if you've compromised. You may think that you've brought too much baggage along or that the past mistakes of your partner are too great to overcome. Or you may feel as if the wheels have come off your marriage.
      I'm telling you that with God on your side and with a heart-determined effort on your part, all things are possible. You can get your marriage relationship back on the road to fulfillment—even if you have to replace all four tires. With a clear commitment to God and to each other, you can learn how to endure the difficulties and trials of your relationship. You can come to realize that those challenges are not the end of your love; they are simply a new mountain you can climb, if you desire to do so. Instead of looking at your difficulties as ruts or roadblocks, view them as opportunities to make your marriage even better.
      In God you have a Protector who has your best interests at heart, and helpers are available along the way to assist you in repairing all the damages in your marriage. Don't give up! If possible, find help before your relationship blows up. As you read this book, you will discover that all things are possible with God.
      If you're at the beginning of your marriage or looking forward to the day when you will be married, we trust you will find some ingredients here, some building blocks that are critically important for establishing a thriving marriage from the get-go.
      If you've been married for several years, let me encourage you that real change is still possible and improvement is sheer joy. The essential components of a thriving marriage can be put in place at any point and at any time in a marriage relationship. If you're willing to do what it takes, it's never too late to start doing the right thing…and enjoy living in love.
Bestsellers in Relationships