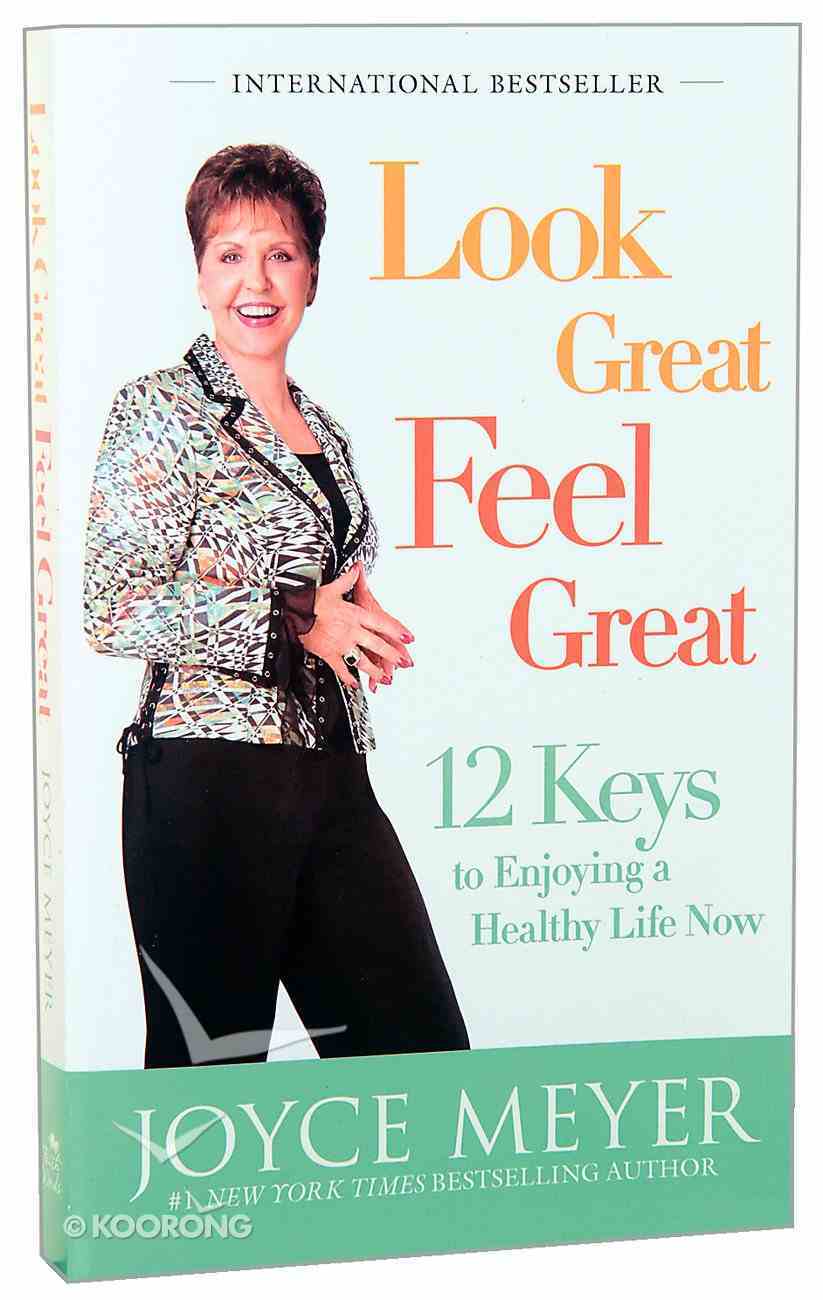 In this book, Joyce Meyer provides a twelve-key plan for overcoming the poor eating and exercise habits that keep us from doing all God has called us to do. Joyce guides us to a healthier way of living, reminding us...
---
Free Shipping
for orders over $99.
In this book, Joyce Meyer provides a twelve-key plan for overcoming the poor eating and exercise habits that keep us from doing all God has called us to do. Joyce guides us to a healthier way of living, reminding us that turning every issue over to God gives us the strength to make lasting changes. First, she believes, we must reprogram our approach to health to get back on God's plan. To help us do this, Joyce's plan offers principles that include:

* Letting God do the heavy lifting. We all try to be self-sufficient, but Joyce encourages us to let God help us on the journey.
* Learning to love your body. Our spiritual, mental, emotional, and physical health are undeniably connected. We must unlearn hate for our bodies and who we are.
* Taking responsibility. The tools for putting our unhealthy lifestyles behind us are always available. The choice is ours.

In Scripture, God gives us all the keys we need for restoring mental, physical, emotional, and spiritual wellness. With Joyce Meyer's guidance, we can take this opportunity to achieve lifelong health for our bodies and our souls.
- Publisher.
The bodies God gives are instruments for experiencing a fulfilling life on earth, for doing good works, for spiritual development. To do the work individuals are meant to do, they need to keep in shape. They must maintain a sound mind, body, and soul. Yet in the modern world, it is all too easy to let one, two, or all three of these slip. LOOK GREAT, FEEL GREAT presents Joyce's twelve-key plan to address the epidemic of "self esteem drought" that appears to be a factor in perpetuating habits that create poor health. Additionally, Joyce will provide helpful resources, like the "Ounce of Prevention Checklist," for self-maintenance.
-Publisher
Joyce Meyer is one of the world's leading practical Bible teachers. A New York Times bestselling author, her books have helped millions of people find hope and restoration through Jesus Christ. Time magazine has identified her as one of the most influential evangelical leaders in America.

Through Joyce Meyer Ministries, she teaches on hundreds of subjects and has authored over 100 books, which have been translated into over 100 different languages. More than 32 million of her books have been distributed free of charge around the world, and each year, millions more copies are sold. The missions arm of Joyce Meyer Ministries, Hand of Hope, undertakes outreach around the globe, including food provision, medical aid, homes for orphans, and programs targeting human trafficking. In their hometown, Joyce and her husband Dave also operate the St Louis Dream Center, a hands-on inner city ministry.

Each year, Joyce conducts a dozen conferences - both in the US and internationally - teaching practical principles from God's Word that help people to enjoy their everyday lives to the full. For over three decades, Joyce's annual women's conference has attracted thousands of women from all over the world to her hometown St Louis, Missouri. Joyce also has a television and radio show, Enjoying Everyday Life, which is broadcast worldwide to a potential audience of 4.5 billion people.

Joyce was born Pauline Joyce Hutchison in St Louis in 1943. From childhood, she had a born-again faith, but suffered sexual abuse at home, then an abusive first marriage that involved her in petty crime. She married Dave Meyer in 1967, and experienced an anointing in the spirit in 1976 after intense prayer. During the 1980s, Joyce built a local reputation as a popular Bible teacher, and started her own radio ministry. At her husband Dave's suggestion, she commenced her television ministry in 1993.

Over the years, God has provided Joyce with many opportunities to share her testimony and the life-changing message of the Gospel. From her battle with breast cancer to the struggles of everyday life, Joyce speaks openly and practically about her experiences so others can apply what she has learned to their lives. Hers is an incredible testimony of the dynamic, redeeming work of Jesus Christ. She believes and teaches that regardless of a person's background or past mistakes, God has a place for them and can help them on their path to enjoying everyday life.

Joyce holds an earned PhD in theology from Life Christian University in Tampa, Florida; an honorary doctorate in divinity from Oral Roberts University in Tulsa, Oklahoma; and an honorary doctorate in sacred theology from Grand Canyon University in Phoenix, Arizona.

Joyce and her husband Dave are the parents of four grown children and they make their home in St. Louis, Missouri.
Bestsellers in Christian Living