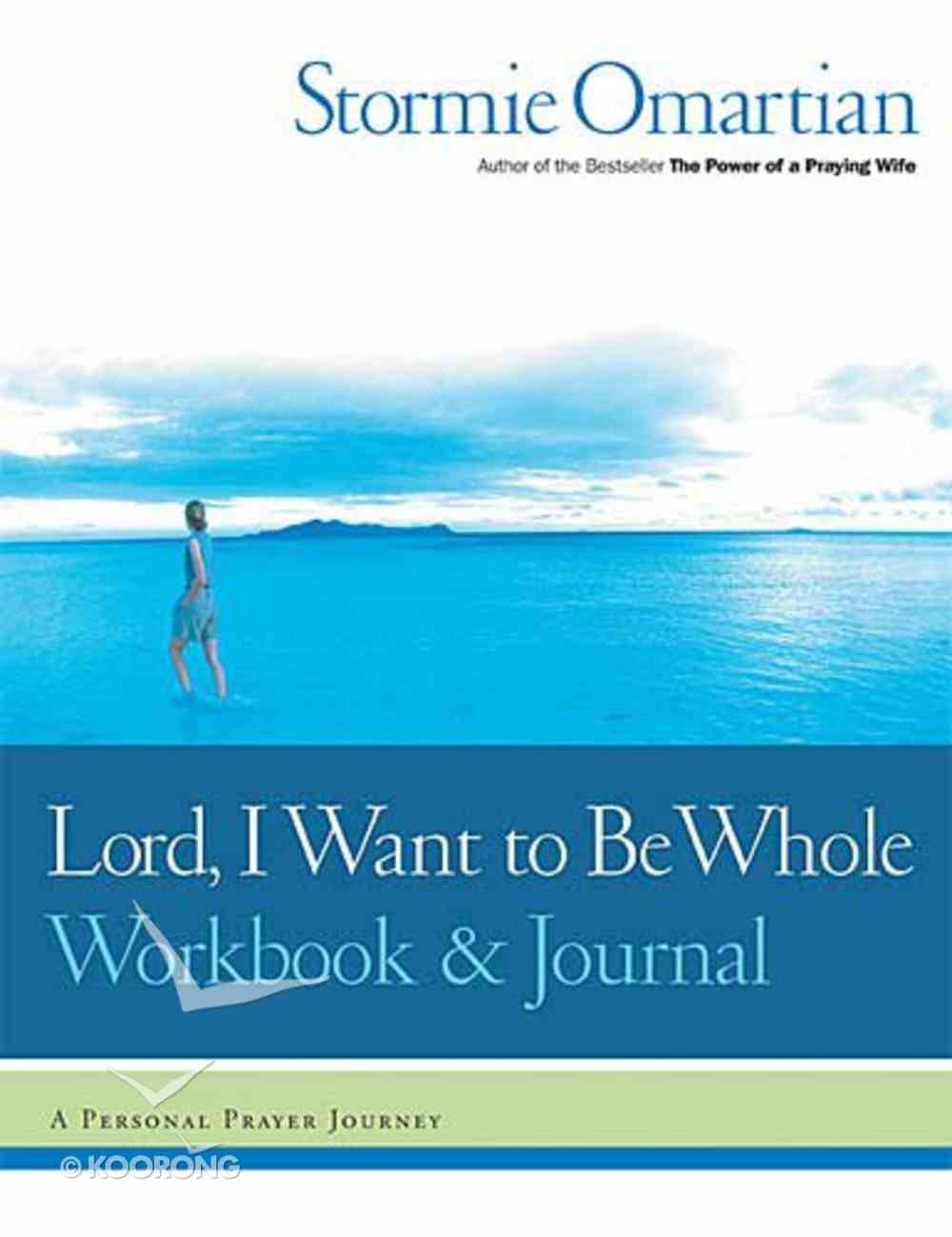 Lord, I Want to Be Whole (Workbook And Journal)
---
Expected to ship within 8 hours from Australia.
---
Free Shipping
for orders over $99.
257 Pages
-Publisher
Stormie's abusive mother often told her,#34You are worthless, and you'll never amount to anything.#34That little girl grew up to be a young woman who still felt she was always wrong, and always bad, which led to chronic, clinical depression. In this interactive workbook, the reader will advance through five steps to better emotional health. A prayer journal will help the reader pray for herself and her own healing.This stand-alone workbook will be a welcome support for women who know their everyday experiences are clouded by past problems or abuse.
-Publisher

"When the heat is on and the battle is raging, know that as long as you are standing strong in the Lord, you won't be shot down or burned up by your circumstances. Think in terms of God's power. As long as you stand with God-and don't give up-you win."


Most ministers and psychologists agree that personal change comes from within. And that change can only occur if you take a careful look at your own life and experience. That's certainly what Stormie Omartian discovered. Over thirty years ago she was so depressed, she considered suicide. Then she went through the seven-step process she described in her bestselling book, Lord, I Want to Be Whole.


Now Stormie makes this process available to you in a personal walk to emotional well-being a walk with the truth of Scripture and the power of prayer at your side. Throughout your journey you will be observing the lives of some familiar people in the Bible. Many of these people had the same faults-and suffered the same problems-you do. The way the Lord guided them will be a path for you to follow.


Each week you will work through interactive questions and thought-provoking Scriptures that will enable you to determine who you are, what you're doing, and where you're going. And then you will establish some guidelines for your future.


"The healing and restoration I found is there for you too,"Stormie asserts. "Whether your hurt is from scars as far back as early childhood or from this week's untimely severing of a precious relationship, you can be whole spiritually and emotionally."


This easy-to-use workbook serves as an excellent guide for either personal devotions or group study. Use it as a stand-alone Bible study or as a companion to Stormie's book, Lord, I Want to Be Whole.


-Publisher
Omartian is a bestselling author who personally connects with readers by sharing experiences and lessons that powerfully illustrate how God changes lives when we learn to trust in Him, live His way, seek His will, and follow His lead no matter what the circumstances.

The strength and transparency of Stormie Omartian's message has driven her books to the top of bestselling lists and earned many prestigious awards. More than twelve million copies of The Power of a Praying ... series, which includes such books as The Power of a Praying Wife, The Power of a Praying Parent, The Power of a Praying Husband, The Power of a Praying Woman, The Power of a Praying Teen and The Power of a Praying Kid. In May 2002, The Power of a Praying Wife broke a 21-year industry record by becoming a #1 bestseller for 27 consecutive months. It has stayed on the bestsellers' list for over 9 years. In 1998, it was named a Gold Medallion Finalist and in 2001, 2002, and 2003, for an unprecedented three years in a row, it was named a finalist for The Charles "Kip" Jordan Christian Book of the Year Award.

The Power of a Praying Husband spent 32 consecutive months on the bestsellers' list - also reaching the number one position and was honoured in 2002 with a Gold Medallion Award. Omartian's other bestselling books are Stormie, Just Enough Light for the Step I'm On, The Prayer That Changes Everything, and her children's book, What Happens When I talk to God?

In The Prayer That Changes Everything, Stormie Omartian passionately inspires people to look beyond themselves, their circumstances, and their needs so that they may experience the amazing things that take place when prayers of praise are lifted up to God. She encourages men and women to praise God during times of difficulty, sorrow, fear, abundance, and joy as a first reaction rather than a last resort. Sharing personal stories, practical principles, and biblical truths, She offers step-by-step instruction on how to develop a consistent attitude of praise, worship, and thanksgiving to God.

A sought-after media guest, Omartian has been interviewed numerous times on The 700 Club (U.S.) and many other national television and radio programs. She has also been featured in publications such as USA Today, Shine, Profile, Publishers Weekly, Today's Christian Woman, and Marriage Partnership.

As a young singer, dancer, and actress, Omartian appeared on The Dean Martin Show, The Glen Campbell Show, The Mac Davis Show, The Smothers Brothers Comedy Hour, and many other variety shows. She also sang backup for Glen Campbell, Neil Diamond, The Imperials, and other well-known artists. Omartian and her husband, Michael, have written hundreds of songs, including the Christian musical, Child of the Promise. They have put together a praise and worship CD, also called The Prayer That Changes Everything, released by Integrity Music. It is a beautiful collection of familiar worship songs sung by various Christian musicians, plus original music by Michael and Stormie. Stormie says, "Michael has written some of the most beautiful music I have ever heard on this CD. It makes me cry every time I listen to it because I sense the Spirit of the Lord in it." The Omartians have been married for more than 35 years and have three grown children.

Her latest books include The Power of a Praying Life, The Power of Praying Through the Bible, and the long awaited follow-up book to The Power of Praying Wife and The Power of a Praying Husband which is called The Power of Praying for Change in Your Marriage.
Bestsellers in Christian Living