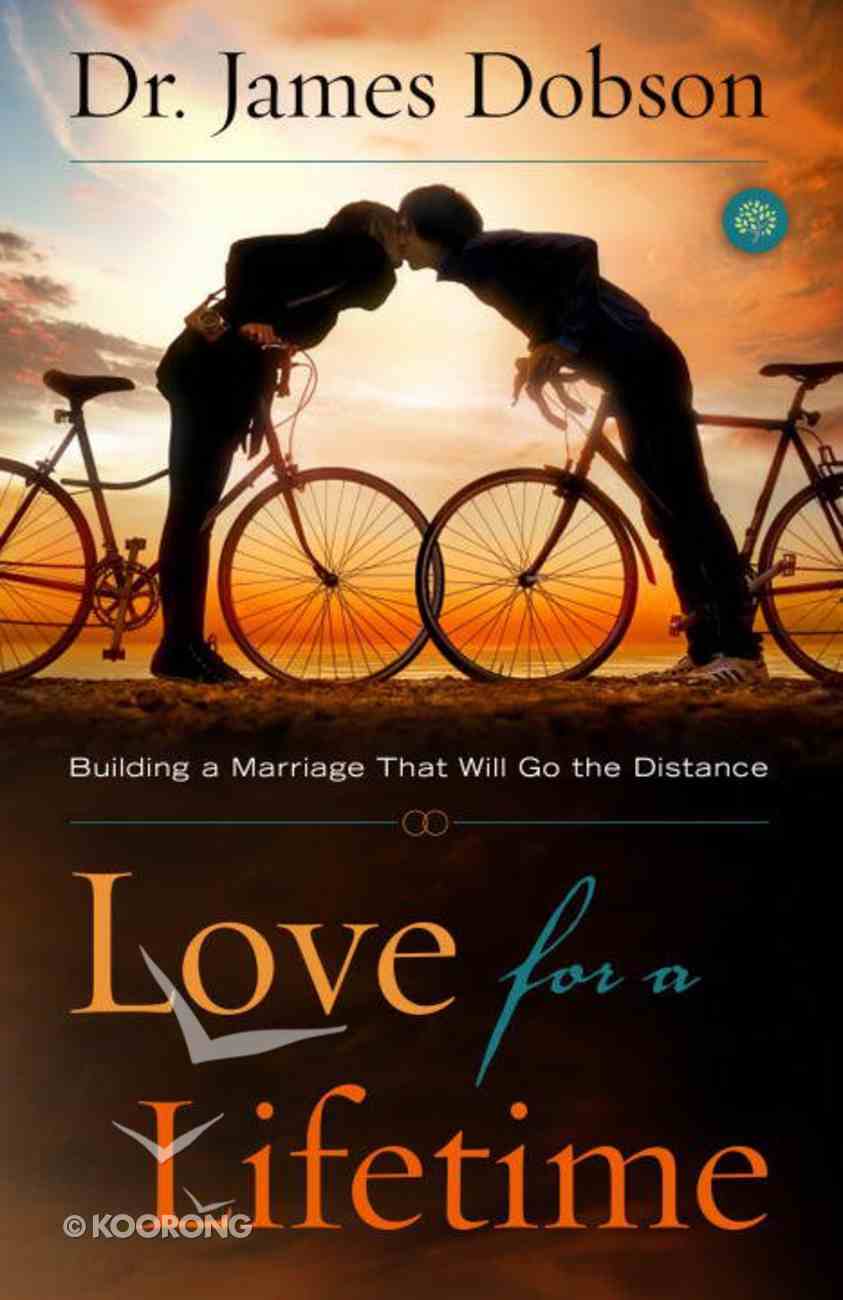 :The bestselling Gold Medallion winner Love for a Lifetime has brought hope, harmony, and healing to millions of homes worldwide, giving men and women powerful and biblical insights for building lasting marital harmony. Encouraging and practical, this proven classic is...
Publication Cancelled
Unavailable
---
Free Shipping
for orders over $99.
:The bestselling Gold Medallion winner Love for a Lifetime has brought hope, harmony, and healing to millions of homes worldwide, giving men and women powerful and biblical insights for building lasting marital harmony. Encouraging and practical, this proven classic is perfect for every husband and wife who want to strengthen and celebrate their marriage relationship.

The joining of husband and wife in marriage is the most fulfilling human relationship possible. There is nothing like being loved unconditionally and intimately, decade after decade, by someone who promises to be there for better or for worse for the remaining days of your lives.

For this reason, nurturing and celebrating each other is the most important investment of time and energy you can make as a couple. And millions around the world can testify, the surest way to preserving a marriage is by applying the principles outlined in God's Word.

With Bible-based insights shared by today's foremost family advocate, Love for a Lifetime is a modern classic. This newly updated edition delivers the wisdom that will bring success to your marriage... for as long as you both shall live.

Story Behind the Book

For every ten marriages in America today, five will end in bitter conflict and divorce. And only one or two couples in ten will achieve what might be called "intimacy" in their marriages. This book helps keep readers from being passive victims in the unfolding drama of their lives together. They can build a stable, satisfying, intimate relationship that will withstand the storms of life. All they need is a little wise counsel...and a burning desire to succeed. Based on information from a panel of successfully married couples, on the research of respected experts in the field, and on the principles endorsed by the Creator of families Himself, Love for a Lifetime is designed to help couples do just that.
-Publisher
Parenting expert and best-selling author James C. Dobson, Ph.D., is founder and chairman emeritus of the U.S. based Focus on the Family, a non-profit, multimedia organisation with a global reach. As founder, Dr. Dobson's vision and philosophical perspectives shaped Focus on the Family at its inception and supplied the impetus for its outreach for the first three decades of its existence. Even though a new generation of leadership now bears responsibility for carrying out the ministry's mission, Dr. Dobson's influence remains significant.

The initial inspiration for Focus was conceived in the 1960s, at which time Dr. Dobson was completing his Ph.D. in child development at the University of Southern California. He joined the faculty of Children's Hospital in Los Angeles and, in 1970, became associate clinical professor of paediatrics at the USC School of Medicine. Over the next several years as Dr. Dobson authored his first of several books, he became increasingly concerned about the breakdown of the traditional family and its negative effects on the culture at large. In 1977, Dr. Dobson left the Children's Hospital and the USC School of Medicine to open a small, two-room office, calling it Focus on the Family. The first Focus on the Family radio broadcast aired in that year.

He is a licensed psychologist and marriage, family and child counsellor, a clinical member of the American Association for Marriage and Family Therapy and is listed in Who's Who in Medicine and Healthcare. He is the author of more than 33 books, including his most recent bestsellers, Bringing Up Boys and Building Confidence in your Child, and the revised classic The New Dare to Discipline. By the end of the 1970s, his seven-part Focus on the Family film series had become a popular resource for parents worldwide (it has since been viewed by more than 80 million people). During the 1980s, the Focus radio program grew dramatically (heard now by over 220 million people) and the ministry soon began publishing a number of magazines.

Dr Dobson has participated in the (U.S.) White House Conferences on the Family, the National Advisory Commission for the Office of Juvenile Justice and Delinquency Prevention, the Attorney General's Commission on Pornography, and other appointments. In the 1990s, Dr. Dobson was appointed to the Commission on Child and Family Welfare and the National Gambling Impact Study Commission.

Focus on the Family relocated its headquarters from Southern California to Colorado Springs, and continued to grow and expand on a number of fronts, including the establishment of associate offices in countries worldwide and the creation of a website and other online endeavours.

In May of 2003, Dr. Dobson resigned as President of Focus on the Family (although he retained his position as Chairman of the Board). Dr. Dobson stepped down as Chairman of the Board in February of 2009, and a year later, he released his radio and newsletter responsibilities when he resigned from Focus This brought the ministry's leadership transition process to a definitive conclusion - clearly, however, Dr. Dobson's passion for families and for the Gospel of Jesus Christ continues to inform Focus on the Family's ministry efforts. The current leadership team shares Dr. Dobson's conviction that the organisation is not a monument to any one person, but rather a vehicle for ministering to families in Jesus' name.

Dr. Dobson is married to Shirley, a former Focus on the Family board member and the National Day of Prayer chairman since 1990. They have two children, Danae and Ryan, who are both respected authors and speakers in their own right. Ryan is married to Laura, and in 2006 they became the proud parents of Lincoln Cash Dobson. Dr. and Mrs. Dobson reside in Colorado Springs.
Bestsellers in Relationships