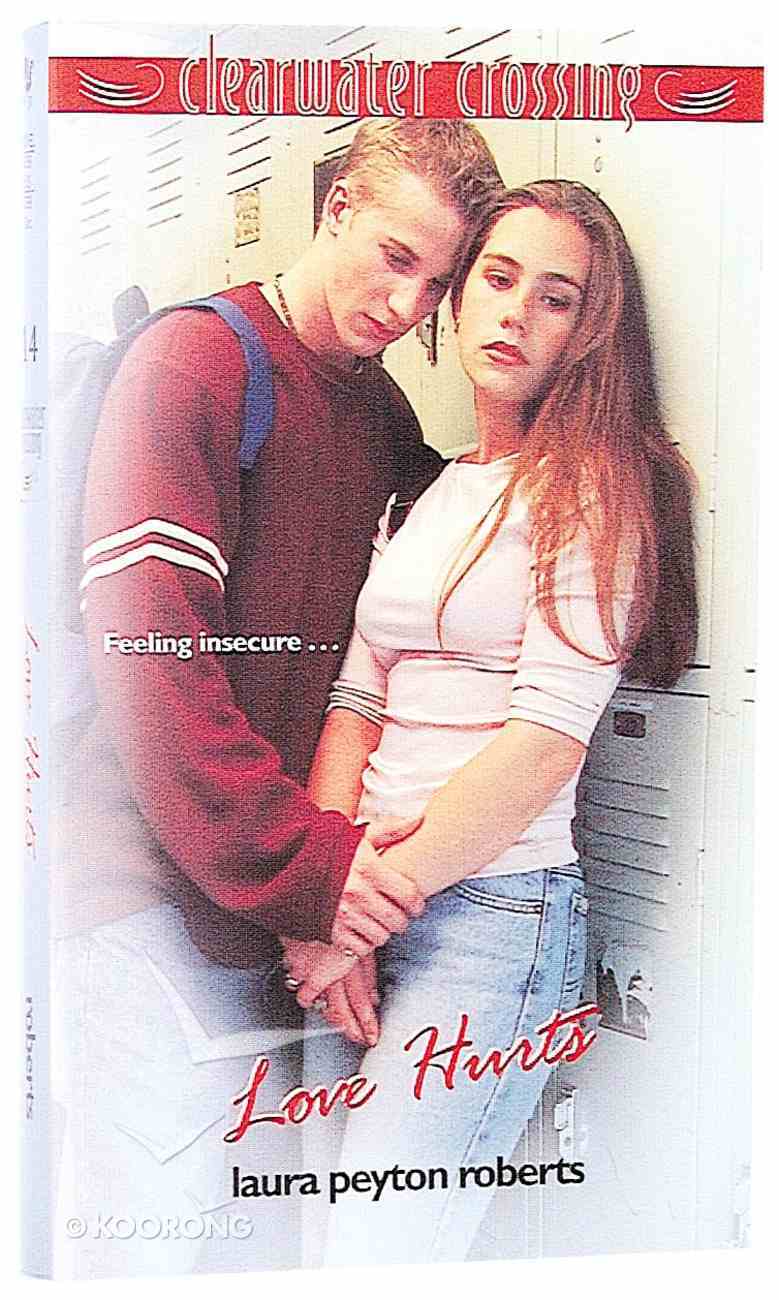 Love Hurts (#14 in Clearwater Crossing Series)
These entertaining tales of high-school friendship, challenges and growth encourage teens to seek God's guidance and presence in every aspect of their lives
---
Free Shipping
for orders over $99.
These entertaining tales of high-school friendship, challenges and growth encourage teens to seek God's guidance and presence in every aspect of their lives
"Isaid,what are you doing in that safe?" Mr. Andrews repeated angrily. He swayed slightly in the Andrewses' library doorway but seemed to be growing more sober by the second. "What are those papers you're looking at? Answer me!" Terrified, Melanie tore her eyes away from her father and snatched up the birth certificates she'd just dropped. More family papers lay strewn about the floor where she sat, and the heart-shaped garnet necklace Trent Wheeler had given her mother was lying out in plain sight. "I was just-- just--" "Just snooping where you don't belong!" he said, striding toward her in a surprisingly direct line. He had sounded out of it when he'd first burst into the room, but now his voice had sharpened. His eyes held hers in a harsh, steady gaze, and his steps barely wavered as he walked. He was an experienced alcoholic, and Melanie had seen him suppress the effects of drinking many times before--she'd just never seen him do it so fast. He must really be furious,she thought, imagining anger burning the liquor out of his system as if he were some sort of human flambe.I'm such an idiot to have tried this with him in the house! Reaching her, he bent to snatch the birth certificates from her fingers. She watched, paralyzed, as his hand stretched toward the truth she had worked so hard to find, ready to rip it away.... "No!" she cried, yanking the papers out of his grasp. She scrambled to her feet, backing as she rose. Despite her fear, she kept the yellowed old documents clutched to her chest, the names at their tops already burned into her brain. "Who's Angel Wheeler?" Mr. Andrews froze. He stared at her a moment, as if not sure what he'd heard, and then he seemed to deflate like an old beach ball. His shoulders stooped; the angry color drained from his face. He rubbed a hand across his stubbly chin, then covered his bloodshot eyes. "This isn't how we wanted to tell you." "Tell me what, Dad? That I have a sister somewhere?" The instant she spoke, Melanie realized she had to be right. She sucked in a deep breath, eyes popping with her discovery. If Angel was her mother's daughter with Trent... But her father shook his head, his gaze on the floor. "It's not like that, Melanie. Not exactly, anyway." Feeling slightly bolder, she double-checked the paper on top of her stack.Name: Angel Allen Wheeler. Mother: Tristyn Allen Wheeler. "No? It sure looks that way to me. Where is she, Dad?" He took a step toward her, but Melanie drew back until her spine was against a bookcase. "You don't understand," he insisted. "Then why don't you explain it?" His mouth opened and closed a few times. He shook his head as if trying to clear it. "Why don't we...? Downstairs. I need coffee." He turned and left the room as abruptly as he'd come in, leaving her pressed against the wall. The door to the safe still stood wide open; the mess she had made still littered the floor. It was as if the scene between them had never happened. Then the sound of her father's slippers slapping the marble staircase jolted her back to the present...and all the questions that were still unanswered. Hesitating just long enough to slip the garnet necklace into her pocket, Melanie followed her father. By the time she reached the kitchen, he was already at the sink, filling a mug of instant coffee with hot water from the tap. She started to take a seat at the breakfast bar, but he motioned her over to the nearby sitting room. They sat down on the cold leather furniture, the backyard beyond the windows black with night. Mr. Andrews fiddled with his coffee, swirling the liquid around the cup. When he finally looked up, he seemed to have come to some sort of decision. &quo
-Publisher
Peter never expected running a day camp to be like this. Jesse is sulking, Nicole skipped out on them, and Melanie is flirting with his brother! Jenna has a cold, the kids are acting like pro wrestlers, and bumbling Counselor Ben is about to wear through Peter's last good nerve. What did he get himself into?Melanie and Jesse have seen their ups and downs. First she hated him, then she liked him, then she dumped him ... and then she fell in love. Will they ever get things sorted out? Or is it time to walk away for good?
-Publisher
Laura Peyton Roberts left her first career as a geologist to embark on a second as a writer. A second-generation Californian, Laura lives in San Diego with her first husband and third dog. ý"From the Hardcover edition."