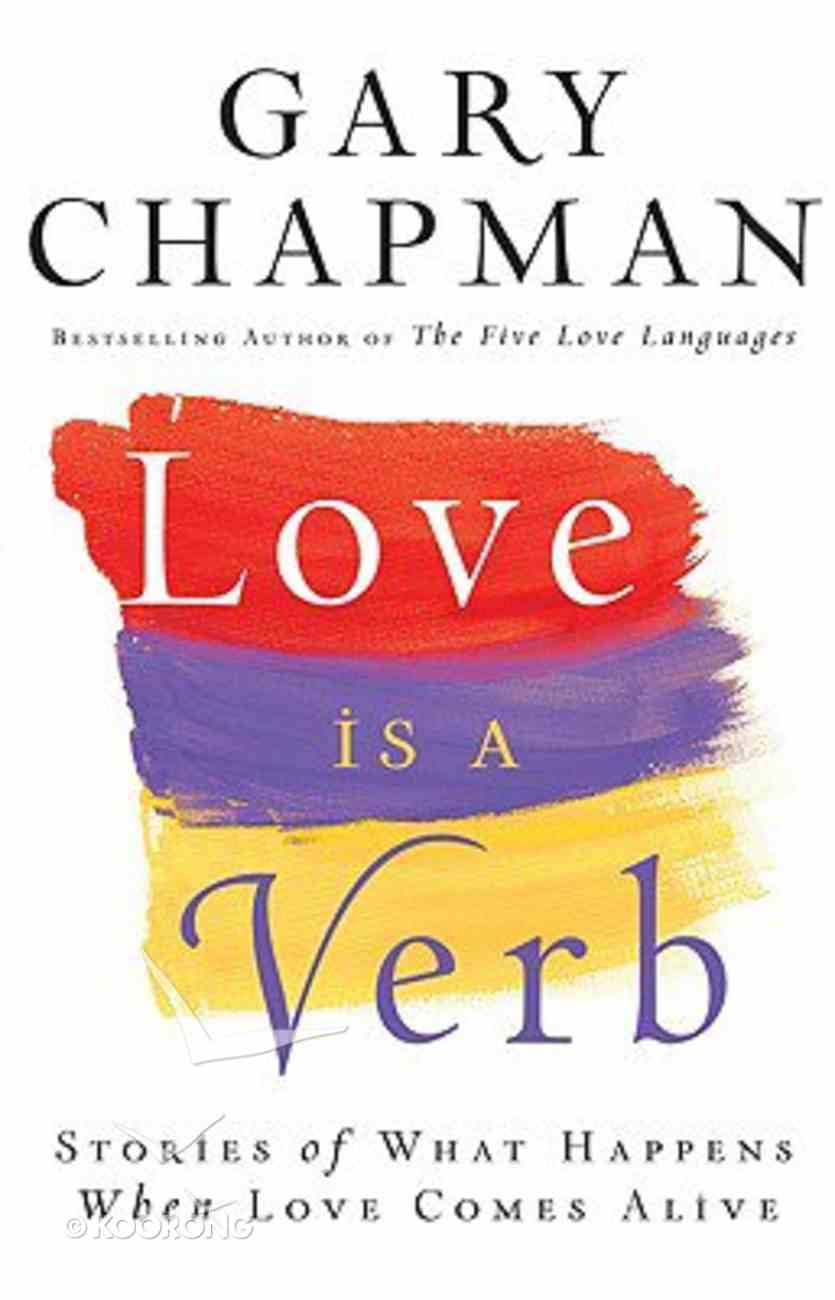 Gary Chapman, bestselling author of The Five Love Languages, shares forty uplifting true stories from everyday people like - Doris, who chose to love her husband when what she really wanted to do was run away; - Loretta,...
---
Expected to ship tomorrow from Australia.
---
Free Shipping
for orders over $99.
Gary Chapman, bestselling author of The Five Love Languages, shares forty uplifting true stories from everyday people like

- Doris, who chose to love her husband when what she really wanted to do was run away;
- Loretta, whose family was mended by love in action;
- Faith, who learned how to love a mother who had become a stranger;
- Laquita, who finally fell in love with her husband after forty years;
- Jackie, who found the courage to love someone who seemed truly unlovable;

Because love isn't just a feeling. Love is a choice, and love is something we all need to do. Love is a verb.


"To last for the long haul and through the stresses and complexities of life, love has to be more than something we feel. It has to be something we do. We have to demonstrate it concretely in our marriages and families, among our friends and acquaintances, and, yes, even among our enemies.

And that's what this book is about. In the following pages, you'll see examples of people just like you--like all of us--who learned to take the obstacles, the lemons they face in life, and turn them into satisfying, emotional thirst-quenching nectar. These are the success stories that make you want to go out and try harder." --Gary Chapman

- Publisher
Dr. Gary Chapman has spent his life helping people communicate love more effectively and in turn build more satisfying and lasting relationships. His book The Five Love Languages is a regular on the New York Times bestsellers list--even after being in print for fifteen years--and has made the term "love language" a part of everyday speech.

Love Is a Verb takes his teaching to the next level. Rather than a typical relationship self-help book filled with lengthy explanations of principles and techniques, it is a compilation of true stories displaying love in action.

These stories--written by everyday people--go straight to the hearts of readers, who often say that illustrations are the most effective parts of a book. Gary Chapman adds a "Love Lesson" to each story, showing readers how they can apply the same principles to their own relationships.
-Publisher
New York Times best-selling author, Dr. Gary Chapman seeks to fulfil his call to the ministry as a pastor, speaker, and author. He speaks extensively throughout the U.S. and internationally on marriage, family, and relationships. The government of Singapore invited him to present his marriage seminar there and the Chaplainfds Office of NATO issued a special invitation for Dr. Chapman to speak to the NATO forces in Germany. Other engagements have taken him to England, Africa, Saudi Arabia, Turkey, Mexico and Hong Kong.

Sales exceeding 5 million copies earned him the Platinum Book Award from the Evangelical Publishers Association for The Five Love Languages, which has been translated into over 36 languages. Almost 30 other books including: The whole Love Languages series; The Five Languages of Apology; Desperate Marriages: Moving Toward Hope and Healing in Your Relationship; Now What? Marriage After Children; Profit Sharing: Making Money An Asset in Your Marriage and Anger: Handling a Powerful Emotion in a Healthy Way, Love is a Verb; God Speaks Your Love Language; The Family You've Always Wanted, plus five DVD series are also among his publications. He also hosts a weekly radio program Building Relationships with Dr. Gary Chapman, which airs on more than 170 stations.

On the home front, Dr. Chapman is Senior Associate Pastor of Calvary Baptist Church in Winston-Salem, North Carolina with over 35 years of pastoring and marriage counselling experience. He and his wife, Karolyn, have two adult children and two grandchildren.

Dr Gary Chapman holds the following educational qualifications:

Southwestern Baptist Theological Seminary
Ph.D., Adult Education
M.R.E., Education Administration

Wake Forest University
M.A., Anthropology

Wheaton College
B.A., Anthropology; Minor: Bible

Moody Bible Institute
Diploma, Pastor's Course

Duke University
Graduate work: History of Education; Educational Psychology

University of North Carolina
Graduate work: Philosophy of Education; Comparative Education
- Publisher.
Bestsellers in Relationships