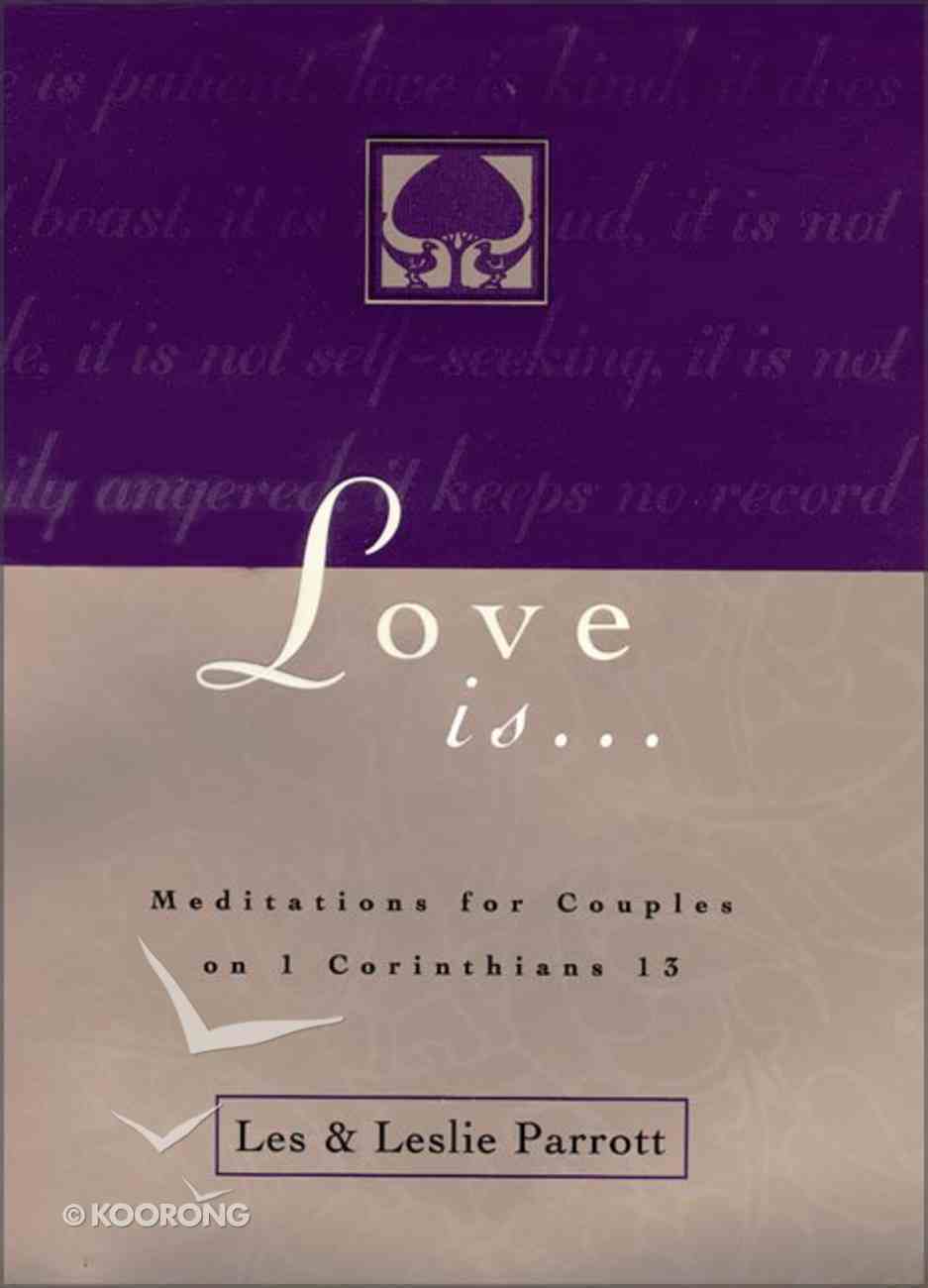 For those who want to grow in the art of loving well, this book contains reflections on 1 Corinthians 13 featuring 16 different translations and paraphrases of the Bible's beloved "Love Chapter."
Out of Stock
Available to Order
---
Expected to ship in 5 to 6 weeks from Australia.
---
Free Shipping
for orders over $99.
For those who want to grow in the art of loving well, this book contains reflections on 1 Corinthians 13 featuring 16 different translations and paraphrases of the Bible's beloved "Love Chapter."
-Publisher
"And now I will show you the most excellent way. . . ." No words, no passage, no song, no poem in all of human history has crystallized the qualities of love into simple absolutes more elegantly than 1 Corinthians 13. The Love Chapter of the Bible paints a perfect picture of love. It reveals the ideal love for which everyone yearns. But the passage is not a fantasy of what might be nice. It is a serious essay on how love can be lived, describing qualities ordinary people can cultivate to build extraordinary relationships. Relationship experts Drs. Les and Leslie Parrott have compiled fifteen translations of 1 Corinthians 13 to inspire and teach anyone wanting to be a better lover. In the preface, the Parrotts describe love as the supreme good, a gift that lifts us outside of ourselves. They follow with meditations on very diverse translations and creative paraphrases of 1 Corinthians 13 - from the 20th Century New Testament translation published in 1900 to The Message, published in 1995, from J. B. Phillips (1947) to The Living Bible (1979), and from the Basic Bible (1950) to the New King James Version (1979). This book makes a beautiful gift for engagements, weddings, Valentine's Day, anniversaries, or any occasion when love is celebrated.
-Publisher
Dr. Leslie Parrott is a marriage and family therapist and codirector with her husband, Dr. Les Parrott, of the Center for Relationship Development at Seattle Pacific University. She is the author of God Made You Nose to Toes and The First Drop of Rain, and co-author with her husband of several bestselling books, including The Complete Guide to Marriage Mentoring, Relationships, Love Talk, and the Gold Medallion Award-winner, Saving Your Marriage before It Starts. Leslie is a columnist for Today's Christian Woman and has been featured on Oprah, CBS Morning, CNN, and The View, and in USA Today and the New York Times. www.RealRelationships.com
Koorong -Editorial Review.
Les Parrott is founder of the Centre for Relationship Development on the campus of Seattle Pacific University and the best-selling author of HIGH-MAINTENANCE RELATIONSHIPS, THE CONTROL FREAK, and LOVE TALK. Dr. Parrott is a sought after speaker to Fortune 500 companies and holds relationship seminars across North America. He also hosts the US national radio broadcast 'Love Talk.' Dr Parrott has been featured in 'USA Today', 'the Wall Street Journal', and 'the New York Times'. His television appearances include CNN, Good Morning America, and Oprah.- Publisher.
Contents
The Most Excellent Way
If I Speak
New International Version
Love Is Patient
King James Version
Love Is Kind
Wuest's Expanded Translation
Love Does Not Envy
The Message
Love Does Not Boast
Angela Mccord
Love Is Not Proud
J. Oswald Sanders
Love Is Not Rude
Berkeley Version
Love Is Not Self-seeking
Cotton Patch Version
Love Is Not Easily Angered
Basic Bible Translation
Love Keeps No Record Of Wrongs
New American Bible
Love Rejoices With The Truth
Twentieth Century New Testament
Love Always Protects
New International Reader's Version
Love Always Trusts
William Barclay
Love Always Hopes
J. B. Phillips
Love Always Perseveres
Ronald Knox
A Poor Reflection
Living Bible
Afterword
Appendix Of Bible Translations
If I Speak If I speak in the tongues of men and of angels, but have not love, I am only a resounding gong or a clanging cymbal. --- New International Version We couldn't count how many times we have stood before a group of couples and talked about talking. In nearly every conceivable corner of North America and in several places around the world, we have demonstrated techniques and tools for improving a couple's communication. And it would be impossible to add up the number of times a couple has come into our counseling office after a communication meltdown in their marriage. 'We just don't communicate' is the common refrain. What's more, it would be embarrassing to see the tallies on the number of times we have personally failed in our marriage to follow our own advice when it comes to 'talking our talk.' Yet we --- and nearly every couple we have the privilege of working with --- keep trying. Why? Because communication is the lifeblood of marriage. More than any other skill, the competence to say what we mean and understand what we hear is paramount to building a lasting relationship. Without effective communication we lose the ability to understand and be understood. Without communication we lose at love. No wonder Paul begins his litany of love by saying: 'If I speak . . . but have not love, I am only a resounding gong or a clanging cymbal.' In other words, it doesn't matter how well-spoken and eloquent you are. You may have mastered the technique of 'reflecting your partner's feelings' before making your own point. You may be great at using 'I' statements (rather than the accusatory 'you' statements) in your conversation. You may be naturally gifted as a powerfully persuasive and charismatic communicator. You may speak like an angel, but if you don't walk your talk, if you don't have love in your heart, you might as well bang pots and pans together. Because that's how annoying you will become. As a psychologist (Les) and a marriage and family therapist (Leslie), we can tell you that almost every communication problem in marriage can be traced to a lack of love. Not that the couple isn't 'in love.' It's just that they aren't working to be more loving, less selfish. Think about it. Whenever you set aside self-seeking ways, communication problems fade. Of course, couples don't often want to hear this. They are interested in new verbal strategies, more techniques and tools. And in most counseling offices that's exactly what they get. But ultimately tools by themselves don't work. Why? Because you can practice all the communication techniques in the world and still end up sounding like nothing more than an annoying clang. On a few occasions we have tried to write our own interpretation of Paul's love poem. Here's the first sentence of one of our versions: 'If I go to marriage seminars and read marriage books to learn new verbal strategies, and I never set aside my own self-centered desires, I'm nothing more than an annoying tape recorder that replays my partner's messages.' Communication skills are important to learn --- no doubt about it --- but they fall flat without love. They turn into tools of manipulation. 'You're just doing that thing our counselor said to do' is the response a new technique often elicits in the absence of love. So before you try to tune up your talk, overhaul your heart. Allow love to seize every word, every syllable. Invite love to lay claim to your conversation. Forgo the annoyance of clanging cymbals and enjoy the full rhapsody of your love song. 1 Corinthians 13 New International Version And now I will show you the most excellent way. If I speak in the tongues of men and of angels, but have not love, I am only a resounding gong or a clanging cymbal. If I have the gift of prophecy and can fathom all mysteries and all knowledge, and if I have a faith that can move mountains, but have not love, I am nothing. If I give all I possess to the poor and surrender my body to the flames, but have not love, I gain nothing. Love is patient, love is kind. It does not envy, it does not boast, it is not proud. It is not rude, it is not self-seeking, it is not easily angered, it keeps no record of wrongs. Love does not delight in evil but rejoices with the truth. It always protects, always trusts, always hopes, always perseveres. Love never fails. But where there are prophecies, they will cease; where there are tongues, they will be stilled; where there is knowledge, it will pass away. For we know in part and we prophesy in part, but when perfection comes, the imperfect disappears. When I was a child, I talked like a child, I thought like a child, I reasoned like a child. When I became a man, I put childish ways behind me. Now we see but a poor reflection as in a mirror; then we shall see face to face. Now I know in part; then I shall know fully, even as I am fully known. And now these three remain: faith, hope and love. But the greatest of these is love.