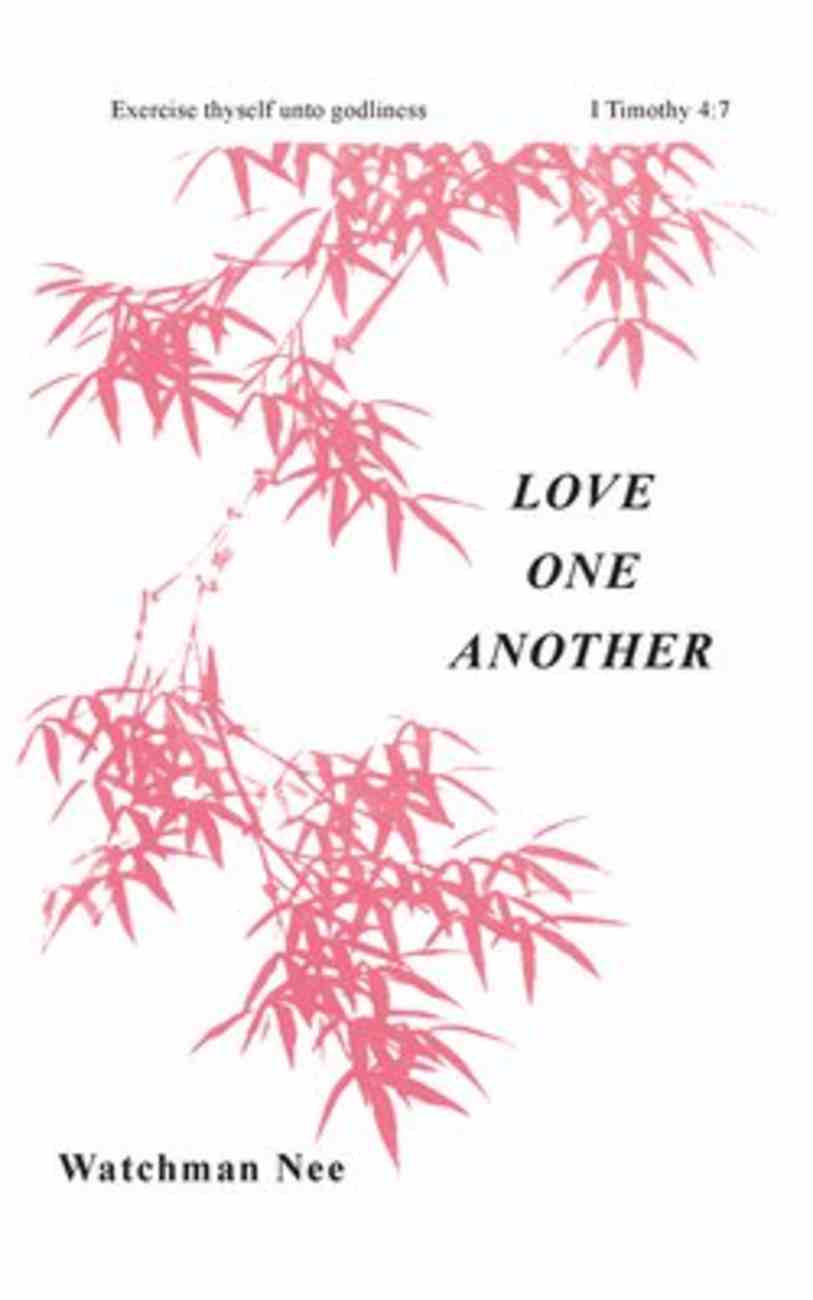 Love One Another (#06 in Basic Lessons Series)
Out of Stock
Available to Order
---
Expected to ship in 4 to 5 weeks from Australia.
---
Free Shipping
for orders over $99.
213 Pages
-Publisher
Burdened with the need of a firm foundation of the Christian life, brother Watchman Nee gave a series of basic lessons on practical Christian living during the training session for workers held in Kuling, Foochow, China in 1948. He expressed the hope that these essential lessons might be faithfully learned by God's people, thereby laying a good foundation for the building up of the Body of Christ. All quotations of the Scriptures, unless otherwise indicated, are from the American Standard Version of the Bible (1901).
-Publisher
Laying a good foundation is essential for the full growth of a Christian as well as for the building up of the body of Christ. The apostle Paul exhorted young Timothy to "have an outline of sound words which words thou hast heard of me, in faith and love which are in Christ Jesus. Keep by the Holy Spirit which dwells in us, the good deposit entrusted" (2 Tim 1:13,14 Darby's). Such good deposit of fundamental teachings on practical Christian living forms a sure foundation on which to build. In this sixth book on Basic Lesson Series, messages are given on Governmental Forgiveness, the Discipline of God, Resist the Devil, Head Covering, the Way of the Church, Oneness, Love the Brethren, Priesthood, the Body of Christ, and the Authority of the Church. May we learn these lessons faithfully.
-Publisher
Watchman Nee was a Chinese Christian teacher whose numerous works have been widely translated into many languages. Born in 1903, Nee became a Christian at the age of seventeen and began writing the same year. He was imprisoned by Communist Chinese authorities in 1952 and died in prison twenty years later. Nee's books include Come, Lord Jesus; A Living Sacrifice; The Normal Christian Life; The Communion of the Holy Spirit; The Finest of the Wheat; and Love Not the World; among many others. Since the early 1970s, Stephen Kaung has translated more than forty of Watchman Nee's simple, yet profound books for western audiences.-Editorial Review.
Contents
Basic Lessons---volume 6
39. Governmental Forgiveness
40. The Discipline Of God
41. Resist The Devil
42. Head Covering
43. The Way Of The Church
44. Oneness
45. Love The Brethren
46. Priesthood
47. The Body Of Christ
48. The Authority Of The Church P. 213
Bestsellers in Christian Living