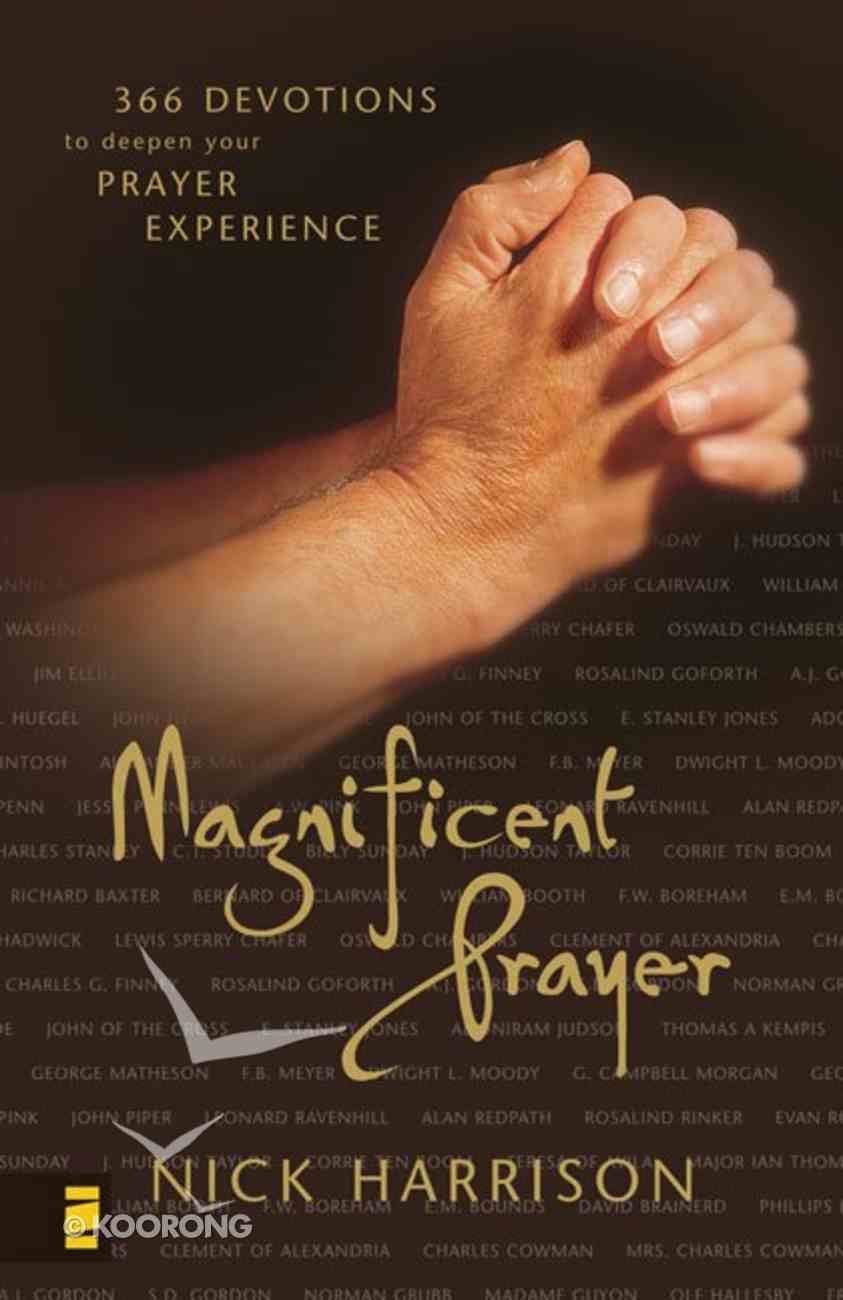 A year of daily devotions comprised of great writings on prayer, practical reflections on applying prayer principles to daily life, and actual prayer exercises to revitalize intimate conversation with God.
Out of Stock
Available to Order
---
Expected to ship in 5 to 6 weeks from Australia.
---
Free Shipping
for orders over $99.
A year of daily devotions comprised of great writings on prayer, practical reflections on applying prayer principles to daily life, and actual prayer exercises to revitalize intimate conversation with God.
-Publisher
Prayer is vital to the Christian life, and yet who is satisfied with their own prayer life? Daily devotions draw Christians into a deeper faith, and yet who believes their devotional life to be rich and deep enough? This one-year daily devotional provides rich rewards in the reader's prayer and devotional life. Each day's entry includes four elements, beginning with a relevant Bible verse followed by a brief reading on prayer from a respected Christian writer, past or present. Flowing from that reading is a reflection to connect the dots between the passage and one's own prayer life. The reflection then concludes with a very practical exercise in prayer. The reader not only reflects on great works on prayer and learns about prayer, but also practices a wide variety of prayer applications. Two indexes are included as well, one a scripture index and the other an author index that sheds light on the life challenges these many prayer warriors faced in their own lives.
-Publisher
9780310238447
-Publisher
Nick Harrison has authored the best-sellers 'Promises to Keep: Daily Devotions for Men Seekintg Integrity' and 365 WWJD: Daily Answers to 'What Would Jesus Do?', as well as 'His Victorious Indwelling.' Nick and his wife, Beverly, are the parents of three daughters and live in Eugene, Oregon.
January 1 Behold, I make all things new. REVELATION 21:5 KJV If your faith in Christ doesn't lead you to pray, then have nothing to do with it: get rid of it, and God help you to begin again. CHARLES HADDON SPURGEON Pray About It: The past year is over, the new year begins. As we think about the twelve months ahead, let's invite God to oversee all that crosses our path. Let's give Him charge over every aspect of our lives, including our prayer life. Today, as we pray---perhaps feebly, perhaps with doubts and worries---let's begin again. If yesterday's faith didn't lead us to be effective prayers, let's be done with it, as Charles Haddon Spurgeon recommends. God is the God of today, not yesterday; God of the living, not the dead. His manna is always fresh and ready for the taking. His answers to our prayers are always right, always on His perfect timetable, and always for our good. Lord Jesus, at the start of this new year, we ask for a fresh beginning. Wipe our sins away with Your precious blood. Cleanse our hearts of bitterness toward others. Help us to live each day in close communication with You, our true and faithful guide. CORRIE TEN BOOM January 2 In the morning, O Lord, you hear my voice; in the morning I lay my requests before you. PSALM 5:3 Prayer prevails. It brings power. It brings life. It brings God. Let us dare to be definite with God; let us dare to lay hold of the promises and to wait in faith until the answer comes. MRS.CHARLES E. COWMAN Pray About It: Not many Christians know the story of Charles and Lettie Cowman. This godly man and woman were both pray-ers and missionaries. But like many Christians, the most lasting work to come from their lives was to be after much suffering. Mrs. Cowman, like so many others, found the secret to a successful life of service: a life of prevailing prayer. Each morning at 5:30, Mrs. Cowman woke up to have her time with God. When Charles took sick, Mrs. Cowman prayed and nursed him. But during that time of suffering and praying and considering God's will, she pieced together a book of her favorite sayings and quotations. With the book she hoped to gain some small funds to help support the missionary work. Although Charles died, leaving Lettie a widow at age fifty-four, this woman of God would live another thirty years and fulfill the worldwide ministry God had prepared for her. It was to be the book that Lettie compiled during Charles's sickness that would be the unlikely answer to the couple's prayers. That book, still in print and a best-seller after seventy-five years, is possibly the best-loved devotional book of all time: Streams in the Desert. Dare to lay hold of the promises of God, as Mrs. Cowman did. She could never have guessed how God would do it---she only knew that He would. Wait in faith until the answer comes. The voice of agonizing prayer breaks the stillness of the morning. I have but little fear of the noise of praying Christians. The prayers of some of these precious people are heaven-moving, heaven-opening. What wonderful and striking types of men [and women]. What glorious Christians. CHARLES E. COWMAN January 3 Call a sacred assembly. Summon the elders and all who live in the land to the house of the LORD your God, and cry out to the LORD. JOEL 1:14 [The following words are from George Mueller's journal entry for January 3, 1842.] This evening we had a precious prayer meeting. When the usual time for closing the meeting came, some of us wanted to continue to wait upon the Lord. I suggested that those who had bodily strength, time, and a desire to wait longer upon the Lord, do so. At least thirty remained, and we continued in prayer until after ten. I never knew deeper prayer in the Spirit. I experienced an unusual near-ness to the Lord and was able to pray in faith, with-out doubting. GEORGE MUELLER Pray About It: George Mueller was one of the most successful prayers in Christian history. Through faith in God alone, expressed through prayer, Mueller fed and clothed thousands of orphans in the five homes he opened in obedience to God. It's no wonder that this man of God was partial to prayer meetings---he came to Christ in 1825 at such a meeting in a private home. Such prayer meetings among Christians were common then. Even up until recent years, many churches had weekly times set aside to gather for corporate prayer. Often this was Wednesday night. Though some churches still offer this mid-week service, far too many have abandoned the practice or allowed it to turn into simply another powerless church gathering. But as Mueller noted, and as many others have found, God will show up for prayer meetings, if only the people will. Does your church have the kind of prayer meeting where the people are reluctant to leave? Is it possible that you could host a prayer meeting in your home? It's not necessary for there to be many in number. God will meet with just a handful.