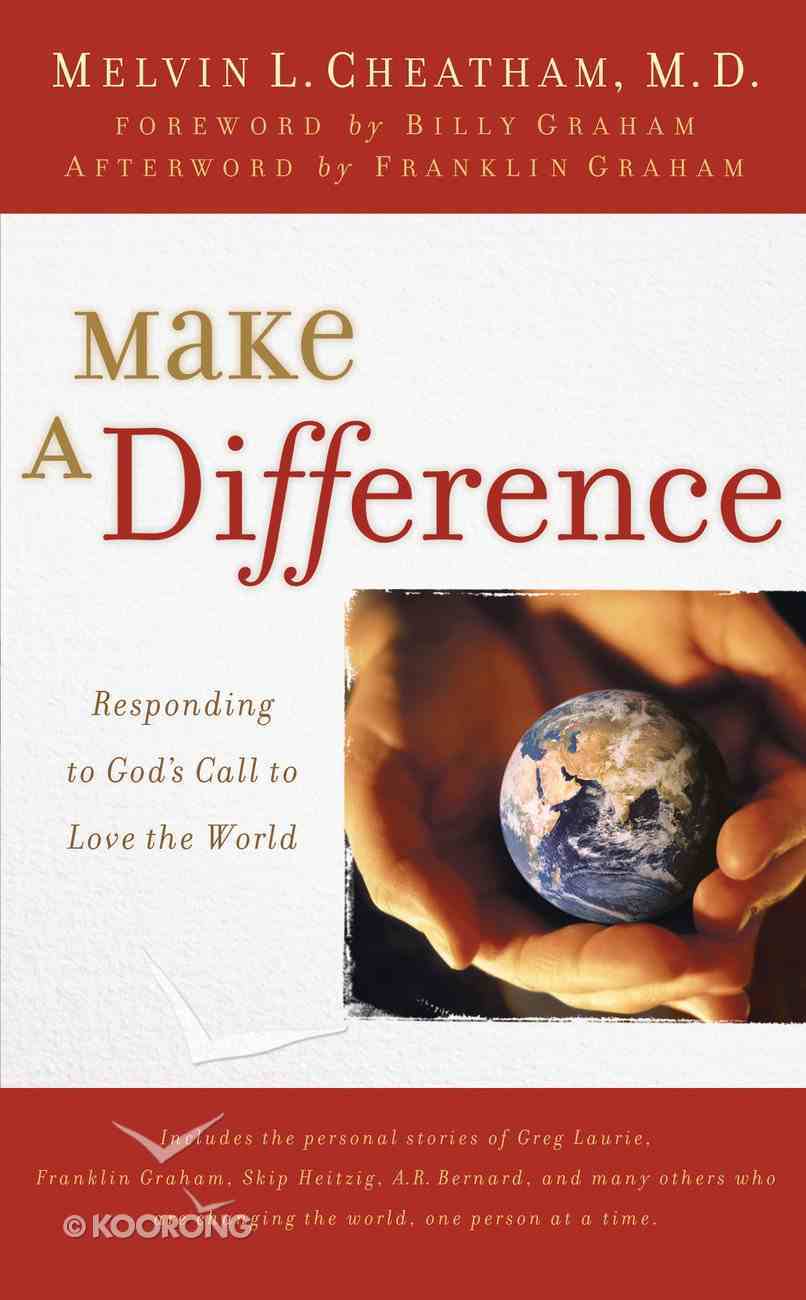 Dr. Mel Cheatham, a successful neurosurgeon with a thriving private practice, found himself at the age of fifty feeling empty. He had it all. And yet he knew something was missing-the peace and joy that comes from showing God's love...
Available for immediate download.
---
Read using our free app on your tablet or mobile!
---
Free Shipping
for orders over $99.

Dr. Mel Cheatham, a successful neurosurgeon with a thriving private practice, found himself at the age of fifty feeling empty. He had it all. And yet he knew something was missing-the peace and joy that comes from showing God's love to others. Then one day he heard Franklin Graham speak about the desperate need for doctors in developing countries, and in that message, Mel heard God speaking directly to his heart. He gave up a private neurosurgery practice and devoted himself to full-time medical relief work and evangelism projects in developing and war-torn countries. Mel Cheatham found out what it means to Make a Difference.


In Make a Difference, Mel shares the stories of dozens of people who have risked it all to gain what they cannot lose-people who learned to listen to God and respond to His call to love the world. You'll read about:

Karen Daniels, a 31-year-old nurse from British Columbia who heard God calling her to minister through her medical skills in wartorn Sudan, where temperatures often reach 115 degrees and the only "bathrooms" are pit latrines dug in the ground. Marianne Morton, who donated a kidney to a neighbor she barely knew, a Jewish man who was being kept alive only through daily dialysis.
Through these and many other stories, and through the use of Scripture, Melvin will help you listen to God's still, small voice, calling you to make a difference, to show His love to a world in need.

^
In Make a Difference, Mel shares the stories of dozens of people who have risked it all to gain what they cannot lose-people who learned to listen to God and respond to His call to love the world. You'll read about:

^ ^ Karen Daniels, a 31-year-old nurse from British Columbia who heard God calling her to minister through her medical skills in wartorn Sudan, where temperatures often reach 115 degrees and the only "bathrooms" are pit latrines dug in the ground. ^ Marianne Morton, who donated a kidney to a neighbor she barely knew, a Jewish man who was being kept alive only through daily dialysis. ^
Through these and many other stories, and through the use of Scripture, Melvin will help you listen to God's still, small voice, calling you to make a difference, to show His love to a world in need.


Dr. Mel Cheatham, a successful neurosurgeon with a thriving private practice, found himself at the age of fifty feeling empty. He had it all. And yet he knew something was missing-the peace and joy that comes from showing God's love to others. Then one day he heard Franklin Graham speak about the desperate need for doctors in developing countries, and in that message, Mel heard God speaking directly to his heart. He gave up a private neurosurgery practice and devoted himself to full-time medical relief work and evangelism projects in developing and war-torn countries. Mel Cheatham found out what it means to Make a Difference.

^
In Make a Difference, Mel shares the stories of dozens of people who have risked it all to gain what they cannot lose-people who learned to listen to God and respond to His call to love the world. You'll read about:

^ ^ Karen Daniels, a 31-year-old nurse from British Columbia who heard God calling her to minister through her medical skills in wartorn Sudan, where temperatures often reach 115 degrees and the only "bathrooms" are pit latrines dug in the ground. ^ Marianne Morton, who donated a kidney to a neighbor she barely knew, a Jewish man who was being kept alive only through daily dialysis. ^
Through these and many other stories, and through the use of Scripture, Melvin will help you listen to God's still, small voice, calling you to make a difference, to show His love to a world in need.


-Publisher
Melvin L. Cheatham is a neurosurgeon and a member of the Board of Directors of Samaritan's Purse and the Billy Graham Evangelistic Association. Dr. Cheatham gave up a successful neurosurgical practice to devote his energies to medical relief work in developing countries and areas of war and conflict. Dr. Cheatham is a clinical professor of neurosurgery at the University of California (Los Angeles) Medical Center, speaks nationally and internationally on humanitarian relief work, and is a special assistant to Dr. Franklin Graham, president of Samaritans Purse. He is the author of three books Co
Bestsellers in Inspirational