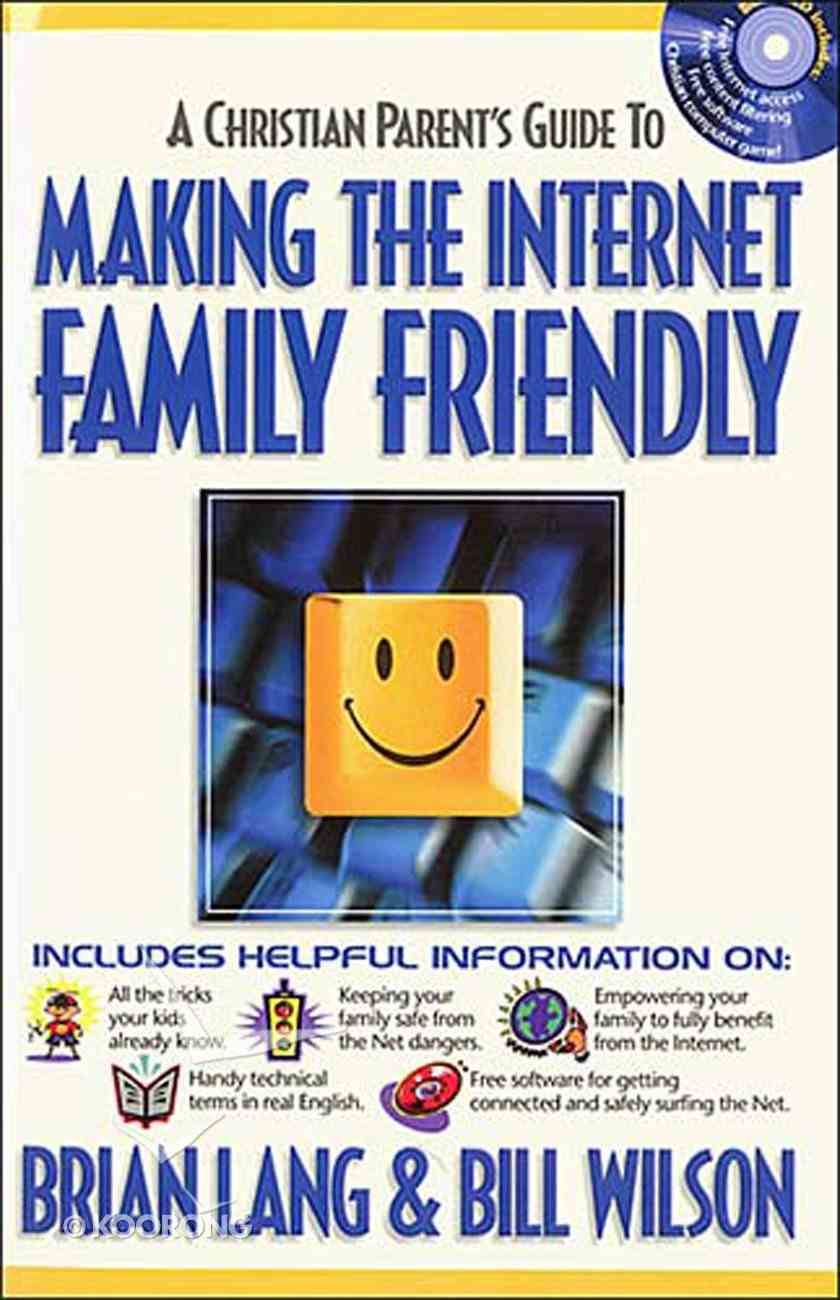 Making the Internet Family Friendly
The Internet can offer great benefits to the education and enrichment of your family, or it can be a dangerous enemy that challenges your core Christian values. And it's up to you, as parents, to decide what kind of impact...
Instant download
---
Read using our free app on your tablet or mobile!
---
Free Shipping
for orders over $99.
The Internet can offer great benefits to the education and enrichment of your family, or it can be a dangerous enemy that challenges your core Christian values. And it's up to you, as parents, to decide what kind of impact the Internet will have on you and your children. Making the Internet Family Friendly will lead you step by step through the Internet in an easy-to-understand language.
Authors Brian Lang and Bill Wilson, two Net insiders, have created a truly unique and helpful guide that explores the Internet and its impact on families from a Christian perspective. Some of the helpful material you will read include:

Guidelines for proper and safe E-mail and chat room communication. Tips for establishing an online value system and creating a policy regarding online use. Ways to monitor the amount of time spent online, as well as the different web sites. Evaluations of different Internet content filtering software. Suggested web sites and search engines that are beneficial to your family. Instructions on keeping up with the tricks your children already know.
Plus, inside this book you also receive a free CD-ROM that includes free Internet access, free computer filtering software to protect your family from access to undesirable online content, and a selection of free software including a free Christian computer game!


PLEASE NOTE - NO TECHNICAL SUPPORT IS AVAILABLE FOR THE CD INCLUDED IN THE BOOK

^^
Authors Brian Lang and Bill Wilson, two Net insiders, have created a truly unique and helpful guide that explores the Internet and its impact on families from a Christian perspective. Some of the helpful material you will read include:

^^

Guidelines for proper and safe E-mail and chat room communication. ^^ Tips for establishing an online value system and creating a policy regarding online use. ^^ Ways to monitor the amount of time spent online, as well as the different web sites. ^^ Evaluations of different Internet content filtering software. ^^ Suggested web sites and search engines that are beneficial to your family. ^^ Instructions on keeping up with the tricks your children already know. ^^
Plus, inside this book you also receive a free CD-ROM that includes free Internet access, free computer filtering software to protect your family from access to undesirable online content, and a selection of free software including a free Christian computer game!

^^^^
PLEASE NOTE - NO TECHNICAL SUPPORT IS AVAILABLE FOR THE CD INCLUDED IN THE BOOK

The Internet can offer great benefits to the education and enrichment of your family, or it can be a dangerous enemy that challenges your core Christian values. And it's up to you, as parents, to decide what kind of impact the Internet will have on you and your children. Making the Internet Family Friendly will lead you step by step through the Internet in an easy-to-understand language.

^^
Authors Brian Lang and Bill Wilson, two Net insiders, have created a truly unique and helpful guide that explores the Internet and its impact on families from a Christian perspective. Some of the helpful material you will read include:

^^

Guidelines for proper and safe E-mail and chat room communication. ^^ Tips for establishing an online value system and creating a policy regarding online use. ^^ Ways to monitor the amount of time spent online, as well as the different web sites. ^^ Evaluations of different Internet content filtering software. ^^ Suggested web sites and search engines that are beneficial to your family. ^^ Instructions on keeping up with the tricks your children already know. ^^
Plus, inside this book you also receive a free CD-ROM that includes free Internet access, free computer filtering software to protect your family from access to undesirable online content, and a selection of free software including a free Christian computer game!

^^^^
PLEASE NOTE - NO TECHNICAL SUPPORT IS AVAILABLE FOR THE CD INCLUDED IN THE BOOK


-Publisher
The Internet can offer great benefits to the education and enrichment of your family, or it can be a dangerous enemy that challenges your core Christian values. And it's up to you, as parents, to decide what kind of impact the Internet will have on you and your children. Making the Internet Family Friendly will lead you step by step through the Internet in an easy-to-understand language.
Authors Brian Lang and Bill Wilson, two Net insiders, have created a truly unique and helpful guide that explores the Internet and its impact on families from a Christian perspective. Some of the helpful material you will read include:

Guidelines for proper and safe E-mail and chat room communication. Tips for establishing an online value system and creating a policy regarding online use. Ways to monitor the amount of time spent online, as well as the different web sites. Evaluations of different Internet content filtering software. Suggested web sites and search engines that are beneficial to your family. Instructions on keeping up with the tricks your children already know.
Plus, inside this book you also receive a free CD-ROM that includes free Internet access, free computer filtering software to protect your family from access to undesirable online content, and a selection of free software including a free Christian computer game!


PLEASE NOTE - NO TECHNICAL SUPPORT IS AVAILABLE FOR THE CD INCLUDED IN THE BOOK


-Publisher
Wilson, along with Chris Blake, built the largest Sunday School in America with over 20,000 kids each week in attendance. A
Bestsellers in Relationships