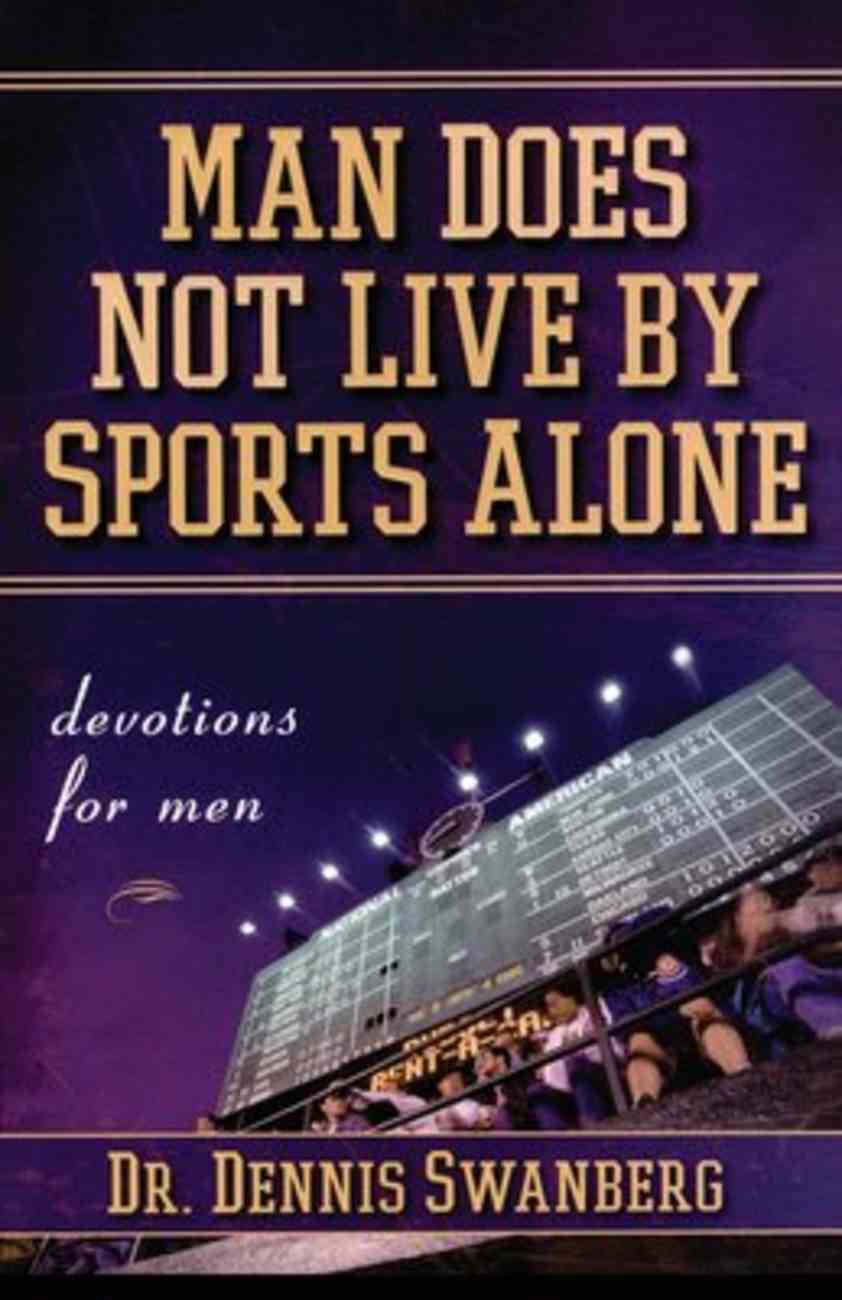 Man Does Not Live By Sports Alone
Out of Stock
Available to Order
---
Expected to ship in 6 to 7 weeks from Australia.
---
Free Shipping
for orders over $99.

-Publisher
Devotional One: The Captain of Your Team Warmups Who's the captain of your team? Who's calling the plays? In other words, who's really running things at your house: you, your wife, the kids, the neighbors, your cat Mittens...or God? Going Deep It's easy to talk about letting God take charge of your life, but how do you actually manage to do it? After all, you're a busy man with tons of responsibilities. You've got important decisions to makeevery day,and you can't wait for God to carve the answers on a stone tablet, Ten Commandments style. Sometimes you've got to make decisionsright nowor suffer the consequences. And as you know, play calling isn't always simple. It isn't like you get to make decisions in a vacuum. Far from it! If you're married, you probably consult your wife; if you've got kids, you've got to think about them too. Your boss may have a little something to say about things. And if you're a dues-paying member of the A-Team (that's America's Team), then your good ol' Uncle Sam has a few rules you need to follow as well. So where exactly does God fit into this picture? Well, here's the way it is: either you manage to put your heavenly Father in first place, or he doesn't really fit in at all. If you insist on relegating God to second place, you're dooming yourself to a second-class existence -- or worse. And that's too bad, because God has better plans for you and your family. If you want to tap into God's plan for your life, you'll need to put him right where he belongs: in first place. Putting him close to first place isn't good enough. It's just like your high-school football coach used to say: "Close only counts in horseshoes and hand grenades." Second, third, or fourth place isn't good enough for God -- nor, by the way, should it be good enough for you. Now, you may be thinking: here in the real world, putting God first is easier said than done. You're right. It isn't always easy to put obeying God ahead of everything else in your life. But it's always the right thing to do. And when you put God first, you earn lots of big rewards. One of those rewards has to do with making decisions. When you finally make up your mind to make God the undisputed captain of your team -- when you decide to put God first in every aspect of your life -- decision making gets easier. Why? Because God's Word tells you what to do and, just as important, what not to do. So instead of sitting around in a state of confusion (or in the grip of temptation), you can simply get busy doing the right thing. In the Huddle Talk to your friends about putting God first in every aspect of your lives, including the things you watch on TV. Talk about the messages you receive from the popular media, and compare those messages to the teachings of God's Word. Discuss ways you can protect yourselves and your families from the temptations and distractions of everyday life. And while you're at it, ask this question: does God really approve of every single TV show (and movie) my family watches? Game Plan Make your home a TV-free zone at least one night a week.You probably watch lots of sports on TV -- and lots of other stuff too. If so, you and your family members are being bombarded with images and ideas -- many of which are, at best, a waste of time and, at worst, a powerful negative influence. So try this experiment: Turn off all the televisions in your house at least one night a week. Spend that evening talking with your family about life, love, and God. It's up to you as a parent to exercise thoughtful control and make sure your kids don't channel surf their way through life. Man Does Not Live by Sports Alone 2006
-Publisher
Swanberg graduated from Baylor University. While serving local churches, he earned two degrees from Southwestern Seminary, topping off his education with a Doctor of Ministry.