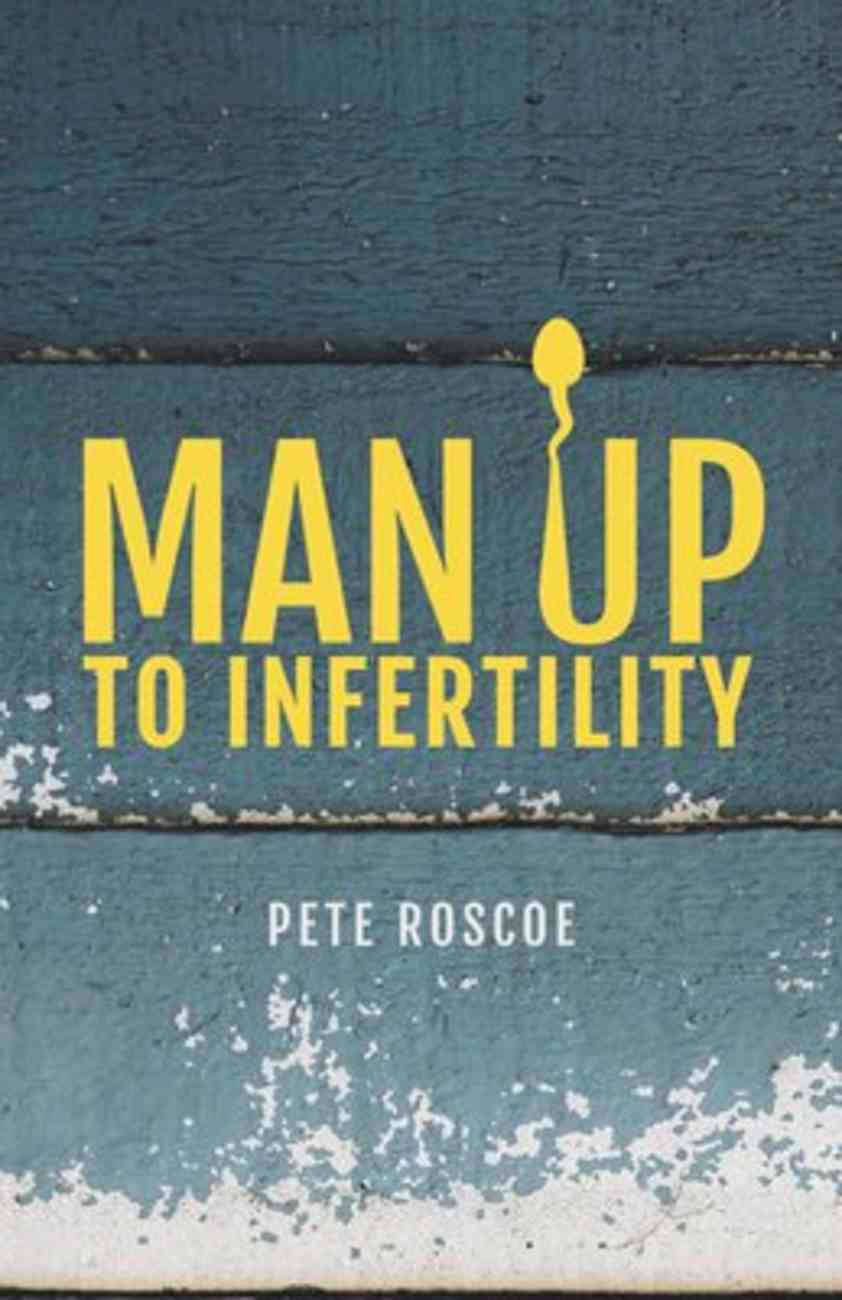 Man Up to Infertility: A Personal and Biblical Journey Through Infertility and Adoption
Sadly, infertility is a very common problem which currently affects one in seven couples in the United Kingdom. If you aren't personally affected by it, no doubt you'll know someone who is maybe a friend, relative or even one of...
---
Expected to ship tomorrow from Australia.
---
Free Shipping
for orders over $99.
Sadly, infertility is a very common problem which currently affects one in seven couples in the United Kingdom. If you aren't personally affected by it, no doubt you'll know someone who is maybe a friend, relative or even one of your own children. Men often suffer in silence and find it incredibly hard to talk about. It's a taboo topic which can make us feel 'less manly'. We feel like we've got to be strong for our wives but deep down the pain is real and it hurts. For Peter Roscoe and his wife this was truly the hardest time of their lives. Man Up to Infertility is to help all the guys out there who are struggling in silence. The Petes who are supporting Emmas, the Zacks who are holding up Tamaras, guys like you and me struggling but want to overcome. Peters own testimony is the first part of the book and his friends share their own stories of overcoming infertility too. The Bible is also full of stories of great men and women who, by the grace of God, managed to triumph over their barrenness. The second part of the book studies these stories from the husband's point of view and demonstrate how we can learn from their strengths and weaknesses to help us better support our wives, grow closer to our Heavenly Father and ultimately overcome. In the third part it shows how God has used adoption for some of the most significant men and women in the Bible and how God uses them in his ultimate plan to adopt everyone into his eternal family.
-Publisher
It has been a pretty humbling experience writing a book about overcoming infertility while we've still not yet had a birth child. You wouldn't read a book on golf by someone who can't play golf and neither would you pay a driving instructor to teach you to drive if they couldn't drive themselves. God likes to do things differently though. The Bible is littered with stories of under-qualified men and women who God uses to fulfil his divine purposes. So, before I go on much further, I'll address the big white elephant in the room. I'm sorry if you think writing a book about overcoming infertility by a man struggling to overcome it himself is stupid – it probably is! I'll tell you a bit about myself. I'm just a normal everyday guy, I love my family, I'm most happy when I'm outdoors, and cycling and football are two of my big passions. I am a doctor but my speciality is emergency medicine and I know very little about fertility medicine. What I'm getting at is that I'm not really qualified to be writing this book, I'm just being obedient to what God's called me to do, and that's all that He requires of us. People in Noah's generation would have thought it was 'absurd' for him to build the ark, it seemed 'crazy' for Naaman to take a dip in the dirty River Jordan, sheer 'recklessness' for David to fight a fully armoured giant with a sling and stone and 'madness' for God to entrust his only Son and mankind's eternal salvation to an unmarried teenager and an initially reluctant adoptive father. I'm certainly not comparing myself to these Bible heroes but when He asks us to do things that we and the world may regard as 'stupid or foolishness' we know that we are not the first people to tread this ground. If one man (or woman) is helped by the experiences that my wife and I have been through then all of this difficult time will have been worthwhile. As Paul says: '"My grace is sufficient for you, for my power is made perfect in weakness." Therefore I will boast all the more gladly about my weaknesses, so that Christ's power may rest on me.' (2 Corinthians 12:9) My prayer for you as you read this book is not simply that you and your wife will have a family (I do pray for that as well!) but that you will find strength from the stories of modern-day men like you and me and the stories from the Bible of the men and women who faced this struggle and ultimately overcame. The men and women who still followed God even though it made no sense, did incredible acts and ended up changing history. I pray also that the stories in this book will help you to avoid years of bitterness and prevent you from living in the wilderness of disappointment and experience the true adventure that is living lives sold out for Jesus. That is why I'm writing this book – so men can live in freedom and oneness with our Father and God.